Here are 15 Ways To Use Ice Cube Trays that go above and beyond frozen water.
Hi Friends!
Just popping in with a little inspiration for you. If you follow my food prep series, you may have noticed that I often freeze yogurt with mix-ins to make one of my favorite snacks: froyo bites. The other week, I was making a batch and I started thinking about my ice cube trays and about other ways I could use them.

After a short brainstorming session, I came up with 15 ways to use ice cube trays, so I thought I'd share them with you guys!
Coffee cubes – Freeze your leftover coffee and use in your iced coffees to keep them from getting watered-down, or add to smoothies for a caffeine boost!
Smoothie cubes – Blend spinach or other greens with water until smooth. Freeze in trays and add to blender when making smoothies. You can also mash up ripe bananas and freeze into cubes for an easy smoothie addition.
Yogurt bites – Add your favorite mix-ins to yogurt and freeze into cubes for a bite-sized snack. Find my favorite combo here: Frozen Yogurt Trail Mix Bars/Bites.
Fruit cubes – Add fresh fruit and water to ice cube trays to add some color to your ice water.
Pesto – Make a batch of pesto, spoon into trays and freeze. Store in the freezer and use in recipes when called for or to add some extra flavor to sauces, etc.
Tomato paste – Recipes almost never call for the whole can of tomato paste. Freeze the extra in cubes to use in future recipes.
Lemon/lime juice – Freeze the juice from fresh lemons and limes to add to blended frozen drinks or add to the pan when cooking dishes for some extra flavor!
Cookie dough – Make a batch of cookie dough and freeze in cubes. When a cookie craving strikes, bake as many as you'd like.
Baby food – Make your own baby food purees and stock the freezer with cubes. Simply defrost when needed.
Chocolate cubes – Freeze melted chocolate in ice cube trays to make chocolate cubes. Add to regular milk or iced coffee for a little treat!

Toddler meals 

– Place a variety of different bite-sized options in an ice cube tray for toddler meals or snacks and let them pick what they want to eat!
Jewelry organizer – Store your earrings, rings and other jewelry in ice cube trays to avoid a messy jewelry drawer.
Garbage disposal cleaner – Freeze vinegar and lemon pieces in ice cube trays. Every few weeks, toss a couple down the garbage disposal to freshen things up.
Paint tray – Pour different paint colors into ice cube trays and let the kiddos go to town!
Seedling Tray – Drill a drainage hole in the bottom of each cube, fill with dirt, and plant seeds for the garden so they can start growing indoors.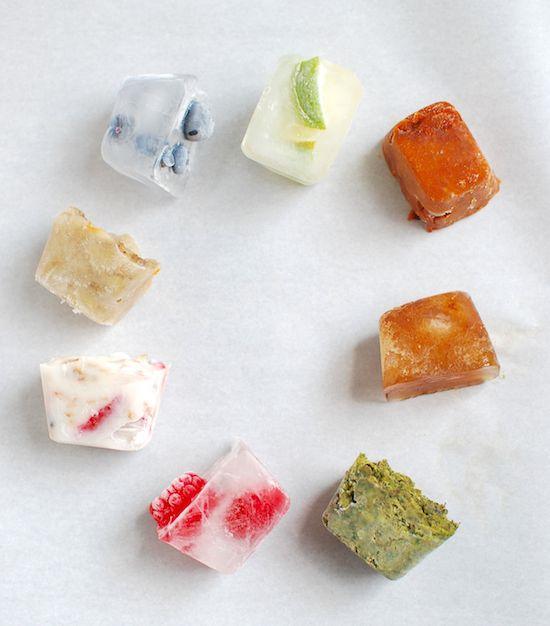 Obviously these aren't the only ways to use ice cube trays. This list is just to get the wheels turning for you! Once you start thinking about it, I bet you'll come up with even more fun ways to use them! I've also use them to make frozen treats for my dogs, freeze leftover wine for cooking, etc. The possibilities are endless! For the food-related ones, I'd recommend removing from the ice cube trays after they're frozen and storing in a tupperware container or ziploc bag to avoid freezer burn.
[Tweet "Think beyond water. Here are 15 Creative Ways To Use Ice Cube Trays from @leangrnbeanblog!"]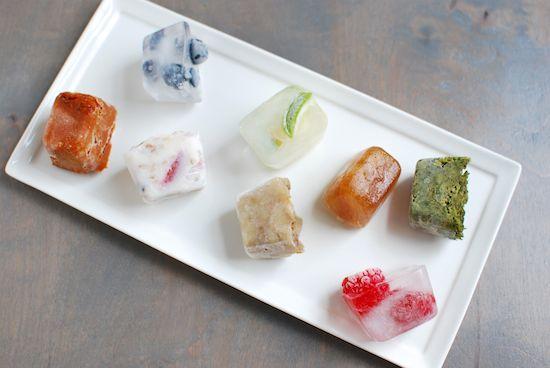 Let's chat:
What's your favorite way to use ice cube trays?
Leave your ideas below to inspire others!
LEARN HOW FOOD AFFECTS YOUR BODY.
Get my free Table Talk email series where I share bite-sized nutrition information about carbs, protein, and fat, plus bonus information about snacks and sugar!