Hi Friends-
As you guys know, this is mostly a food and fitness blog. I don't write a whole lot of posts that are super deep, heavy or from the heart. In fact, it's been about two months since my last one (What's in a Jean Size?). But yesterday something happened that really tugged at my heart strings and it brought to mind something that I've found myself thinking about a lot lately- saying "thank you".
Let me back up. Yesterday, as most of you know, was Foodie Penpals Reveal Day. (ps…there's still time to jump onboard for May!) After I got out of class yesterday, I was checking my email and a comment notification popped up on one of my posts from a few months ago. Remember back in January when I wrote this post called Things Blogging Has Taught Me? A sweet woman named Kristen, who blogs over at Miami Housewife, found that post and left a comment. Here's what she said: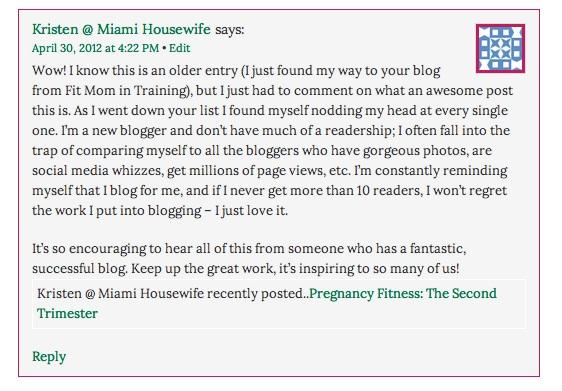 I read her comment several times because I was so touched by it. I'm always so happy to hear people say they can relate to my posts, and it made my day to hear that she liked my blog and found it inspiring. And after thinking about it the whole way home, all I really wanted to do was say thank you to her.
Thank you:
For reading my blog.
For taking the time to look around and read more than just one post.
For making an effort to tell me how much she liked my blog.
It means so much.
I'm just as guilty as anyone else of not saying thank you as often as I should. But I'm working on it. In fact, this post is probably a long time coming.
————————————————
I was raised to say please and thank you for everything and I was raised to write thank you notes all.the.time.
When someone gives you a present…write a thank you note.
When someone acts as your reference….write a thank you note.
When someone takes the time to help you….write a thank you note.
It's something I got annoyed with my mom for making me do when I was younger, but it's one of the things I appreciate most now that I'm an adult. And it's definitely something I plan to teach my children someday.
—————————————————————–
Because I think a lot of people truly underestimate the power of a simple "thank you".
—————————————————————-
I get legitimate road rage when someone flies by me in the left lane and then cuts over into my lane at the last minute to get on the highway. But it's amazing how much calmer I remain if that person waves "thank you" as they're switching lanes.
I spend a lot of time working on Foodie Penpals and I don't get paid a dime…but when someone replies to one of my emails and says "thank you" for organizing or thanks me for helping connect them with a new friend…every single second is totally worth it.
But, this post is not me digging for compliments or a thank you for anything i've done. This post was written as a reminder to all of you….to take the time to say thank you the next time one is deserved.
If someone sends you something awesome in the mail, SAY THANK YOU. Tell them how much you appreciated it.
If someone sits there and listens to you complain about something, whether it be important or trivial….say hey, thanks for listening.
If someone writes a blog post that inspires you to make a positive change, or motivates you to try harder…TELL THEM. Say thank you.
——————————————————————–
Because you never know how much it might mean to someone.
Or how much it may validate all the work they put into something.
Or how what a big smile it might bring to their face.
———————————————————————
So go out today and say thank you:
Call your family and say thanks for being there for me.
Leave a comment on your favorite blog, especially if you've never commented before, and say thanks for writing.
Leave an extra tip for your waiter/waitress and say thanks for a great meal.
Thank a member of the armed forces for their service to our country.
Thank someone you see doing a usually thankless job like collecting trash or cleaning the bathroom.
Send a note to a friend and say thanks for sticking by your side over the years.
Every single one of us has so much to be thankful for. So give thanks for it.
And SAY THANKS FOR IT

!

Trust me…it'll be worth your while.

So this is me saying thank you to all of you.
To every single person who reads my blog- whether it's one time, or every single day.
To everyone who has taken the time to tell me how much they appreciate and enjoy Foodie Penpals.
To all of my Fitfluential friends who motivate me every single day.
To anyone that has ever tried one of my recipes or workouts and told me how much they enjoyed it.
To my husband- for everything he does around the house.
To my family- for constantly reminding me how important I am, even when I'm far away.
To my entire support system- for everything you do every.single.day.
I know I don't say it enough….but thank you.
–Lindsay–
LEARN HOW FOOD AFFECTS YOUR BODY.
Get my free Table Talk email series where I share bite-sized nutrition information about carbs, protein, and fat, plus bonus information about snacks and sugar!