These homemade Pumpkin Pie Peanut Butter Cups are better than Reese's for dessert and have a fun fall flavor twist!
Hi Friends!
Happy Halloween. Since today is the day for candy, it seemed only appropriate that I line up a guest post that would appeal to your sweet tooth. Lucky for you guys, my friend Lisa came through with a major win! Lisa blogs over at Healthy Nibbles & Bits and is another blogger I've gotten to know recently thanks to The Recipe Redux! She takes amazing photos and is constantly coming up with unique, healthy recipes to leave me wanting to immediately board a plane and go visit her so we can stuff our faces! Go check out her blog if you haven't already!
—————
Hi everyone! I'm Lisa over at Healthy Nibbles & Bits, and I'm excited to share this recipe with you while Lindsay is spending some time with Baby Bean!
When fall comes around, there is one thing I covet: a Reese's Peanut Butter Cup. You'll never find one of those packages in my shopping cart under normal circumstances. But come Halloween time (and week of candy sales afterwards), I want nothing but those fun-sized shots of cheap milk chocolate and creamy peanut butter. I will dip my hands into whatever candy jar contains those tiny golden nuggets.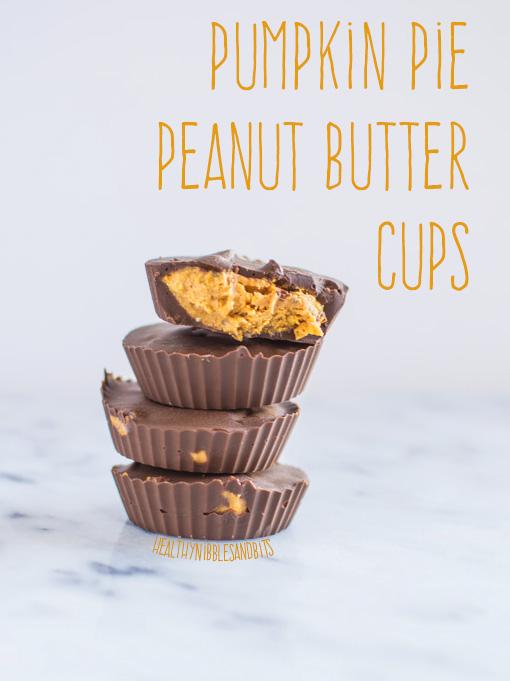 Reese's has made pretty much every kind of peanut butter cup imaginable. There's white chocolate, dark chocolate, crunchy cookie, marshmallow, inside out, peanut butter and banana crème, and caramel, just to name a few. Shockingly, there is one kind that they haven't made yet: PUMPKIN PIE!
As both a chocolate and pumpkin enthusiast, my natural instinct is to swirl those two things together into a creamy delight. This pumpkin + peanut butter + chocolate combination is mind-blowing. It is the new black.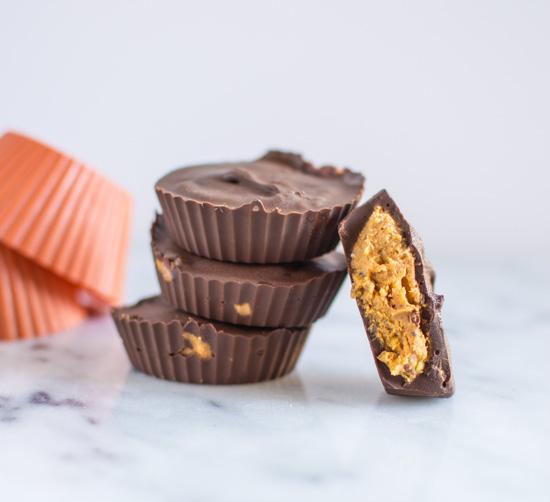 Until a few months ago, I didn't realize how easy it is to make peanut butter cups from scratch. You're going to want to store the peanut butter cups refrigerated, but I think they make these treats taste better. When eaten chilled, they're like a nice ice cream bar–crunchy chocolate shell on the outside, rich and creamy on the inside. Except these peanut butter cups are healthier!
Print
Pumpkin Pie Peanut Butter Cups
4 Tablespoons

pumpkin puree (NOT pumpkin pie puree)

4 Tablespoons

peanut butter (creamy or chunky)

11/2 Tablespoons

maple syrup (or any other liquid sweetener)

1 teaspoon

chia seeds
pinch of pumpkin pie spice or cinnamon

1 cup

semi-sweet chocolate chips, divided (or milk chocolate chips)
you'll also need 10 muffin liners (silicone or paper)
Instructions
In a small bowl, mix all the ingredients except for the chocolate chips.
Line up 5 muffin liners on the counter. I find silicone liners to be easier to use.
Using a microwave-safe bowl, melt 1/2 cup of chocolate chips in the microwave. Set it to 45 seconds and then check the chocolate. You don't need the chips to be melted, but you do want them to be glistening. Continue microwaving them at 20-second intervals until all the chips are shiny. Take them out of the microwave and stir until the chocolate is thick and creamy.
Spoon just enough chocolate to cover the base of the muffin liners (a 1/2 tablespoon should be enough). Repeat for the other 4 cups.
Scoop up just under a tablespoon of the pumpkin/peanut butter filling and shape it into a small disk. Place it over the chocolate in the muffin tins. Repeat for the other 4 cups.
Spoon the remaining chocolate over the pumpkin/peanut butter fillings.
Repeat steps 2 to 6. I broke up everything into 2 batches because the melted chocolate starts to harden pretty quickly. Prepare the cups in 2 batches to make sure that you're working with soft chocolate.
Freeze the cups for 30-40 minutes. Store them in the refrigerator.
Enjoy!
Much love and many hugs to Lindsay and her family!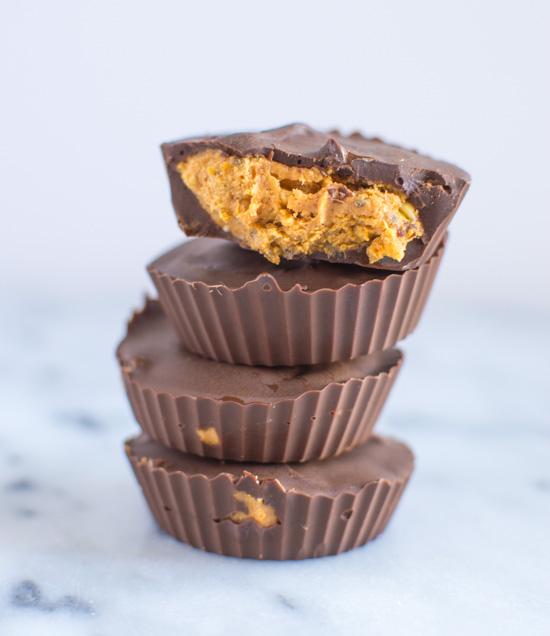 [Tweet "Better than store-bought! Pumpkin Pie Peanut Butter Cups from @healthynibs and @leangrnbeanblog!"]
Are you drooling yet?! I must make these immediately! Huge thanks to Lisa for sharing this delicious treat today!
LEARN HOW FOOD AFFECTS YOUR BODY.
Get my free Table Talk email series where I share bite-sized nutrition information about carbs, protein, and fat, plus bonus information about snacks and sugar!