These Pulled Pork and Apple Tostadas are a simple, flavorful way to use up leftover pork. Perfect for lunch, dinner or a quick snack!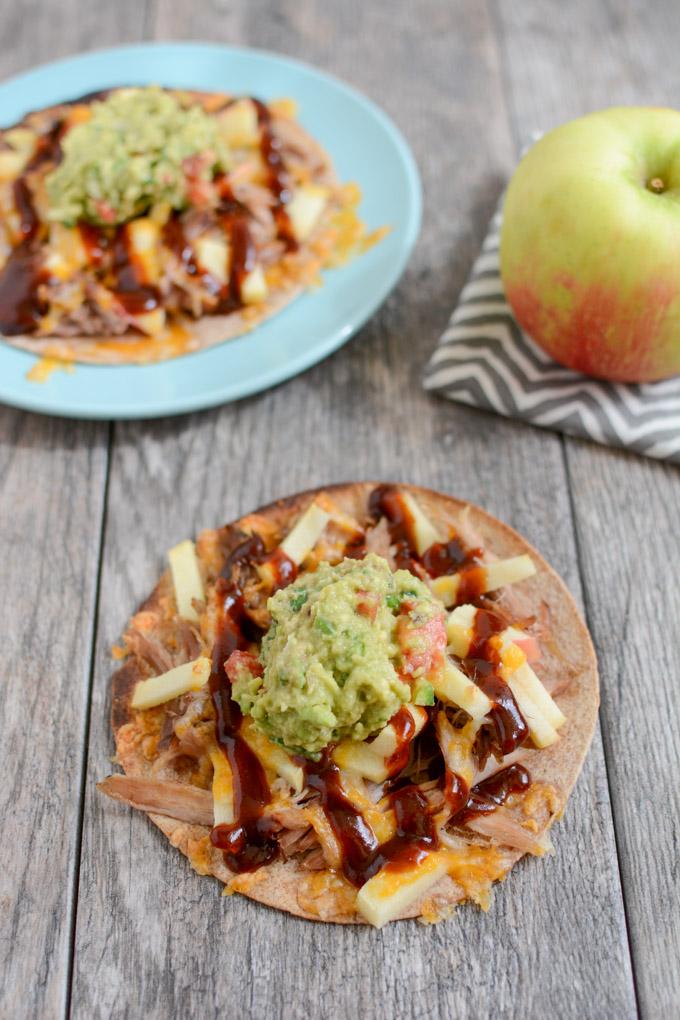 Hi Friends!
Just popping in with a quick lunch idea for you guys. As you know, I love making a big batch of pulled pork during Sunday Food Prep. You must try this Beer Braised Pulled Pork if you haven't already!
It's so convenient to have on hand for quick meals throughout the week. I have my go-to meals that I make using it – pulled pork quesadillas are my fav – but i'm always looking for new ways to use it as well! I actually made these Pulled Pork and Apple Tostadas a couple months ago and completely forgot to share!

There's something about the combination of pork and apples that I just love. Add some cheese and bbq sauce and I'm sold! Come to think of it, this is pretty much just like an open-faced quesadilla…but it felt new and different! Make a batch of my Homemade Whole Wheat Tortillas to eat them on if you're feeling extra motivated during your food prep!
So here's how you make this lovely little creation. I didn't include quantities because you can make as many or as few as you want!
Print
Pulled Pork and Apple Tostadas
An easy way to transform leftover pulled pork into a new meal.
Prep Time:

2 minutes

Cook Time:

5 minutes

Total Time:

7 minutes
Pulled pork
Chopped apples
Shredded cheese
BBQ sauce
Whole wheat tortillas
Guacamole (or chopped avocado)
Instructions
Spread pork onto tortillas and place on a baking sheet.
Top with apples, cheese and bbq sauce.
Turn on the broiler and broiler for 3-5 minutes or until cheese is melted and the tortilla edges are crispy.
Remove, top with guacamole and enjoy.
So there you have it! You could also make this with leftover chicken. The meat doesn't have to be pulled. You could use diced chicken or pork, rotisserie-style or whatever you have on hand.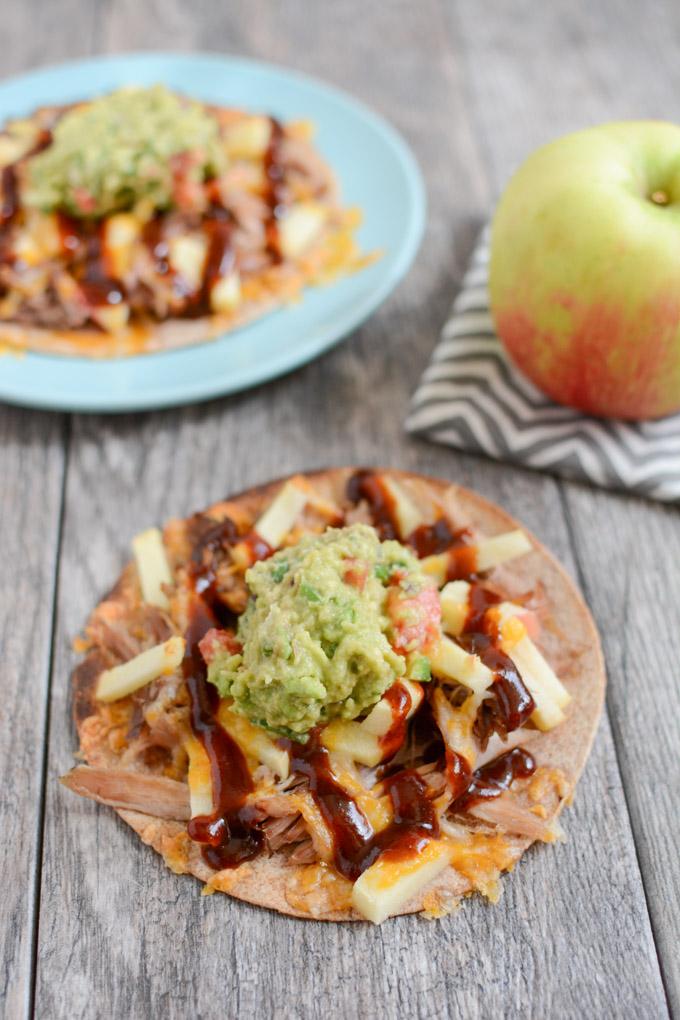 [Tweet "These Pulled Pork & Apple Tostadas make a great lunch, dinner or snack! via @leangrnbeanblog"]
Let's chat:
What's your favorite way to transform leftovers into a new meal? I'm always looking for new ideas!
Enjoy!
–Lindsay–
LEARN HOW FOOD AFFECTS YOUR BODY.
Get my free Table Talk email series where I share bite-sized nutrition information about carbs, protein, and fat, plus bonus information about snacks and sugar!