This One Pot Orzo Pasta Salad with Chicken Sausage is perfect for BBQs, potlucks, and parties. Serve it as a side dish or a light lunch or dinner.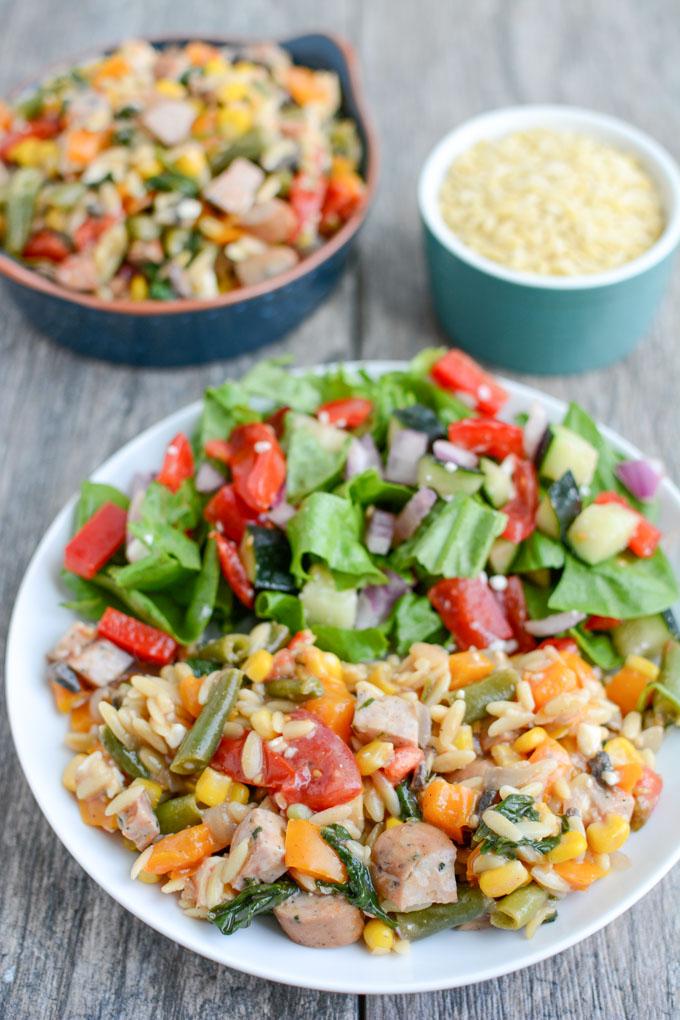 Hi friends!
Just popping in to share a quick recipe with you guys.  The weather is warming up here in Ohio and that means we're spending ALL our free time outside at the water table. We're also in the awkward temperature zone where it's uncomfortably hot in the house without a fan, but not hot enough to warrant turning on the air conditioner.
So while Squish spends his time pour water back and forth between various containers, I've been spending my time dreaming up easy one pot meals that can be prepped ahead of time and can be eaten cold.
One Pot Orzo Pasta Salad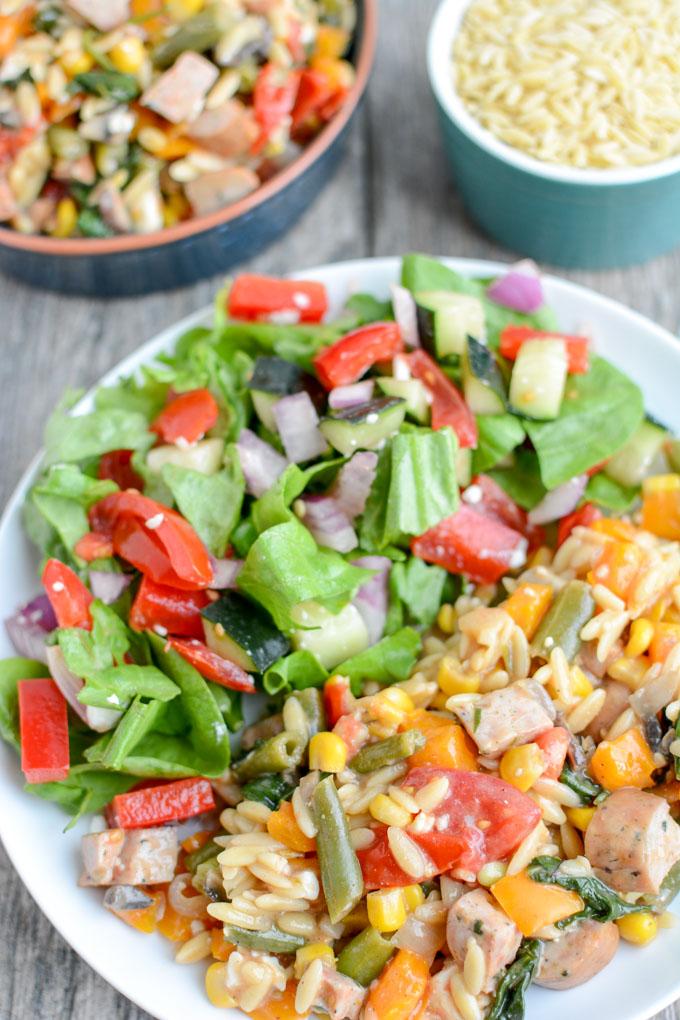 Enter this pasta salad. Orzo is one of my favorite pastas for one pot meals because it cooks quickly in a small amount of liquid and it's just the right size for getting some in every bite. I combined it with lots of veggies and some chicken sausage (because it comes pre-cooked and i'm all about easy these days) and voila! We ate this pasta salad for both lunch and dinner, but it would also make a good side dish.
I amped up the veggies and went light on the chicken sausage but you could easily add more if you wanted to. Or make it vegetarian by replacing it with beans or tofu.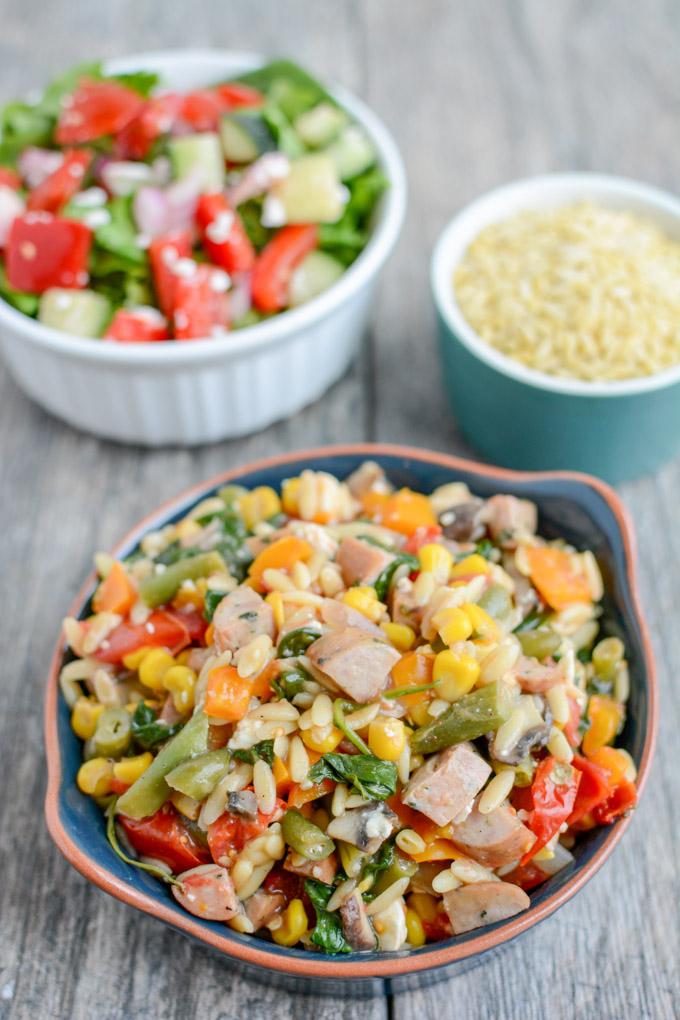 Here's how you make it:
Print
One Pot Orzo Pasta Salad with Chicken Sausage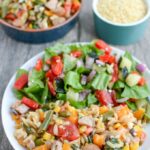 This one pot Orzo Pasta Salad with Chicken Sausage is perfect for BBQs, potlucks, and parties. Serve it as a side dish or a light lunch or dinner.
Author:
Prep Time:

10 minutes

Cook Time:

15 minutes

Total Time:

25 minutes

Yield:

serves 4-6
Ingredients
2 cloves garlic, minced
1/2 cup onion, diced
3/4 cup mushrooms, diced
1 cup bell pepper (red/orange/yellow), diced
3/4 cup corn kernals
1 cup green beans, chopped (fresh or frozen)
1/2 tsp salt
1 tsp paprika
2 chicken sausages, quartered and sliced
1/3 cup orzo, uncooked
1 1/3 cup chicken broth, divided
2 handfuls fresh baby spinach leaves
3/4 cup fresh tomato, chopped
1/4 cup crumbled feta
Instructions
In a large pan or pot, add a little oil and saute garlic, onion, mushroom, peppers, corn, beans and chicken sausage over medium high heat for 5 minutes.
Add uncooked orzo and 1 cup broth. Bring liquid to a boil and cook 3 minutes. Reduce heat to medium and cook 5 more minutes, stirring frequently.
Add spinach and remaining 1/3 cup broth and cook until wilted- about 2 minutes.
Remove from heat and stir in tomatoes and feta.
Serve cold (or warm/room temperature if desired).
Notes
Feel free to add extra vegetables or chicken sausage if you want.
To make it vegetarian, sub beans or tofu for the chicken sausage.
So easy. I used frozen corn and green beans but you could easily use fresh. If you cook this in a cast iron skillet, I'd cook the green beans separately and add them in at the end because the cast iron makes them turn a weird shade of green. (That's why mine look a little ugly in the pics…bc I forgot.) If you use a regular pot or pan it shouldn't be an issue.

This Orzo Pasta Salad with Chicken Sausage is perfect for summer BBQs or a light lunch.
Click To Tweet
Let's chat:
What's your favorite pasta salad recipe?
Enjoy!
–Lindsay–