Packed full of vegetables, these kid-friendly recipes for fall use Annie's products as a base to make three quick, wholesome lunch or dinner ideas the kids will love!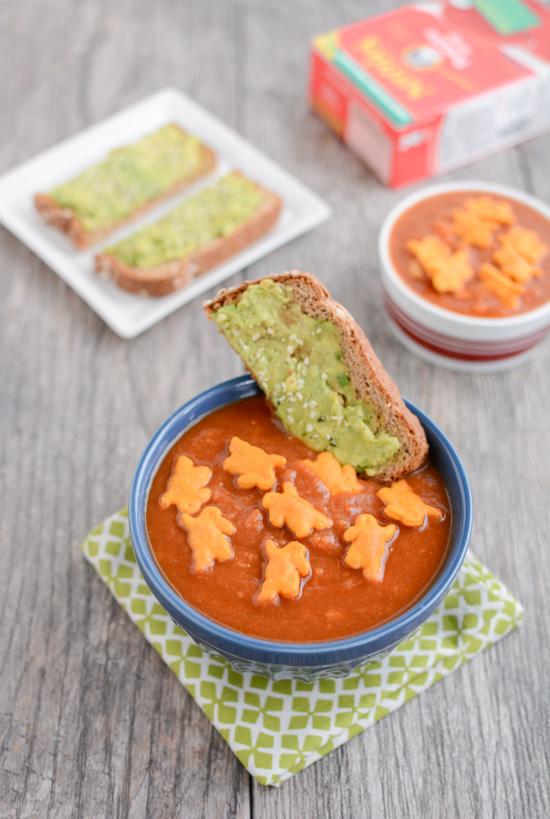 Thanks to Annie's for sponsoring this post. 
Hi Friends!
I'm not sure if I mentioned it or not but after Squish turned one a couple weeks ago, we went to the doctor for his checkup and she gave us the green light to transition him off formula. As you guys know, he's been eating solid food since about 6 months, but until now formula has still been his main source of nutrients. Now that he's eating all solid food, I've really been focusing on finding quick and easy meals he enjoys, that are also healthy!
About a month ago, he started spitting out some of the vegetables I give him, which I knew would happen at some point, so since then I've been experimenting with different ways to keep him eating those veggies!

When my friends at Annie's reached out to me about trying some of their products, including a few of their new line of Organic Soups and some mac and cheese (my fav!), I jumped at the chance. They now offer five delicious soup flavors with fun, kid-friendly pasta shapes! I tried a few of the soups myself and really enjoyed them. However, as you might imagine, soup is a bit tough for my little guy to manage…especially since we've just started working on using a spoon. So, I put on my thinking cap and started thinking about ways that I could make the soup easier for him to eat. I chose two different soups and gave them a little nutrient boost, while simultaneously making them a little more toddler-friendly!
First up: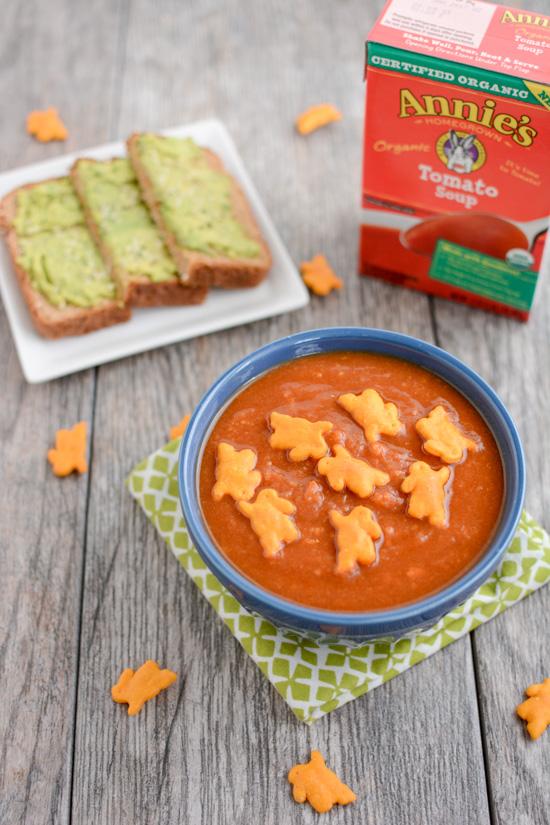 First of all, every serving of this soup packs in a 1/2 cup of vegetables, which is awesome. I knew I wanted to find a way to thicken the soup up a bit to make it easier for my toddler, so I grabbed a few of the sweet potatoes I baked during my weekly food prep, mashed them up and stirred them in. This is an easy way to add some beta-carotene to the meal. Our bodies convert beta-carotene into Vitamin A, which is important for good vision and also boosts our immune system – perfect timing since flu-season is here. Then, since kids love dipping things, I made some avocado toast dippers to go along with it. Added bonus – Vitamin A is a fat-soluble vitamin so it's good to eat it with sources of healthy fat – ie avocado. I also sprinkled some hemp hearts on the toast for added texture.
Then, to top everything off, I added some Cheddar bunnies….because they make fun little croutons! They soak up some of the tomato soup, which makes them nice and soft and Squish-friendly.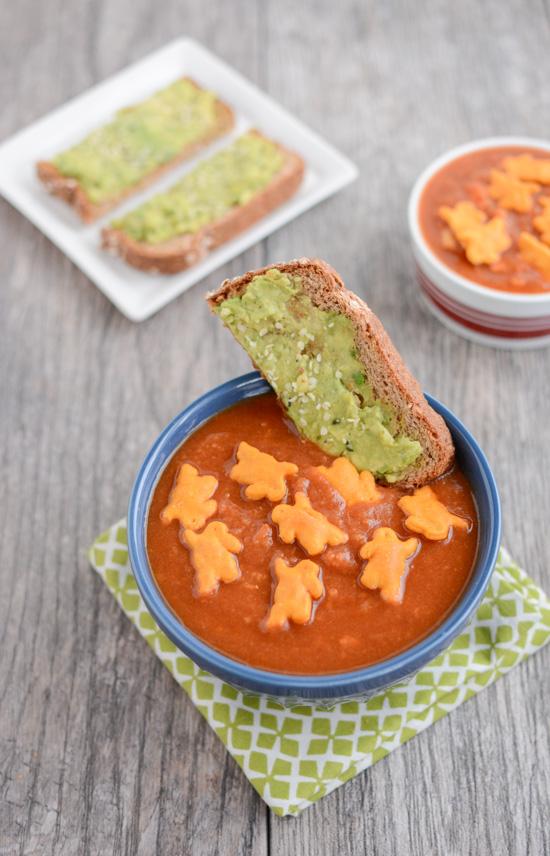 So let's recap. To make this tomato soup you need:
Directions:
Pour soup into large bowl. Add mashed sweet potato and mix well. Heat in the microwave or on the stove.
Mash avocado and spread on toast. Sprinkle with hemp hearts. Cut each piece of toast into dipping strips.
Ladle soup into bowls, top with cheddar bunnies and serve with a side of avocado dippers!
---
Up next –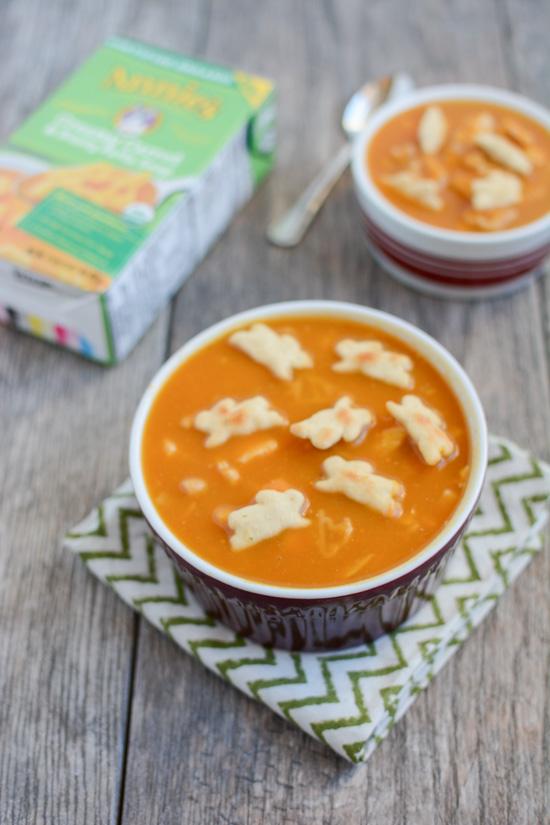 Organic Creamy Carrot & Bunny Pasta Soup
Squish is a pasta-lover like his mama, so I knew he'd love the pasta in this one. Although he's probably not quite old enough to appreciate the fun shapes – bunnies and carrots – I thought they were so fun! Fun fact-  a serving of this soup  gives you 100% of your daily value of Vitamin A.
I recently did some baking with pumpkin, and as I'm sure you've experienced, I had a little bit of pumpkin left over. This soup has an orange color, very similar to pumpkin, so I decided to just mix that leftover pumpkin right in! Not noticeable in color or taste and another easy way to add some beta-carotene to your meal. I also threw in some leftover chicken from dinner earlier in the week for an added protein boost! Soups like this are one of my favorite kitchen shortcuts. They're great on their own, but you can also use them as a base to transform your leftovers into a totally new meal!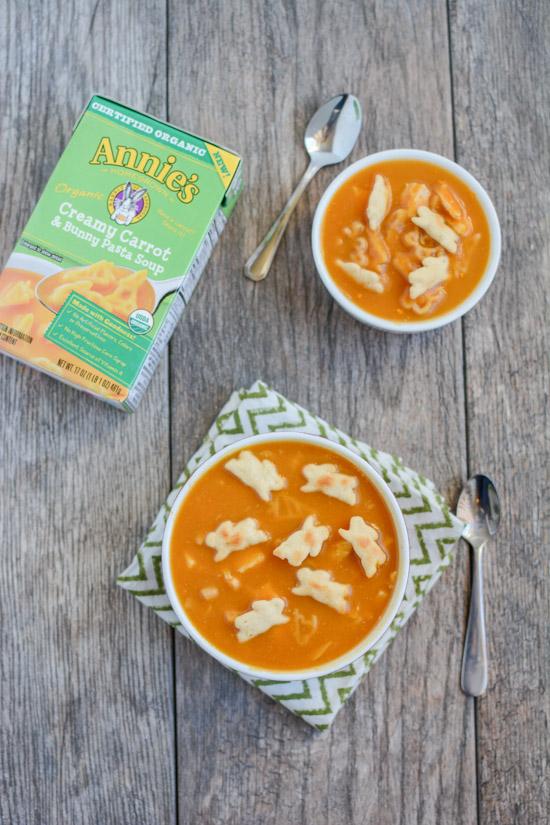 To make this soup:
1/3 – 1/2 cup pumpkin
1 cup cooked chicken, chopped
Directions:
Combine all ingredients in a bowl and mix well. Heat and serve topped with bunnies!
---
And finally –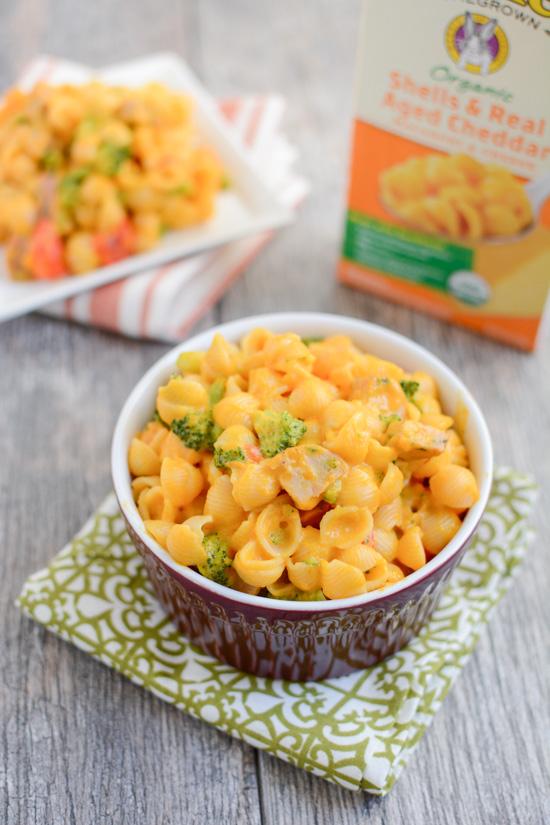 Annie's Organic Shells and Real Aged Cheddar
When I was pregnant with Squish, I pretty much lived on this mac and cheese. Either mac and cheese, Cheerios or peanut butter and jelly toast were just about all I could stomach for dinner for a several month stretch.
So it's probably no surprise that mac and cheese is one of little man's favorite foods as well. All Annies's Mac and Cheese varieties are free of artificial flavors, synthetic colors and preservatives and I love pumping it up with some extra protein and veggies to make it a more complete meal. I make no exception when Squish eats it. I usually add some leftover chicken or some pre-cooked chicken sausage and then move on to the vegetables. Two of his favorite veggies are roasted squash and red peppers, so I mixed some of those right in and then I also added some broccoli, one of his least favorite veggies! Although he still picks some of it out, he's much more likely to eat a few pieces if it's covered in cheese and served with noodles.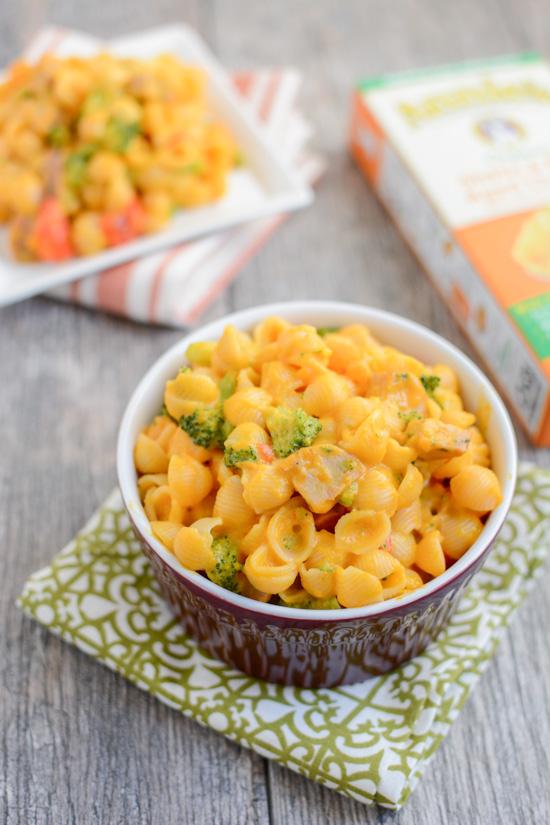 To make the mac and cheese:
1 box of Annie's Organic Shells & Real Aged Cheddar
3 Tbsp milk
1 cup chopped broccoli florets
1/2 cup roasted squashed, mashed (butternut or acorn work well)
1/4 cup roasted red peppers, diced
1-2 pre-cooked chicken sausages, chopped
Bring a pot of water to a boil. Add pasta and broccoli and cook for 8 minutes. Drain and return to pan. Mix in remaining ingredients (including cheese packet from mac and cheese) and stir until well combined. Serve warm.
---
So there you have it! 3 easy, kid-friendly meal ideas that are packed with fall veggies and still taste great!
[Tweet "Three kid-friendly recipes full of fall veggies via @leangrnbeanblog and @annieshomegrown!"]
Enjoy!
–Lindsay–
LEARN HOW FOOD AFFECTS YOUR BODY.
Get my free Table Talk email series where I share bite-sized nutrition information about carbs, protein, and fat, plus bonus information about snacks and sugar!