Want to learn how to cook spaghetti squash? Try it three ways: in the microwave, the oven or the crockpot!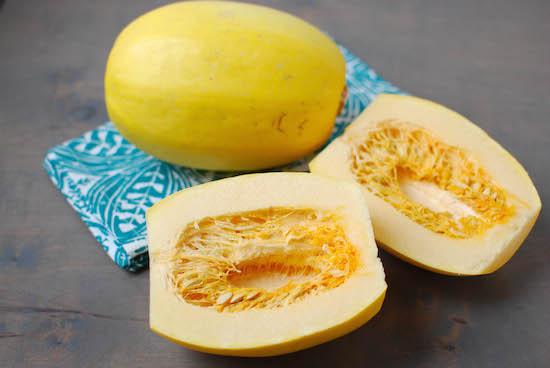 Hi Friends!
Way back in December 2012, I wrote a post sharing 3 ways to cook spaghetti squash. It's become one of my most popular posts and earlier this week I updated the pictures so I thought it'd be a good time to give it a second look.
How To Cook Spaghetti Squash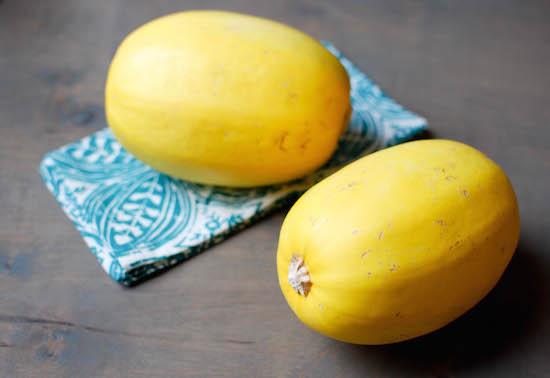 Spaghetti squash has become wildly popular lately as a low-carb option to replace spaghetti noodles. It's paleo-friendly, naturally gluten-free and fairly inexpensive.

Some people may be hesitant to try it because they're not sure how to cook spaghetti squash. Have no fear! I'm here to help.
First let's talk about how to cut it: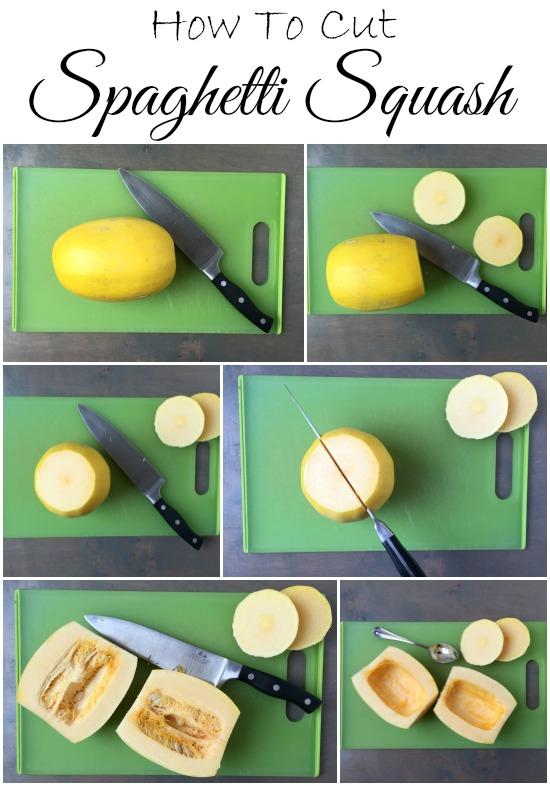 Step 1: Cut the ends off the spaghetti squash.
Step 2: Stand the squash on end and cut in half length-wise.
Step 3: Option 1: Scoop out the seeds and pulp and discard. Option 2: Leave the seeds in and eat them once the squash is cooked. Option 3: Scoop out the seeds and roast them separately.
**Bonus Tip** Spaghetti Squash can be difficult to cut. To make it easier, put the whole squash in the microwave for 2 minutes before trying to cut it!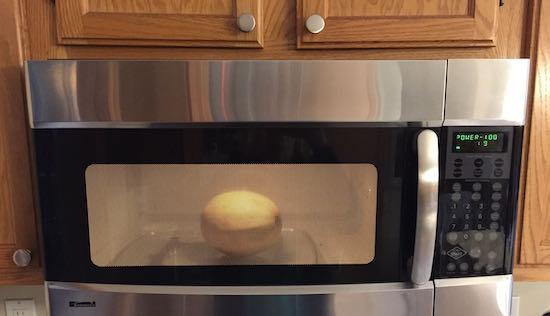 ---
There are several ways you can cook spaghetti squash and I think they all have their merits.
3 Ways To Cook Spaghetti Squash
I personally like it prepared all three ways but your preparation method of choice may depend on how much time you have. The crockpot method is fix it and forget it. Oven roasted gives it the most flavor. The microwave method is the fastest if you're pressed for time.
So let's get started.
Oven Roasted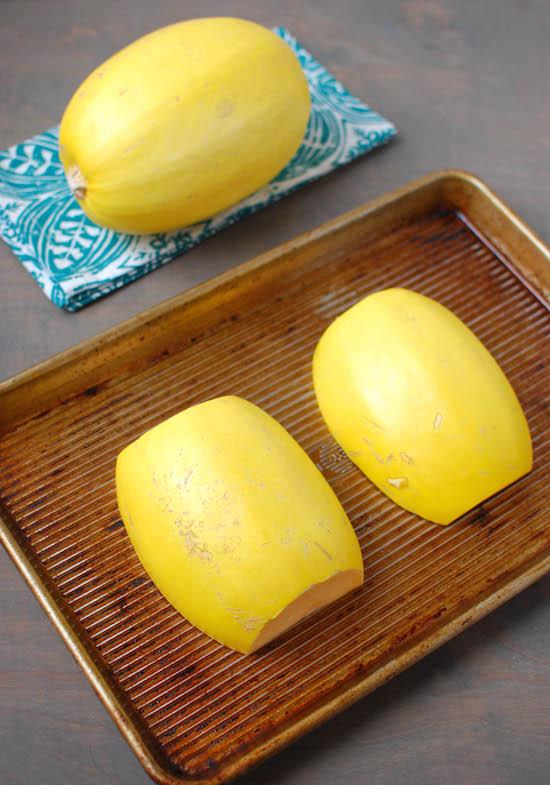 Put the two halves face down on a baking sheet. Place the baking sheet in the oven and bake at 375 degrees F for 45 minutes. Check doneness by pulling a few strands out and taste them. If you want them softer, cook a little longer.
Another oven possibility- try cutting it into rings and baking it!
---
In the Crockpot
Poke holes with a knife, put the whole squash in a crockpot with two cups of water. Cook on low 4-6 hours on low depending on size. Mine was about 7-8 inches long, medium sized I'd say. I cooked it 4 hours and it was perfect for me, but I still like it a bit crunchy. If you want the strands softer, cook it another hour or two.
Once it's done, slice in half, scoop out seeds and pull strands with a fork.
---

In the Microwave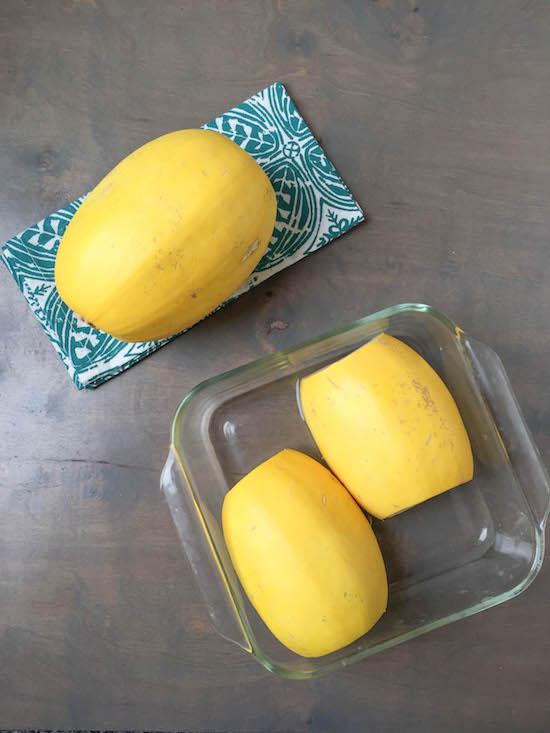 You have two options for the microwave method. You can either cook it whole or cut in the microwave. If you want to cut it, follow the directions above, then put it on a plate or in a glass dish with a little water and microwave 10-12 minutes.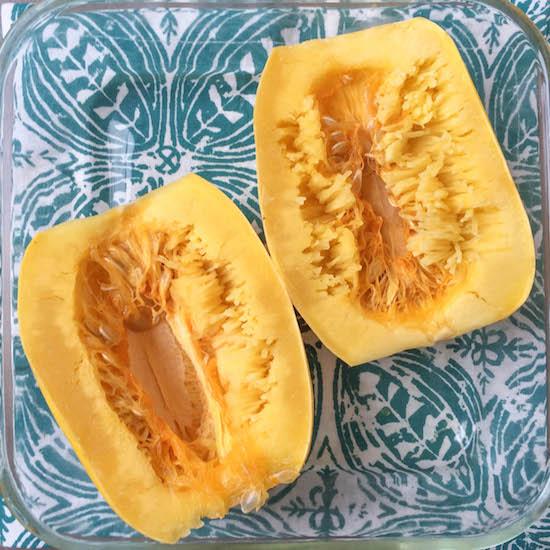 To check to see if it's done, turn it over and pull at the sides with a fork to separate the strings and taste a few. As you can see, I like to leave the seeds in mine!
If you want to cook it whole, stab it all over with a knife, put it on a plate and microwave for 10-12 minutes, rotating every few minutes until it gets squishy. Then cut and separate strings. Remove the seeds if desired.
---
So it's cooked, now what?

Use a fork to pull the strands away from the sides of the cooked squash. Scoop them out or eat straight from the squash!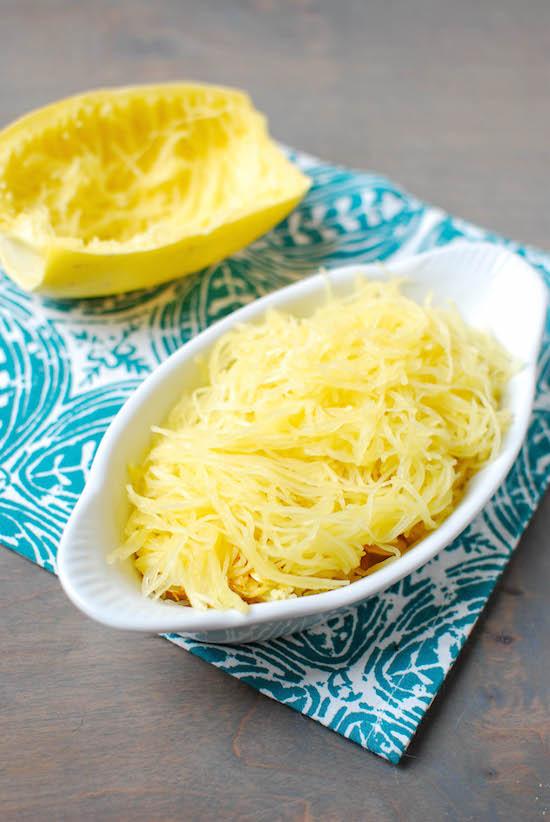 So there you have it! Now that we've learned 3 different ways to cook spaghetti squash, you're probably looking for some recipes ideas to try, right?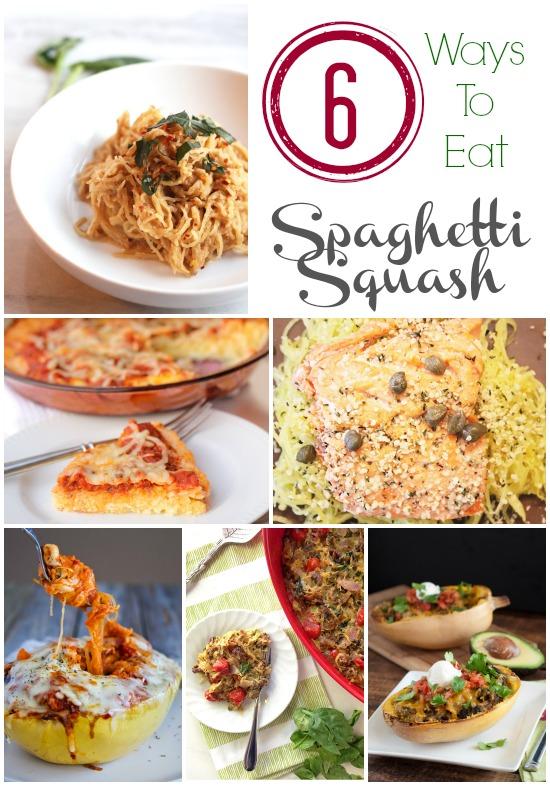 And if you like veggie noodles, check out some of my zucchini noodle recipes!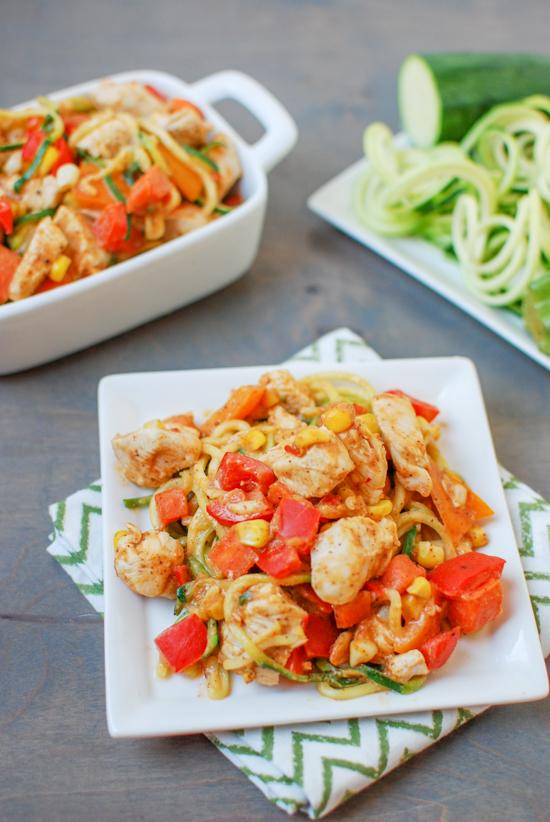 [Tweet "Want to learn how to cook spaghetti squash? @Leangrnbeanblog gives you 3 options!"]
Things like spaghetti squash and other veggies are great for food prep! If you liked this post, you'll love my ebook – The Ultimate Guide To Food Prep. It dives into even more detail about how to food prep, troubleshoots common problems and provides tons of tips to make it easier! Click the image below for more details!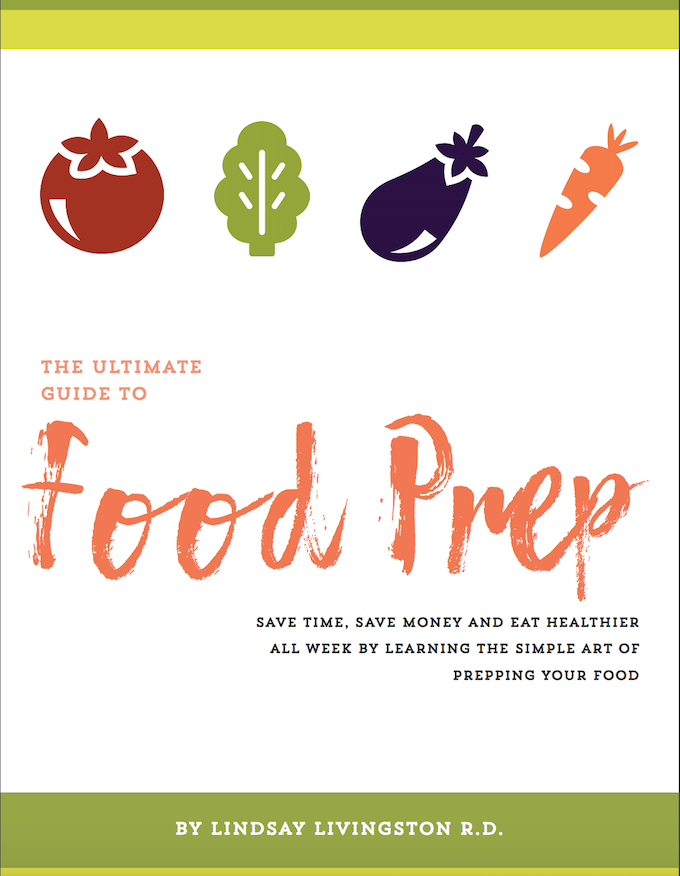 Enjoy!
–Lindsay
PS. I'm thinking about making a Squish with vegetables calendar. Best-seller for sure, right? He looks really cute with the squash but don't let him fool you. That lasted about 5 minutes. The remainder of the hour was more like the middle picture- me trying to take pictures and him laying on the floor screaming 🙂

LEARN HOW FOOD AFFECTS YOUR BODY.
Get my free Table Talk email series where I share bite-sized nutrition information about carbs, protein, and fat, plus bonus information about snacks and sugar!