Have lots of extra apples? Here are 15 healthy apple dinner recipes. Add them to your meal plan for dinner this week or enjoy leftovers for lunch!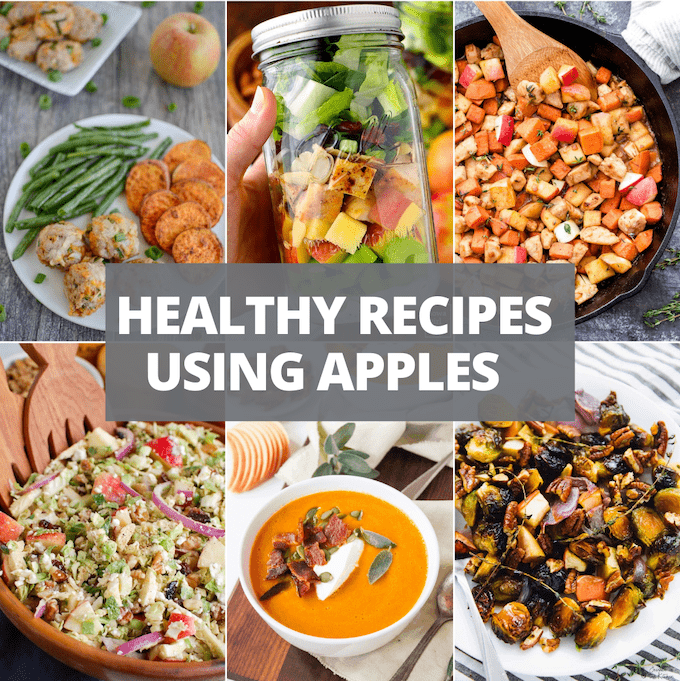 *Originally published Oct 2014. Updated September 2022*
Hi Friends!
I don't know about you but I often find myself with a surplus of apples. Whether it's after going apple-picking in the Fall or simply because they're on sale at the store, I'm constantly looking for ways to use up this simple fruit.
Healthy Dinner Recipes with Apples
Luckily apples are super versatile and make a good addition to tons of recipes for any meal of the day! I've you're looking specifically for breakfast recipes, try these 10 Healthy Ways to Eat Apples for Breakfast. 
And while a lot of people immediately think of apples for breakfast, snack or dessert, I've decided to think beyond breakfast!
These healthy apple dinner recipes will shake up your Fall menu and hopefully provide you with a few new family favorite recipes for years to come!
If you're looking for a few of my favorite recipes using apples, try:
Vegetarian Apple Dinner Recipes
Most of the recipes highlighted below contain meat but apples are also the perfect addition to vegetarian dinner recipes. They are a great addition to Fall salads as they pair well with roasted squash, sweet potatoes and other Fall vegetables. They also add some sweetness to salsas and can be shredded and added to vegetarian patties or chopped and added to a hash with vegetarian sausage.
Chicken Apple Sausage Dinner Recipes
Fall is also a great time to take advantage of all of the chicken apple sausage variations out there. Most sausage brands now have a sweet apple chicken sausage variety that pairs well with eggs if you're in the mood for breakfast for dinner or with noodles/tortellini and some cheese for a quick weeknight meal. You can also pair it with diced apples and broccoli or green beans for an easy sheet pan meal.
Dinner Recipes Using Apple Juice
And finally, we can't talk about apples without also talking about apple juice! There are lots of dinner recipes using apple juice, including a few featured below. Apple juice is a great addition to a marinade or skillet dinner to help make a flavorful pan sauce.
Healthy Apple Dinner Recipes
---
What's your favorite healthy apple dinner recipe?
Enjoy!
–Lindsay–
LEARN HOW FOOD AFFECTS YOUR BODY.
Get my free Table Talk email series where I share bite-sized nutrition information about carbs, protein, and fat, plus bonus information about snacks and sugar!