These Gluten Free Peanut Butter Chocolate Chip Bars are an easy dessert for times when you just don't feel like cookies. 
Hi Friends!
Today's post is coming at you a little later than usual…and it's not Bean Bytes…but it's for good reason! Today we're celebrating the birthday of a very special lady with these Gluten Free Peanut Butter Chocolate Chip Bars.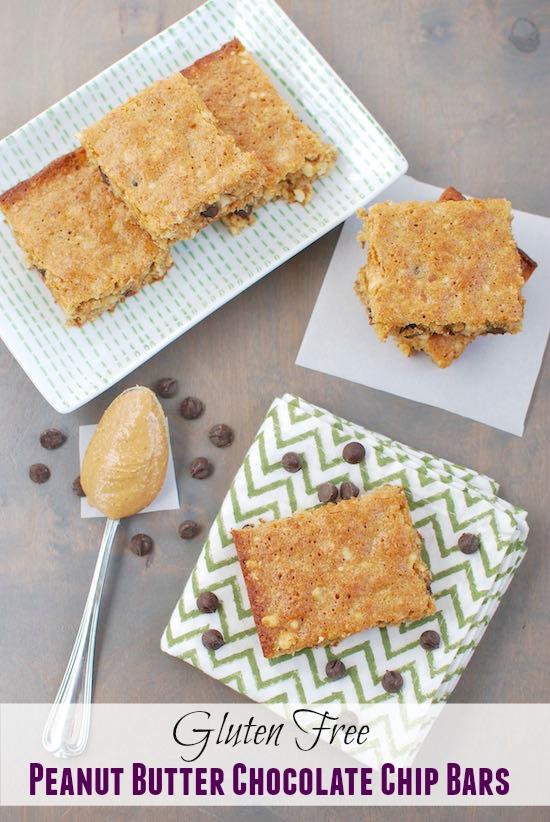 First, a little back story:
A little over three years ago, I was at at the Food & Nutrition Conference and Expo in Philadelphia. I was a couple of months into my Dietetic Internship and still hadn't really nailed down what I wanted to do with my career as an RD. I attended a session on Non-Traditional Career Paths in Dietetics led by Janet Helm was the speaker. During the session she introduced a website that she and fellow RD Regan Jones had started (Healthy Aperture) and mentioned they were looking for interns.
Being a food blogger, my attention was piqued and after the session was over, I went up and told Janet I was interested in learning more about the intern opportunity. She connected me with Regan and we met up at the expo. After chatting for a while, I headed home with a plan in place. I would join the Healthy Aperture team and review recipe submissions one day per week for the foreseeable future.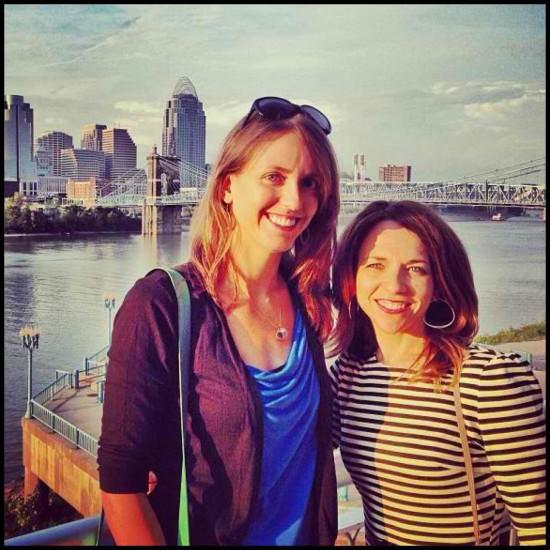 I reviewed images for Healthy Aperture throughout my whole dietetic internship. During that time Regan became a mentor. As a successful entrepreneur and business owner, she is a wealth of knowledge and she spent countless hours patiently answer question after question from me as I tried to figure what to do with my life.
After I passed my RD exam, Regan got even MORE awesome when she offered me a job! For the past year and a half I've been working with her as the Nutrition Communications Coordinator for Regan Miller Jones Inc. And I couldn't be happier!
Over the past 2 1/2 years Regan has been a boss, a mentor, a confidant and a friend.
She's been my: sounding board, my teacher and my biggest fan.
She's given me: invaluable advice about business, blogging, life and mommyhood.
She's taught me: how valuable my talents are and reminds me constantly how important it is to know your worth.
She's inspired me:  to follow my dreams because I've watched her chase her own and become wildly successful.
Today is Regan's 40th birthday. Gretchen reached out to several of Regan's friends, fellow RDs, business partners, etc and asked us to help her throw a virtual birthday party for her by creating a gluten-free dessert or cocktail to celebrate.
So this one's for you, Regan! I hope it helps remind you what a positive impact you're having on the lives of so many people around you! Happy Birthday!
———-
If you're a longtime Bean reader, you know that I'm most certainly not gluten-free. I occasionally make things that are gluten-free but it's definitely not a priority for me. I haven't really done much gluten-free baking but I'm always up for a challenge! So I headed to the kitchen to see what I could come up with.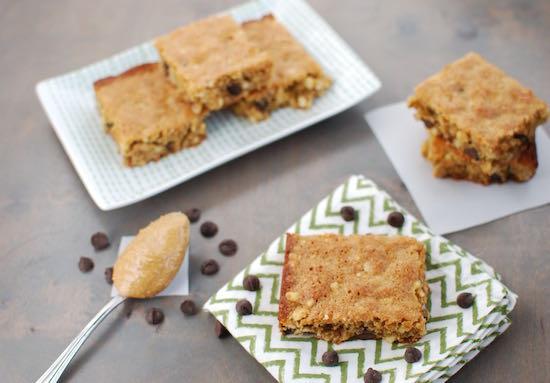 I created these Peanut Butter Chocolate Chip Bars and they are DELICIOUS! I was inspired by this recipe but made some changes as usual. I made a rookie baking mistake in that I started making these before I had all the ingredients out and when it came time to add the almond flour, I realized that the bag that I thought I had in the pantry had gone bad. I wasn't about to go to the store…but I also wasn't about to give up. So I got out my Blendtec blender, poured in some almonds and made my own. I was planning to mix in some chopped almonds anyways, so I ground them up but still left some chunks. If you have finely ground almond flour/meal, I'm sure that'll work just fine as well.
Here's how to make them:
Print
Gluten Free Peanut Butter Chocolate Chip Bars
A delicious gluten-free alternative to cookies.
Author: Lindsay L
Prep Time:

5 minutes

Cook Time:

25 minutes

Total Time:

30 minutes
4 Tbsp

butter, melted

2/3 cup

brown sugar

2

eggs

1 tsp

vanilla

1/2 cup

peanut butter

11/2 cups

almond meal (home ground or store bought)

1 tsp

baking powder

3/4 cup

dark chocolate chips
chopped almonds, craisins, etc optional for mix-ins
Instructions
Combine the butter, sugar, eggs, peanut butter and vanilla in a large bowl and stir until well combined.
Add almond meal, baking powder, chocolate chips and other mix-ins (if using) and mix well.
Pour into a greased 9×9 pan and bake at 350 for 20 minutes.
Turn oven off and let cook 5 minutes longer.
Notes
If making your own almond meal, grind whole almonds in a high-powered blender or food processor until you have 11/2 cups. If you want, you can leave some chunks of almonds for texture instead of finely grounding.[br] In my experience, things I make with almond meal tend to burn more quickly on the edges, so I baked mine for 20 minutes and then turned off the oven and let them bake a little longer to help cook the middle.
These turned out even better than I'd hoped. They're flavorful, chewy and all-around delicious! Go make them now!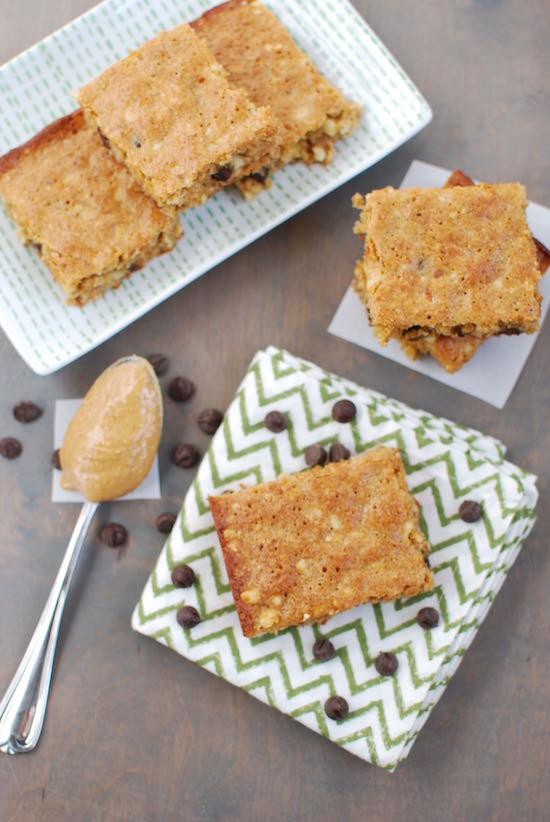 [Tweet "Need a treat? Try these GF Peanut Butter Choc Chip Bars from @leangrnbeanblog!"]
Enjoy!
–Lindsay–
PS. I thought I'd give you a little peek behind the scenes today as well:
One thing you may or may not know about me is that i HATE photographing cookies, bars, etc. Food styling is not my forte. I love looking at beautifully styled food, but usually i'm just too tired or lacking the creativity to put it in my own photos. I thought it'd be fun to show you guys the progression I went through in this photoshoot.
I started out with a terribly boring shot of three bars stacked on a plate and from there just kept rearranging and adding things (see the progression if pics below) until I had something I was somewhat satisfied with (the ones above!). Part of my 2015 plan is to put a little more effort into my photos. We'll see how it goes!
Want to see more gluten-free desserts and cocktails? Check out the links below:
LEARN HOW FOOD AFFECTS YOUR BODY.
Get my free Table Talk email series where I share bite-sized nutrition information about carbs, protein, and fat, plus bonus information about snacks and sugar!