Can you sprout lentils at home? You can! Learn how to sprout lentils at home and you can enjoy lentil sprouts benefits with very little extra work!
Hi Friends!
Just popping in with a quick little post today about sprouting. More specifically, I want to tell you how to sprout lentils!
How To Sprout Lentils At Home

So, you may be wondering about sprouting lentils in a jar- how to make lentil sprouts, lentil sprouts benefits etc!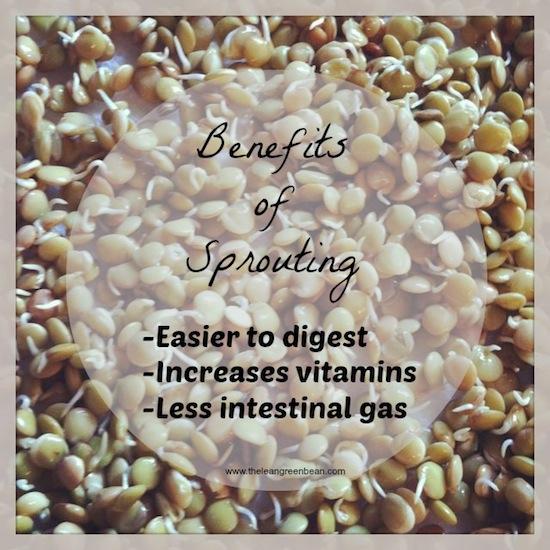 Sprouted lentils vs lentils:
Lentils contain phytic acid, which can be difficult to digest. Sprouting neutralizes the phytic acid, which means more vitamins and minerals can be absorbed by your body as they're digested.
When you sprout lentils, you're actually starting the germination process, which changes the composition of the lentils. Sprouting increases the amounts of vitamins and minerals in the lentils, especially B vitamins and carotene.
Sprouting produces Vitamin C.
Like many legumes, lentils have sugars that create intestinal gas. Sprouting helps break down some of those sugars.
Sounds pretty good, right? What's even better is that sprouting is super easy to do! It requires very little equipment and hardly any effort on your part. Although you can buy special sprouting jars, all you really need is a mason jar and some light fabric or cheesecloth to go over the top.
While you can use any lentils you find at the grocery store, especially if you're going to cook them afterward. If you're planning to eat them raw, you may want to consider buying from a site like Sprout People to make the process as safe as possible.
Sprouting Lentils In A Jar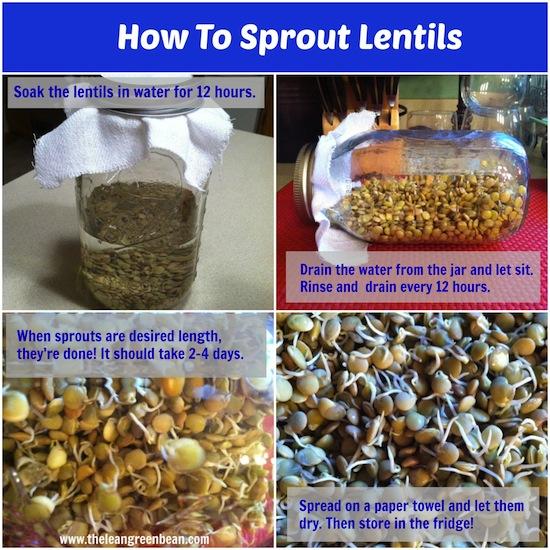 How to sprout lentils:
So let's learn how to grow lentils with sprouts!
1. Put the dry lentils in a jar. Add water and let sit overnight. Remember that the lentils will eventually almost triple in size so be sure your container is big enough. I used about 2/3 cup dry lentils in a 1 quart mason jar and added about 2 cups water, and there was plenty of room. Don't put an airtight lid on the jar. I used a piece of thin cloth (cheesecloth would be perfect) and secured it with the ring part of the jar top.
2. Drain the water out of the jar, replace the cloth and let the jar sit on the counter, out of direct sunlight. Every 12 hours, add water to the jar, give it a swirl and then drain it out again.
3. I started seeing little tails in 24-36 hours and decided they were long enough after about 2 days. Depending on the amount of lentils you're sprouting, this process could take up to 4 days.
4. When they're done, spread them on a paper towel to let them dry out a little bit, then store in an airtight container in the fridge.
How to use sprouted lentils:
You can eat the sprouted lentils plain for a snack, use them as a salad topping, or add them to whatever dish you would add non-sprouted lentils to when you're cooking.
If you're feeling ambitious like I was, you can make some homemade bread and add some sprouted lentils to it! Try this Sprouted Lentil and Grain Bread or this Sprouted Bread recipe.

Or you can use them in any recipe that calls for cooked lentils like soups, curries, tacos etc.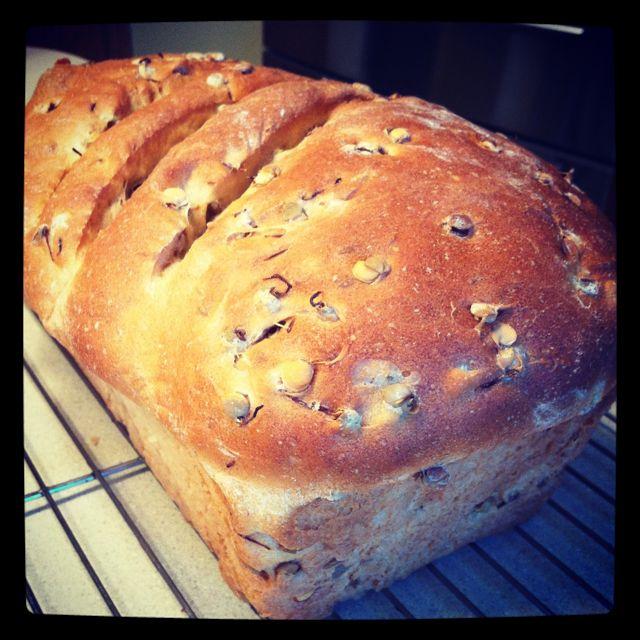 If you want more details on sprouting lentils and other things, my friend Cassie is the expert. Check out her post Sprouting 101: How To Sprout Anything and Why. Wondering how to sprout mung beans in a mason jar? Check out her post for details. Spoiler – it's the same method.
Let's chat:
Have you sprouted before? Are you willing to try it?
Enjoy!
–Lindsay–
This would make a great addition to your weekly food prep session! If you liked this post, you'll love my ebook – The Ultimate Guide To Food Prep. It dives into even more detail about how to food prep, troubleshoots common problems and provides tons of tips to make it easier! Click the image below for more details!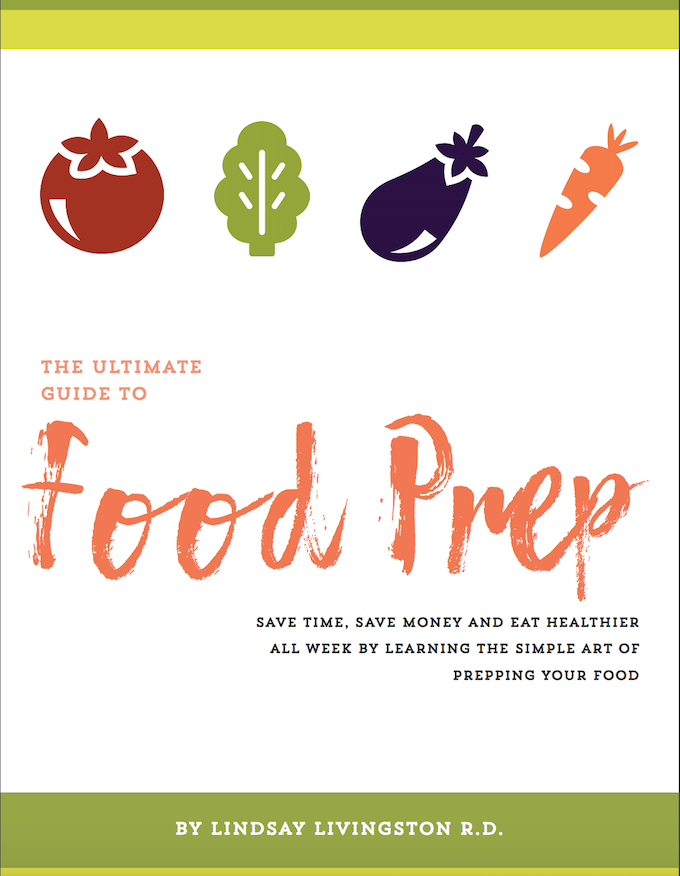 LEARN HOW FOOD AFFECTS YOUR BODY.
Get my free Table Talk email series where I share bite-sized nutrition information about carbs, protein, and fat, plus bonus information about snacks and sugar!