These Easy Pulled Pork Recipes can also be made with chicken or another protein source. Prep four simple ingredients on the weekend and combine for four quick, healthy meals during the week.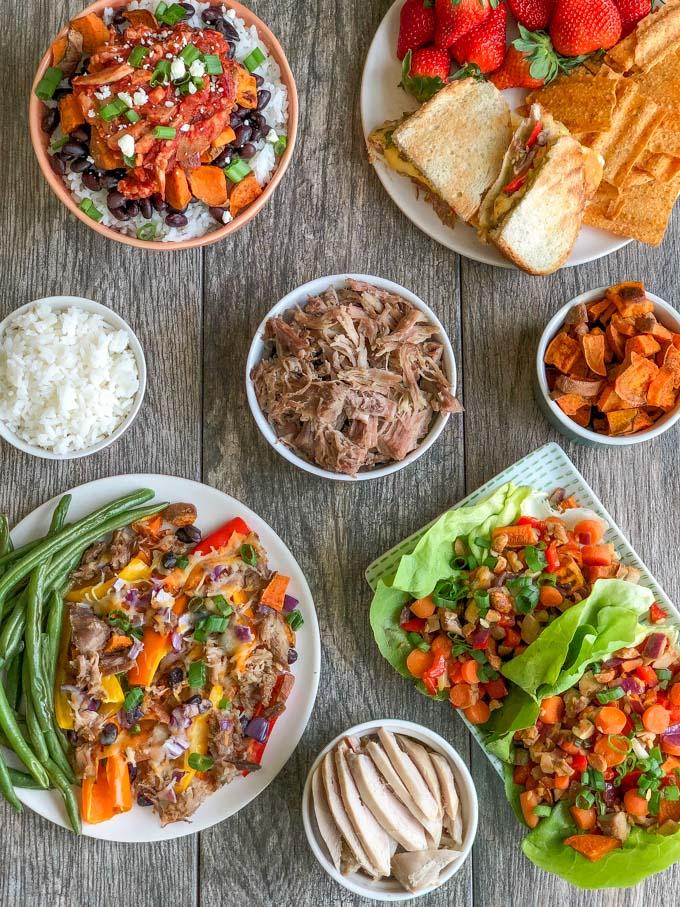 Hi friends!
I'm here to share these Easy Pulled Pork recipes with you guys as another 4×4 flexible food prep idea! I actually made two recipes with pulled pork and two with chicken thighs but you could make all of them with either….or mix and match like I did.
If you missed the first two 4×4's, be sure to check out these Easy Farro Recipes and Easy Egg Recipes as well!
In each post, I'll give you four ingredients to prep (at a minimum). You should be able to prep these four ingredients in under an hour so I also give you suggestions of other things you can prep if you have additional time.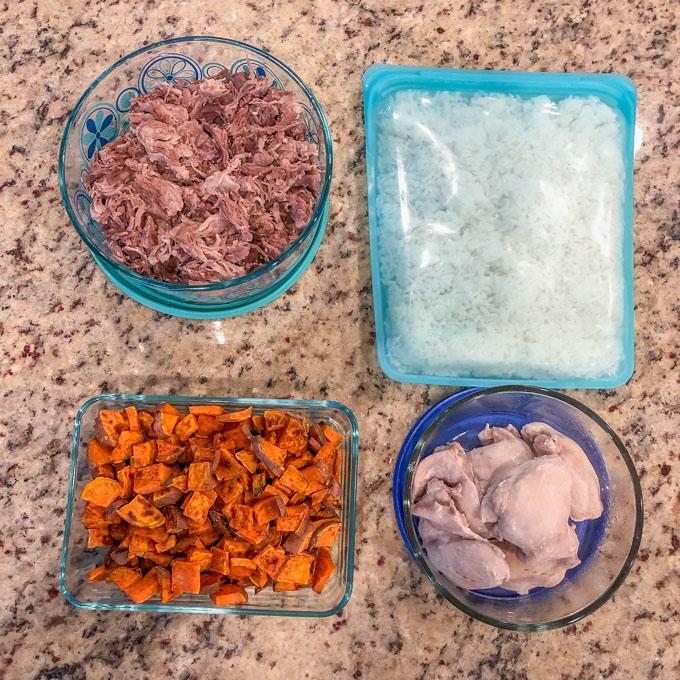 Easy Pulled Pork Recipes
This week's recipes:
Mini Pepper Pulled Pork Nachos
Pulled Pork and Egg Sandwich
Ginger Soy Lettuce Wraps
Chicken Tinga Bowls
Here's what you need to prep:
Pulled pork: I used a 4-pound pork shoulder, cut into big chunks and cooked in the instant pot with some broth for about an hour
Chicken (thighs or breasts): I used 2 pounds chicken thighs in the instant pot with broth cooked for 10 min. Shred or leave whole and slice
Roasted Sweet Potatoes: Dice and roast at 400 for 20-30 minutes stirring occasionally
Rice (or another grain): Cook as desired on the stovetop or in the instant pot
Let's talk options:
If you want to do all your meals with one meat, you could prep some additional veggies (roasted/steamed/sauteed) for your fourth item, or prep something totally separate like hb eggs to snack on, muffins for breakfast, an egg bake, etc
If you're not a fan of using mini peppers for the nachos, use chips instead!
Tired of sandwiches? Take all the sandwich components and serve them in a bowl over some roasted sweet potatoes or rice
Don't want to make the tinga sauce? Used a store-bought simmer sauce (Frontera makes good ones, or an Indian curry sauce)
Have more time?
Make some fajita veggies or an avocado crema for your tinga bowls or just make the tinga chicken ahead of time.
Prep some snacks or breakfast items for the week.
Roast a red pepper to add to your sandwiches or some extra veggies for side dishes.
Wash and dry lettuce leaves for the lettuce wraps.
Make the whole filling for the lettuce wraps so all you have to do is reheat.
Time for the "recipes". I'm reluctant to even call them recipes because they are so easy and flexible. You really don't need to measure ingredients for any of these and you can make the meals as large or small as you'd like depending on how many people you're serving so this week I'm just giving you basic directions for most of them and letting you fill in the specific quantities.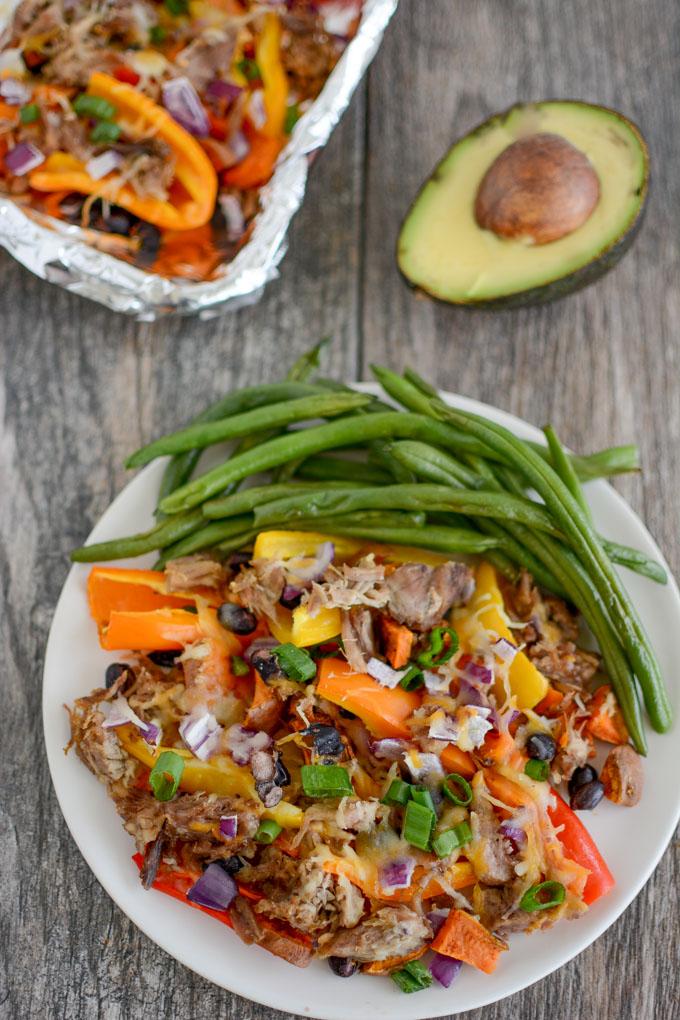 Mini Bell Pepper Pulled Pork Nachos
Grab a boneless pork shoulder/boston roast/whatever you can find at the store. If you're using the instant pot, cut it into large chunks, add one cup broth or water, and cook for 60 minutes. Quick release and check to see if it shreds easily with a fork. If not, reseal and cook another 10-15 minutes. Shred and store.
To make the nachos, cut the mini peppers in half and remove seeds/stems. (This could be done ahead of time). Arrange them on a foil-lined pan. Top with pulled pork, roasted sweet potatoes, black beans, onions, cheese, etc. Bake at 400 for 10 minutes. Add salsa and avocado. I like to bake mine because it softens the peppers just a bit but if you want them extra crunchy, you can also just broil for a minute or two to melt the cheese. If you don't want to use peppers, use regular chips!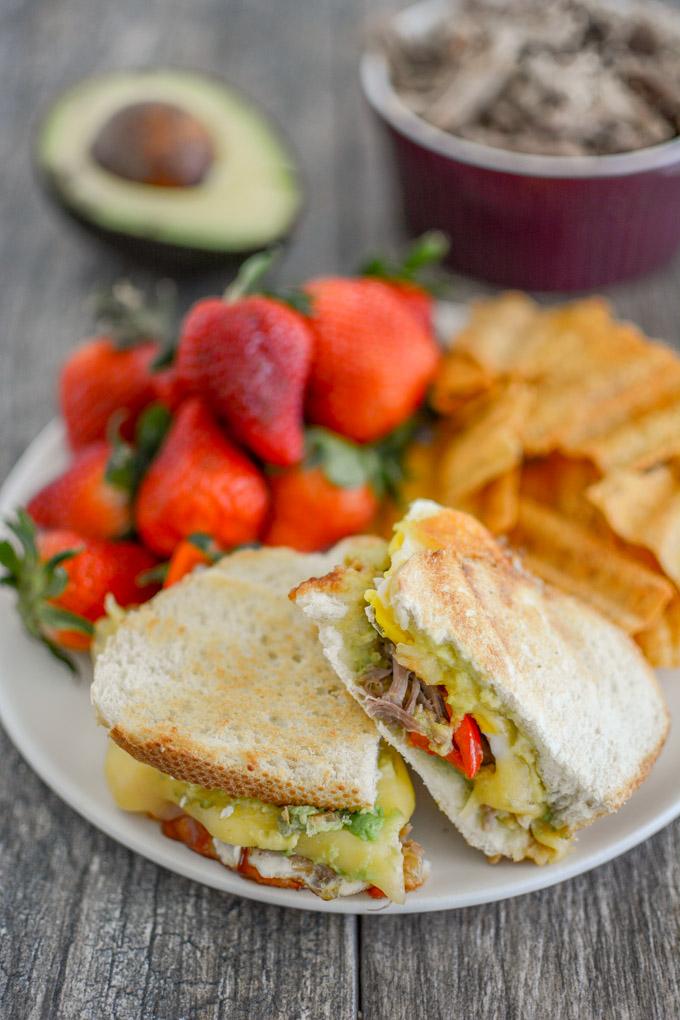 BBQ Pulled Pork and Egg Sandwich
This is a replica of my all-time favorite sandwich from a cute little restaurant spot in downtown Columbus. Grab some delicious bread from the bakery and cut two thick slices. Top one slice with pulled pork, red pepper (roasted if you have it), bbq sauce, cheese (I used Gouda) and a fried egg. Smash avocado onto the other slice and put it on top. Add butter to the outsides of the bread and throw it on a griddle or panini press. Enjoy.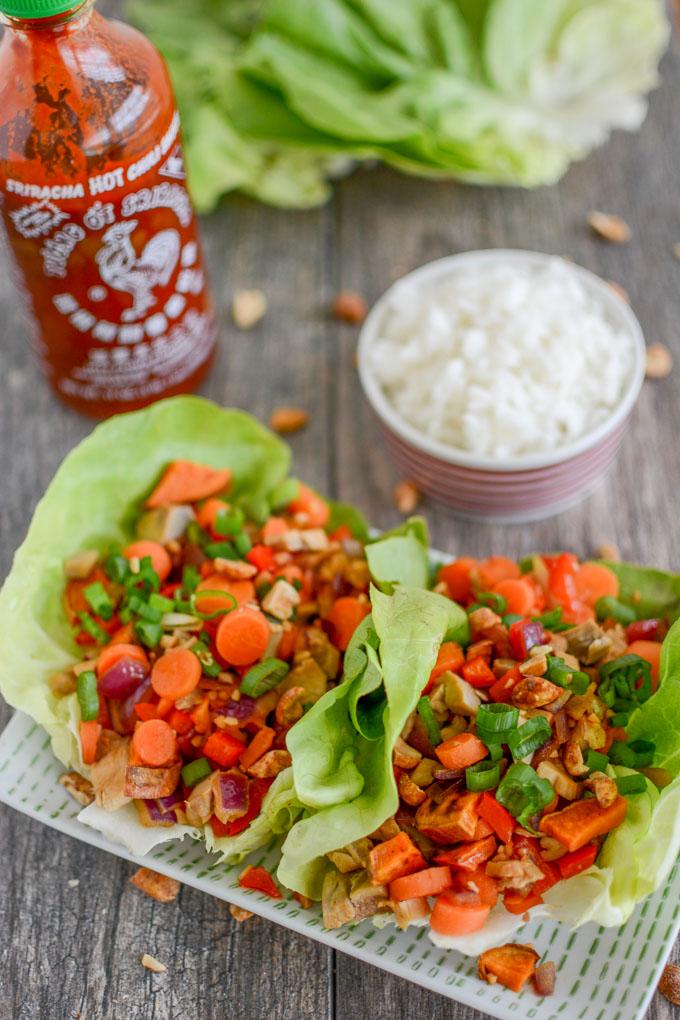 Ginger Soy Lettuce Wraps
This can easily be done with either pork or chicken. I used chicken thighs cut into chunks. In a skillet, sauce some garlic, onions, chopped carrots and peppers for 5-10 minutes until soft. Add roasted sweet potatoes and cooked chicken. Add a few Tablespoons of soy sauce and some fresh ginger (I use ginger paste). I also like to add a Tablespoon of dijon mustard and a splash of maple syrup but that's optional. You could also mix in some of your cooked rice instead of sweet potatoes if you wanted. Stir well and heat through. Spoon into lettuce cups and top with sriracha, green onions and chopped peanuts.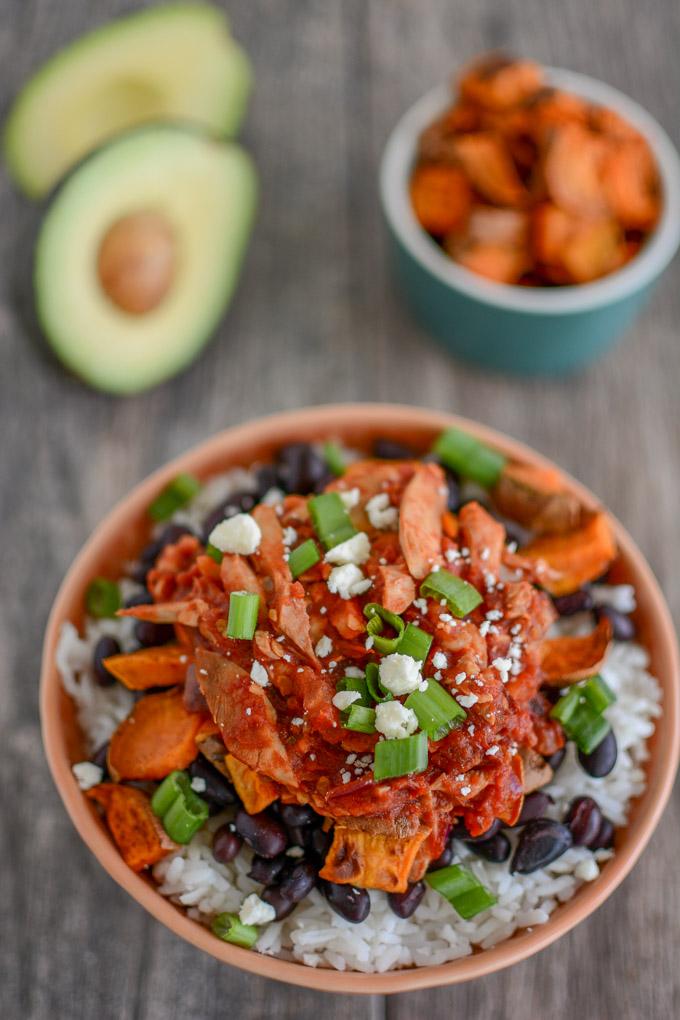 Chicken Tinga Bowls
One of our favorite taco places serves these AMAZING Chicken Tinga Tacos that I get every time we go there. They're full of tinga chicken, red onions, feta cheese and an avocado crema and they're out of this world. I finally got around to looking up exactly what a tinga sauce is and it's so easy to make at home! I turned these into bowls and ran out of time to make the crema but I'll definitely be making Chicken Tinga Tacos next time.
1 (14.5 oz can) fire roasted crushed tomatoes
2-3 chipotle peppers in adobo sauce
1/2 cup diced onion
3 cloves garlic, minced
1 tsp oregano
1 tsp cumin
1 pound cooked chicken
In a pan, or small pot, saute garlic, onion and spices with some oil for 3-4 minutes. Chop the chipotle peppers (number depends on how spicy you want it) and add them to the pan along with your chicken. Pour in half the can of crushed tomatoes, stir to combine. Taste and add salt or additional peppers if needed. Decide what sauciness level you want. I like mine a bit less tomato-y so I usually only use half a can of tomatoes but you can add the whole can if desired!
Serve over bowls of rice, beans, roasted sweet potatoes etc and top with crumbled feta, avocado and green onions. Feel free to throw in some other roasted veggies if you want!
Here are some things you might need at the grocery store:
pork shoulder
chicken breasts or thighs
mini bell peppers
sweet potatoes
black beans
onion
green onion
tomatoes/salsa
avocados
shredded Mexican cheese
bread for sandwiches
eggs
roasted red peppers
cheese for sandwiches
bbq sauce
Bibb lettuce
ginger
soy sauce
carrots
garlic
peanuts
sriracha
fire roasted crushed tomatoes
chipotles in adobo (in a can in the mexican aisle)
oregano
cumin
rice
Enjoy!
–Lindsay–
LEARN HOW FOOD AFFECTS YOUR BODY.
Get my free Table Talk email series where I share bite-sized nutrition information about carbs, protein, and fat, plus bonus information about snacks and sugar!