These Easy Broccoli Slaw Recipes are made using simple ingredients that can during food prep on the weekend and thrown together during the week for quick, healthy dinners or lunches.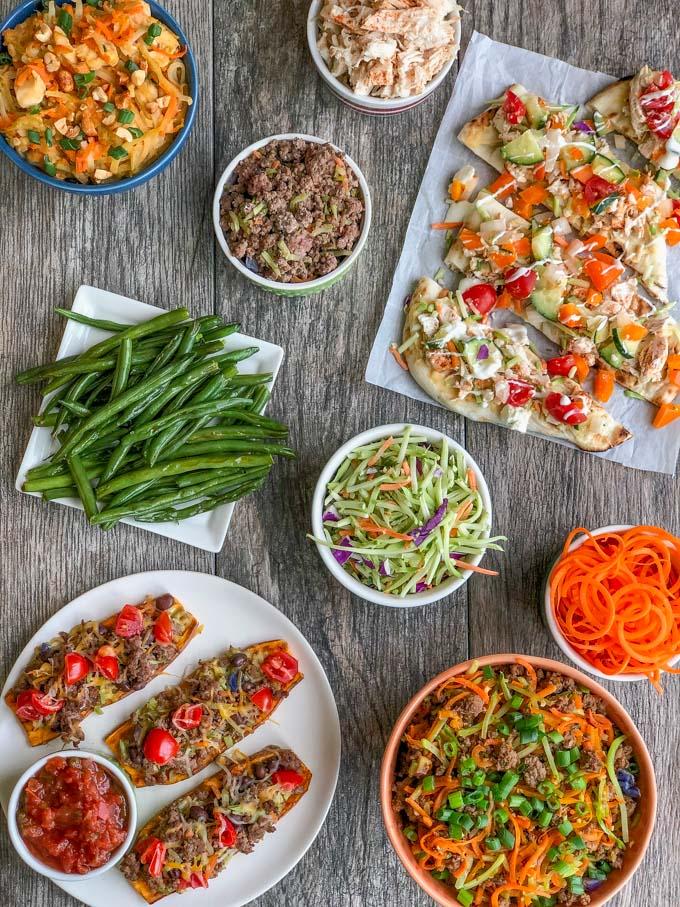 Thanks to Mann's Fresh Vegetables for sponsoring this post.
Hi friends!
It's time for another round of 4×4 food prep. In case you missed the previous posts in this series, you can check out:
In each posts, I give you four ingredients to prep on Sunday (with suggestions for additional prep work if you have time) and show you how to turn them into four quick and easy meals during the week.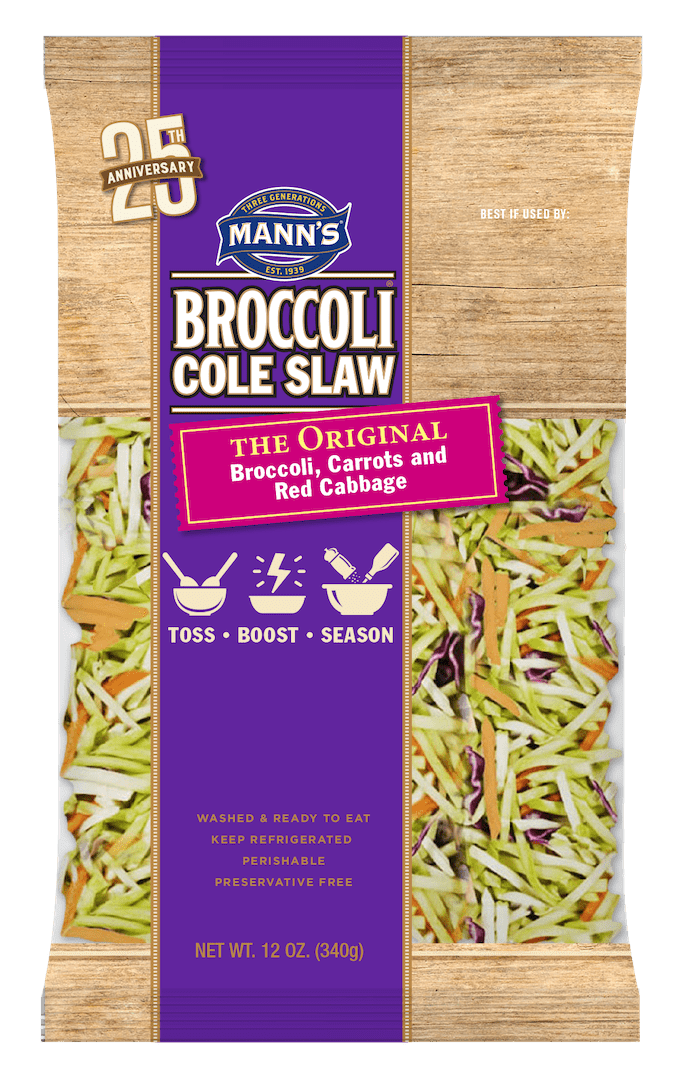 This week's recipes all feature Mann's Broccoli Cole Slaw. This is one of my favorite things to buy because it comes shredded and ready to go, has a great crunchy texture, and is so easy to add to tons of recipes for a boost of nutrients and an extra serving of veggies. Mann's also has some other great Veggie Slaw Blends, as well as veggie noodles and veggie rices! I'll share a couple of ways to incorporate those into this week's meals as well!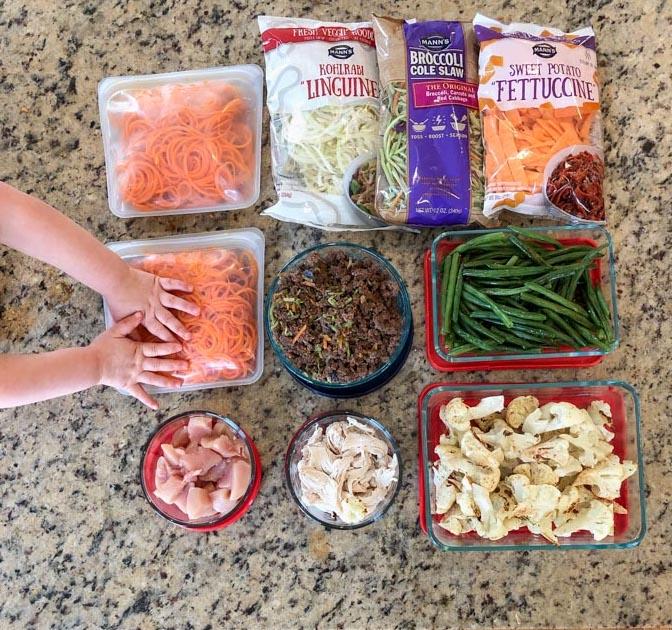 The Game Plan
What's on the menu this week?
Instant Pot Asian Peanut Noodles
Taco Sweet Potato Toasts
Broccoli Slaw Egg Roll in a Bowl
Greek Chicken Flatbreads
Here's what you need to prep to make this menu easier:
Spiralized veggies– Spiralize large carrots until you have approx 4 cups spiralized carrots and spiralize 2 bell peppers
Ground beef with broccoli slaw– saute 2 pounds with half a bag of broccoli slaw (roughly chopped) mixed in
Chicken two ways– 1 pound boneless, skinless chicken cooked in the Instant Pot or slow cooker and shredded and 1 pound kept raw but chopped into bite-sized pieces
Roasted veggies of choice – these will just be extra for side dishes. I made roasted green beans and cauliflower this week.
2 bags of Mann's Broccoli Cole Slaw – cook half a bag with the ground beef and save the other half of the bag for the IP Peanut Noodles. Use about 1 cup for the flatbreads and the rest of the bag for the egg roll bowls.
Need some options?
If you don't like shredded chicken you could grill it.
Not a beef eater? Sub ground turkey, pork or chicken.
Don't have a spiralizer? Make carrot ribbons with your vegetable peeler and finely slice the peppers. Or buy Mann's Kohlrabi linguine or sweet potato fettuccine.
Have more time?
Prechop the veggies for the flatbreads.
Premake the peanut sauce for the asian noodles.
Make some muffins for snacks or some egg wraps for breakfast.
Saute some peppers and onions to go on your sweet potato toasts.
Ok, so let's dive into the recipes shall we? They're very forgiving and don't really require exact measurements. They're also easy to scale so you can make the amount you need for the number of people you're cooking for.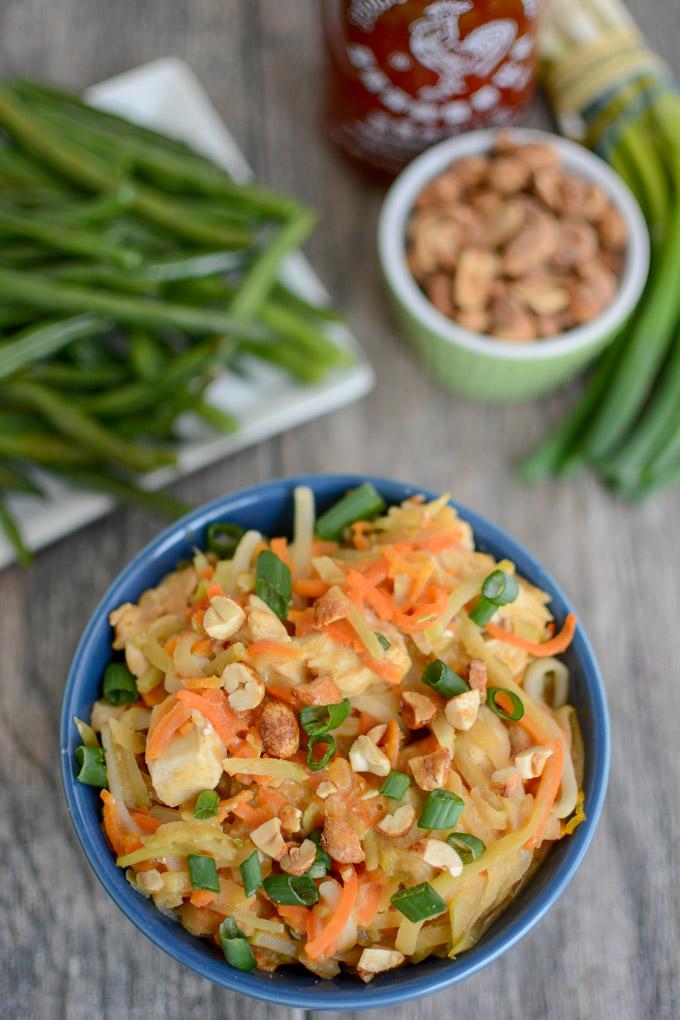 Instant Pot Asian Peanut Noodles
Ingredients
1 – 1.5 pounds boneless, skinless breasts
1 red bell pepper, spiralized
2-3 cups spiralized carrot noodles
2 cups Mann's broccoli slaw
1/4 cup soy sauce
2 Tbsp sweet chili sauce
1/3 cup peanut butter
2 cloves garlic, minced
1-2 tsp fresh ginger, grated (or paste)
2 cups chicken broth
3 oz rice noodles, broken in half
optional toppings: green onion, chopped peanuts, sriracha
Directions
Add the chicken you diced on Sunday to the Instapt Pot along with the carrots and peppers you spiralized. Then add the Mann's broccoli slaw and rice noodles and stir well.
In a bowl, mix together soy sauce, sweet chili sauce, peanut butter, ginger, garlic and half cup broth. Mix well and taste. You can add more sweet chili sauce or some brown sugar for a sweeter sauce if desired. (This can be made in advance and just dumped in when ready to cook)
Pour sauce, along with remaining 1.5 cups broth into Instant Pot and mix everything up really well, ensuring sauce covers all the noodles and vegetables.
Lock lid in place, press manual and adjust the time to 3 minutes.
Release pressure immediately when finished and stir well. You can let it simmer for a few minutes or serve. Top with green onions and peanuts and add sriracha to achieve the desired level of spiciness.
Notes
– I sometimes sub Mann's Kohlrabi Linguine for half the carrot noodles just to change things up!
– You could also use Mann's Sweet Potato Fettuccine instead of or in addition to the peppers and carrots.
– You can easily halve this recipe for a smaller batch.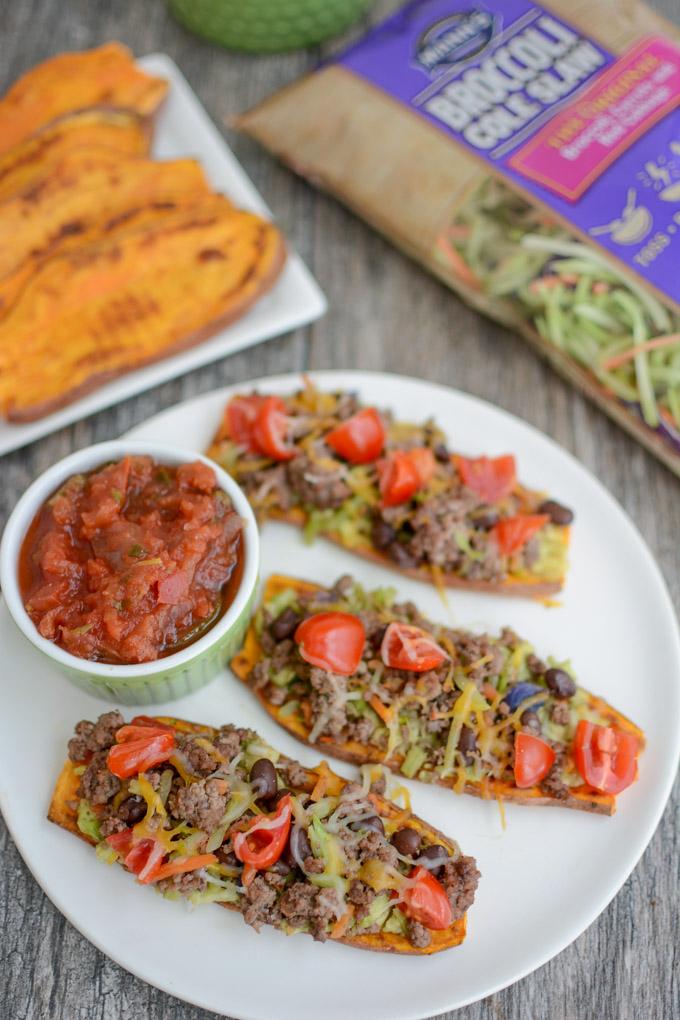 Taco Sweet Potato Toasts
Ingredients (serves 4)
2 large sweet potatoes
1 large avocado
1 pound cooked ground beef with broccoli slaw (prepped ahead of time)
1.5 cups diced peppers and onions (can saute these during food prep, or before assembling toasts)
1 can black beans, drained and rinsed (optional)
1 Tbsp taco seasoning
1 cup shredded Mexican cheese (optional)
diced tomato
Directions:
Preheat oven to 425 F. Cut the ends off the sweet potato. Slice lengthwise to make toasts. Spray with oil and bake for 20 minutes, flipping once.
Saute peppers and onions for 5 min over med-high heat. Add beef, beans and taco seasoning and heat through.
Mash avocado and spread on sweet potato toasts.
Spoon beef mixture onto sweet potato toasts and top with cheese.
Broil for 2-3 min to melt cheese.
Top with tomato. You can eat these with a fork or attempt to pick them up- depends how much you pile on top!
Notes:
– For a vegetarian version, skip the beef and just saute some roughly chopped broccoli slaw with the peppers and onions.
– If you sauteed your veggies ahead of time you can also just mix everything in a bowl and let it heat under the broiler after you put it on the toasts or pop the bowl in the microwave to reheat before building your toasts!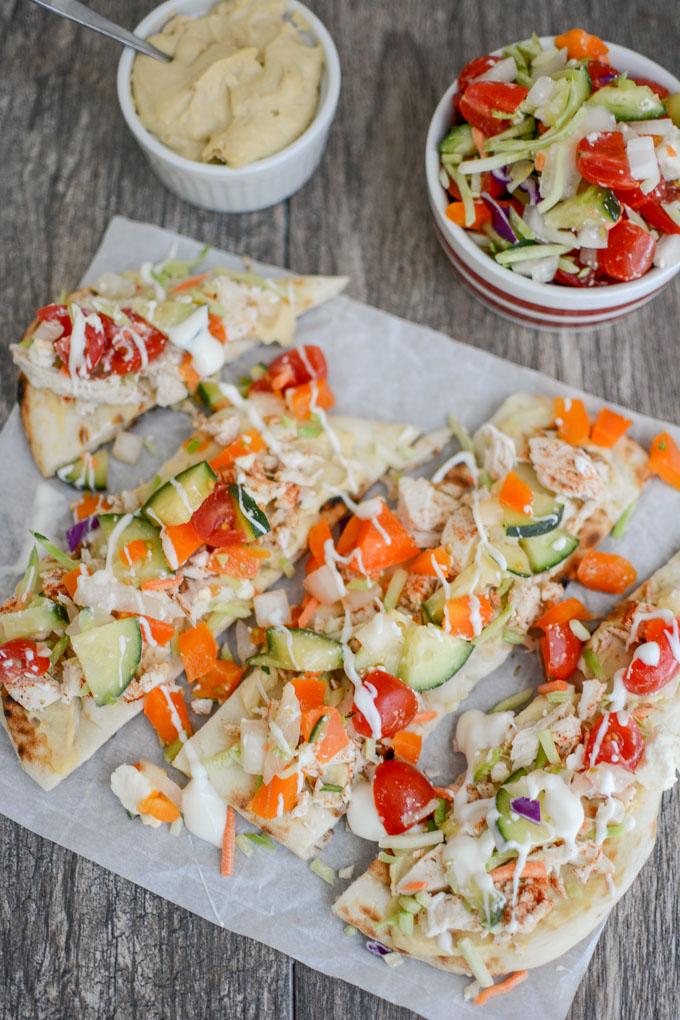 Greek Chicken Flatbreads
Ingredients (makes 4)
1 pound cooked shredded chicken from your food prep
2 tsp Greek seasoning (or a mix of paprika, oregano, pepper, garlic powder)
1 red pepper, diced
2/3 cup diced onion
1 cup Mann's broccoli slaw, chopped
3/4 cup diced tomatoes
3/4 cup diced cucumber
1/4 cup crumbled feta (more if desired)
1/2 cup hummus (whatever flavor you want!)
4 pieces of your favorite flatbread (I use frozen naan from Trader Joes)
plain yogurt or tzatziki for drizzling, optional
Directions
Warm flatbreads if desired and top with hummus.
Roughly chop chicken and mix with seasoning. Taste and add more if needed. Heat chicken if you want to. Spread on flatbreads.
Mix peppers, onions, broccoli slaw, tomatoes, cucumber and feta in a bowl (This can be done ahead of time) and add to flatbreads.
Top with plain yogurt or tzatziki.
Notes
-To make this vegetarian, skip the chicken and use chickpeas instead!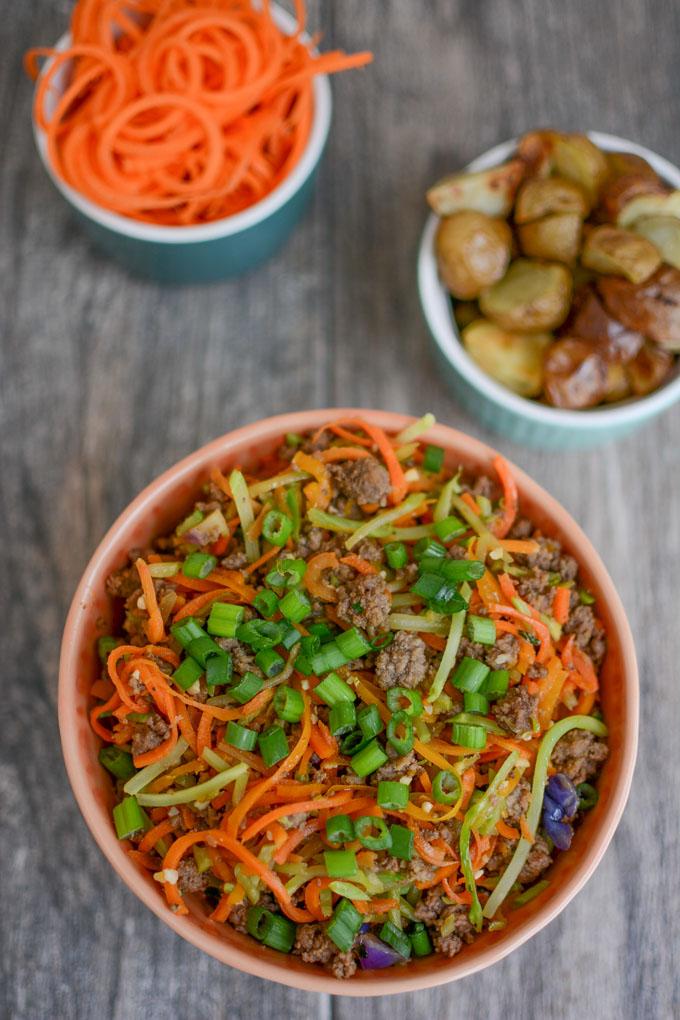 Broccoli Slaw Egg Roll in a Bowl
Ingredients
1 pound cooked ground beef with broccoli slaw (from your weekend prep)
2-3 cups Mann's Broccoli Cole Slaw
2 cups carrot noodles and 1 spiralized pepper (from your weekend prep)
2-3 tsp fresh ginger (or ginger paste), to taste
1/4 cup soy sauce
1/4 cup sweet Thai chili sauce (optional)
Sriracha, optional
green onions to top
Directions
Roughly chop carrot and pepper noodles.
Heat oil in a large pan over medium heat. Add carrots, peppers, broccoli slaw and saute for 5 minutes.
Add beef, ginger and soy sauce and chili sauce/sriracha if using and stir to combine.
Heat through and top with green onions.
Notes
– You could chop some of the Mann's Sweet Potato Fettucine and fry in oil as a sub for wonton strips (or use real wonton strips) for a fun topping.
– If you like cabbage, you could add some shredded cabbage as well. Or swap the broccoli slaw for a bag of Mann's Power Blend which has brussels sprouts, cabbage, broccoli, kale, kohlrabi and carrots!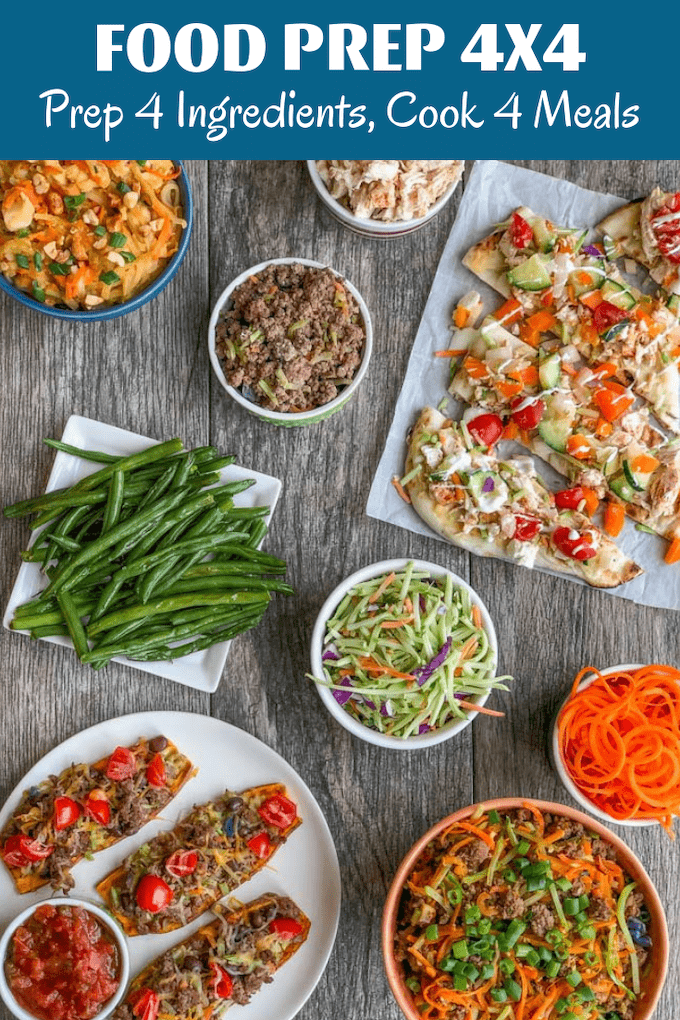 Here's a general grocery list that I made for you. Be sure to read through the recipes and adjust the list for the quantities you personally need, any substitutions you plan to make and anything else you may have on hand/need:
Grocery List
2 pounds boneless skinless chicken breasts (or thighs)
4 bell peppers
2 giant carrots from bulk section (or 1# bag of large carrots)
2 bags Mann's Broccoli Coleslaw
soy sauce
sweet thai chili sauce
peanut butter
1 bulb garlic
1 knob fresh ginger or ginger paste
1 qt chicken broth
1 box rice noodles
green onions
peanuts
Sriracha
2 large sweet potatoes
2 medium yellow onion
1 can black beans
taco seasoning
2 pounds ground beef (or turkey)
Shredded Mexican cheese
1 pint cherry tomatoes
avocado
Greek seasoning
cucumber
crumbled feta
hummus
Flatbread or naan
plain yogurt or tzatziki
Follow along with me over on IG stories this weekend and next week and prep/make these meals right along with me!
Be sure to follow Mann's for more great recipe ideas.
Enjoy!
–Lindsay–
LEARN HOW FOOD AFFECTS YOUR BODY.
Get my free Table Talk email series where I share bite-sized nutrition information about carbs, protein, and fat, plus bonus information about snacks and sugar!