Dear Chase-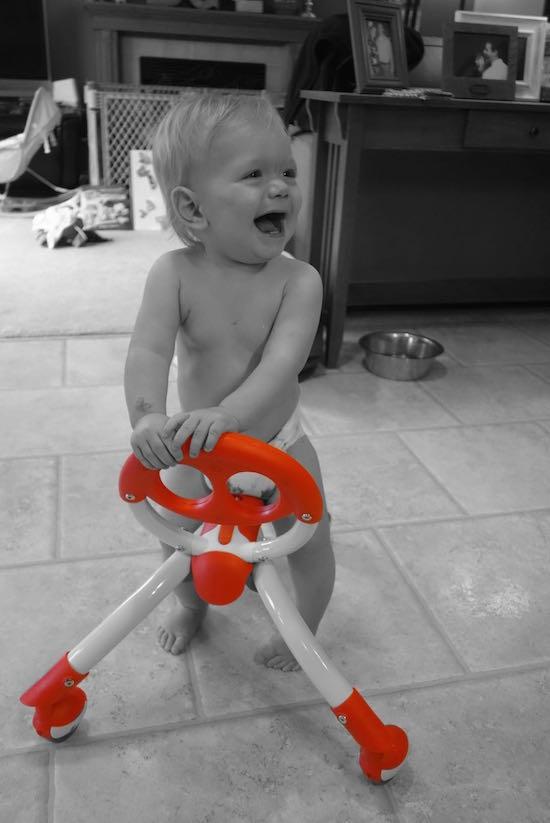 We did it! We survived the first year, and lived to tell the tale! Definitely the fastest year of my life! I'm so glad I took your monthly pictures and wrote you these monthly letters so I can look back and see how much you changed month to month!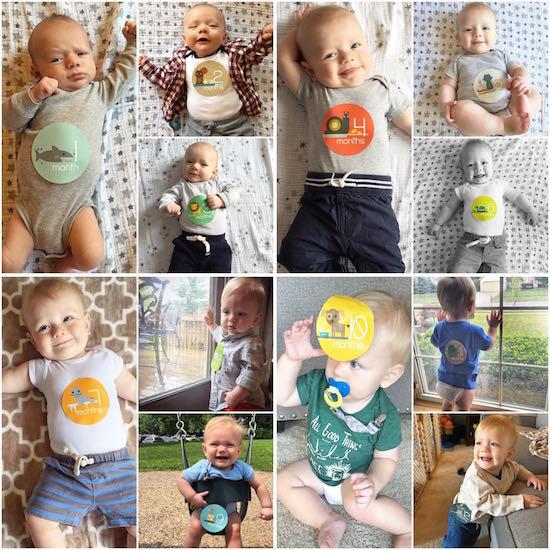 You're such a little man now! Looking so handsome and grown up! But you're still my Squishy.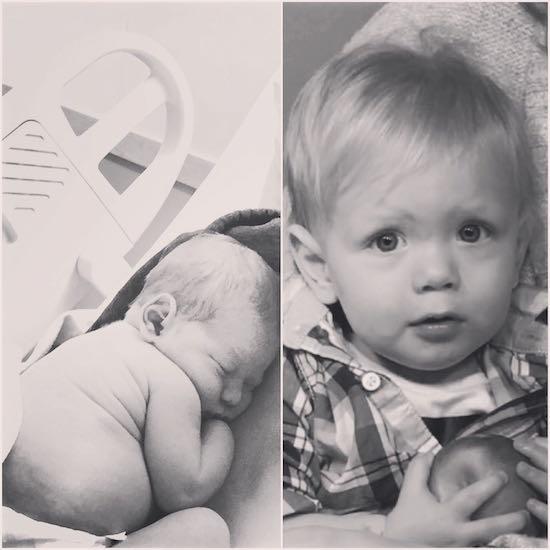 Over the past few days we've been celebrating your birthday. Mimi and Grandpa came into town and we invited Grandma and Grandpa over as well to watch you smash your cake: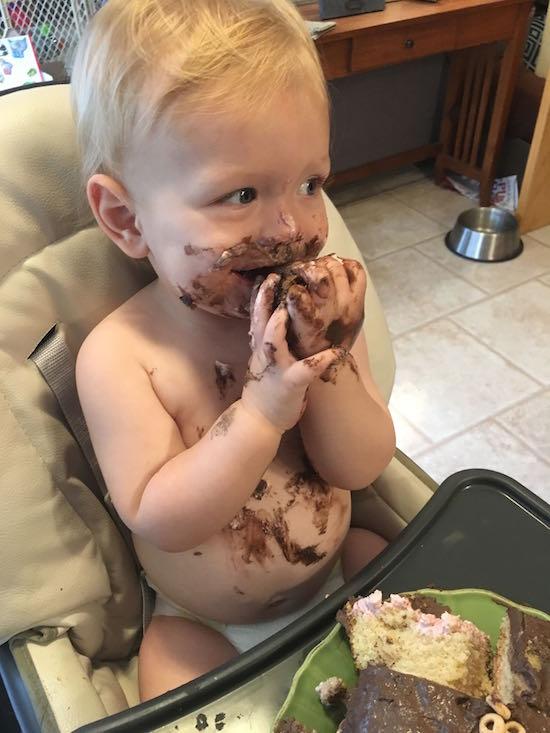 You didn't have any trouble making a mess and did quite a number on your little cake!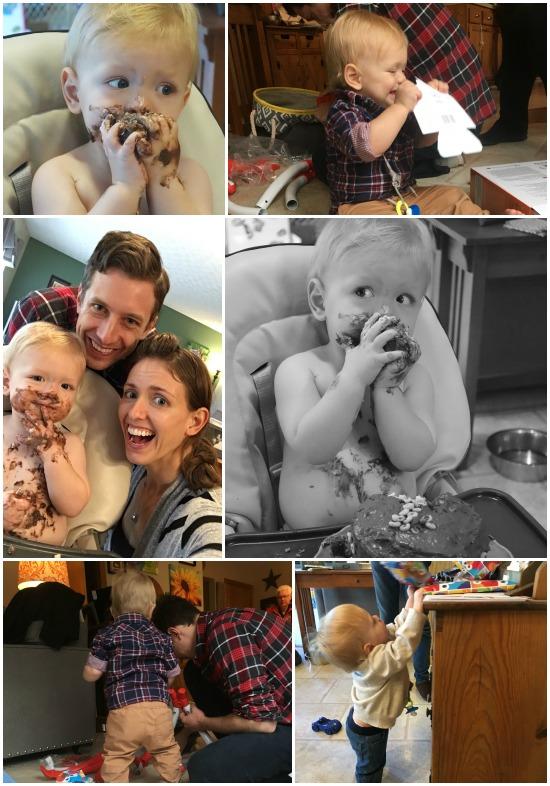 You weren't the best at opening your presents but you helped a little bit. Mostly you just liked carrying them around. You got a big box of musical instruments from aunt Jackie, blocks from Grandma and Grandpa and a new bike and some magnets from Mimi and Grandpa. This is a y bike:
You got the hang of it so quickly!
Daddy bought you a wagon which you also loved riding around in , especially dressed up in your Halloween costume: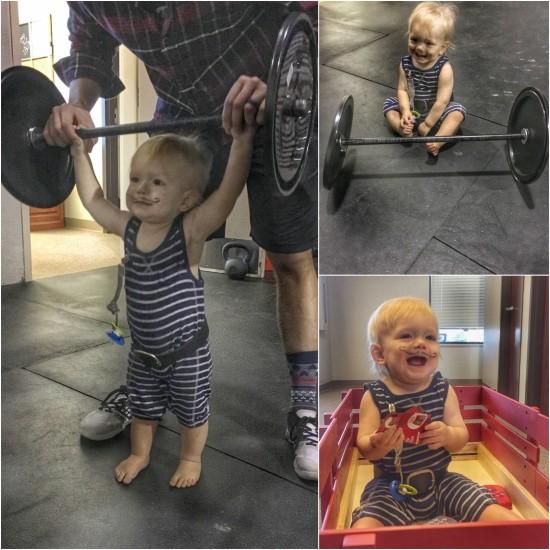 We dressed you up as an old-timey strongman…complete with a moustache and your very own barbell!
As far as the past month, you've been a very busy little guy!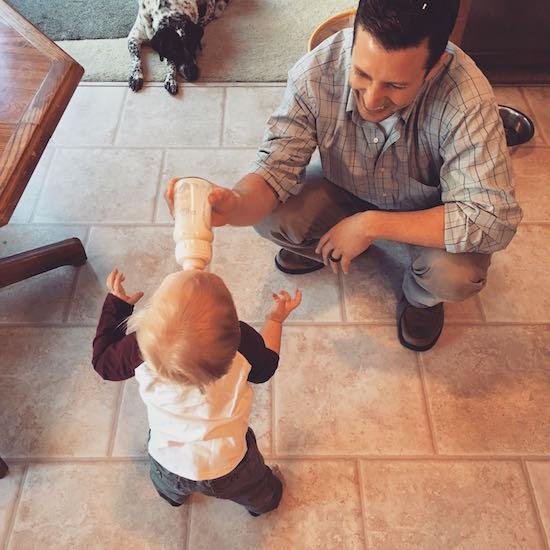 You're still getting 30 oz of formula a day in 4 bottles (8am, 12pm, 5pm, 8pm) but you're constantly on the move. Sometimes you don't even have time to sit down and drink your bottle! You're an eating champ…but this was also the first month where decided there were a few foods you didn't want to eat. You spit out cauliflower, broccoli and occasionally green beans and but that's about it. You love any kind of meat, eggs, bread, fruit, yogurt etc and still eat veggies like squash and sweet potatoes.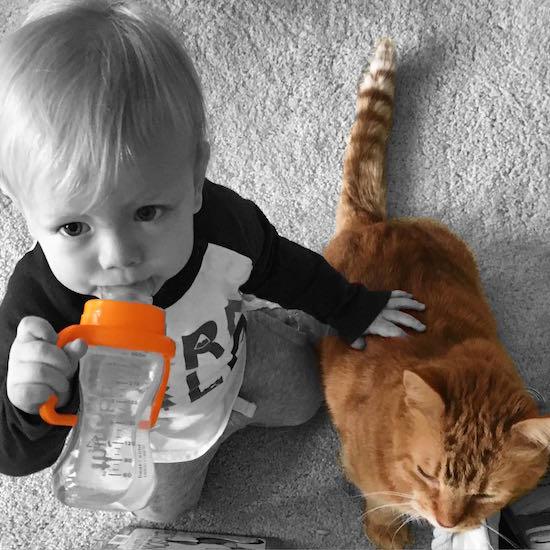 I bought you this Thinkbaby Sippy Cup
and am so glad you like it. We'd tried several different kinds and you had trouble using them. It took you a few days but you finally got the hang of this one and now you love it. You drink water like a champ, just like your mama.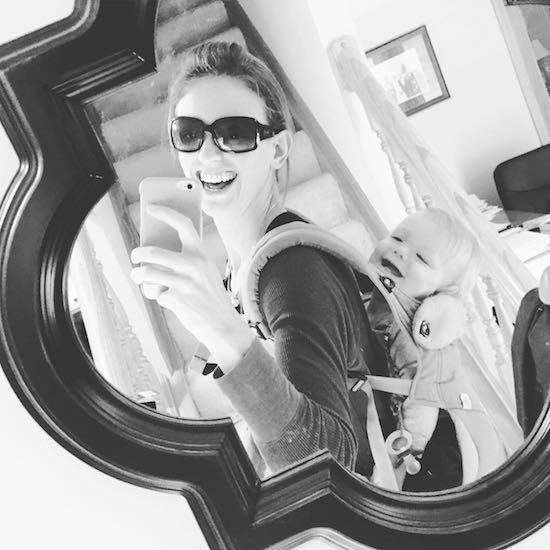 You're a very good sleeper at night. You go to bed about 8/8:15pm and sleep until 7:45/8am. Naps are a little different story. We've been having some trouble getting 2 naps a day any more. Most days I can still get your morning nap around 10:30 or 11 but the afternoon nap is hit or miss. When it works, you usually sleep from 3:45-4:45 or so. If you won't sleep, you will at least lay in your crib chattering and moving around, but not crying, so mommy can get some work done.
You've gotten several more teeth this month- 2 on the top, with another 2 coming in, and 1 more on the bottom, with another coming in…so within the next few days you'll be up to 8 I think.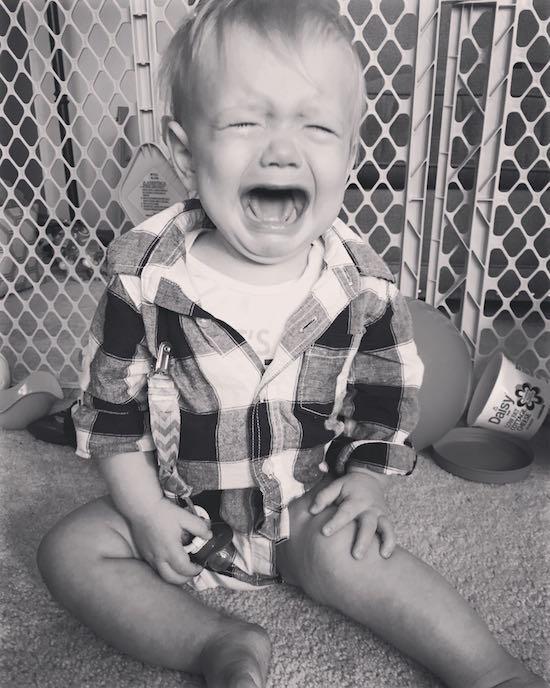 As a consequence of teething, we've had a few days like this…but overall you're a very happy baby. The only other times you really try are when you're having tummy troubles (you have some pooping issues) or when we don't let you do something you want to do.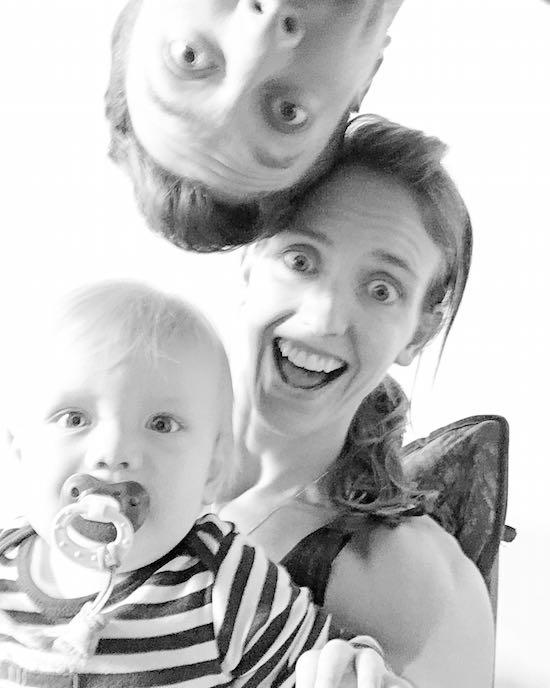 You have officially mastered walking. You worked on it all month and just in the last week or so you've really gotten it down and started walking pretty much all the time. There are still a few falls but you can walk all over the place and move pretty darn quickly.
You've also turned into quite the chatterbox, expanding your repetoire of sounds quite a bit. You talk to me all day long.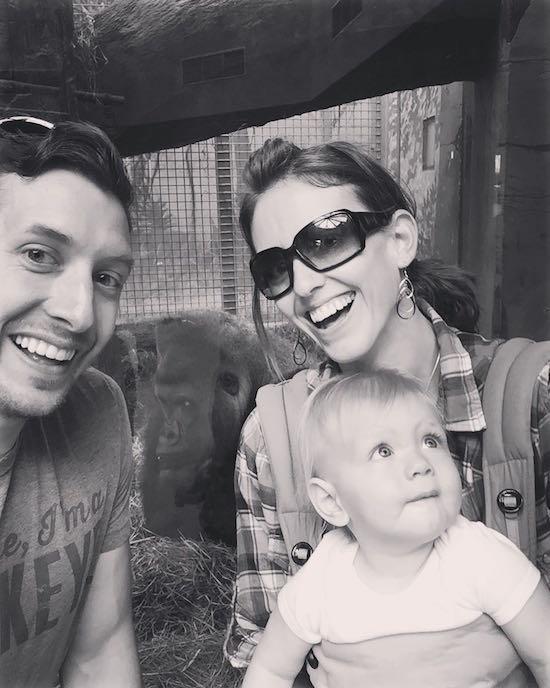 You love your animals and are getting a little better about petting them gently but we need to keep practicing. You like to carry the dog toys around and try to put Tucker's collar on him any chance you get. Marcus climbs into your pen to hang out with you pretty much every day.
You're getting taller and skinnier so most of your pants are 12-18 month now, but you can wear 18 or 24 month onsies and 18-24, 24 month or 2T shirts. Pretty soon we're going to have to get you some shoes!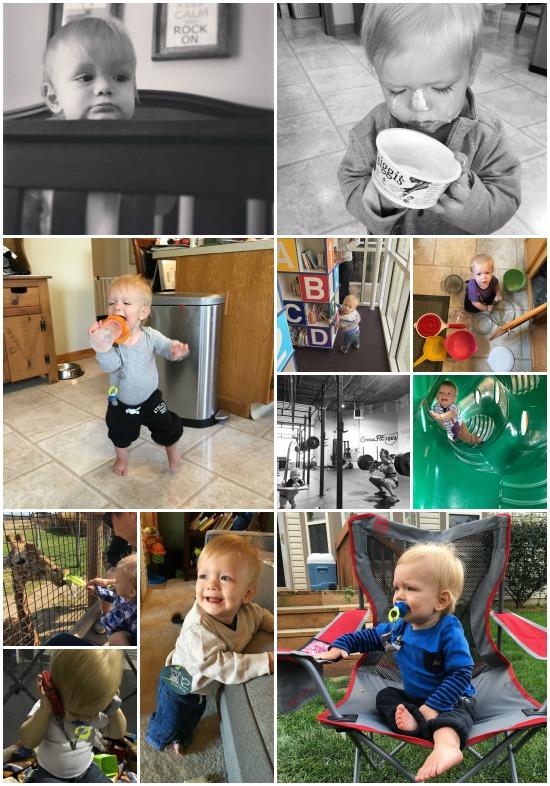 A few more things:
You love walking around the house in a big circle, looking out the windows, playing with the shoes, pulling things out of cabinets, exploring the pantry, shutting all the doors….and repeating 100 times a day.
You love to play with the baby gate we put up in the hallway and you know exactly how to open it if it's not completely locked.
We took you to the zoo and you fed the giraffes.
You love phones – toy phones, real phones, doesn't matter. You hold pretty much everything up to your ear like you're talking on the phone.
You want to eat anytime anyone around you is eating.
You still like spending time in your Graco Bumper Jumper and love your VTech Walker and your Fisher-Price Music Table. Plus you're pretty much a master drummer.
You love the park and spending time outside.
Every morning you eat your Cheerios and mommy bought you this cute little Nuby Monster Snack Bowl for your birthday so they don't spill everywhere.
This month we went apple picking and we go to the library pretty much every week.
Every Wednesday you go to The Little Gym, which you love. We play with balls and bubbles, do some gymnastics and run around.
You love taking selfies and reading books is your favorite. In the morning we watch PBS – usually Curious George but occasionally you get to watch Daniel Tiger, Sesame Street, Thomas or Mickey Mouse.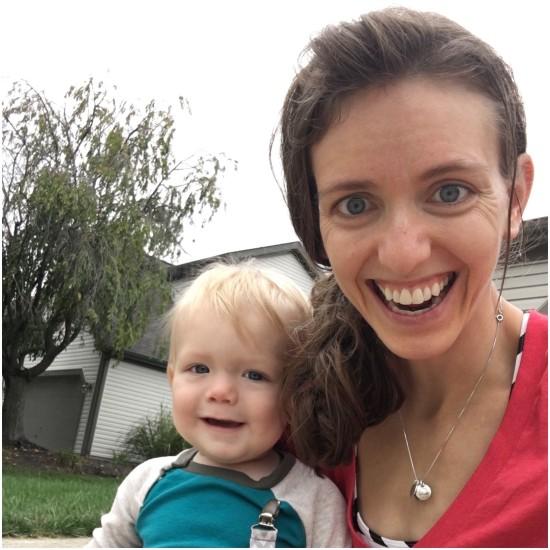 Thanks for being the best little guy around. Mommy loves you.
If you're interested in previous letters, you can find them here:
Enjoy!
–Lindsay–
This post contains Amazon affiliate links to some of our favorite products.
LEARN HOW FOOD AFFECTS YOUR BODY.
Get my free Table Talk email series where I share bite-sized nutrition information about carbs, protein, and fat, plus bonus information about snacks and sugar!