Hi Friends!
It's hard to believe it's been 3 months since I did my last day in the life post. Now that Squish is 9 months old, I thought it was about time to do another one.
So here's a look at how our day went yesterday: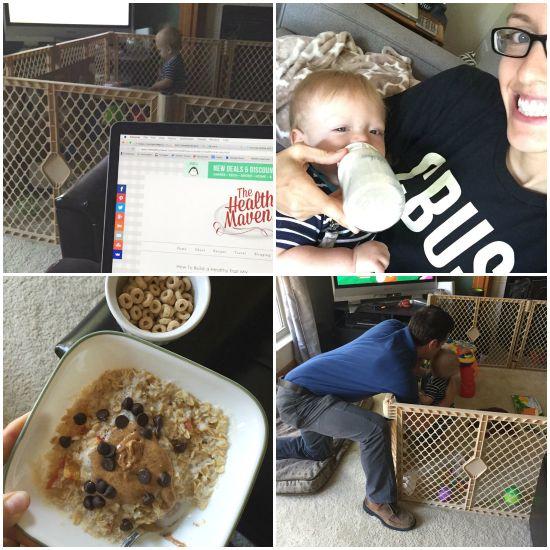 5:00 AM- Get up and feed the animals. Go back to bed.
6:30 AM – Squish wakes up. I get him from his crib, change his diaper and we head downstairs to start the day. He's typically in a pretty good mood when he wakes up and is happy just playing in his pen and watching a little tv. I sit on the couch, drink my coffee, read blogs, answer emails and do some work.
8:30AM – Give Squish a bottle, say bye bye to daddy and then I eat my breakfast…with a sidecar of Cheerios that I toss into the pen a few at a time so Squish can stay busy fetching and eating them while I eat 🙂 After breakfast we play and spend some time crawling around the kitchen.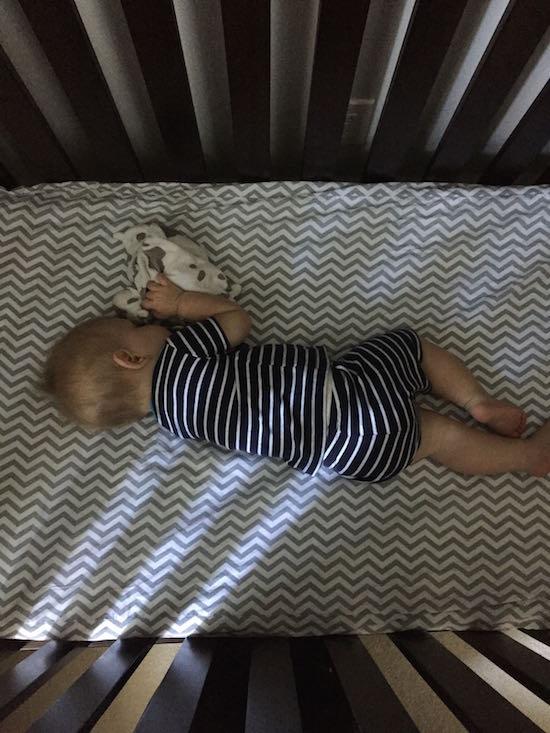 9:15 AM – Naptime. I put Squish to sleep in his crib. This is a new thing as of last week. Up until then I'd just put him down for a nap on the couch beside me but our trip to the doctor gave me the push I needed to start transitioning him to napping in the crib and putting him to sleep in the crib at night instead of letting him fall asleep on the couch and then moving him to the crib. It's going pretty well so far. Once he's asleep I head downstairs to get some work done…and do some online shopping for a new camera since mine is dying.
9:45 AM – Squish wakes up. Typically this nap is 45 min – 1 hour. On this day, it was about 25 minutes. Whomp whomp. For the next couple hours, we usually play around the house, but yesterday I decided to take him on a little excursion.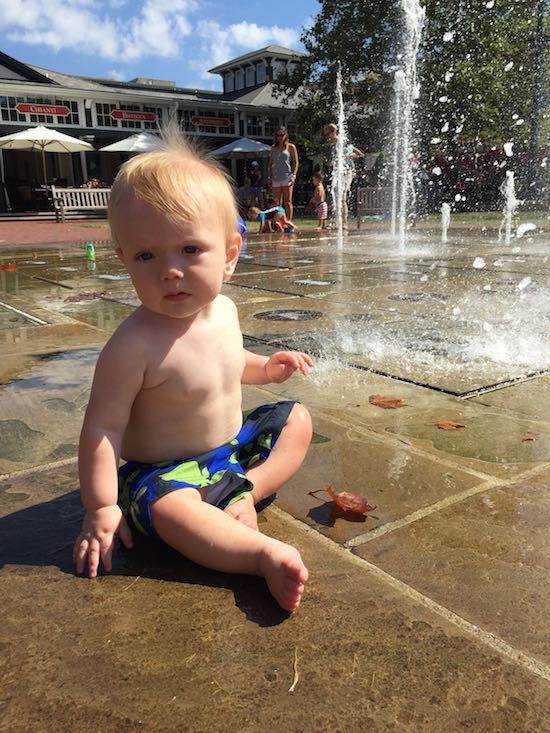 The past couple weeks have been crazy with trying to work and open the gym so I'm trying to take advantage of the fact that things have slowed back down. I put him in his swimsuit and took him to the splash pad fountains at a nearby shopping center.
He wasn't thrilled with them. The water was kinda cold and it wasn't super hot out. He didn't cry, and after half an hour or so he did crawl towards them a little bit…but he spent most of his time chewing on the sunscreen bottle and watching the other kids running around.
He did fall asleep on the car ride home though, which is what I was hoping for…and then I sat in the driveway for another 15 minutes when we got home so he could get a bit more sleep.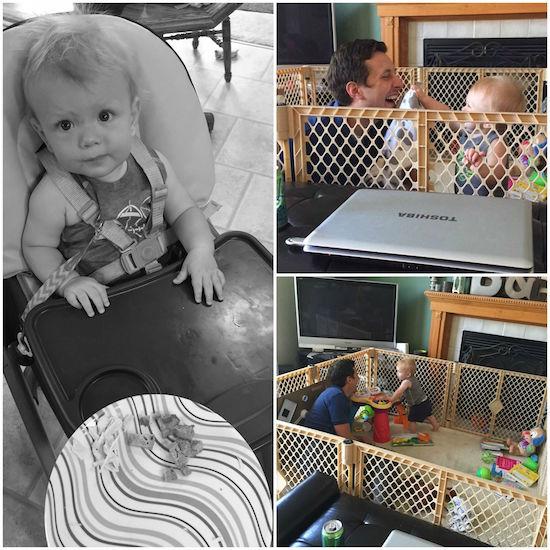 11:45 AM – Daddy comes home from work and we all eat lunch + Squish gets another bottle, then dad entertains Squish for a little while so I can get some work done.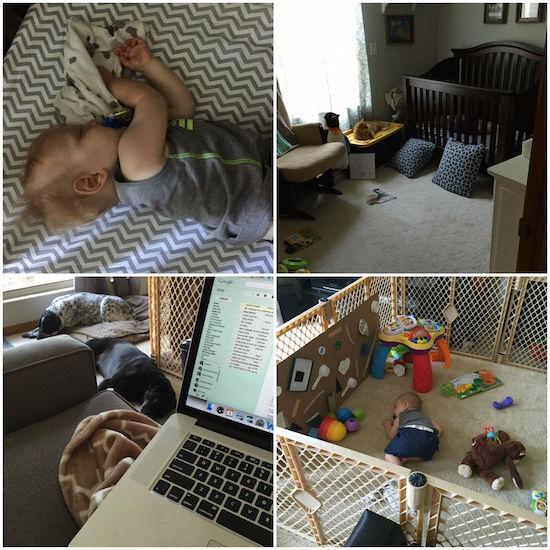 1:30 PM – Naptime. Marcus joins Squish in the nursery for a nap while I work. He sleeps for about an hour and wakes up in a terrible mood. I think the past couple weeks caught up to him because he woke up screaming and didn't stop for 45 minutes. He finally cried himself to sleep on the floor of his playpen, which he never does, and slept for another 30 minutes or so.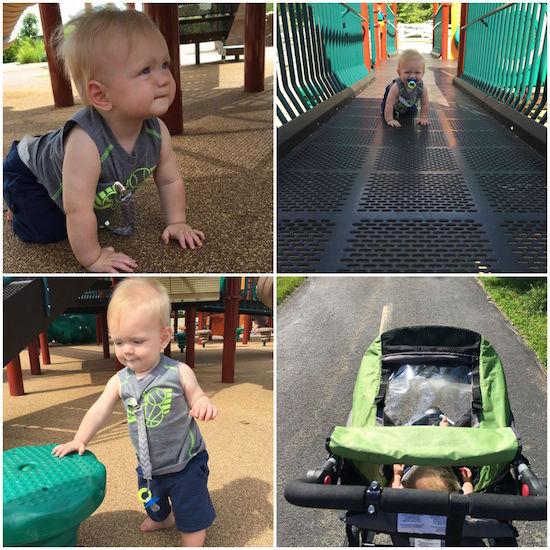 3:45 PM – This time when he wakes up he's in a better mood. This is typically when we all start to get restless after being in the house all day and usually take the dogs for a walk…but it's been too hot for them lately so I put Squish in the stroller and we walk to the park. It's hot, but we stay mostly in the shade and he has a great time crawling around, standing and even doing a little balancing with no hands!
4:30 PM – We head home to cool off and drink some water. Squish is practicing drinking from a real cup and he's doing pretty well!
5:00 PM – Daddy comes home, changes and grabs a snack while I get a bottle and the diaper bag ready. We head to the gym around 5:15. Class starts at 5:45. We're still experimenting with how things will work as far as watching Squish, both of us working out, etc. On Monday, I put him down for a nap right when we got to the gym and he slept for about 3/4 of the class. Then my friend Jackie watched him since she had worked out earlier in the day so we were able to both finish the class.
Yesterday we had a longer wod so we didn't have a strength part of the class, so I set up his pen in the gym while we warmed up, then put him down for a nap (the gym has two offices so we use one as his napping room)  and we were both able to wod. I'm sure there will be days when one of us is taking a rest day, or where one of us will have to wod at 5:45 while the other watches him and then we'll switch for the 7:00 class. We're just taking it day by day and it's going well so far. We hung out after the workout for an hour or so and then headed home.
8:15 PM – Dinner. True life messy kitchen shot. This is pretty typical. Hubby sits at the island, I stand and eat my dinner while simultaneously adding bites of food to Squish's tray.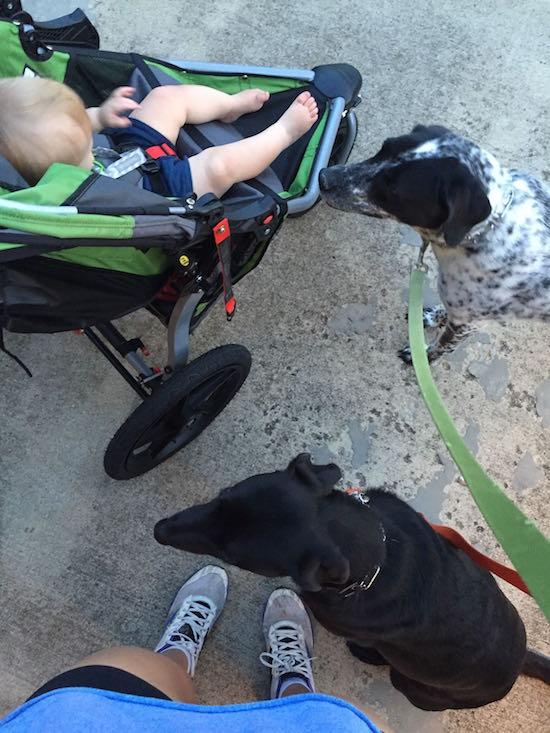 8:45 PM – Family walk around the neighborhood. (Dad's feet are missing from the pic!).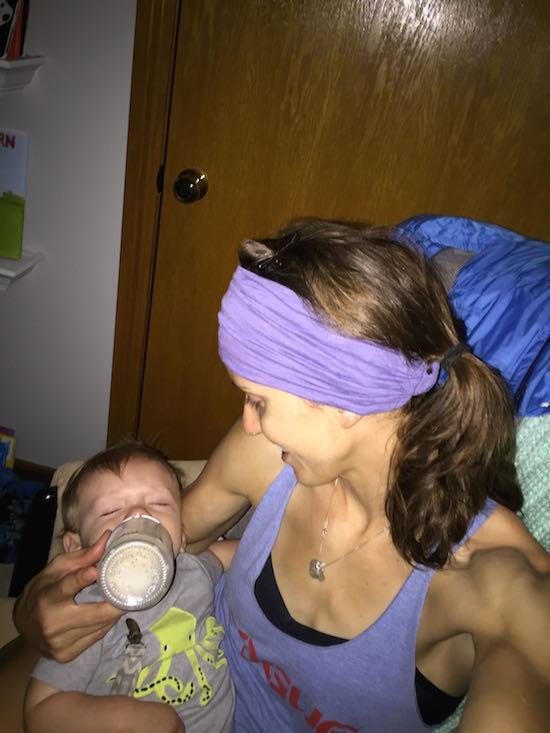 9:15 PM – Bedtime for Squish. I give him his last bottle (that's his "ugh mom why are you using the flash" face) and put him to bed in the crib.
9:45 PM – I write this blog post, answer emails and do more work.
12:00 AM – Shower and bed.
---
So there you have it! If you like these posts, check out my 3 Month and 6 Month posts!
Enjoy!
–Lindsay–
LEARN HOW FOOD AFFECTS YOUR BODY.
Get my free Table Talk email series where I share bite-sized nutrition information about carbs, protein, and fat, plus bonus information about snacks and sugar!