Hi Friends!
The last time I did one of these Day In the Life posts was back in September. Now that Squish is almost 3 months old (he'll be 12 weeks tomorrow, 3 months on the 29th) I thought it'd be fun to do another one! He's still not exactly on a schedule so every day is different but here's what yesterday looked like: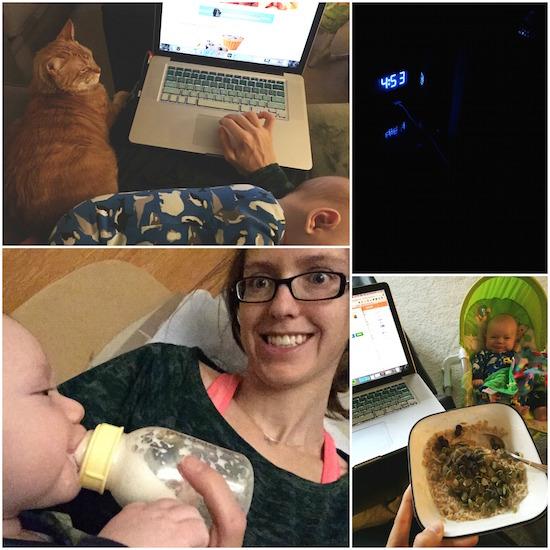 10:30pm Sunday – 12:30 am Monday
Work. Sunday's are hard for me. I get really overwhelmed thinking about everything I need to do on Mondays and since life is a bit unpredictable, I feel like I need to take advantage of time when he's sleeping to get some things done before the week officially kicks off.
12:45am
Bed. This is a little later than usual. I'm typically in bed sometime between 11 &12.
4:45
Wake up and feed the animals. They drive me crazy since I'm such a light sleeper so it's easier to just get up, feed them and go back to bed.
6:30
Feed baby. He's slowly starting to go longer and longer without eating at night. I fed him at 10:30 and he made it until 6:30. I would say 6-8 hours is about his average right now but there are still some nights where he only goes 4 hours.
7:45
Baby wakes up again. This is a bit unusual. Most mornings he'll sleep until 8:30 or so unless he's feeling fussy/can't poop, which was the case today. I pulled him into bed with me, grabbed my phone and started reading blogs/checking social media
8:15
I get up, plop Squish in his chair and make my oatmeal. While I'm eating, I read more blogs, schedule tweets, etc with half my brain and sing and talk to baby with the other half. Hubby wakes up, gets ready for work and heads out.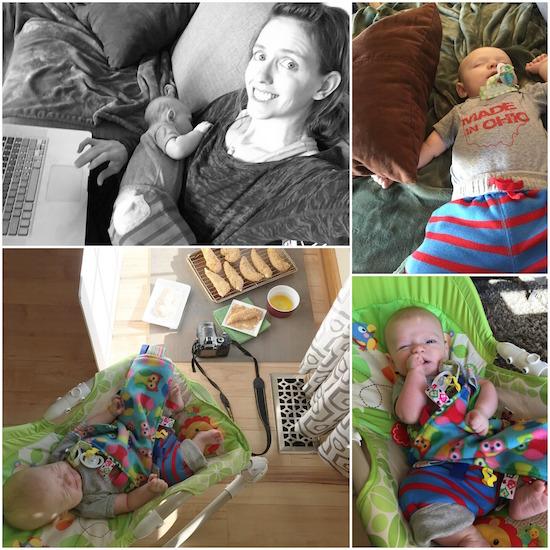 8:45
Work. As most of you know, I work 15 hours a week for Regan. I do a lot of stuff for Healthy Aperture, various social media tasks, client projects, etc. Squish is usually pretty happy at this hour so we turn on Toddler Radio Pandora and I sing and work while he chatters away, plays with his taggie blanket etc.
9:30
Feed baby and check social media on my phone.
9:45-10:45
Squish usually falls asleep for at least a little while after he's been up for a couple hours so I work furiously to get things done.
10:45- 11:15
He's still sleeping so head to the kitchen to make some enchiladas for the blog. This will also double as dinner.
11:15-12:15
I try to plan things out so I can take a lot of my pictures for blog recipes on the weekends when hubby is around because for some reason Squish doesn't enjoy watching me take pictures and run back and forth from the kitchen a million times. However, Sunday was super cloudy and dark which means terrible lighting, so I had about 4 recipes I needed to shoot today so I get that done while simultaneously trying to keep Squish from having a meltdown.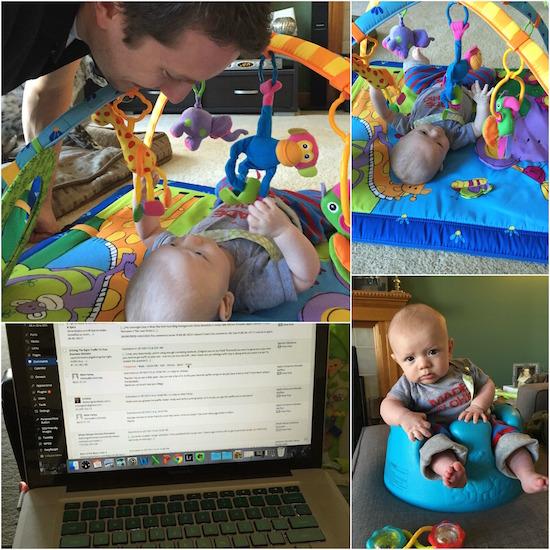 12:15-12:45
Daddy comes home for lunch. While he eats, Squish and I play on his activity mat and have tummy time (always a treat).
12:45
Feed baby.
1:00-1:15
Inhale lunch
1:15-1:45
More fun on the activity mat and in the bumbo. I also spend a little time responding to blog comments, which I'm terrible about…I always seem to be behind…but I'm working on it.
1:45-2:00
Check in on social media stuff.
2:00-4:00
Squish naps for some of this time so I do some project research for a client project. Then I work on blog stuff/chat with Squish as he wakes up. I'm changing the way my recipe index is displayed and I think it's going to make it a lot more visual and easier to find recipes, which is great! However, I have to go back through and add category tags to 5 years worth of blog posts….not so great. I should have been doing it from the beginning, but oh well.
4:00
Feed baby.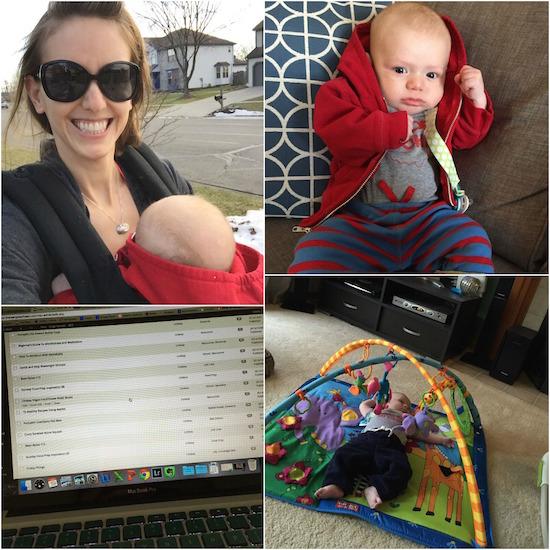 4:15-4:45
Bundle up baby, pop him in the Ergo, leash up the dogs and head out for a walk. Today was the first day it was warm enough for Squish to actually look around while we were walking instead of my having to shield him from the winter weather and he loved it!
4:45-5:15
Baby finally poops. Major blowout. Get him all cleaned up and we play some more.
5:15-5:25
Daddy comes home. I run and get changed for Crossfit and eat a snack.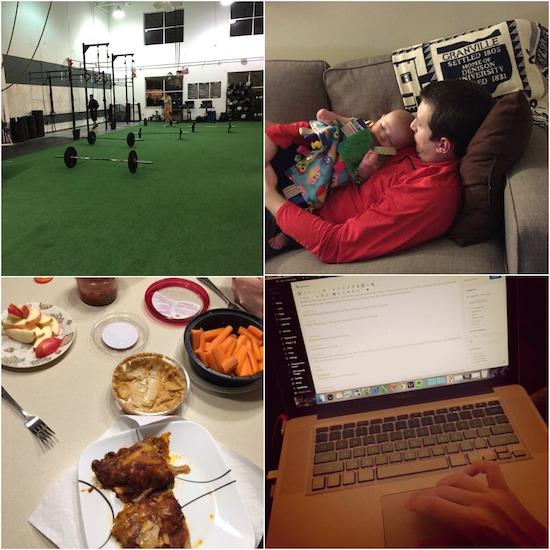 5:25-6:40
Crossfit while Squish hangs with daddy.
6:40-7:00
Quick shower and a snack
7:00-8:45
Back on Squish duty while daddy works out. We chat and play and he even entertains himself on the activity mat for a while (this is a new development) while I get a little more blog work done.
8:45
Dinner.
9:00-10:00
Squish falls asleep and I write a blog post and watch some HGTV while hubby plays guitar.
10:00-11:15
Finish categorizing 5 years worth of blog posts. The worst…but it's done!
11:15 – 12:00
Feed baby, social media stuff, tv watching, chat with hubby….
12:00 – 12:30
Bedtime stuff.
LEARN HOW FOOD AFFECTS YOUR BODY.
Get my free Table Talk email series where I share bite-sized nutrition information about carbs, protein, and fat, plus bonus information about snacks and sugar!