This gluten-free Creamy Chicken and Wild Rice Skillet recipe is the perfect dinner for a busy night. It's quick, healthy and packed with protein and vegetables.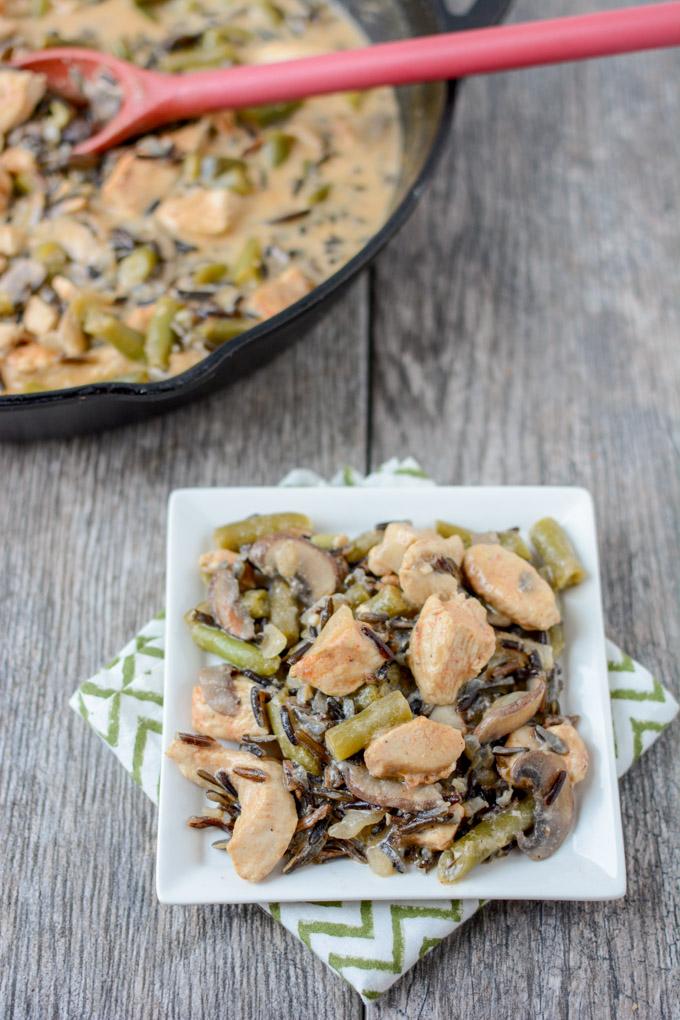 Thanks to USA Rice for sponsoring this post. I was asked to participate in the "#ThinkRice " campaign as a member of the Healthy Aperture Blogger Network. 
Hi Friends!
Are you getting tired of my skillet recipes? I hope not. My cast iron skillet is pretty much my favorite thing in my kitchen right now. I just can't seem to stop using it! But enough about the skillet. For this post we're actually focusing on the lovely wild rice you see mixed in there! As you may know, March is National Nutrition Month and rice is a nutritional powerhouse! U.S.-grown rice is full of essential vitamins and minerals, including folic acid, B vitamins, potassium, magnesium, selenium, fiber, iron and zinc. Added bonus- it's super affordable!
Have you ever wondered what kind of rice you should choose? Long grain rice is great for pilafs, salads, casseroles, stir-fry and jumbos. Medium and short grain rice are perfect for creamier dishes like risotto and rice puddings, as well as sushi!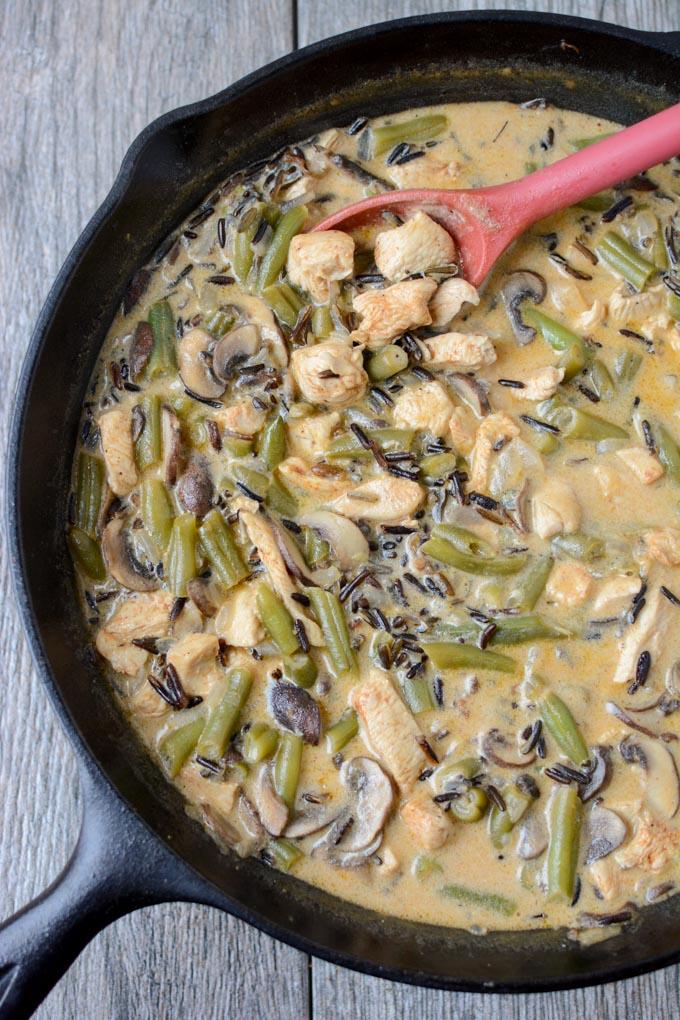 I chose to use wild rice for this project because I feel like it's often overlooked, but I love it! It adds a bit of chewy texture to dishes, as well as a protein punch! I combined it with chicken because that's a weeknight staple in our house and threw in some veggies as well. The sauce is yogurt-based and super easy to make!
So let's get cooking!
Print
Creamy Chicken and Wild Rice Skillet
This gluten-free Creamy Chicken and Wild Rice Skillet recipe is the perfect dinner for a busy night. It's quick, healthy and packed with protein and vegetables.
Cook Time:

30 minutes

Total Time:

40 minutes

Yield:

serves 4
2 Tbsp

butter

1

pound boneless, skinless chicken breasts, diced

4 ounces

U.S. grown wild rice, uncooked

2 cups

mushrooms, thinly sliced (I used baby portobello)

2 cups

fresh or frozen green beans, chopped

1/2 cup

onion, diced

2 teaspoons

garlic, minced

1 cup

chicken broth (no salt added or low sodium)

1 Tbsp

cornstarch mixed with a little water

1/2 cup

2% milk

1/2 cup

grated Parmesan cheese

1 teaspoon

black pepper

1 teaspoon

paprika

3/4 cup

plain whole milk yogurt
Instructions
Cook rice according to package directions.
Meanwhile, melt butter in a large skillet. Saute garlic, onion, chicken, mushrooms and green beans for 5 minutes over medium high heat.
Add broth and cook until chicken is cooked through.
Add cornstarch/water mixture and bring mixture to a boil.
Reduce heat to simmer and add milk, yogurt, parmesan and spices. Stir until well combined.
Add cooked rice and let simmer another 5 minutes.
If you're not a fan of mushrooms or green beans, feel free to swap in some of your favorite veggies. When cooking your wild rice, do a taste test every so often. I've found that when I cook it, it usually doesn't take as long as the package says. You could also cook the rice ahead of time to help cut down on prep time.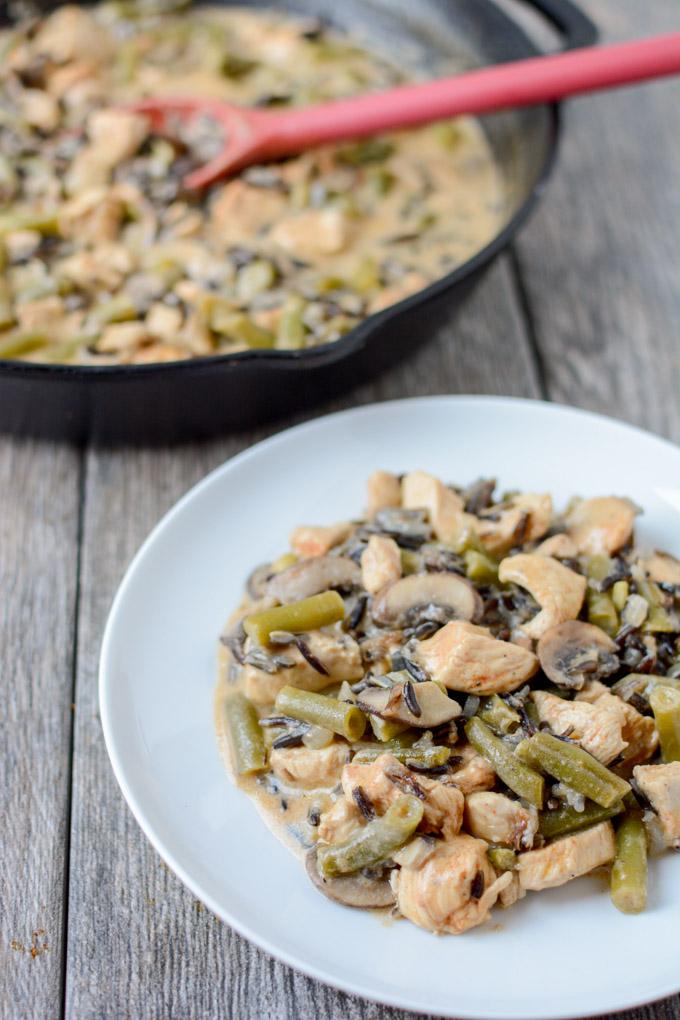 So next time you're at the grocery store, look for the "Grown in the USA Rice" logo on packages of 100% domestically-grown rice. It's an easy way to boost the nutritional value of a dish and reduce food miles!

[Tweet "This Creamy Chicken and Wild Rice Skillet from @leangrnbeanblog is a must-try!"]
For more delicious USA Rice recipes, follow them on Facebook, Twitter, Instagram & Pinterest.
Enjoy!
–Lindsay–
LEARN HOW FOOD AFFECTS YOUR BODY.
Get my free Table Talk email series where I share bite-sized nutrition information about carbs, protein, and fat, plus bonus information about snacks and sugar!