"By posting this recipe I am entering a recipe contest sponsored by the National Pasta Association and am eligible to win prizes associated with the contest. I was not compensated for my time."
Hi Friends!
Let's talk pasta, shall we? Did you know October is National Pasta Month? You guys know i'm definitely not one to shy away from carbs. I'm a huge pasta fan and think it can be a great addition to a healthy diet. Pair it with lots of veggies and some lean protein and BOOM! You've got yourself a meal. Plus it's budget friendly and comes in all sorts of fun shapes!
When I heard that this month The Recipe Redux teamed up with the National Pasta Association to present Redux members with a Pasta Fits contest, I knew I had to enter!  The idea was to create a pasta recipe that fits into your healthy lifestyle.
So, what did I come up with?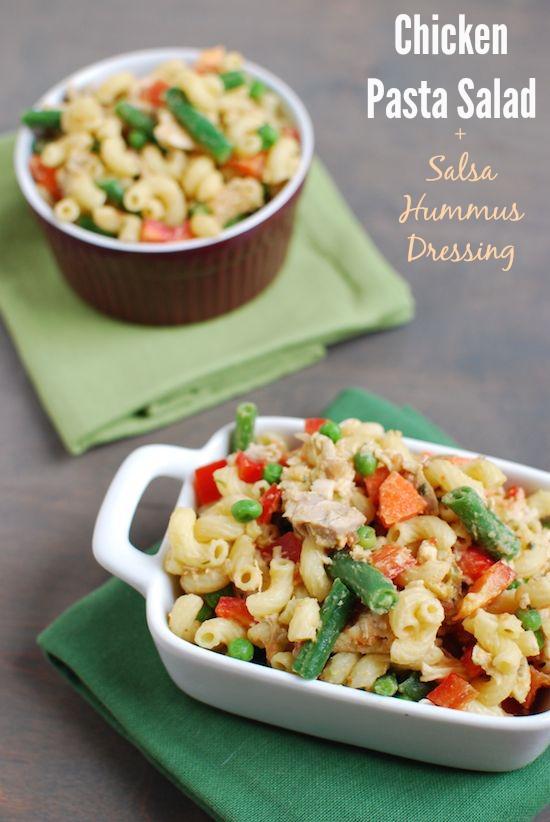 Lately I've been struggling a bit with lunches. I'm 38 weeks pregnant. I'm tired all the time. I don't want to spend a lot of time putting together an elaborate lunch. So I thought i'd come up with something I could make a big batch of ahead of time and then simply pull it out and eat it for lunches during the week.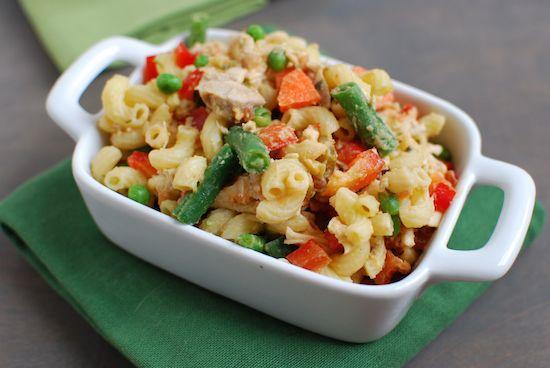 I settled on a pasta salad. With pasta as the base, it's easy to add lots of veggies and protein for a complete meal. The star of this recipe, however, is the "dressing". It's just two ingredients, but it's so delicious.
Here's how you make it:
Print
Chicken Pasta Salad with Salsa Hummus Dressing
Easy to make ahead of time, this pasta salad is great for weekday lunches or a quick dinner.
3 cups

vegetables, chopped

2 cups

cooked chicken, chopped

1/2

a medium avocado, cubed

1 cup

elbow pasta, uncooked

1/3 cup

salsa

1/3 cup

hummus
Instructions
Prepare pasta according to package directions.
While pasta is cooking, combine vegetables, avocado and chicken in a large bowl.
Mix in pasta.
Add salsa and hummus and stir until well combined.
Refrigerate at least 1 hour to let flavors meld.
Serve cold.
See what I mean about the dressing? So simple…just hummus and salsa. But it adds so much flavor! I used Sabra Supremely Spicy Hummus and Jacks Salsa. Feel free to use your favorites, or a homemade version!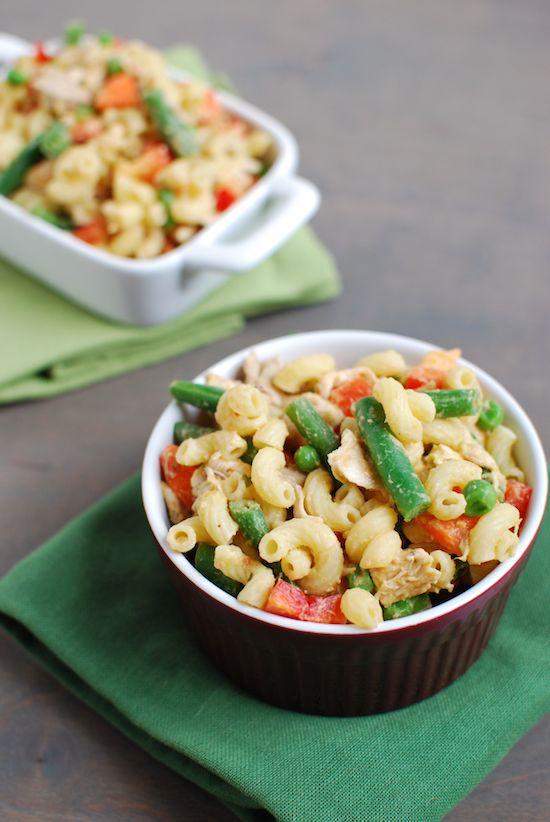 After you mix everything together, feel free to add more hummus and/or salsa if you want it creamier!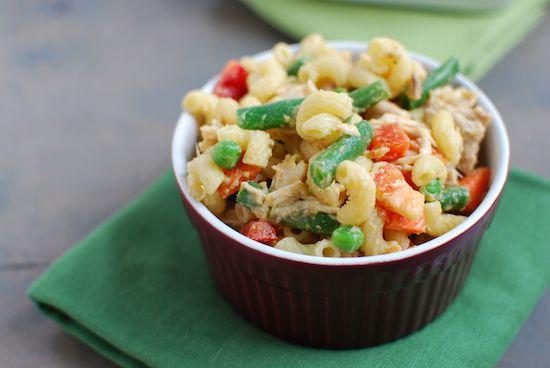 For the veggies, I used peppers, carrots and green beans to add crunch and then threw in some defrosted peas from the freezer and meant to add some tomato but forgot! For the chicken, I made a Crockpot Rotisserie Chicken and used some of the meat from that!
Enjoy!
—Lindsay–
LEARN HOW FOOD AFFECTS YOUR BODY.
Get my free Table Talk email series where I share bite-sized nutrition information about carbs, protein, and fat, plus bonus information about snacks and sugar!