Learn how to make a busy box for toddlers. These boxes are easy to customize and perfect for keeping toddlers occupied at a restaurant, on a plane, while mom is nursing and more!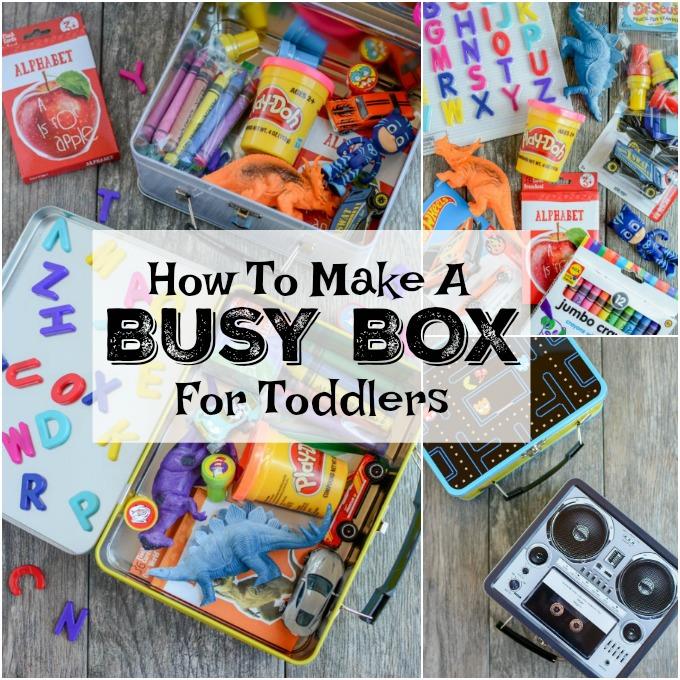 *Originally published 7/2017. Updated 4/2023*
Hi friends!
One weekend when my oldest son was about 2, my parents took him out to lunch at a local restaurant and when they sat down, the waitress gave him a metal lunchbox. Inside was an assortment of toy cars and dinosaurs that proceeded to keep him occupied and in his seat for over an hour. If you have a two-year-old of your own, I'm sure you have no trouble relating to the fact that this is no easy feat.
After my parents told me about their experience, I immediately added it to my mental checklist to make my son a box of his own and when I finally got around to it, it turned out really well.
What is a busy box?
Basically, a busy box is an unofficial name for a box of goodies that helps keep a wild toddler busy! They can be useful at restaurants, on airplanes, at doctor appointments, when nursing a sibling etc.
I've found the key is to keep the box in your car so that you always have it on hand when needed, and to only let them play with it at specific times. If they're able to get into it whenever they want, it will lose its appeal.
When can my toddlers and younger children use a busy box?
I've found age 2 to be a good starting point with my kids. Prior to that, many kids are easily entertained with everyday objects like car keys, a teething toy, a random cup etc. Once they really entered toddlerhood, my kids started requiring more actual toys to hold their attention.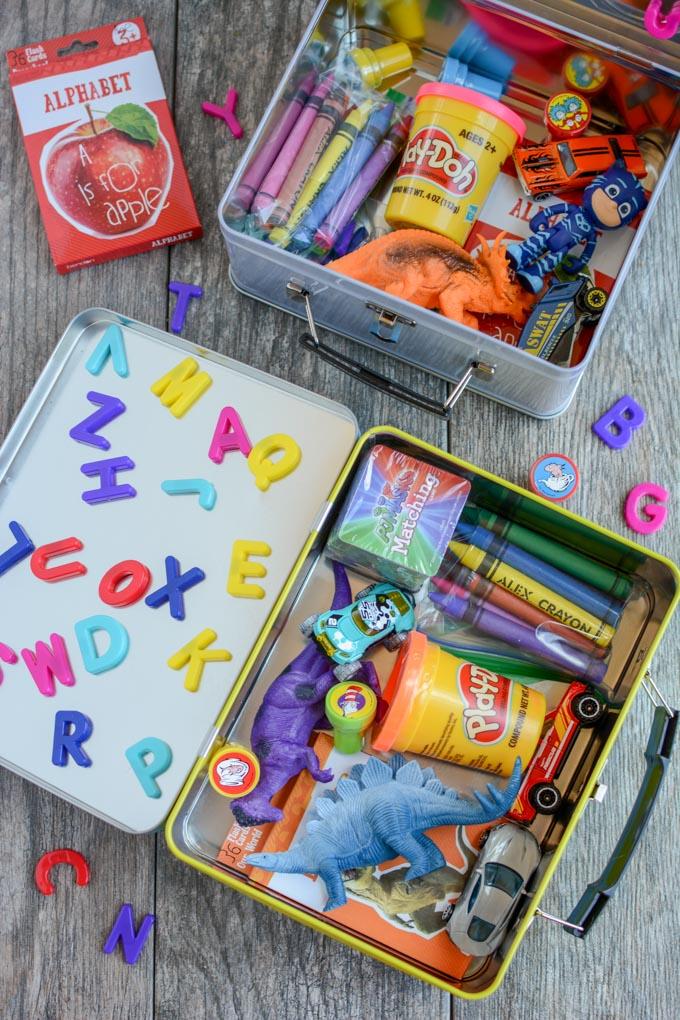 Activity Boxes for Toddlers
We tend to eat out 1-2 times per week and while my son was generally well-behaved, we did fall into the trap of relying on giving him the PBS app on my phone to watch a couple of shows so that we could eat our dinner. While I don't have a problem with that, I started to notice that tv shows were not holding his attention like they used to and that he was usually more interested in the random collection of cars, trains and playdough that I kept in my purse.
Instead of continuing to dig in my overflowing purse or diaper bag for little toys that always seemed to get lost, I decided it was the perfect time to make a few activity boxes
How To Make A Busy Box For Toddlers
How you make these boxes is totally up to you. They can be made up of things you have around the house, you can invest $20-$30 some brand new toys that might be a little more fun and exciting for your kiddos or you can do a mix of both.
Keep an eye out at garage sales, on Facebook marketplace, in the dollar section etc when you're out and about so you can pick up little odds and ends to add to your boxes and keep them fresh and exciting.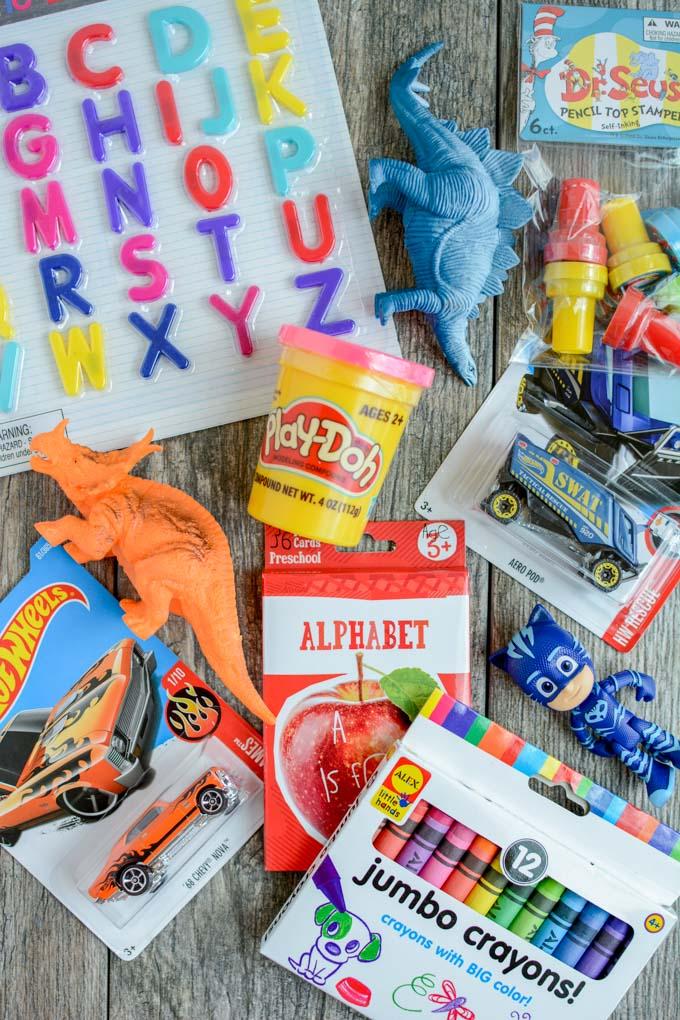 What do you put in a busy box?
There are no hard and fast rules about what to put in a busy box and they often work best if they are customized to your kid. You know them best- what they like and dislike, what will hold their attention etc. Here are some ideas for things to include (amazon aff links)
Educational toys, sensory toys, toys for fine motor skills and others suitable for toddlers:
---
I now have three kids and my youngest is 4 years younger than my oldest so he spends a lot of time sitting around at various sports and activities for his siblings. I put together a post of 20 Ways To Entertain Kids at Sibling Sports that has more ideas for things to do, some of which you could include in a busy box!
Also, here are some of my favorite Household Item Toys for Toddlers – things you probably have laying around that kids seem to love to play with. And some Indoor Activities For Toddlers if you're bored.
---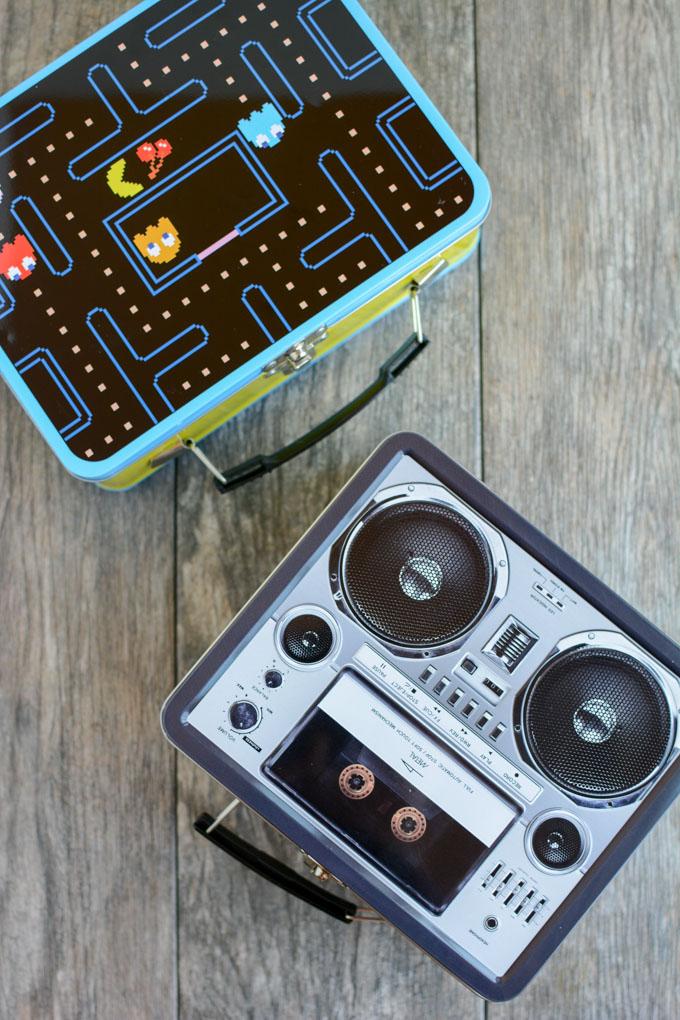 What box to use for toddler busy boxes
We decided to use an old-fashioned metal lunchbox for our busy boxes but any type of small box or container will work. I like the lunchboxes because they had fun designs and a handle that was easy to hold!
You can find metal lunchboxes like these on Amazon (aff link).
You could also use a zipper mesh pouch/bag which might fit better in a diaper bag or backpack.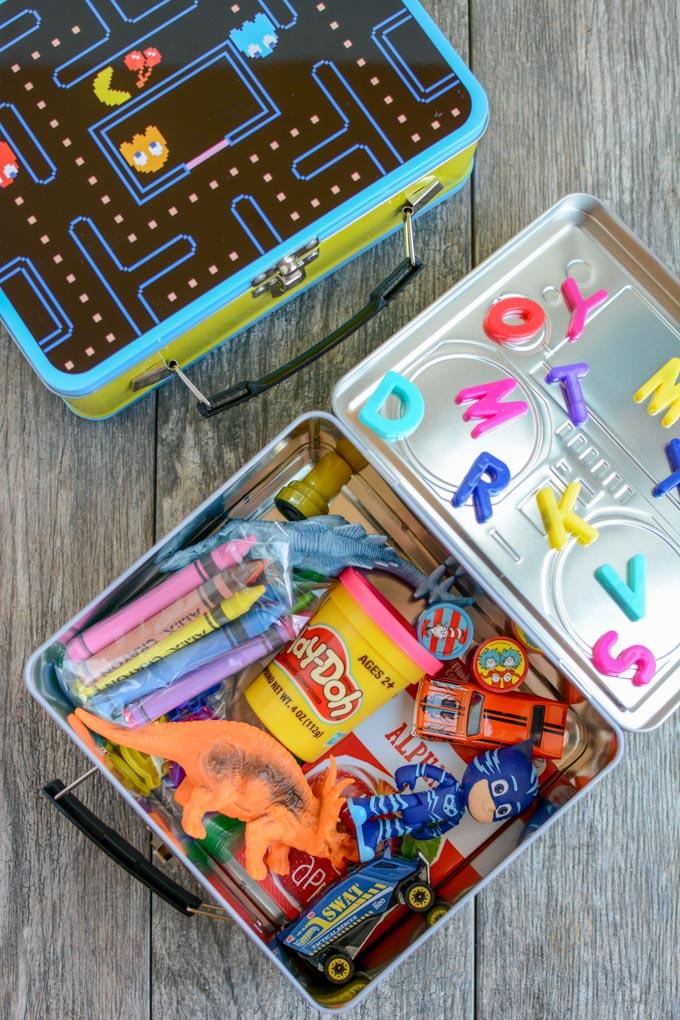 Busy Boxes for Toddlers
The thing I love about these boxes is that they're easy to customize. The ones I made are clearly geared towards things my son who loved cars, dinosaurs and PJ Masks but you could easily choose things your own child enjoys more.
We used ours mostly for restaurants but they'd also be great for plane rides, doctors appointments, etc.
If you have a friend who is pregnant with a toddler, this is the perfect gift for you to put together to help her keep them busy while she's constantly feeding a new baby!
If you need more ideas for gifts for new moms:
Busy Box Ideas for bigger kids
Even kids who aren't toddlers anymore could benefit from an activity box like this. Things like a little container of slime or playdough, can keep their hands busy, along with things like fidget cubes or fidget spinners. You could also include extra crayons to color on the kids menus or even a small dry erase board, boogie board or notebook. Other ideas – mad libs, crossword puzzles or word search books, a deck of cards or tube of plus plus blocks.

Busy Box Ideas For Keeping Toddlers Busy
Here are some more ideas for busy boxes:
If you make your own busy box, I'd love to see a picture of it and hear what you included! I'm planning to keep my eyes peeled for more stuff and rotate things in and out to keep it fresh and exciting!
Enjoy!
-Lindsay–
LEARN HOW FOOD AFFECTS YOUR BODY.
Get my free Table Talk email series where I share bite-sized nutrition information about carbs, protein, and fat, plus bonus information about snacks and sugar!