This Blueberry Avocado Smoothie Bowl is packed with nutritious and healthy first foods to give your baby! Plus it's super thick to help them practice their self-feeding skills.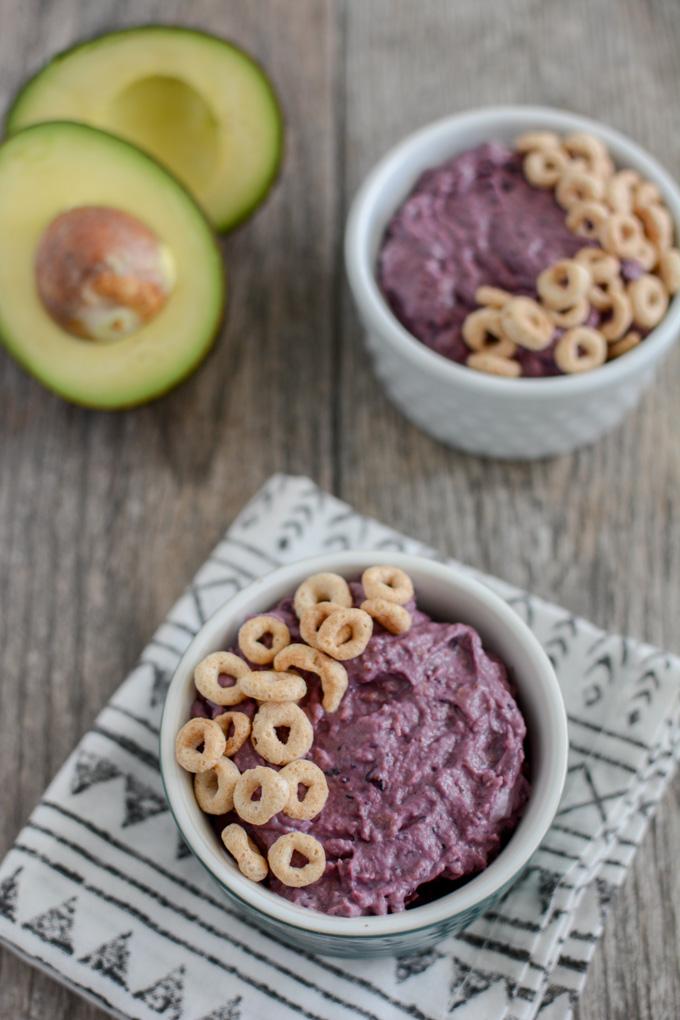 Thanks to the Hass Avocado Board for sponsoring this post. 
Hi friends!
As you're probably aware, baby girl's arrival is getting closer and closer. In preparation, I've been going back and reading some of my earlier "Dear Chase" letters  and reminding myself just how fast the first few months go. Before I know it, we'll be getting ready to start giving her solid foods! For those of you who have been reading for a while, you'll recall we took a modified baby led weaning approach with Squish. Read more about that in my post about How To Modify Baby Led Weaning. I plan to do the same with baby girl and that means one of her first foods will be avocado!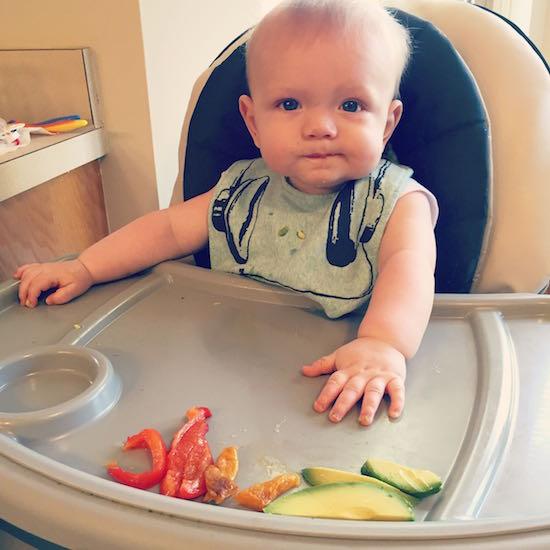 When the Hass Avocado Board reached out to me and asked me to share a little bit about my experience with choosing avocado as one of my baby's first foods, I jumped at the chance! You guys know how I feel about The importance of Healthy Fats For Kids!
Avocados were recently named as an optimal first food for babies in this paper – "The Role of Avocados in Complementary and Transitional Feeding". It definitely meets some of the criteria you should consider when you're choosing first foods for your baby, including:
Nutrient Density – Foods that are low in sugar and packed with multiple nutrients are a great choice! Avocados are a great source of fiber, folate, potassium, Vitamin E and monounsaturated fats (healthy fats that are important for brain development!) Plus they're low in sugar!
Texture and Consistency – Introducing them to a variety of textures early on can help them develop their chewing and swallowing abilities.
And as an added bonus, avocados are great for mamas as well, especially while pregnant and nursing! They're a good source of folate which is critical for fetal and infant health and development and the monounsaturated fats are important to breast milk quality. So you can feel good about feeding avocados to your kiddos and enjoying them right along with them!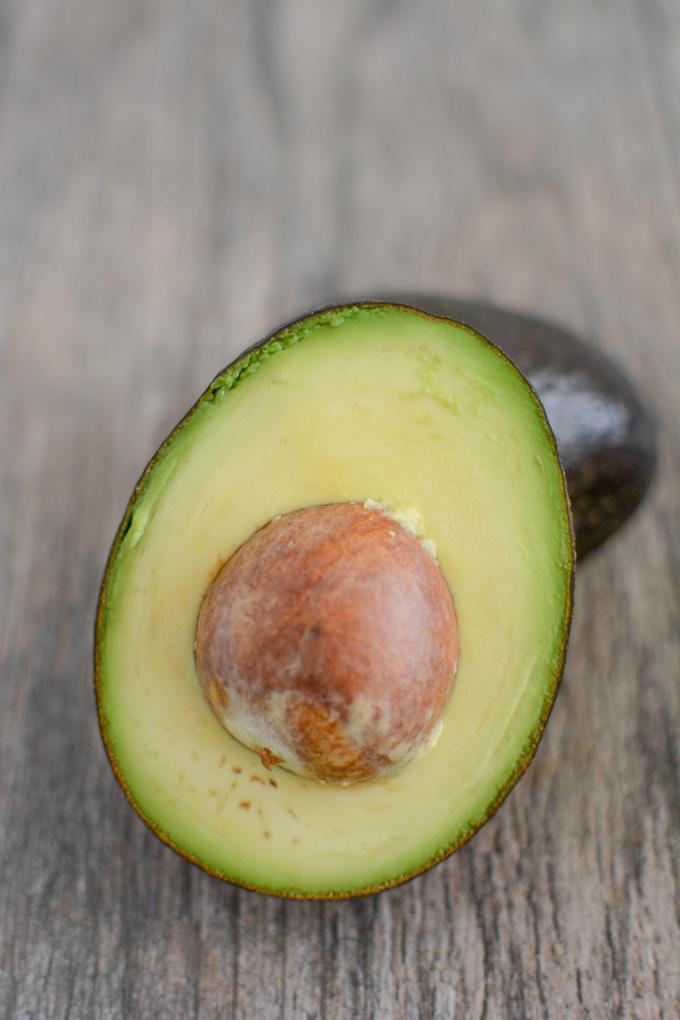 While I first introduced Squish to avocado simply by giving him slices, I soon started looking for other ways to add it to his diet as well. Tip- if your kiddos are having a hard time grasping the slippery avocados, try rolling them in crushed Cheerios to make them easier to grip!
This Blueberry Avocado Smoothie Bowl is packed with nutrient dense foods that are all great options for first foods for babies. Plus, there's nothing that says you can't enjoy one as an older kid or adult as well! I made it extra thick, which makes it a great option for letting them work on the self-feeding skills. Just prepare yourself for the mess and let it happen!
Here's how you make it:
Print
Blueberry Avocado Smoothie Bowl
This Blueberry Avocado Smoothie Bowl is packed with nutritious and healthy first foods to give your baby! Plus it's super thick to help them practice their self-feeding skills.
Prep Time:

5 minutes

Total Time:

5 minutes
1/2 cup

cooked & mashed sweet potato

1/3 cup

mashed avocado

3/4 cup

frozen blueberries (I use wild blueberries)

1/2 cup

full fat vanilla yogurt (or plain)
Cheerios for topping, optional
Instructions
Combine all ingredients in a high powered blender and blend until smooth.
Spoon into a bowl and top with Cheerios if desired.
Note, I didn't add any liquid to this because I wanted it to be extra thick. You could add 1-2 Tbsp water if you need a little bit to get your blender going.
This makes two small servings or one adult serving.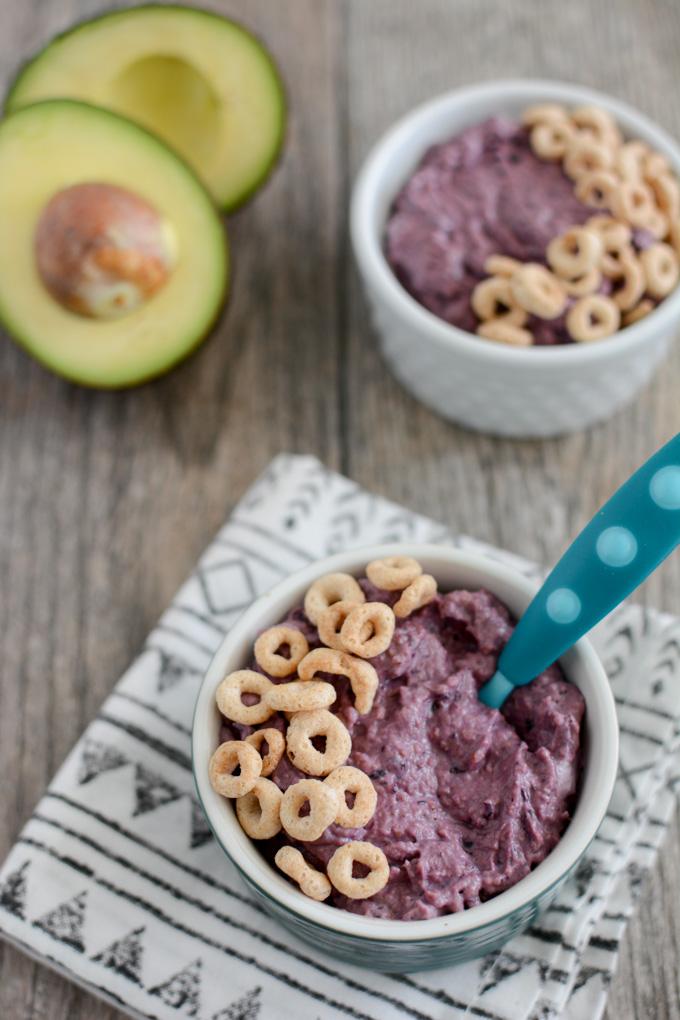 Also, this smoothie isn't overly sweet. If you're serving it to older kids or adults, you may want to use vanilla yogurt or add a splash of maple syrup for sweetness. You could also add some orange juice or milk to thin it out and drink it or add some baby food prunes to the smoothie if your kiddo needs help pooping like mine!
Let's chat:
Mamas – what was your baby's first food?
 For more delicious avocado recipes, be sure to follow the Hass Avocado Board on Facebook, Twitter, Instagram and Pinterest.
Enjoy!
–Lindsay–
LEARN HOW FOOD AFFECTS YOUR BODY.
Get my free Table Talk email series where I share bite-sized nutrition information about carbs, protein, and fat, plus bonus information about snacks and sugar!