Treat yourself to this Wild Blueberry Ice Cream. It's easy to make at home for dessert with your favorite mix-ins.
This post is sponsored by The Wild Blueberry Association of North America. I was compensated for my time. All thoughts and opinions are my own.
Hi friends!
It's Friday! Let's celebrate with ice cream. This is the last in the series of recipes I developed for the Wild Blueberry Association. In case you missed the first three, I also made:
Wild Blueberry Turkey Burgers
Wild Blueberry Ice Cream Sandwiches
Wild Blueberry Zucchini Bread
And this month, it's all about ice cream! I actually developed this recipe several weeks ago so it could be included in the ebook they're giving away to everyone who entered their Taste of Summer Sweepstakes, which ends today! (Go check it out!)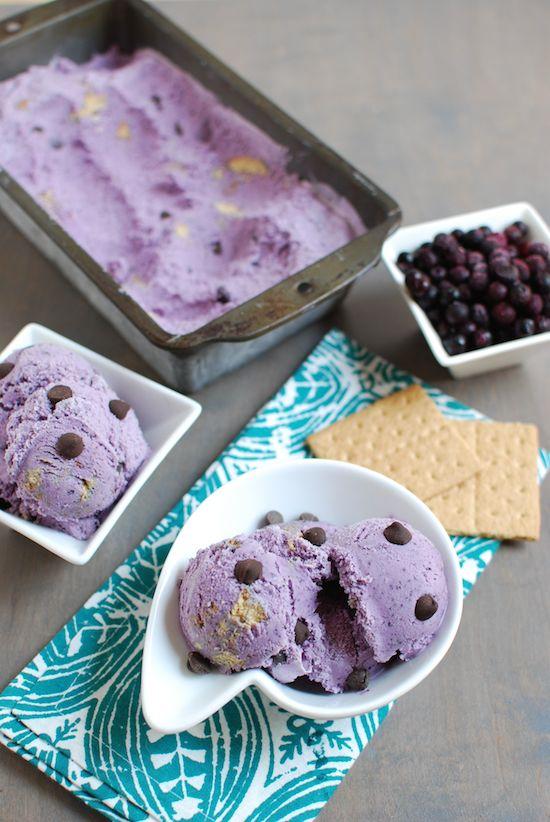 And now it's finally time to share the recipe with all of you. So let's chat about ice cream for a little bit.
For me, there's something about summer and ice cream that just go hand-in-hand. As a young child, we used to visit a place called Cup & Cone almost weekly. It was a small free-standing shack that served ice cream during the Minnesota summers and it shared its parking lot with a retired train caboose. I can still remember the thrill of ordering and devouring my ice cream cone and then spending endless hours climbing on, running around and wandering through that caboose with the other local kids.
As I got older, I spent my summers working for a landscaping company. We worked long hours in the hot Kansas sun and let me tell you, there was nothing better than getting off work and heading straight to the local ice cream store where we could sit in the air-conditioning and enjoy some ice cream.
As an adult, my husband and I often ride our bikes to our favorite ice cream store to enjoy a summer treat, and with a baby on the way, I can't wait create our own family ice cream tradition!
Yet, while going to get ice cream brings back a lot of memories for me, sometimes it's not the most economical choice. Especially during the summer when I seem to crave it all the time! So, to ease the burden on your wallet, the next best option, in my opinion, is to make your own! With the help of a relatively inexpensive ice cream maker that pretty much does all the work for you, you can spend your summer dreaming up and creating dozens of your own ice cream flavors that are customized just to your liking!
I've had a lot of fun with my ice cream maker over the years, both recreating store-bought favorites and coming up with new ones. As I started brainstorming for my newest flavor, I knew I wanted to include Wild Blueberries for several reasons:
The color- so vibrant and pretty to look at.
The flavor- wild blueberries are smaller and more flavorful than regular blueberries making them ideal to use in recipes like this where you really want their flavor to shine!
The health benefits – ice cream is not always the healthiest dessert option but the addition of Wild Blueberries means your ice cream gets a healthy dose of antioxidants. Wild Blueberries have been shown to have positive effects brain and eye health, heart health and more!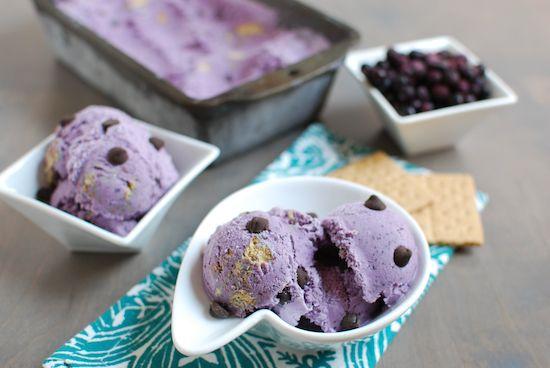 As for the mix-ins, I'm a huge proponent of pairing blueberries and chocolate together, so I added some dark chocolate chips. I also added in some crumbled graham crackers for a touch of added sweetness. To keep the ice cream making simple, I kept it egg-free and instead of all cream, I used some 2% milk to make it a bit healthier without sacrificing flavor or creaminess!
Here's how you make it!
Print
Wild Blueberry Ice Cream
An easy, homemade ice cream recipe with delicious mix-ins and vibrant color!
2 cups

frozen Wild Blueberries

2/3 cup

sugar

1 1/4 cups

heavy cream

3/4 cup

2% milk

1 cup

crumbled Graham Crackers

1/2 cup

dark chocolate chips
Instructions
Combine first four ingredients in a blender and blend until well mixed.
Pour into ice cream maker (do not overfill).
Turn on ice cream maker and let run for approximately 20 minutes. As the ice cream starts to thicken, you may need to scoop out some if your ice cream maker gets too full. Consider it a taste testing opportunity!
About 2 minutes before turning off, pour in grahams and chocolate chips and let run until mixed in.
Pretty simple right? My apologies to those of you who don't have an ice cream maker. You could try just blending and pouring into a pan and stirring every so often while freezing but I make no guarantees!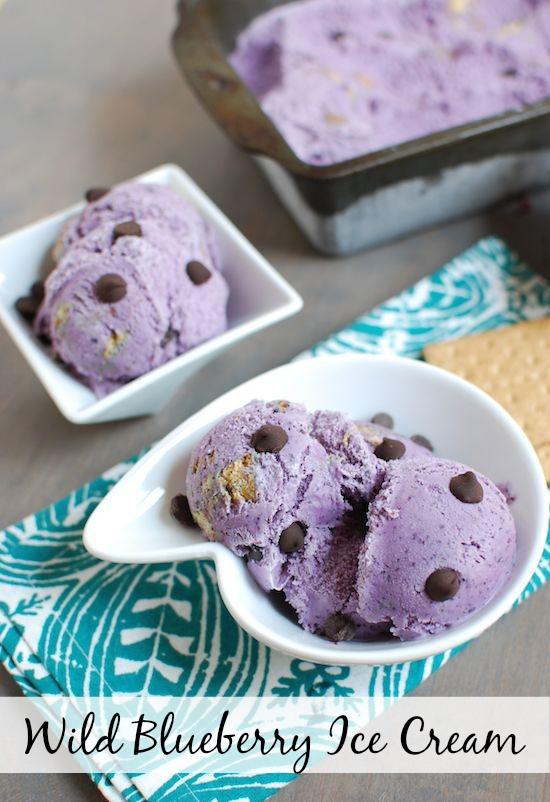 Grab a spoon, friends. It's time to dig in!
Let's chat:
Have you ever made homemade ice cream?
Enjoy!
–Lindsay–
LEARN HOW FOOD AFFECTS YOUR BODY.
Get my free Table Talk email series where I share bite-sized nutrition information about carbs, protein, and fat, plus bonus information about snacks and sugar!