Perfect for the 4th of July, these Wild Blueberry Ice Cream  Sandwiches require a few ingredients and are sure to be a hit at your holiday get-together!
This post is sponsored by The Wild Blueberry Association of North America. I was compensated for my time. All thoughts and opinions are my own. 
Hi Friends!
It's time for another Wild Blueberry recipe! As you may recall, I'm working with Wild Blueberries this summer to develop some delicious recipes to share with you guys!
In case you missed my first post (Wild Blueberry Turkey Burgers), let's recap some things you should know about Wild Blueberries. You can easily identify them because they're smaller than regular blueberries and if you haven't tried them yet, you should definitely look for them in the freezer section of your local grocery store!
Here are some things you should know about them:
Wild Blueberries have twice the antioxidants of regular blueberries.
Most are frozen right after picking, which helps lock in important nutrients and phytochemicals.
They're Mother Nature's original blueberry. They haven't been modified to increase size or make them easier to ship.
Compared to regular blueberries, they have a more intense taste and color and they contain less water so they freeze better and are great for baking!
Research has shown potential benefits to humans in the areas of brain health, anti-aging, heart health, diabetes prevention, preventing UTIs and eye health.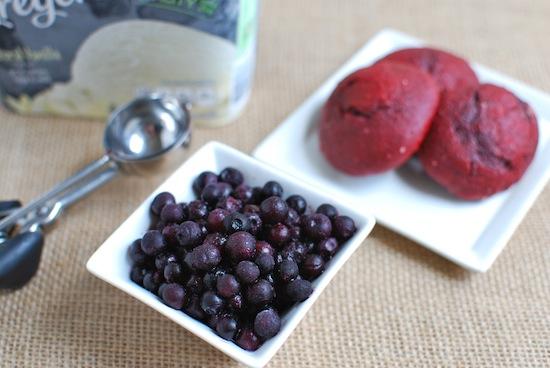 So, if you haven't picked up on it by now, I went with a 4th of July theme for this recipe. Growing up, 4th of July was always one of my favorite holidays. I loved it for several reasons:
It's during the summer. Summer is my favorite.
There are fireworks. I've always loved watching the colors light up the sky.
Ice cream. It goes with 4th of July like cookies go with Christmas.
As you guys know, I haven't felt the best during this pregnancy, but ice cream always sounds good! I wanted to give you guys an easy idea that you could make for your 4th of July gathering. These require just a few ingredients and they're super fun and festive!
Here's how you make them:
Print
Wild Blueberry Ice Cream Sandwich
Perfect for the 4th of July but just as delicious any time of year!
1

box red velvet cake mix

1/2 cup

plain yogurt

2

eggs

3 cups

vanilla ice cream (approximately)

1 cup

frozen Wild Blueberries (approximately)
Instructions
Combine the cake mix, eggs and yogurt in a bowl, mixing well until all cake mix is moistened.
Freeze for 30 minutes.
Scoop onto greased cookie sheets and bake at 375 for 10 minutes (you should get 24 cookies.)
Let cookies cool completely.
Let ice cream soften slightly, then spread about 2 Tablespoons of ice cream on the bottom of a cookie.
Top with about 1 Tablespoon of frozen Wild Blueberries.
Add another 1-2 Tablespoons of ice cream on top of blueberries and top with another cookie (bottom side down).
Repeat with remaining cookies until you have 12 ice cream sandwiches.
Store in the freezer, let thaw for 5-10 minute before serving.
Aren't they pretty?!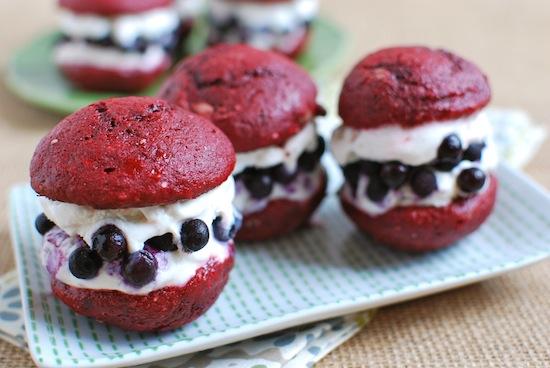 Like I mentioned in the recipe, you could go above and beyond and make your own red velvet cookies from scratch if you wanted to. Or you could take the even easier route and serve them open faced for easier assembly.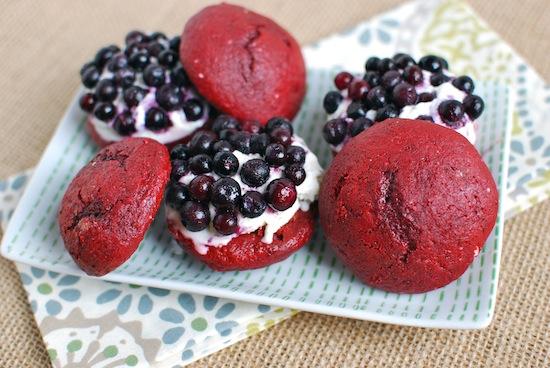 If you're reading this and it's not the 4th of July, don't feel like you have to use red velvet cookies. Choose your favorite cookie recipe and go to town. Wild Blueberries go great with pretty much anything 🙂
Let's chat:
What are your plans for the 4th?
Enjoy!
–Lindsay–
PS. Can I just say that trying to photograph RED cookies, Wild BLUEberries and WHITE ice cream is one of the hardest things I've ever done?! The photo shoot may or may not have taken me all afternoon 🙂
LEARN HOW FOOD AFFECTS YOUR BODY.
Get my free Table Talk email series where I share bite-sized nutrition information about carbs, protein, and fat, plus bonus information about snacks and sugar!