Hi Friends!
Yesterday I taught you how to prep food on the weekend. Today I'm going to show you how exactly it makes life easier during the week. So, here's what I prepped two weekends ago: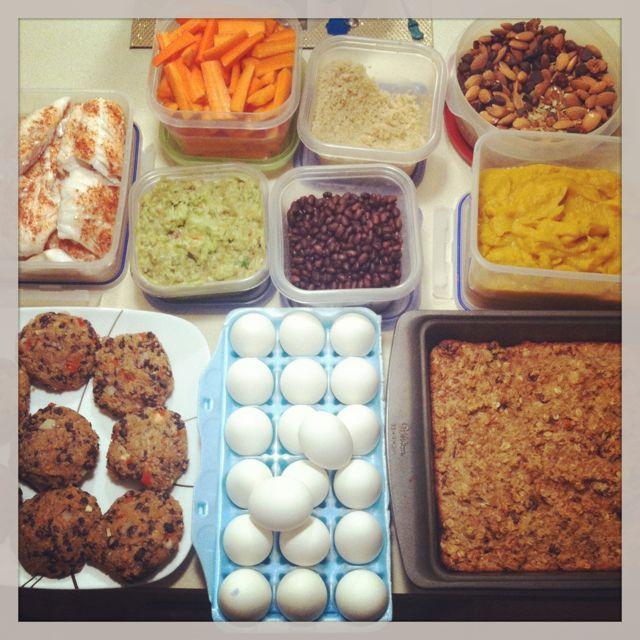 My weekend prep included:
Baked fish
Greek Black Bean Burgers
Hard boiled Eggs
Trailmix
Black Beans
Quinoa
Guacamole
Carrots
And here's what we ate last week:
Breakfasts
I eat cereal every morning for breakfast during the week. 2 bowls of Kashi Heart 2 Heart cinnamon with skim milk. I also have a mug of green tea. Hubby grabs a quinoa breakfast bar from the fridge to take to work, as well as a piece of fruit sometimes, and his mug of coffeee.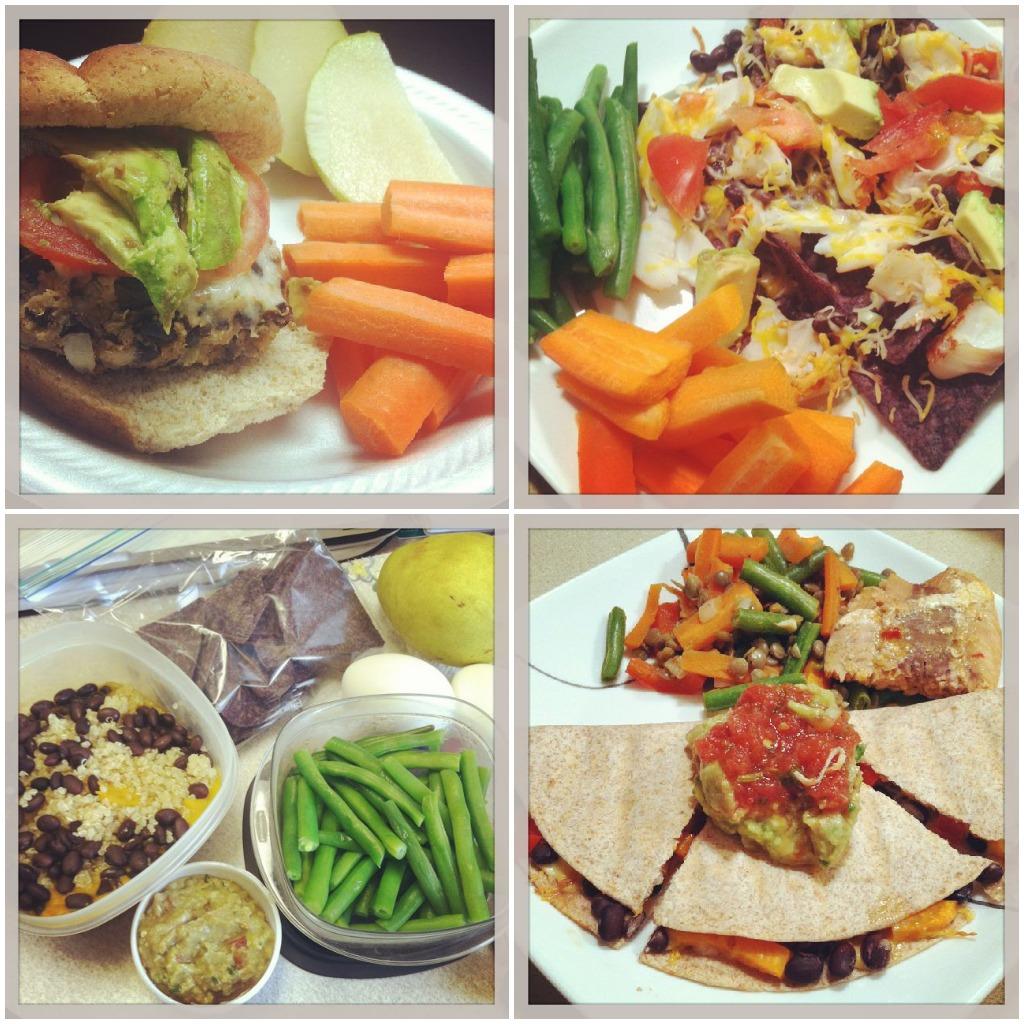 Monday
Lunch: I packed one of the Greek black bean burgers, some of the sliced carrots with hummus and a pear. Hubby came home for lunch and made a fish taco with the cooked fish, black beans and guac and also had a couple hard boiled eggs and some blackberries.
Dinner: I made fish nachos with blue corn tortilla chips. I used the cooked fish and black beans, so I just had to chop up some red peppers and onions, then load up the nachos and top with cheese. While they were in the oven,  I cooked some green beans in the microwave and pulled out the carrots and hummus.
Tuesday

Lunch: I packed some of the curried sweet potato soup with some quinoa and black beans added in, a pear, some leftover green beans and chips with guac. Hubby ate a one of the black bean burgers and made a big salad with some of the fish and veggies on top.
Dinner:  I made sweet potato and black bean quesadillas using the black beans and a sweet potato that I diced up and microwaved for 2 minutes. Just spread the beans and potatoes in a whole wheat tortilla, add some chopped peppers and onions (leftover from the nacho prep) and cheese and pop it on the George Foreman grill. I also ate some leftover stirfry veggies and lentils with a little piece of leftover salmon and hubby had a bowl of soup with his dilla.
Lunch: I packed some of the fish with quinoa, black beans and salsa, plus a pear, a handful of the carrots with some hummus and one of the hb eggs. Hubby ate a Chobani, two hb eggs, and a peanut butter sandwich with a couple of clementines.
Dinner: On Tuesday night, I pulled out the crockpot and made a lentil veggie soup. I threw in some roughly chopped carrots, green beans, onion, sweet potato and  red pepper with a bag of dried lentils, a container of vegetable broth, lots of curry powder, paprika and cayenne pepper and some extra water. I cooked it on low for 8 hours overnight, added a bit more water in the morning and then put it in the fridge all day to let the flavors meld. For dinner on Wednesday, all I had to do was reheat and serve with a pear and some chips.
Thursday

Lunch: My preceptor took me out to lunch to celebrate the end of my rotation. She choose a Mexican restaurant. I ordered the veggie quesadilla and added black beans, plus I asked for 1/2 the amount of cheese. Instead of the rice and beans for the side, I ordered grilled veggies. I ate half the dilla and packed up the rest. Hubby made himself a rollup with the rest of the fish, some hummus, some guacamole, cheese and quinoa and a chobani and an egg.
Dinner: We made egg sandwiches. Instead of using regular bread, we used some frozen naan from Trader Joe's. The sandwiches had an egg, some Muenster cheese, avocado and tomato and were grilled to perfection on the panini. SO GOOD. We also had some leftover lentil veggie soup and some carrots and hummus.
Friday

Lunch: On Thursday night I wasn't really in the mood to pack lunch so I threw a pear, some carrots and hummus and a pb&j in my lunchbox and called it a day. Then, I ended up having a snow day…so I ate my pb&j for a snack and made myself from eggs for lunch. I also ate my pear, carrots and hummus and a little bit of the sweet potato soup.
Dinner: We made some salmon that we had in the freezer. I served it over a bed of farro (which cooks in 15 min) with some sauteed black beans, peppers and onions and added a little balsamic vinegar for flavor.
Saturday
Lunch: We went to crossfit at 11 so we had a to refuel when we got home! We had eggs, leftover farro/black bean mixture with avocado and some greek yogurt bites from the freezer.
Dinner: We actually thought about going out to dinner for the first time in a month. In the end, we settled for picking up a veggie pizza on our way home from a baby shower and eating it at home with some carrots and hummus and hb eggs.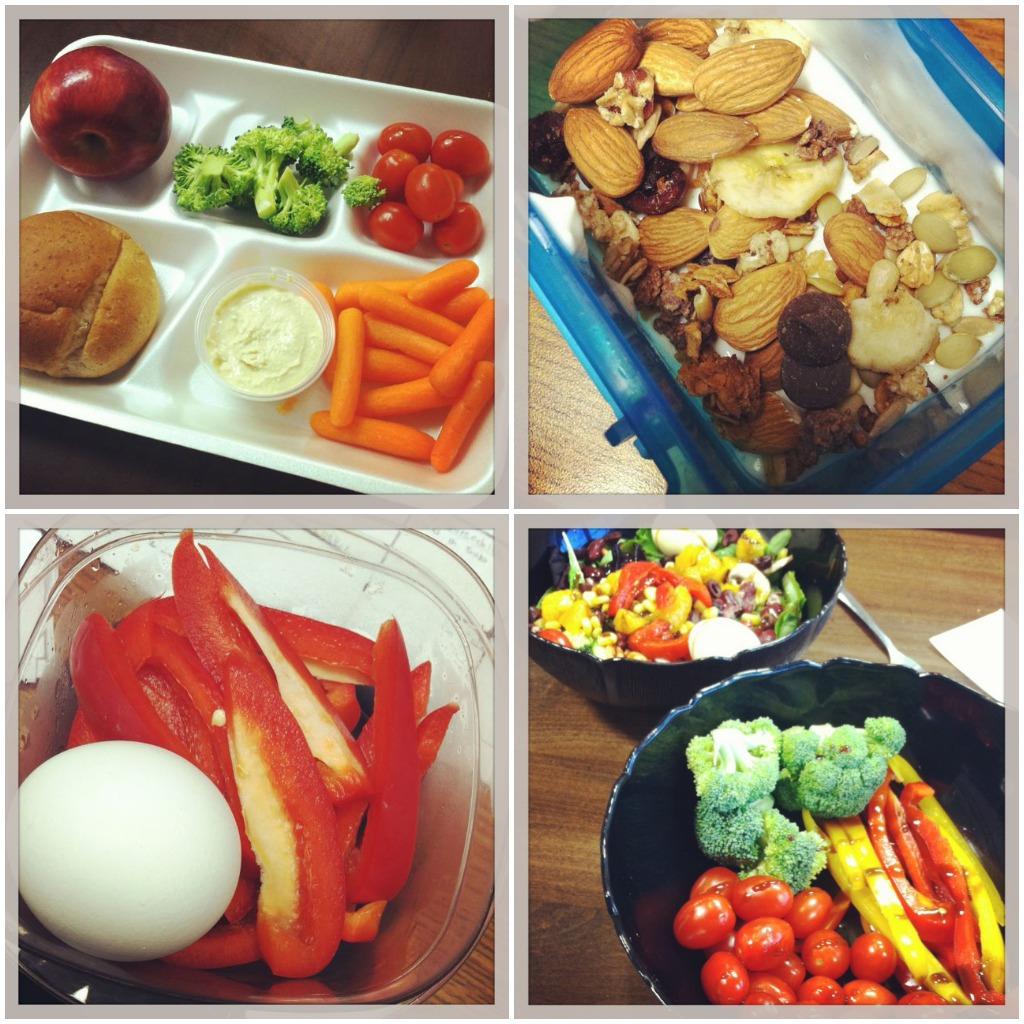 Snacks

We had the trailmix pre-made so we could just grab a serving each day for a snack and we also had the hard boiled eggs that we could easily grab out of the fridge for snacks and meals. Other snacks we ate during the week included lots of veggies with hummus, chips and salsa, cereal, greek yogurt etc.
So there you go. At the end of the week, everything was gone except some trailmix and a little guac!
Hopefully this post shows you that prepping food on the weekend makes healthy meals much easier during the week.
Enjoy!
–Lindsay–
If you liked this post, you'll love my ebook – The Ultimate Guide To Food Prep. It dives into even more detail about how to food prep, troubleshoots common problems and provides tons of tips to make it easier! Click the image below for more details!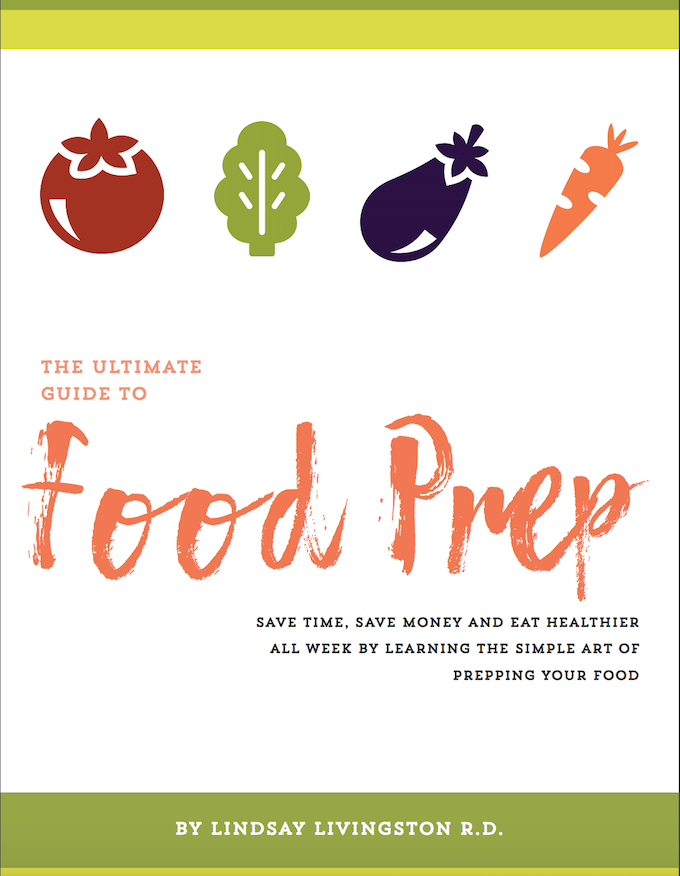 LEARN HOW FOOD AFFECTS YOUR BODY.
Get my free Table Talk email series where I share bite-sized nutrition information about carbs, protein, and fat, plus bonus information about snacks and sugar!