These Tomato Basil Mozzarella Quinoa Muffins are gluten-free, savory and loaded with fresh tomato and basil for the perfect party appetizer or nutritious snack!
Hi Friends!
Today I have another fabulous guest post for you! Alexis from Hummusapien is sharing a delish recipe with you. Alexis and I are Columbus locals and we graduated from Ohio State the same year. I went on to do one internship at OSU while she chose a route that took a little longer, but she'll finish (so soon!!!!) with a Master's degree and be eligible to take the RD exam! I'm so proud of how hard she's worked these past couple of years and can't wait for her to officially become an RD as well! If you haven't checked out her blog, go do so immediately!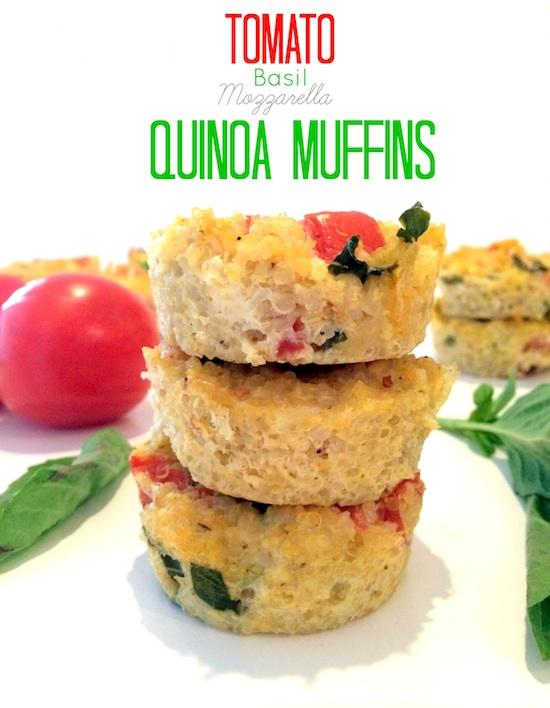 ————-
Whadduppppp my beany beauties? I'm pretty stoked to be guest posting today for Da Bean AKA the meal planning master AKA the crossfit queen AKA the social media maven. I mean lezbehonest, what does this girl NOT do? Can't.even.handle the fabulousness. I call first dibs on babysitting #babybean. I'm Alexis, a soon to be RD with a soon to be master's in nutrition (I'm graduating in ten days, but who's counting) otherwise known as Hummusapien. But you can just call me hummus. I kid. I blog about healthy eats and treats that more often than not involve chickpeas, avocado, dark chocolate, or some bizarre combination of all three. I'm a big believer in eating real wholesome foods and counting ingredients, not calories. Lettuce eat all the plants! I like to think that your body will thank you when you fuel it up with lots of nutrient-dense goodies, including copious amounts of peanut butter banana chickpea cookies followed by a swig of almond milk directly from the carton.
I may or may not have been referred to as the chickpea whisperer. Maybe it's because I turn chickpeas into chocolate hummus against their will. Maybe it's because I roast them and put them on like every salad, ever. Maybe it's because I whisper to them.
Have no fear–I actually cook with things other than chickpeas, too. Like quinoa! But enough about me. I called these tomato, basil and mozzarella quinoa thangs "muffins" only because I baked them in a muffin tin and had no idea what else to call them. Quinoa cups? Quinoa yums? Quinoa getinmahbellies?
Whatever the hell they are or aren't, I love these muffies because they're one of those recipes where you totally forget that you're eating healthy food. While quinoa has gained legit superfood status over the past couple years, eating it plain is no treat for your taste buds. Jazz it up with fresh basil, juicy tomatoes and grated Parmesan and you'll be all shut-the-front-door-there's-no-way-this-is-keen-wa.
Way.
If you're looking for an adorable bite-sized party app, you can also bake these in a mini muffin tin for about 20 minutes. Then you'll have 24 babies instead of 12 mamas, which is amazing because eating more than one is always more fun, right?
Right.
Print
Tomato, Basil and Mozzarella Quinoa Muffins
These gluten-free, savory cheesy quinoa muffins are loaded with fresh tomato and basil for the perfect party appetizer or nutritious snack!
Author: Author: Alexis
Prep Time:

30 minutes

Cook Time:

20 minutes

Total Time:

50 minutes

Yield:

1

2

1

x
1/2 cup

quinoa, rinsed

1 cup

vegetable broth (or water*)

2

eggs, beaten

2 tbsp

almond meal

1/4 cup

shredded mozzarella cheese

1/4 cup

grated Parmesan cheese

2

–

3

cloves garlic, minced

1/4 tsp

salt

1 cup

diced tomatoes (about

2

medium Roma tomatoes)

1/4 cup

chopped fresh basil
Instructions
Preheat oven to 350F. Spray a 12-cup muffin tin liberally with cooking spray. You could also use a mini muffin tin and adjust the cooking time to 20 minutes.
In a medium pot, bring vegetable broth and quinoa to a boil. Once boiling, reduce heat to low and simmer, covered, for about 15 minutes (or until all the liquid is absorbed).
Dump cooked quinoa into a bowl and set aside to cool.
In a large bowl, stir together beaten eggs, almond meal, cheeses, garlic and salt. Add in cooled quinoa and stir to combine. Fold in tomatoes and basil.
Spoon batter evenly into muffin tin. Bake for about 25 minutes. Allow muffins to cool in pan for at least 20 minutes before carefully removing them from tin.
Serve warm.
Are you drooling yet?!
Thanks to Alexis for stopping by today!
Enjoy!
–Lindsay–
LEARN HOW FOOD AFFECTS YOUR BODY.
Get my free Table Talk email series where I share bite-sized nutrition information about carbs, protein, and fat, plus bonus information about snacks and sugar!