Hi Friends!
Happy Tuesday! If you're a long-time reader of my blog, you're probably quite aware of how much I love smoothies. I LOVE them. Always have. I love the endless combinations, I love how quick and easy they are and most recently, I love how healthy you can make them.
Confession: In December of 2010, I posted about making my first green monster. Then I promptly forgot about them and reverted back to my normal fruit-filled smoothies.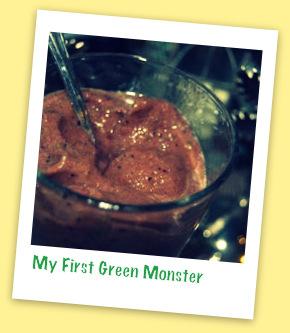 If you looked at my smoothies from last summer, they would look something like this: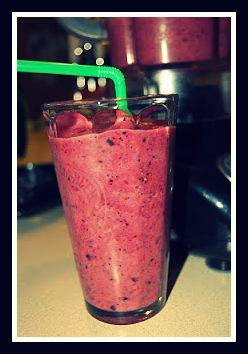 Packed with fruit, fruit juice and ice…and that's about it.
—————————————-
Sometime during the summer of 2011, I decided I needed to get a little more serious about boosting the nutritional value of my smoothies. But I'm a creature of habit, so I wanted to ease into it!
In August, I added chia seeds to my smoothie for the first time and ate it out of a bowl because I loved how thick they made it!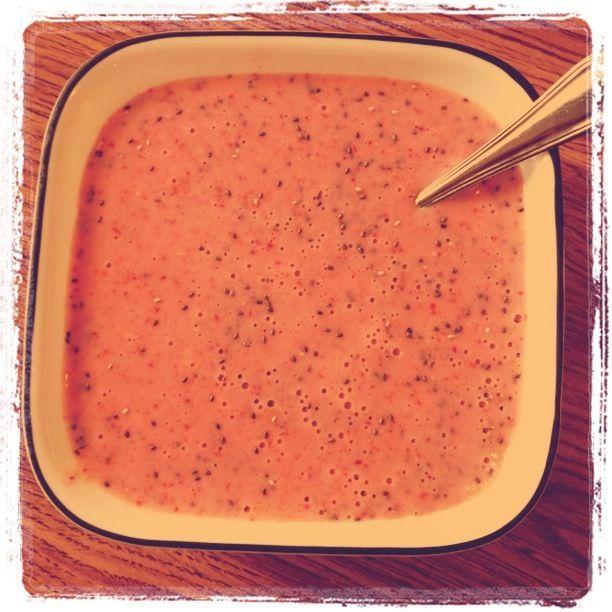 In the fall of 2011, I was running a lot (for me) and I was having trouble finding things my stomach could handle eating after running. In October, I tried adding oatmeal to my smoothies for some post-run fuel.  It worked out perfectly for me.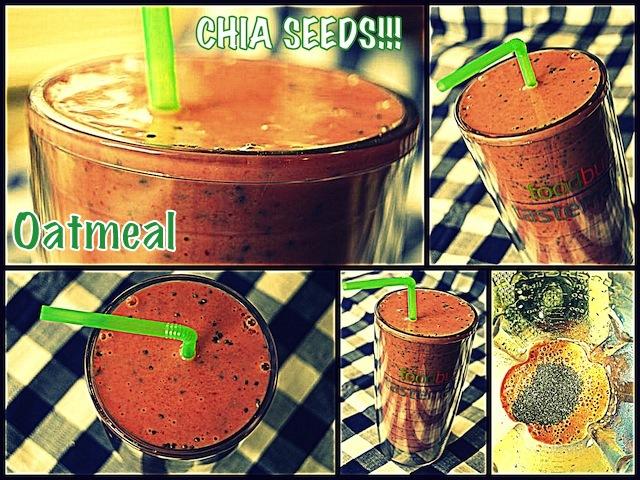 In December and January, I gradually started adding spinach to my smoothies again. It started with a very small handful….and that handful gradually increased in size over the following weeks. At the same time, I made the switch from using flavored Greek yogurts in my smoothies to plain, non-fat Greek yogurt. I started by switching to half flavored-half plain, and then eventually phased out the flavored kind all together.
Pretty soon I was buying giant tubs of spinach & plain Greek yogurt at Costco to fuel my smoothie habit 🙂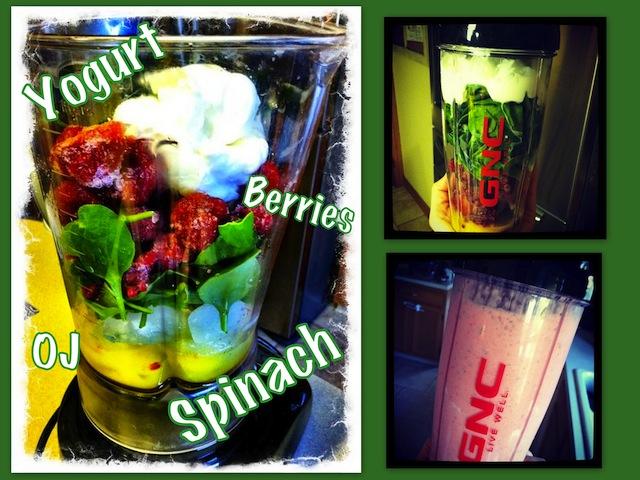 Using these methods, I was even able to get the hubby hooked on green monsters. And yes, I call them green monsters. Even though mine are not totally green, and still have fruit in them….the fact that there is a green vegetable in my smoothies is a MAJOR accomplishment for me!
We're now in March of 2012. I've decided that peaches are my favorite fruit for hiding the spinach taste. If I use just peaches instead of a berry-peach combo, and some extra spinach,  the smoothies get particularly green!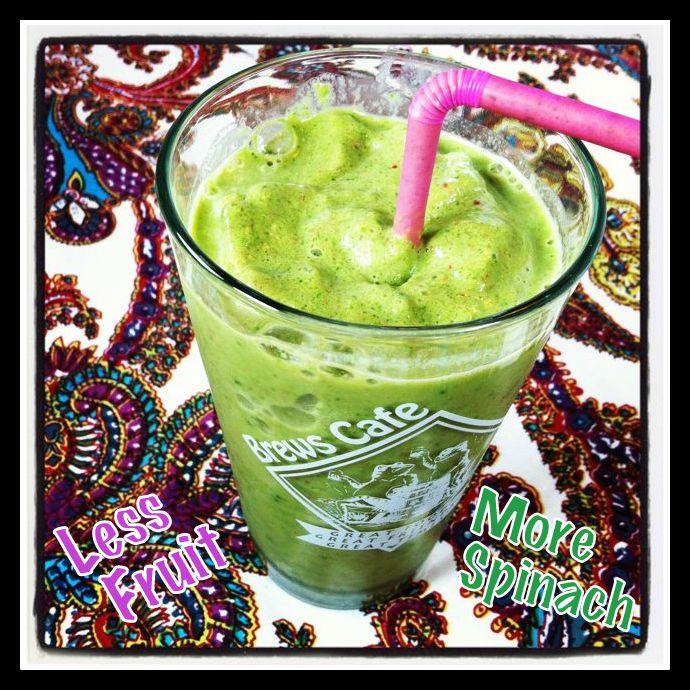 Most days though, I'm happy with my combination of a few frozen peaches and berries, a giant handful of spinach, several scoops of plain greek yogurt, some ice cubes, a splash of OJ and some chia seeds.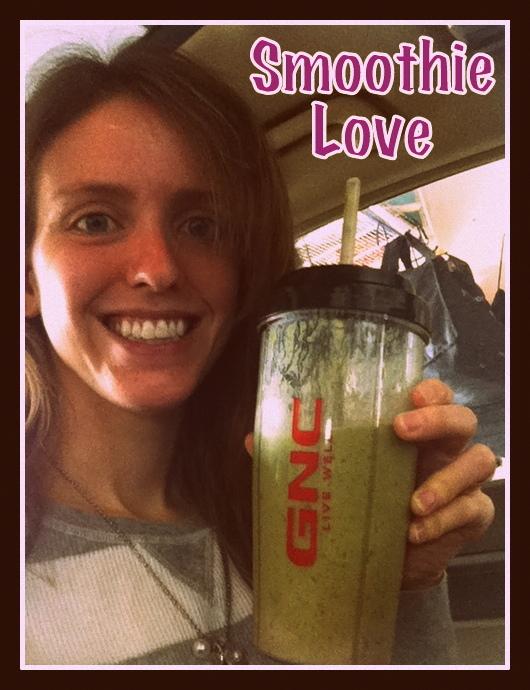 I know a lot of people add protein powder to their smoothies. I've tried a few brands but I'm SUPER picky about the taste of protein powders. I hate the chalky taste that most have, and I really hate the flavors, even chocolate and vanilla. But, if any of you use a really good kind that has no taste, I'd be all over that…. so let me know!!
So tell me: Are you a smoothie drinker? What do you do to make yours healthier? Leave the link to your favorite recipe if you have one!
Today's Workout- Quick Med Ball Abs!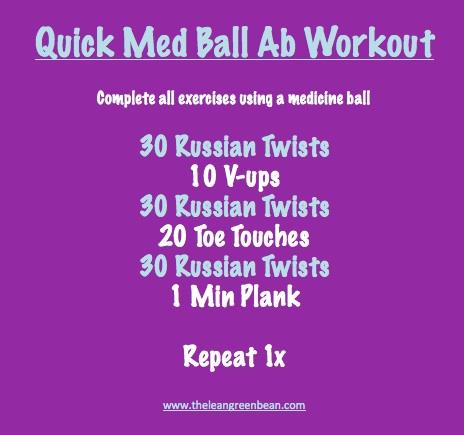 –Lindsay–
PS. I participated in a UK-US Food blogger swap and my goodies finally came in the mail the other day!!! Check out what I got from across the pond:
Loved these!
All sorts of fun bars!
So far I've tried the cocoa mint one and loved it!
Big thanks to Nicky at Kabocha Fashionista for hooking me up 🙂
LEARN HOW FOOD AFFECTS YOUR BODY.
Get my free Table Talk email series where I share bite-sized nutrition information about carbs, protein, and fat, plus bonus information about snacks and sugar!