This Stroller Workout is a fun way to break up your next walk or run by adding short fitness breaks that include lunges, squats, burpees and planks. Fun for you AND baby!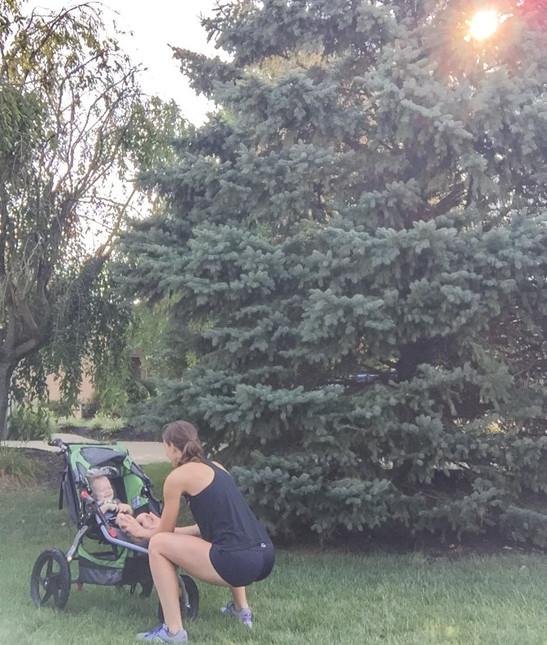 This post was sponsored by Fitfluential on behalf of Kohls.
Hi Friends!
It's time for another post in the series I'm doing for the #MakeYourMove campaign! In case you missed any of the previous posts, be sure to check them out here:
Today we're talking a little more about family fitness. As I mentioned in my intro post, one of my goals is to make it a priority to workout with Squish and be a good fitness role model. This has gotten infinitely easier since we opened a gym, but I want to show Squish that fitness can exist outside the gym as well.

We try to take a family walk every night and most afternoons, Squish and I go to the park to play. Our walks to the park can get a little boring, so I came up with this stroller workout that you can use to break up your next walk or run by stopping for little fitness breaks that include lunges, squats, burpees and planks!
You can customize this workout to make it as long or short as you'd like. If you like to run, pick a distance to run between breaks. If you prefer to walk (like me!) that's fine too. Adjust the distance and number of reps based on how long you want the workout to take!
Here's what I did before we hit the park the other day: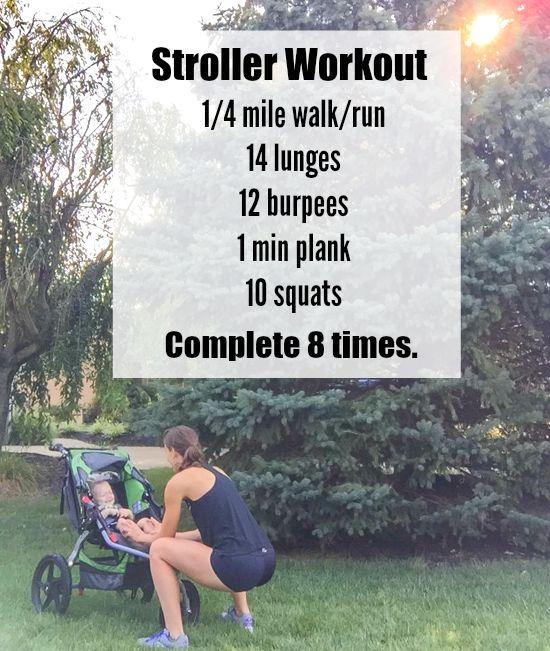 When it's time to stop and do the workout moves, just pull the stroller to the side of the path, or into the grass to make it a bit more comfortable!
This workout allows you to interact with baby during your breaks. I'm also working on a workout that uses the stroller as more of a weight. It works well on a hill so stay tuned for that!
A little bit about the movements:
Lunges – I did walking lunges while pushing the stroller but you could also choose to come around front and do stationary lunges.
Burpees – Start on the ground in a pushup position. Push up and jump your feet underneath you. Raise your hands in the air and jump as high as you can. Feel free to stop and tickle baby's feet after you land, then return to the push-up position on the ground and repeat.
Plank – Hold yourself at the top of a push-up positions, balancing on your toes and palms with your arms fully extended. Over the course of one minute, alternate extending one hand out in front of you to tickle baby's feet. Return to plank position and repeat with opposite arm.
Squat – Stand in front of the stroller and squat up and down. Talk to your baby as you move!
Here's a little demo video for you:
Like I said, you can adjust the reps and length of the workout to fit your needs!
[Tweet "Grab a stroller and baby for this fun workout from @leangrnbeanblog! #makeyourmove @Kohls"]
Now it's your turn to #makeyourmove! I'm challenging you to do a family workout this week. Take a hike, go for a run, head to the park, whatever sounds fun!
Tell me:
What's your favorite way to be active with your family?!
Enjoy!
–Lindsay–
This post is sponsored by FitFluential on behalf of Kohl's.
LEARN HOW FOOD AFFECTS YOUR BODY.
Get my free Table Talk email series where I share bite-sized nutrition information about carbs, protein, and fat, plus bonus information about snacks and sugar!