Here are 28 Easy Toddler Meal Ideas from a Registered Dietitian mom. They're quick, healthy and great for lunch or dinner.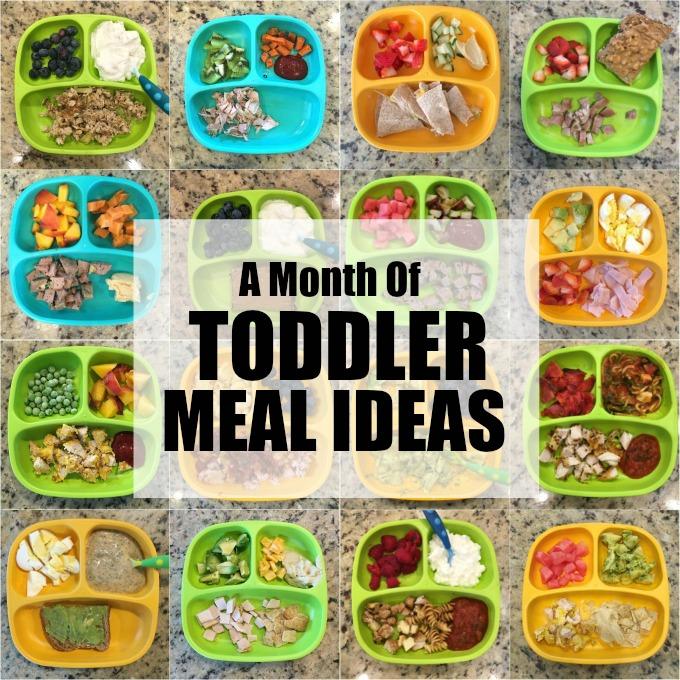 Hi Friends!
Judging by how many of you downloaded the 50+ Toddler Meal Ideas PDF, I think it's safe to say there are a lot of parents out there looking for quick, healthy meal ideas for their kids. So, I've decided to start a monthly series where I share some of the meals I've been feeding Squish.
A few things to keep in mind:
First of all, the plates are from Re-Play Recycled. (affiliate link). They're my favorite and everyone always asks about them!
These are mostly lunch and dinner. We're kinda creatures of habit when it comes to breakfast and he eats yogurt, fruit and either oatmeal or toast with peanut butter pretty much every day.
Squish is currently 22 months old and BIG for his age. He eats A LOT so if this looks like a lot of food to you, keep in mind it may be more than your child is eating and that's ok.
I mentioned in this post about Healthy Fats For Kids that I do my best to include a healthy fat source at most meals…but sometimes I don't, and that's ok. I also sometimes forget to include a vegetable. We're working on it!
Like most people, we have our favorite brands. I'll try to mention some of them in the first picture they show up in. Similarly, if the recipes are on my blog, I'll link to them!
If you're intersted in my feeding philosophy, you can read about Why My Toddler Doesn't Always Eat What I Eat.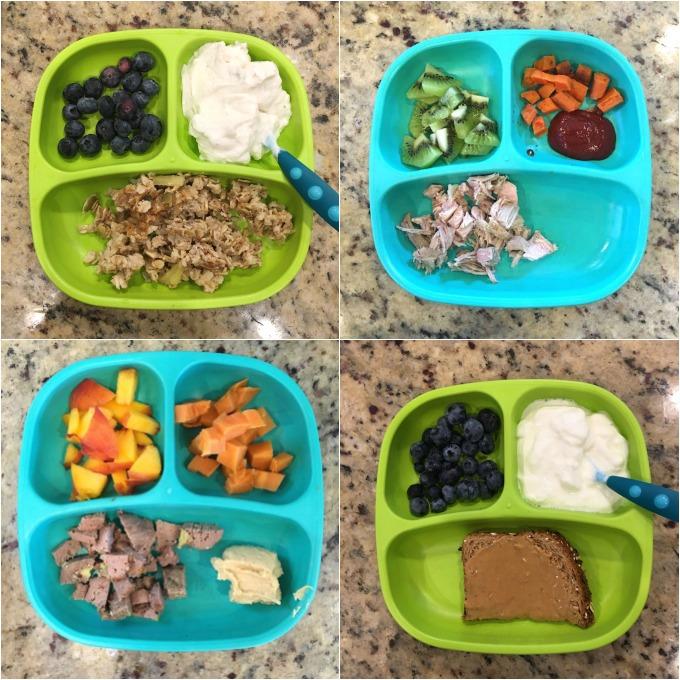 Blueberries + Maple Hill Full Fat Plain Yogurt + Oatmeal w/ apples, pb & pumpkin seeds
Kiwi + Sweet potato with Annie's Organic ketchup + pulled pork
Nectarine + Sweet Potato+ Avocado Chicken Burger with Sabra Original hummus
Blueberries + Maple Hill Full Fat Plain Yogurt + Dave's Killer Bread (21 Grain) + Crazy Richard's Peanut Butter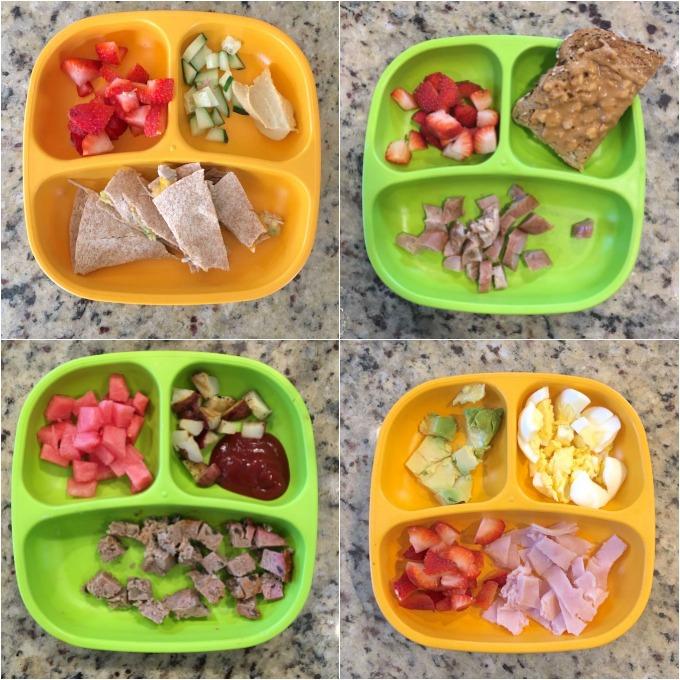 Strawberries + Cucumber with hummus + Chicken & Black Bean Quesadilla
Strawberries + Peanut Butter Toast + Meijer brand Spinach & Mozzarella Chicken Sausage
Watermelon + Roasted Potatoes with ketchup + Avocado Chicken Burger
Avocado + Hard Boiled Egg + Strawberries + Turkey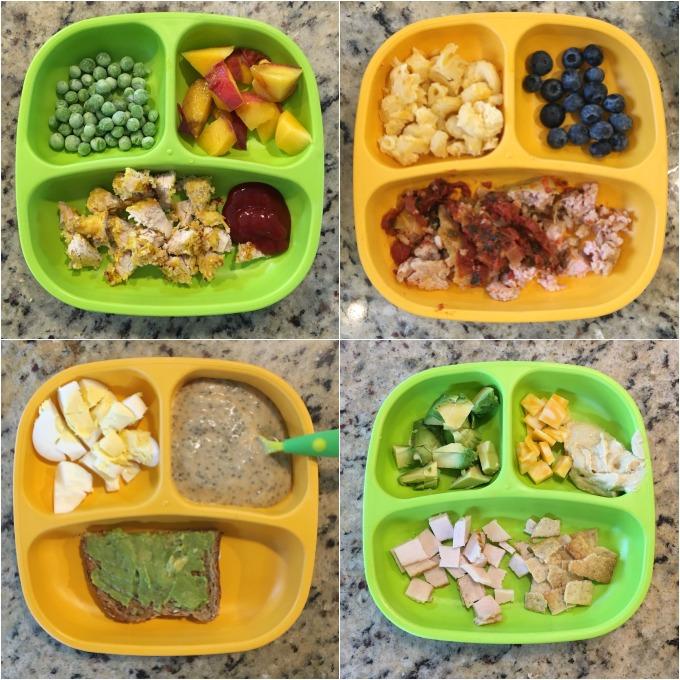 Frozen Peas + Nectarine + Turmeric Yogurt Chicken with ketchup
Grandma's mac and cheese + Blueberries + Cabbage Roll
Hard Boiled Egg + PB Banana Chia Pudding + Avocado Toast
Avocado + Cheese + Simple Mills Crackers + Turkey + Hummus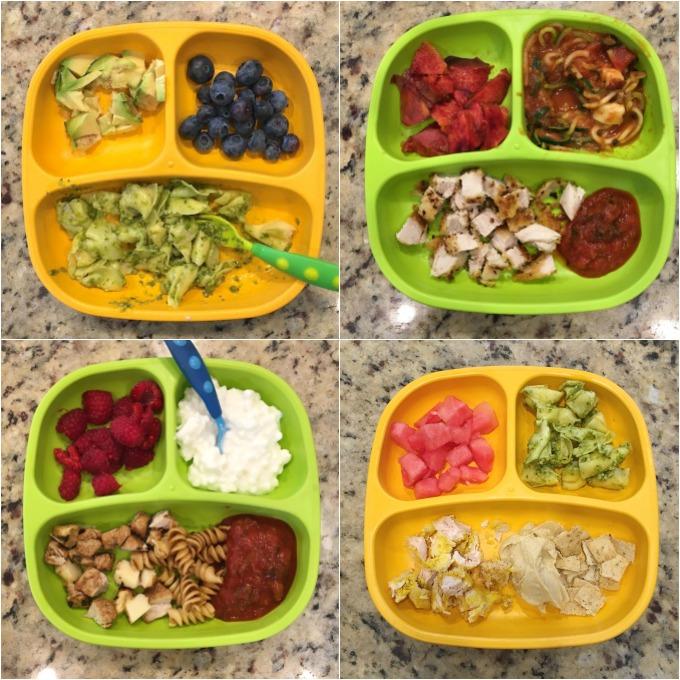 Avocado + Blueberries + Costco Cheese Tortellini + Pesto
Plum + Chicken Parmesan with zoodles
Raspberries + Daisy Cottage Cheese + Balsamic Chicken Caprese Pasta with marinara
Watermelon + Pesto Tortellini + Turmeric Chicken + Hummus and crackers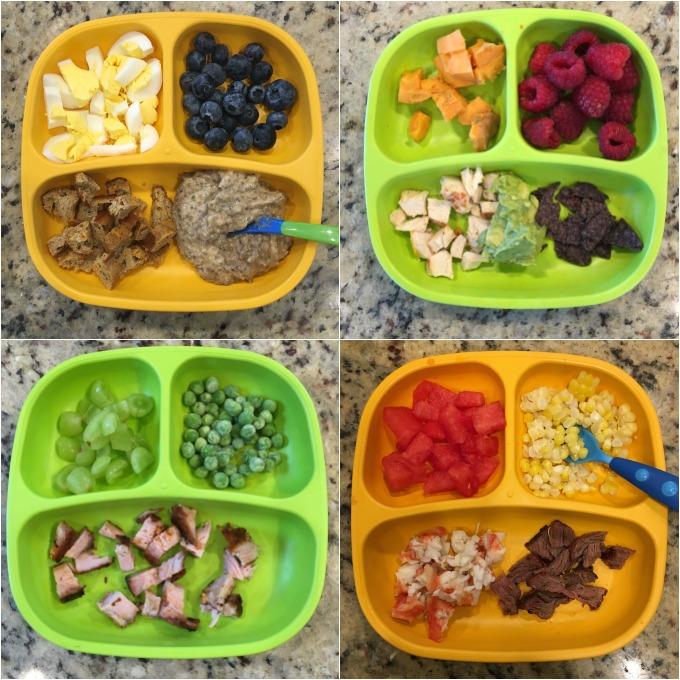 Hard boiled egg + Blueberries + Sweet Potato Bite + PB Banana Chia Pudding
Sweet Potato + Raspberries + Roasted Chicken + Holy Guacamole Guac + Garden of Eatin' Chips
Grapes + Frozen Peas + BBQ Ribs
Watermelon + Corn + King Crab + Steak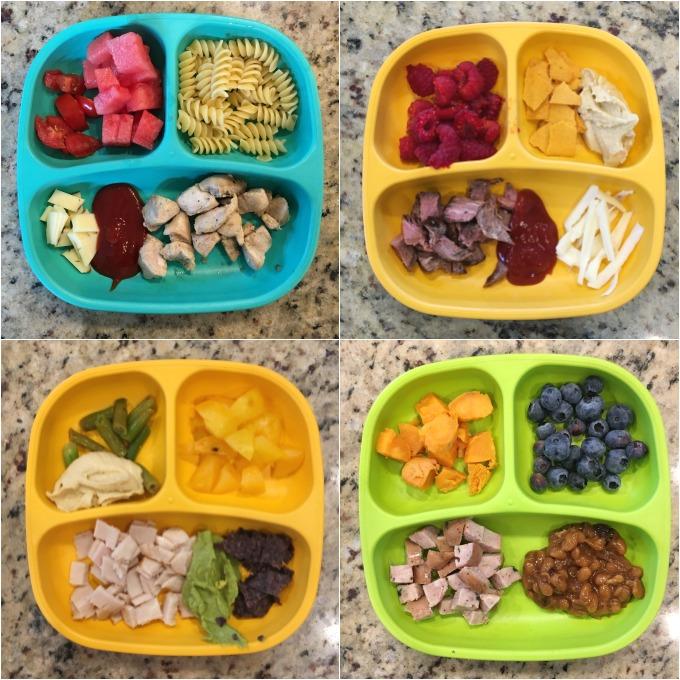 Watermelon + pasta + cheese + ketchup + chicken
Raspberries + Simple Mills Cheddar crackers with hummus + steak with ketchup + string cheese
Green Beans with hummus and Italian dressing + peaches + turkey + guac & chips
Sweet Potato + blueberries + chicken sausage + baked beans
Blueberries + frozen peas + grilled chicken with ketchup + crackers
Watermelon + Squash yogurt dip + meatloaf
Butternut squash + grapes +avocado toast + turkey
Pumpkin Yogurt Bar + cottage cheese + avocado + cheeseburger
Reminder: the plates are from Re-Play Recycled. (affiliate link) and we love them!

Be sure to pin this post for later when you need some easy toddler meal ideas!

[clickToTweet tweet="Need inspiration? Here's a month of easy, healthy toddler meal ideas from @leangrnbeanblog!" quote="Need inspiration? Here's a month of easy, healthy toddler meal ideas!"]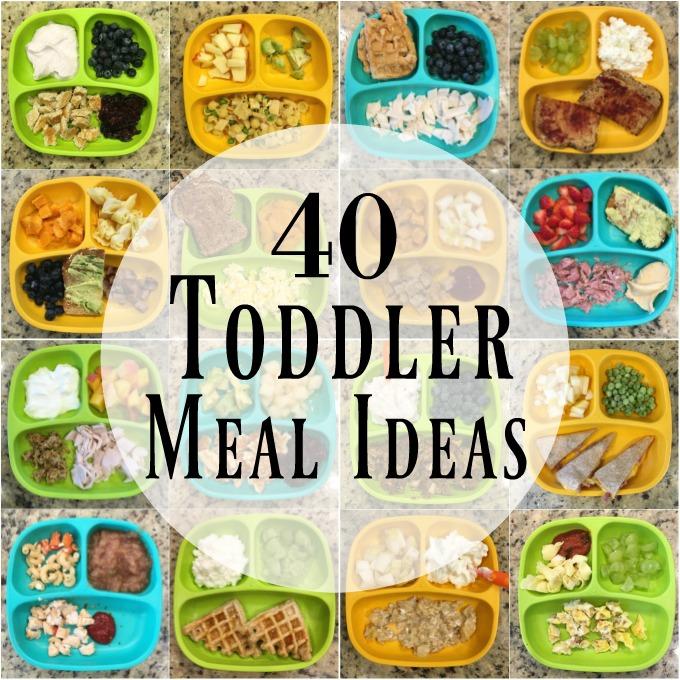 If you liked this post, be sure to check out the follow-up post: 40 Toddler Meal Ideas.
Want even more ideas? Signup to download this free 50+ Toddler Meals PDF:

Enjoy!
–Lindsay–
PS…the reason a lot of these meals are so easy are because of the food prep I do. Be sure to check out my Ultimate Guide To Food Prep Ebook if you haven't already for more tips and tricks!
LEARN HOW FOOD AFFECTS YOUR BODY.
Get my free Table Talk email series where I share bite-sized nutrition information about carbs, protein, and fat, plus bonus information about snacks and sugar!