This easy Sheet Pan Chicken and Vegetables is a quick, healthy dinner recipe. Top it with a flavorful peanut sauce and the whole family will love it!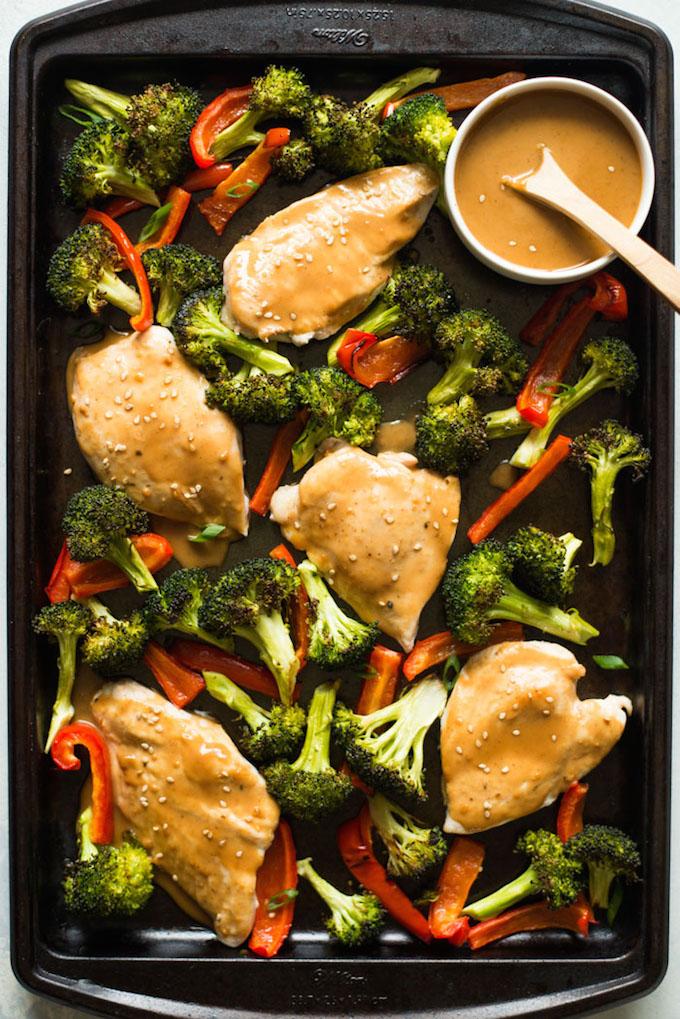 Hi, friends! This is Lisa from Healthy Nibbles & Bits, and I'm so excited to be guest posting for Lindsay while she's spending time with her baby girl!! Woooot! The last time I posted here, Chase was still a wee baby boy. I can't believe he's 2 already and rocking CrossFit (of course)! Time flies!
When Lindsay and I were brainstorming ideas for my post, she mentioned that many of you love quick and simple dinner recipes. I can definitely relate. You would think that as a food blogger, I cook fancy dinners all the time, but that's so not the case. On most days, I just want to get in and out of the kitchen. That's why sheet pan meals are such a staple in my house, especially during the colder months.
This sheet pan chicken and vegetables with peanut sauce is exactly the type of thing that I cook at home. The cooking time for the dish is about 20 to 25 minutes and most of it is hands off. Yea, I don't like overly fussy dinners either.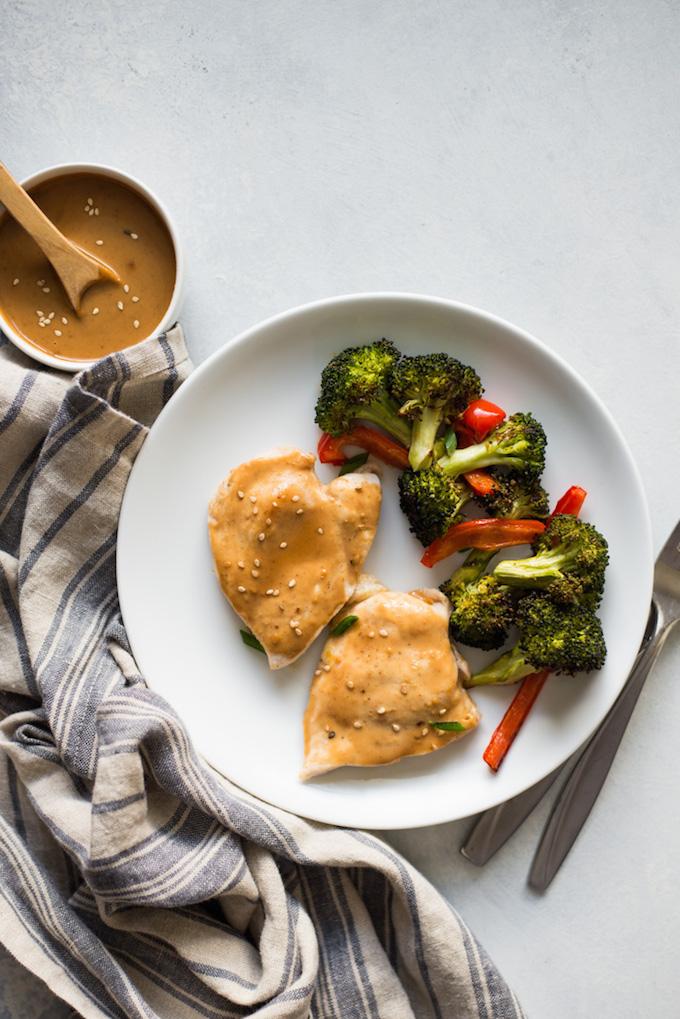 You can eat the roasted chicken and vegetables alone or pair it with cooked grains (like quinoa or rice) or roasted potatoes (probably my fave combo). If you decided to eat it with roasted root vegetables, I highly recommend cooking them for 35 to 40 minutes, tossing them midway through.
Here's a few more cooking notes for the recipe:
Chicken breasts come in all shapes and sizes, and I find that chicken breasts are often times thicker on one side. To guarantee even cooking, I cut the chicken breasts in half crosswise, separating the thicker portion from the thinner one. Then, I slice the thick portion of the chicken breast horizontally to get two ½-inch slices. So, one breast should yield 3 pieces, sometimes 4 if the breast is very thick all around.
Finally, all of the chicken pieces and vegetables should fit in one large jelly roll pan. Make sure that you don't crowd everything into a small sheet pan because you'll end up steaming everything instead of roasting them. If you don't have a jelly roll pan, 2 large rimmed baking sheets will do the job.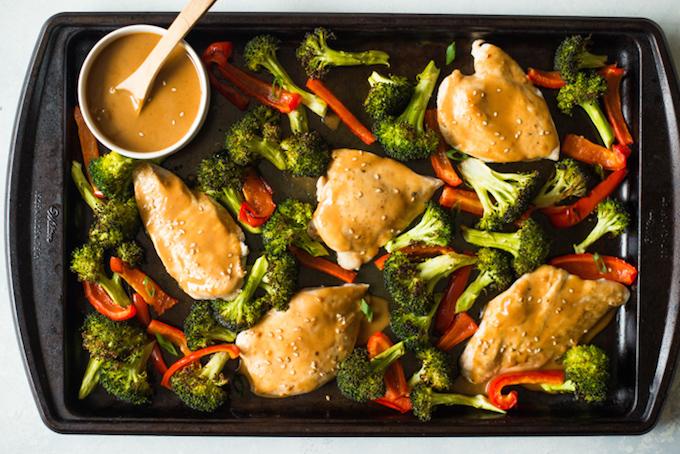 Here's the recipe!
Print
Sheet Pan Chicken and Vegetables
1 ½

to

1 ¾

pounds boneless skinless chicken breasts
kosher salt

1

pound broccoli crowns

1

medium red bell pepper

2 tablespoons

olive oil

¼ cup

creamy unsalted peanut butter

1 tablespoon

low-sodium tamari or soy sauce

1 tablespoon

rice vinegar

1 tablespoon

honey (sugar or maple syrup works too)
juice from

½

lime (about

1

to

1 ½

tablespoons)

3 tablespoons

water
pinch of salt
sesame seeds, optional
sliced green onions, optional
Instructions
Preheat oven to 425F. Line a large jelly roll pan or 2 large rimmed baking sheets with foil or parchment paper. If you are using foil, lightly coat it with cooking spray.
Pat the chicken breasts dry with paper towels. Cut the chicken in half crosswise. Slice the thicker portion of the chicken breast horizontally so that you get ½-inch thick slices of chicken. If the chicken breast is very thick, you might also want to slice the other half horizontally. Sprinkle all chicken pieces with kosher salt. Spread chicken pieces on top of prepared baking sheets.
Cut broccoli into smaller pieces. Toss the broccoli with 1 ½ tablespoons of olive oil and a pinch of salt. Spread them over the baking sheets.
Seed the red pepper and slice into strips. Toss with remaining olive oil and spread them over the baking sheets.
Bake everything for 15 to 18 minutes, until the chicken is cooked through and the temperature of the meat reaches 165F.
I like my broccoli quite roasted, so I will plate the chicken and continue roasting the vegetables for another 8 to 10 minutes. You can leave the peppers on the baking sheet.
While the chicken and vegetables are cooking, prepare the sauce. Mix all of the peanut sauce ingredients together in a bowl. Taste the sauce and adjust the seasoning to taste. If you prefer the sauce warmed, heat it in a saucepan on low.
Serve roasted chicken and vegetables with peanut sauce and your favorite grains or root vegetables.
Top with sesame seeds and sliced green onions if you like. Refrigerate any leftover sauce for up to 1 week.
Sounds tasty, right?!

What's your favorite sheet pan dinner?
LEARN HOW FOOD AFFECTS YOUR BODY.
Get my free Table Talk email series where I share bite-sized nutrition information about carbs, protein, and fat, plus bonus information about snacks and sugar!