This easy one pot chicken and rice is perfect for a busy weeknight. Most of the cooking time is hands-off letting you get other things done while it cooks!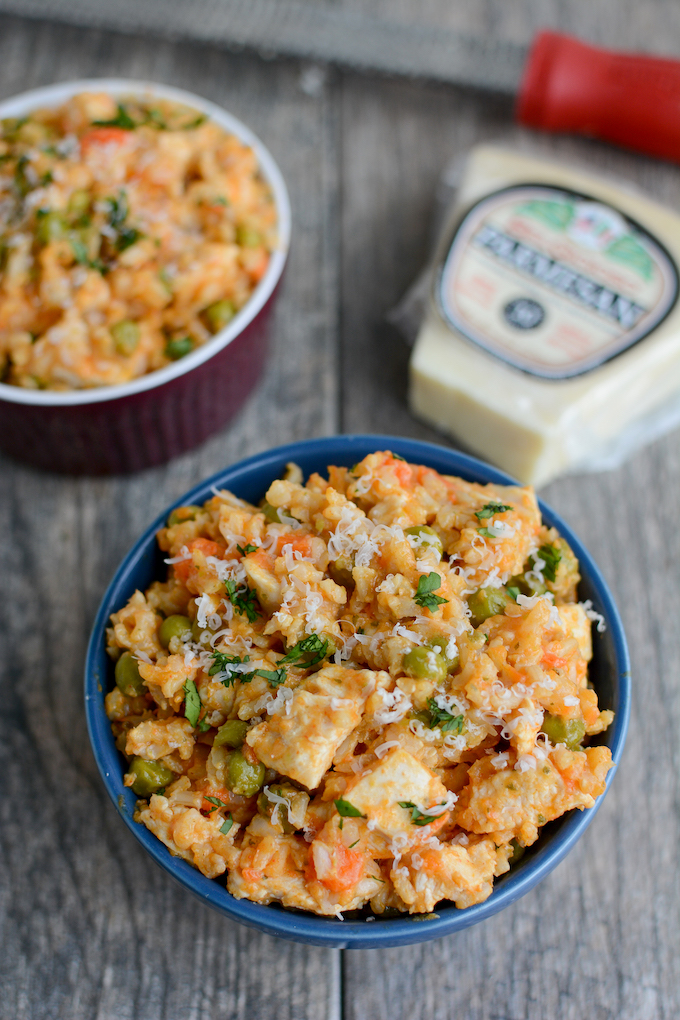 Hi friends!
If you follow along on Instagram, you've seen me test one pot chicken and rice recipe several times now. It took a little tweaking to get the cooking times right for me and then I had several people test it and adjusted the recipe more based on their feedback.
Overall, the recipe is simple. Very basic ingredients and the flavor is great. The trickiest part is the rice. You have to use brown rice for this recipe. Otherwise, the cooking time will be off. What I've learned is that people prefer their rice to different degrees of doneness. I like brown rice because it's a bit sturdier than white rice and I like mine to have some texture when I eat it. If you prefer yours a cooked a little more, you'll just have to adjust the cooking times a bit.
---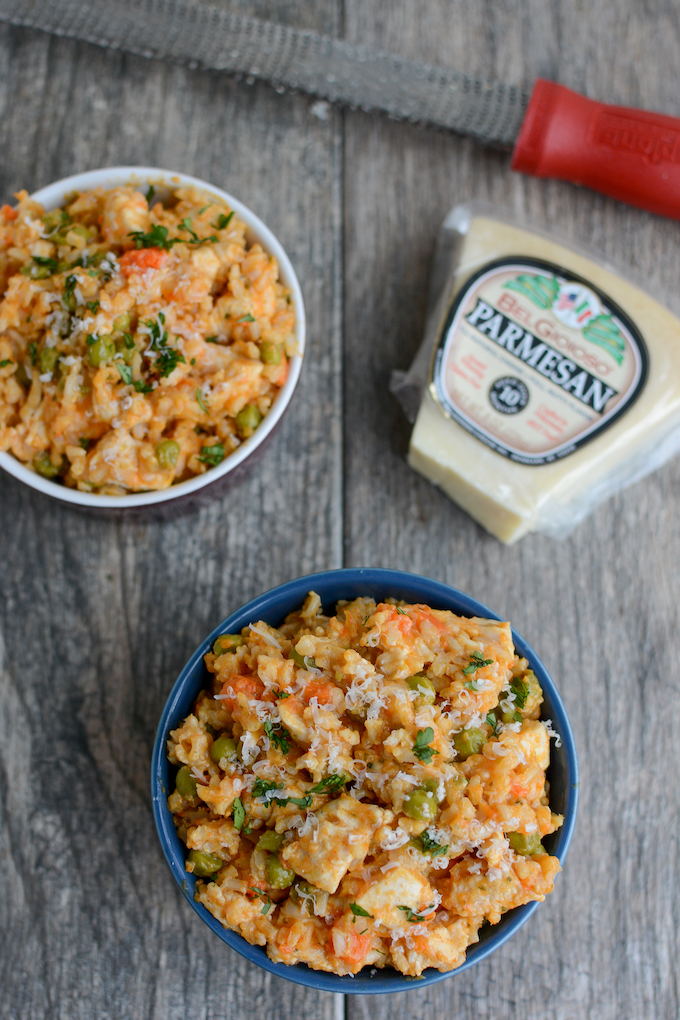 This recipe uses a bag of frozen mixed vegetables (i use carrots and peas) and chicken breasts. Let's cover a few common questions you might have:
Can I make one pot chicken thighs and rice?
Maybe you prefer chicken thighs over chicken breast. If I were going to sub thighs in this recipe, you could dice them up and cook like the breasts or you could try adding them at the beginning and letting them cook along with the rice and veggies and then shredding them up at the end.
How to make one pot Mexican chicken and rice?
If you want to put a Mexican spin on this dish, you could add black beans and corn during the last 10 minutes and change your veggies from peas and carrots to peppers and onions. Stir in shredded Mexican cheese instead of parmesan and top with fresh cilantro.
One Pot Cheesy Chicken Rice and Broccoli
This is another popular spin you could put on it. I would cook the rice by itself at the beginning, then add the chicken and then once you turn the heat off, stir in broccoli and cheddar cheese, cover and let it sit for 10-15 minutes.
---
Best One Pot Chicken and Rice Recipe
To make this recipe, it's pretty simple. First, we're going to get a large Dutch oven and throw in some butter, a bag of frozen vegetables, some uncooked brown rice, spices and some chicken broth. Bring it all to a boil and let it cook with the cover on for a while.
Then we're going to add diced chicken and let it cook for a while more uncovered. Here's where you might have to adjust the cooking time. You want to cook it until most of the broth is absorbed, but if you taste it and your rice isn't quite done, you can add a bit more broth.
Then remove it from the heat, mix in some cheese and put the lid on to let it rest for a few minutes. And voila!
If you're looking for more recipe ideas, find more chicken recipes here!
Here's the full recipe:
Print
One Pot Chicken and Rice
This easy one pot chicken and rice is packed with vegetables and full of flavor. Perfect comfort food for a cold night.
Author: Lindsay
Prep Time:

5 min

Cook Time:

30 min

Total Time:

35 minutes

Yield:

serves 4
3 Tbsp

butter

12 oz

bag frozen veggies (I use peas and carrots)

1 cup

brown rice, uncooked

1 quart

(

4 cups

) chicken broth

1 tsp

dried parsley

1 tsp

garlic powder

1 tsp

paprika

1/2 tsp

salt and pepper

1

–

1.5

pounds raw chicken breast, diced
Freshly grated parmesan cheese to taste or 1 cup shredded mozzarella
Instructions
In a large Dutch oven or pot, combine butter, vegetables, rice, broth and spices and bring to a boil
Reduce heat to medium (should still be bubbling), cover and cook 20 minutes.
Add chicken and bring to a boil again. 
Reduce heat to medium and cook uncovered for another 15-20 minutes. Almost all of the liquid should be absorbed. Taste the rice. If you want it cooked more, add 1/2 cup more broth at a time and continue to let it cook until rice reaches desired tenderness.
REMOVE FROM HEAT, stir in cheese and taste. Adjust seasonings adding more salt and peper if needed. Cover and let sit (with no heat) for 10 minutes before serving!
Sounds pretty simple right?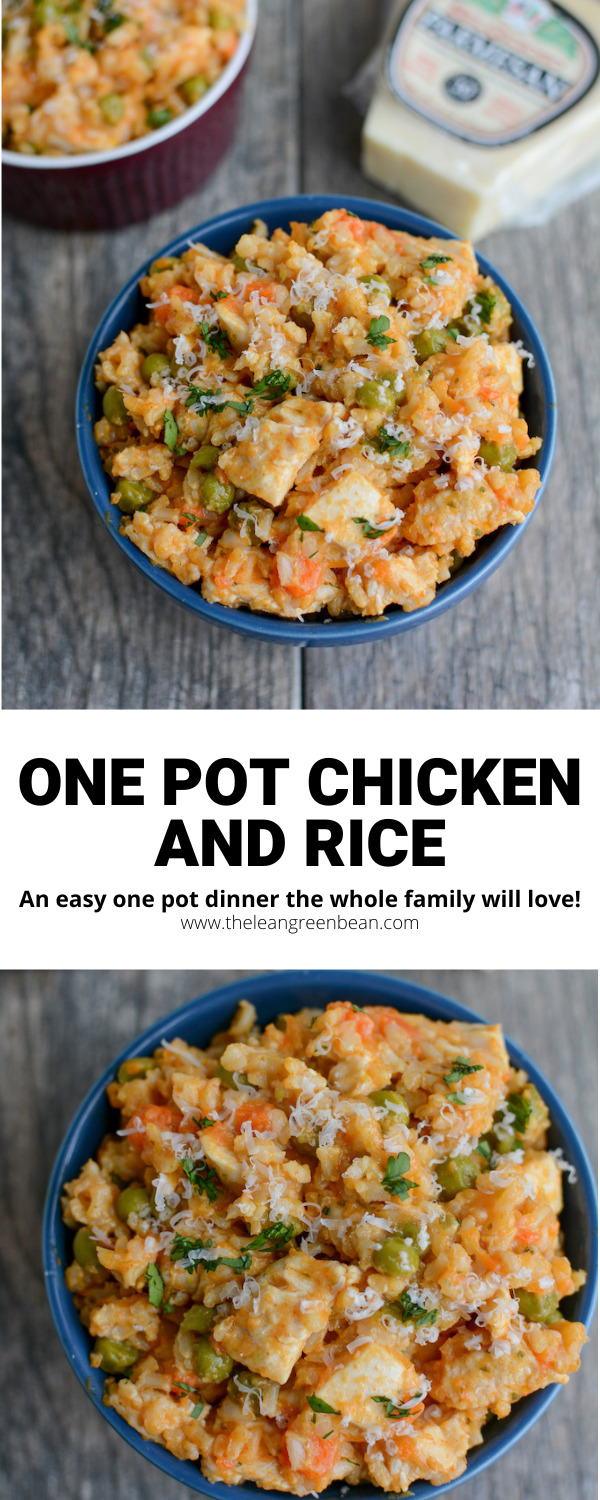 Let me know if you give this one a try! It's a new favorite around here.
If you're looking for more one pot chicken recipes, here are 5 more to try:
Enjoy!
–Lindsay–
LEARN HOW FOOD AFFECTS YOUR BODY.
Get my free Table Talk email series where I share bite-sized nutrition information about carbs, protein, and fat, plus bonus information about snacks and sugar!