Make these Rice Krispie Chicken Tenders for an easy dinner. Plus a homemade Chick-fil-a sauce for dipping.
Hi Friends!
Time for another guest post. Today Sarah from Fresh Fit N Healthy is stopping by with a chicken tenders recipe the whole family will love! She's a dietetics student down in Florida with a very successful blog of her own where she shares lots of delicious recipes! Go check it out if you haven't already!
————–
Hi everyone! I'm Sarah Grace, a Dietetics student entering her senior year at the University of Florida. I created Fresh Fit N Healthy just about one year ago, and today I'm stopping in to bring you a delicious, easy, and healthy recipe! As that is where my passion is, healthy recipe development and in living a fit life!
Thank you Lindsay for having me stop in today on the LeanGreenBean!
This recipe is great. Why? Because it can cater to the entire family, kids, adults, and every one in between!
Who said chicken tenders were only for kids?! When you make a delicious, gluten free, healthier version, you're kids will never know, and the adults will be happy to devour.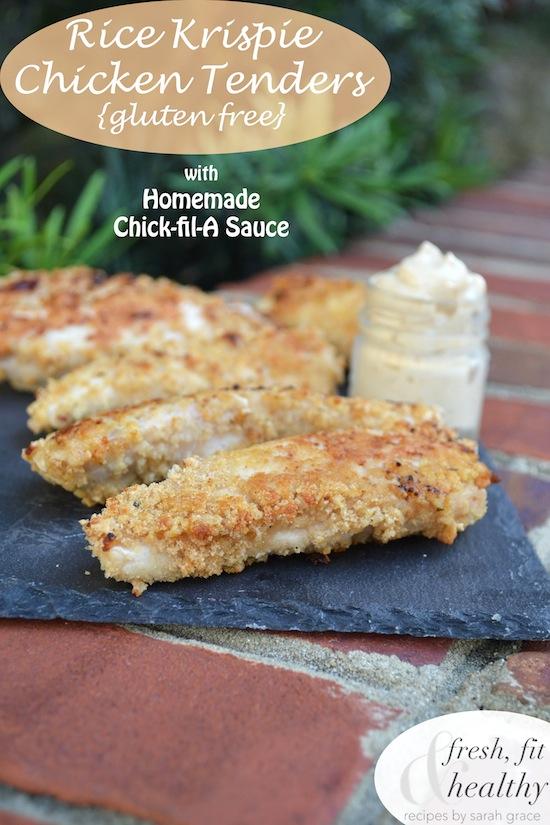 Rice Krispy Chicken Tenders? Yep! Using brown rice krispies, I made this recipe gluten free. And of course, no frying here. Simply baked for simplicity and to avoid all that unneeded oil and fat.
And what is that dipping sauce? Who loves Chick-fil-A sauce?! Well here is a healthier alternative that tastes great on these tenders!
For children, you can simply serve this chicken tenders recipe with the homemade Chick-fil-A sauce I also am sharing in today's post to them as dinner, or even make a chicken tenders sandwich for their lunch! And for us older folks (yeah, I'm an oldie 21 year old now ☺ ), you can serve these delicious chicken tenders on top of a salad, or make a side of veggies to go along with the tenders!
A meal that is simple, healthy, yummy, and can please everyone? That is the kind of recipe I love as a busy college student living on a hectic schedule.
Print
Rice Krispie Chicken TendersHealthier Homemade Chick-Fil-A Sauce
1

lb raw Chicken, cut into long thin slices

2 cups

GF Brown Rice Krispies (or regular if you desire)

1/3 cup

Egg Whites

1/2 teaspoon

each: Garlic Powder, Onion Powder, Sa Salt
Dash of Cayenne Pepper
-1/2 cup Plain Greek Yogurt
-2 tablespoons Mustard
-2 tablespoons BBQ Sauce
-2 teaspoons Honey
-Sea Salt, Pepper, and Cayenne Pepper to taste
Instructions
Preheat oven to 425 degrees Fahrenheit.
Place egg whites in shallow bowl.
In a separate bowl, add rice krispies and smash with the bottom of a cup until it is a crumb like texture (some will be almost a flour consistency, but don't smash long enough for all of the krispies to be completely crushed). Add seasonings in bowl.
Dip each slice of chicken into egg whites, then coat completely on both sides, and place on a baking sheet sprayed with nonstick spray.
When all are on baking tray, lightly sprinkle a little more sea salt onto tenders, and place in oven.
Bake for 10 minutes, remove and flip, and bake for 10 more minutes.
Combine yogurt, mustard, bbq sauce, honey and seasonings in small bowl.
Serve with chicken tenders for dipping.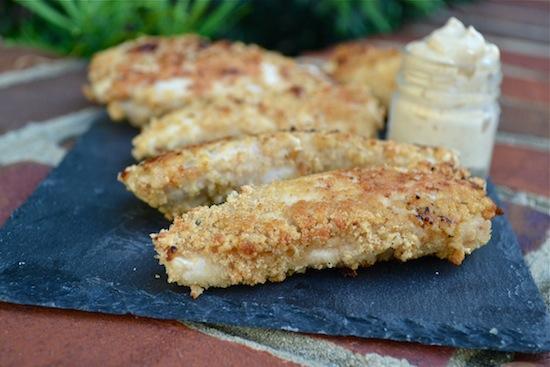 Come stop by and say hi over at Fresh Fit N Healthy for more recipes like this, and never hesitate to reach out to me by email with any questions you may have!
Thank you again Lindsay for having me, The Lean Green Bean is a blog I followed even before I created my own ☺
xoxo Sarah Grace, Fresh Fit N Healthy.
Thanks to Sarah for sharing this recipe! Can't wait to give it a try.
Enjoy!
–Lindsay–
LEARN HOW FOOD AFFECTS YOUR BODY.
Get my free Table Talk email series where I share bite-sized nutrition information about carbs, protein, and fat, plus bonus information about snacks and sugar!