Here's a quick little treat to help propel you towards Friday! These were inspired by Tina and the Peanut Butter Graham Truffles that she posted a few weeks ago. After reading her post, I knew immediately that I'd be making them, especially since I had all the ingredients on hand.
I made a few alterations to her recipe, namely including Reese's since, as you'll recall, I have a plethora of them! I also omitted the powdered sugar and cut the amount of chocolate in half.
Reese's Peanut Butter Balls
Keywords: raw snack dessert chocolate peanut butter no bake
Ingredients
8 Reese's peanut butter cups, smashed
1 c brown rice cereal
1 c peanut butter
1 c graham cracker crumbs
6 oz dark chocolate chips
Instructions
1. Combine all ingredients except the dark chocolate chips in a bowl. Use your hands to really mix everything together well.
2. Refrigerate for at least 30 minutes.
3. Use your hands to press into balls.
4. Melt the chocolate chips, roll the balls in chocolate and return to the fridge until the chocolate sets.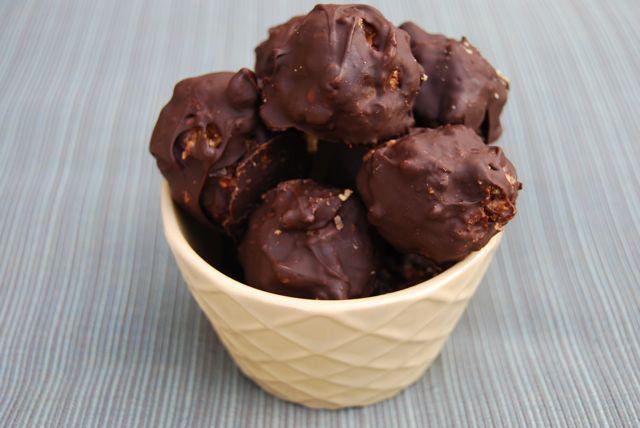 Suggestions:
-These stuck together pretty well but they probably could have benefited from another 1/2 c of peanut butter. I cut the amount down because I was using the Reese's, but they aren't as sticky as regular peanut butter so next time I'd probably add a bit more.
-I cut down on the amount of chocolate because I like a thinner layer. If you like a thicker layer, just melt some more chips!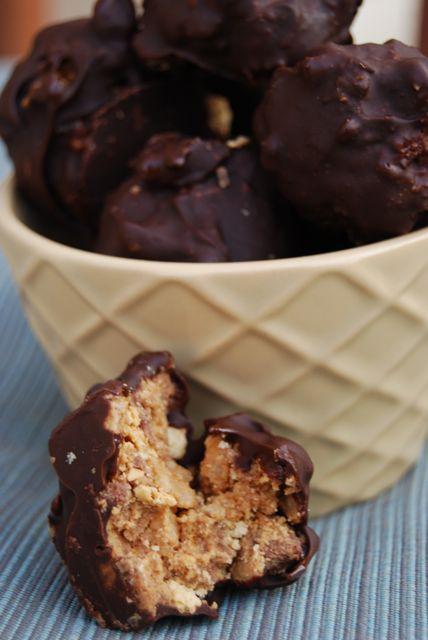 What's your favorite no bake treat?!
Enjoy!
–Lindsay–
LEARN HOW FOOD AFFECTS YOUR BODY.
Get my free Table Talk email series where I share bite-sized nutrition information about carbs, protein, and fat, plus bonus information about snacks and sugar!