So, the making of these muffins was a bit of trial and error. I bought a bag of gingersnaps last week and I've been doing some experimenting….I made some bars that had a gingersnap crust (still working on those) and I made these muffins.
The first time I made them, I used this recipe, which I saw on my girl Rachel's blog. I turned the bread into muffins, and then used the streusel topping from this recipe, except I used chocolate chips and left out the pecans. I think I was craving a streusel topping after Kerstin posted these Pumpkin Oat Bran Muffins with Crumble Topping a few weeks ago.
Truth: the muffins were a bit of a bust. The muffin itself was a little too light and airy to hold up to the crunch of the topping from the gingersnaps. So I set out to make a bit of a heartier muffin. I also noticed that when I put the gingersnaps in the topping, they tasted a little bit burnt. I may have overcooked the muffins…but it got me thinking about what it would taste like if the gingersnaps were mixed IN the muffin. . Finally, I wasn't crazy about how much butter and sugar was in the topping.
So, for round two, I used my own pumpkin muffin recipe, except instead of oat flour, I used oat bran…and I used 1/2 c of it instead of 1/4 c. I finely crushed about a cup of gingersnaps and mixed them right into the batter and I also increased the amount of pumpkin to 3/4 cup. Then I topped the muffins with dark chocolate chips, pressing them in gently to make sure they stuck.
The result? Much better. I really liked the faint gingersnap taste that came from mixing them into the batter…and I loved the oat bran edition! These heartier muffins would probably be really good with the crunchy streusel topping as well. I think I'm gonna freeze some of these to save for later. I normally don't freeze muffins and sometimes I have too many and they go bad, so my goal is to start stocking my freezer instead of wasting them 🙂
So friends, I'm gonna leave it up to you. Use my pumpkin muffin recipe, or use your favorite. Make the streusel topping, or don't. Top with chocolate chips, or top with gingersnaps. Mix the gingersnaps in, or don't. The main thing is, enjoy this flavor combination. It's a match made in heaven.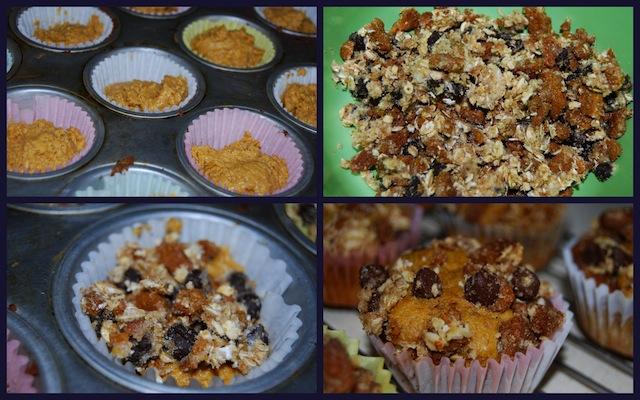 Also, I took pictures after the first batch. And they're pretty. And it was dark and late when batch #2 finally came out of the oven. So I'm not taking pictures of batch #2. Just enjoy the pictures of batch #1…but don't worry if yours don't look the same 🙂
LEARN HOW FOOD AFFECTS YOUR BODY.
Get my free Table Talk email series where I share bite-sized nutrition information about carbs, protein, and fat, plus bonus information about snacks and sugar!