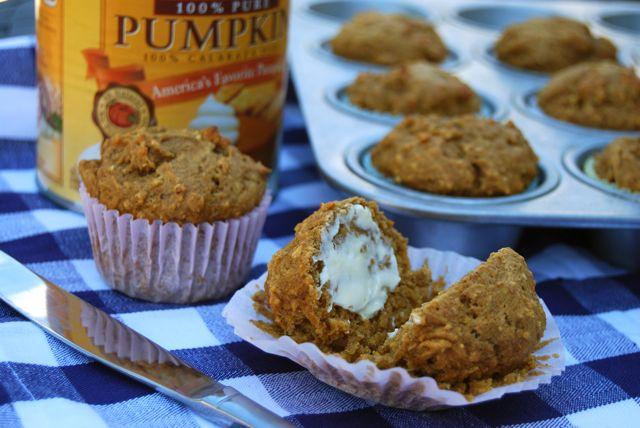 Well, friends…it's fall. The weather's getting cooler, the days are getting shorter and I opened my first can of pumpkin.
Unfortunately, (or fortunately?), it was a jumbo can. Fortunately, I'm still on vacation…so that means I had time for recipe testing! Over the past week I've been working hard on a recipe for pumpkin muffins. I knew I wanted them to be healthy and after looking at a bunch of recipes online, I wasn't crazy about the amount of sugar that was in most of the recipes.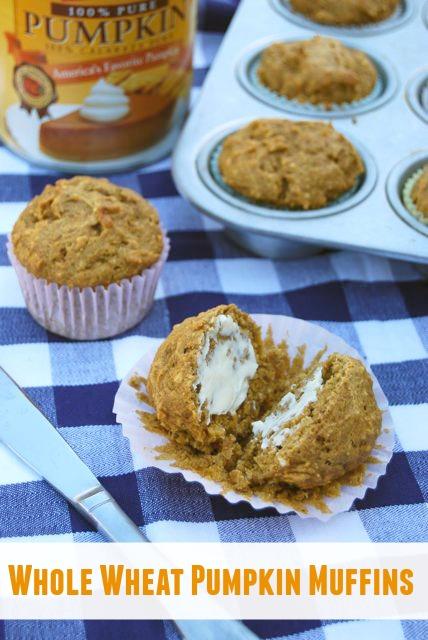 So, I set to work adding, subtracting and rearranging to make my own! Here are some of the recipes I used for inspiration:
Whole Wheat Pumpkin Muffins
Spiced Pumpkin Honey Muffins
Oat Flour Pumpkin Bread
Fat-Free Pumpkin Bread
Wheat-free, Dairy-free Pumpkin Bread
They all sound good…they just weren't what I was looking for. I decided I wanted to totally eliminate brown and white sugar from the recipe, which I'd never done before. My plan was to replace it with natural sweeteners like brown rice syrup and honey. After I'd worked out my recipe, I did a trial run. I quartered the recipe I came up with so it only made 4 muffins in case it went horribly wrong.
Trial #1
They were good enough to eat, but definitely too moist in the middle. I decided I needed to add more dry ingredients so I thought I'd try it with oats. But sometimes I'm not crazy about whole oats in my muffins, so I ground them up to make oat flour. I also reduced the amount of applesauce a little bit.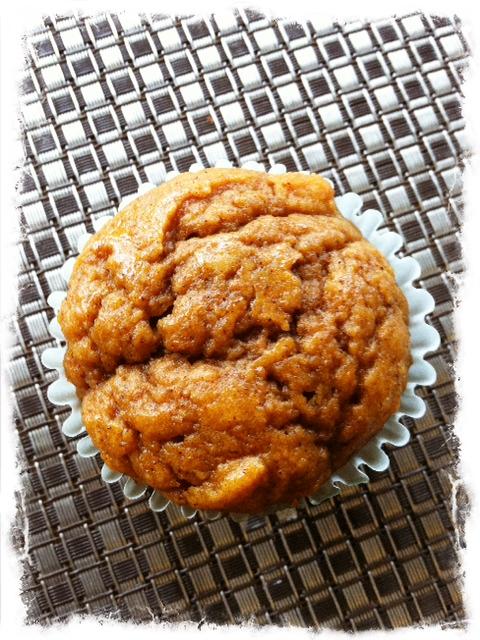 Trial #2
Better! They definitely weren't as wet in the middle. The oat flour gave them a little bit of texture but nothing extreme, and the flavor was good.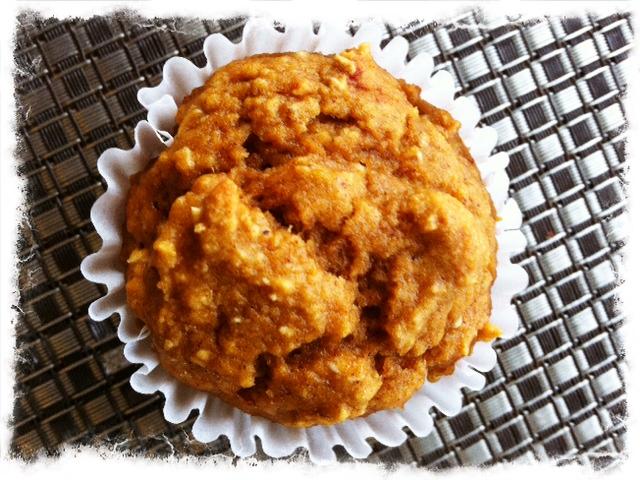 Trial #3
I was pretty much satisfied with the recipe so after one more tweak (reducing the amount of applesauce again), I finalized the recipe. Then I halved it and made my final trial run. I thought it would make six muffins since my trial runs, where I quartered the recipe had been making four, but it ended up making 8 large muffins. It could easily have made 10-12 smaller muffins so that's the one I've listed below.
Whole Wheat Pumpkin Muffins
Prep Time: 5 min
Cook Time: 25 min
Keywords: bake breakfast muffins snack vegetarian healthy pumpkin fall summer winter
Ingredients (8-12 muffins)
½ c pumpkin
1 egg
2 Tbsp applesauce
¼ c brown rice syrup
¼ c honey
½ tsp vanilla
1 c white whole wheat flour
¼ c oat flour
¼ tsp salt
1 tsp cinnamon
¼ tsp ginger
¼ tsp nutmeg
½ tsp baking soda
½ tsp baking powder
Instructions
1. Combine the wet ingredients in a bowl.
2. Add the dry ingredients and stir until just combined.
3. Spoon into greased or lined muffin tins and bake at 350 degrees F for 20-25 minutes.
*Notes:
Let cool completely before trying to remove muffin liners or they will stick.
Spice quantities can be increased or decreased based on preference.
You could also substitute pumpkin pie spice if you have it.
If you don't have oats to make oat flour, you can use all wheat flour.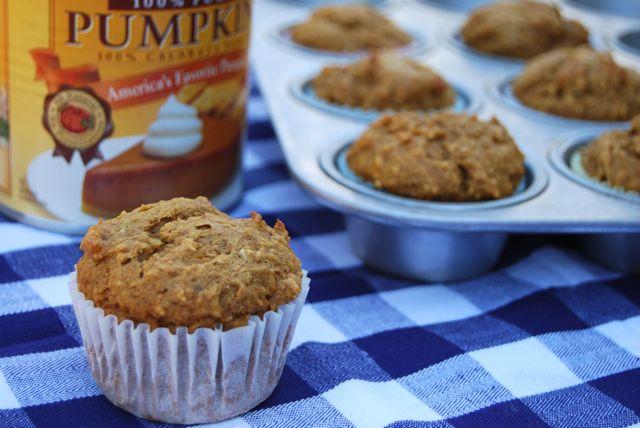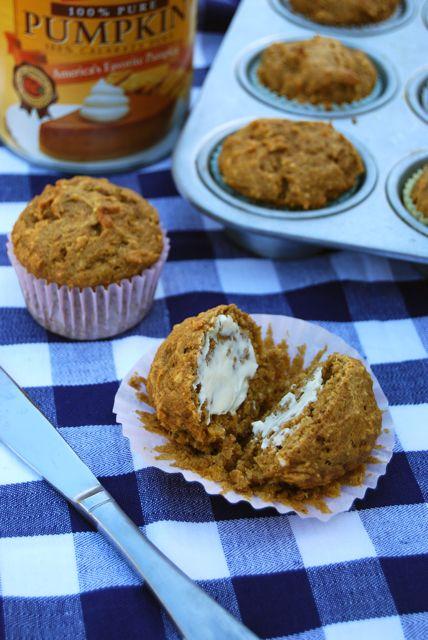 And just for fun, here's one I snapped with my phone…pretty good, eh?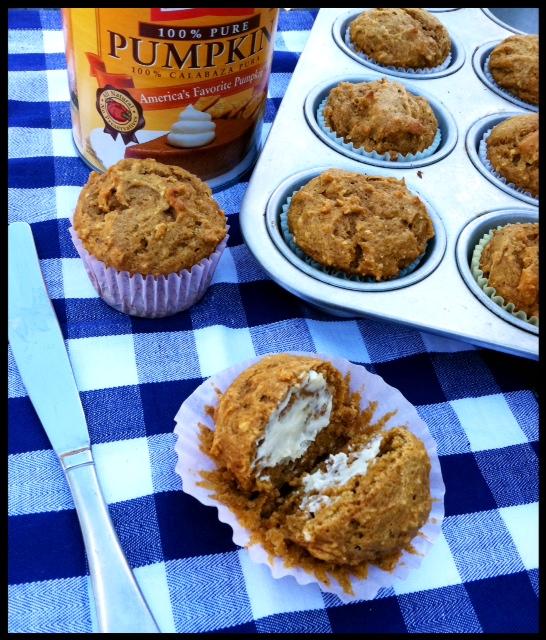 And a fun filter: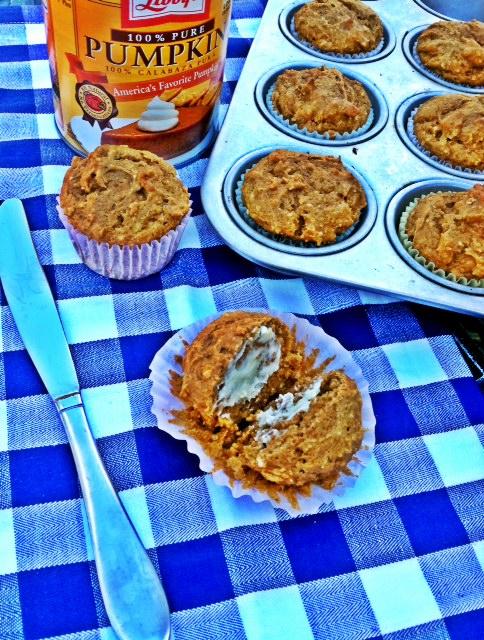 Happy Friday! Have a great weekend 🙂
–Lindsay–
LEARN HOW FOOD AFFECTS YOUR BODY.
Get my free Table Talk email series where I share bite-sized nutrition information about carbs, protein, and fat, plus bonus information about snacks and sugar!