A nutrient packed nut and seed butter that tastes WAY better than it looks!
Hi Friends!
Here's the deal today. Today's recipe is…..unfortunate looking.
Remember last week when I was complaining about how hard it was to make Breakfast Enchiladas look good? Friends, those were a cakewalk compared to trying to make this Pistachio Pumpkin Seed Butter look appetizing.
Hubby even went so far as to tell me not to post this because it looks so gross. Clearly I'm ignoring him (but with good reason- I turned to Instagram and you guys told me to post it!) Anyways, if poop grosses you out, you may want to stop reading this post. If you can get past the appearance, this stuff is darn tasty.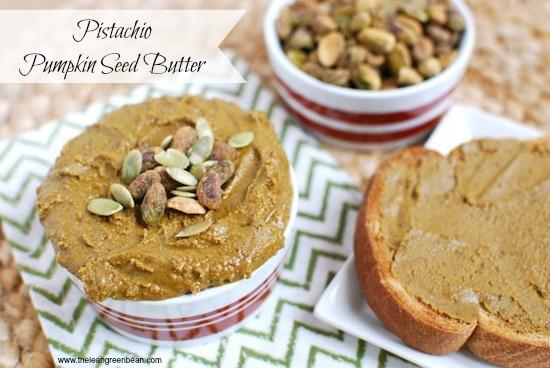 I had good intentions when I started. I bought a giant bag of pistachios at Costco a few months ago and I noticed the other day that they were kind of getting buried in the back of the pantry. Since I enjoy making my own nut butter, but don't do it nearly enough, I thought that would be the perfect way to use some of them up. Pistachos themselves, without the shells or skins are a lovely green color. Problem is that I'm lazy. I bought pre-shelled pistachios and I wasn't about to sit there and try to get the skins off before making my nut butter…so I decided to throw in some pumpkin seeds (which I'm obsessed with & eat on my oatmeal every morning) thinking hey- they're green…maybe they'll brighten things  up. 
WRONG.
It just ends up this unfortunate brown color. Oh well. You guys will just have to close your eyes and enjoy this tasty treat!
Here's how you make it:
Print
Pistachio Pumpkin Seed Butter
A nutrient packed nut and seed butter that tastes WAY better than it looks!
1½ cups

pistachios (shelled)

¾ cup

raw pumpkin seeds (shelled)

¼ cup

hemp hearts (optional)

1 tsp

vanilla extract

1 tsp

cinnamon

1

–

2

tsp honey, optional
Instructions
Preheat the oven to 350 degrees and spread the pistachios and pumpkin seeds on a baking sheet.
Bake for 6-8 minutes (don't let them burn!)
Put the warm nuts, seeds and remaining ingredients in a food processor and let process for 10 minutes, scraping the sides occasionally, or until desired consistency is reached.
This is a taste as you go kinda recipe. I added a little more cinnamon to mine because I'm a cinnamon addict. If you want it sweeter, add more honey. If you use unsalted nuts, feel free to add a little salt. If you want to add a bit of oil, go for it!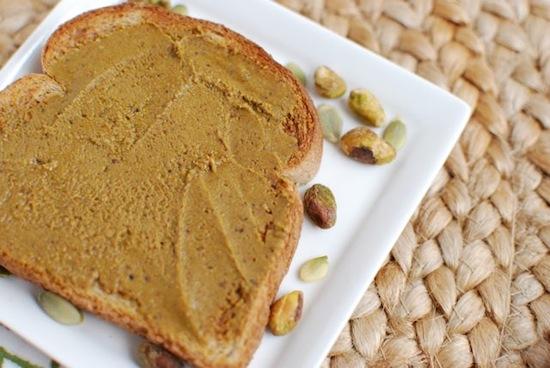 It's delicious on toast with banana on top. Also delicious in my morning oatmeal bowls!
You're gonna have to have a little faith that this is actually gonna work when you first start. For the first 5-7 minutes, it doesn't look like there's any way it's actually going to turn into nut butter. Just be patient. Keep scraping down the sides every few minutes…you can even bang on the sides of the food processor bowl while it's running like I did to knock some of the mixture back down towards the blade.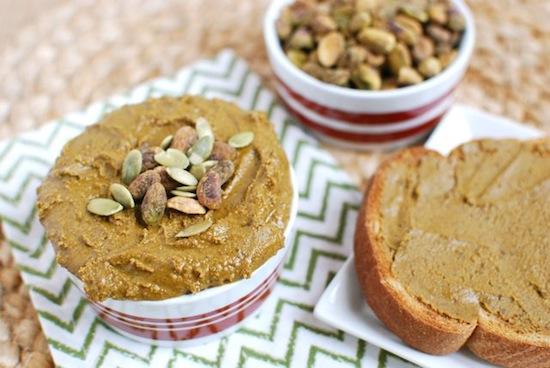 Eventually it will start to ball up and then it will smooth out. Be aware that if you taste and then decide to add more honey, it will probably ball up again when you turn the processor back on, but it will smooth out again.
Let's chat:
What's your favorite nut/seed butter?
Enjoy!
–Lindsay–
LEARN HOW FOOD AFFECTS YOUR BODY.
Get my free Table Talk email series where I share bite-sized nutrition information about carbs, protein, and fat, plus bonus information about snacks and sugar!