Hi Friends!
**First of all, I just want to say thank you SO MUCH for all your kind words on yesterday's post. I got so many comments from old readers, new readers and everyone in between. The amount of support I received was incredible and I spent all day yesterday just thinking about how amazing the blogging community really is. So THANK YOU!! It means the world to me.
Also, big thanks to my hubby for these BEAUTIFUL flowers he got me 🙂 I love him.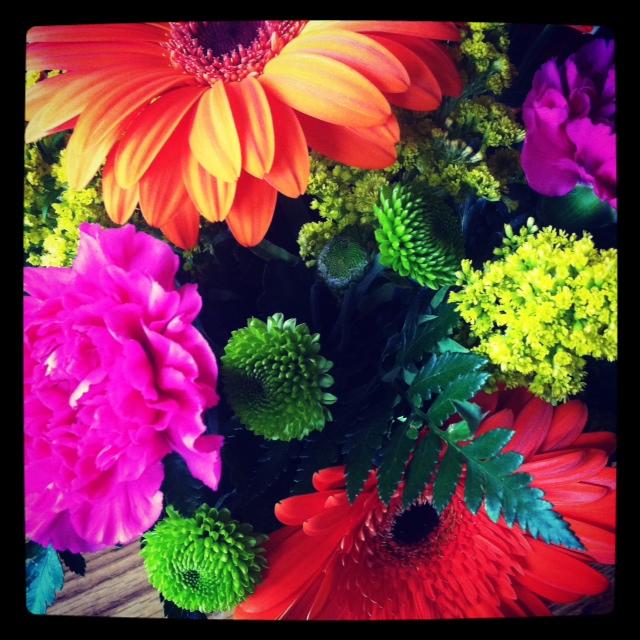 So, on to today's post. I kinda dropped the ball on this one since Janetha informed everyone on Twitter that YESTERDAY was actually national pb & j day. But, as you know, I had some other exciting things going on, so we're just gonna go ahead and extend our little pb & j celebration to today.
Recently I was sent some samples from a pretty amazing company called Attune Foods. If you've never heard of them, you should definitely head over and take a look at their website. They make some pretty awesome cereals, bars and crackers and they also have several gluten-free products. I was able to pick out three of their products to try. Here's what I picked:
First up:

What I love best about all of Attune's products are how simple the ingredient lists are. I can pronounce all of the ingredients and the lists are short and sweet. I tried eating these plain as I would a regular bowl of cereal…but as you know, I eat the same two cereals every single morning and it's pretty hard to change my ways. So, since these flakes were actually a lot smaller than I expected…more like granola or oats, I have big plans to use this cereal to make some healthy no-bake granola bars!!! The flavor was delicious.
Second pick:

I swoon over these. I'm a HUGE graham cracker fan and these are absolutely fantastic. I've eaten them plain, made s'mores with them and dipped them in yogurt. They were delicious on each occasion. But I must say my favorite way to enjoy these was by making a big batch of my Almond Graham Banana Bites. These are one of my favorite treats and the grahams were perfect for it. This time I left out the almonds so it was all graham, baby 🙂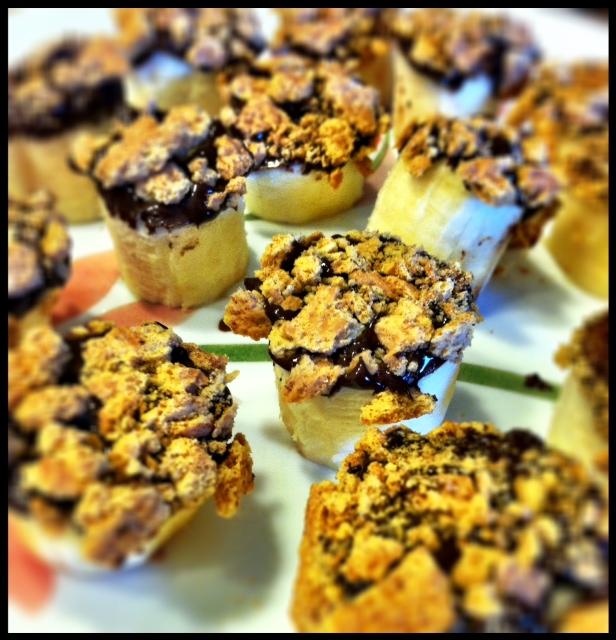 Yeah, I'm gonna go ahead and recommend you make these immediately. YUMMM. Wanna kick it up a notch? Mix some pb in with that chocolate and then cover more of banana with it- don't be lazy like me and just do the tops.
Third choice: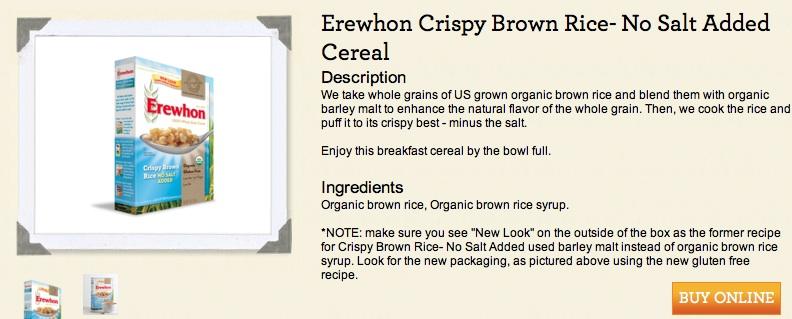 I got SO excited when I saw this one. I'm a HUGE advocate of watching your salt intake and I spend a lot of time looking at the salt content of packaged food. So when I saw these, I immediately knew I had to try them! I mean check out the ingredients. Doesn't get any simpler than that folks!
I wanted to come up with a fun way to use these so I did some experimenting and I'm super happy with the result! When I think of crispy rice I automatically think of rice krispy treats. I used to eat them ALL the time when I was little and they were one of my favorite things to make. This time I decided to try to recreate them and make them a bit healthier. So I didn't use marshmallows! GASP! I know!! I wasn't sure how they would work out, but I was willing to take a chance.
I added some pb and vanilla for flavor and some brown rice syrup to help them stick together and sweeten them up a little bit. 4 ingredients. That's it!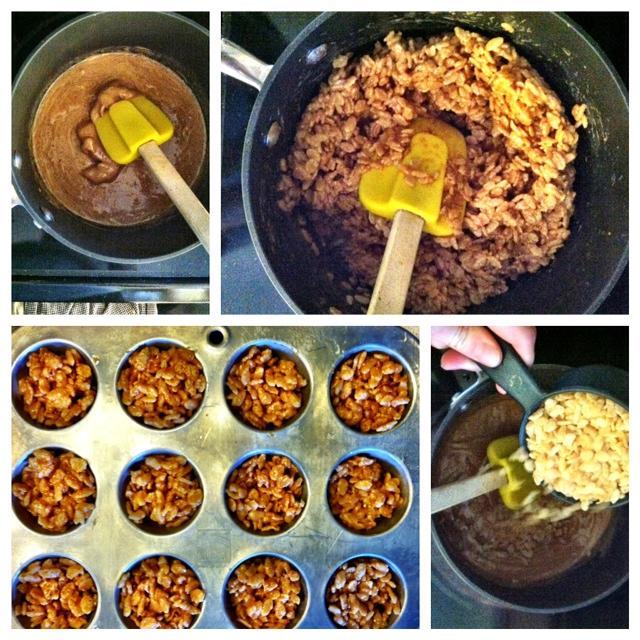 And what goes better with pb than j?! But in this case, I made my own healthy chia seed jam! It's so easy. Only takes 2 ingredients. Frozen berries…and chia seeds. Plus sweetener if you want, but I think it's sweet enough from the fruit. I've made chia jam with blackberries (my fav), raspberries and strawberries. This time strawberries were all I had on hand. I've found it works better with smaller berries, but I made it work with whole frozen berries. All you have to do is combine the berries and chia seeds in a bowl, microwave for 2 minutes or so, smash the berries with a fork and refrigerate to let set.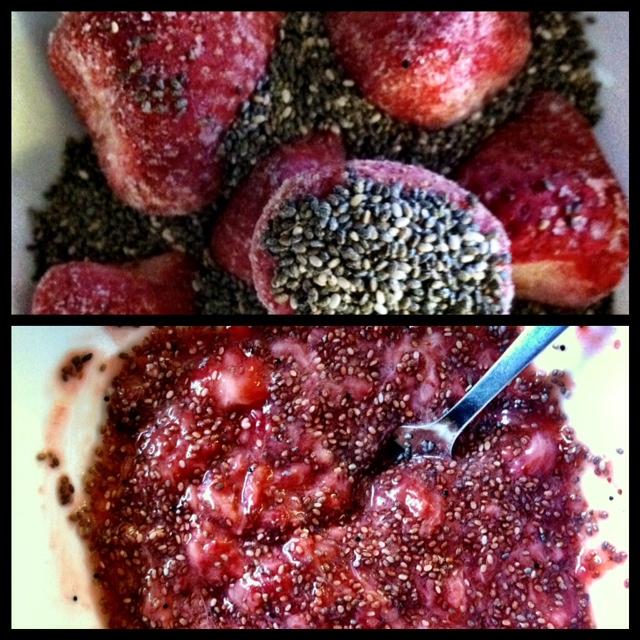 I put the jam in a small container to set and let the crispy bites set in their muffin tins. A couple hours later I came back for a taste test. The verdict? Amazing. A fun new snack for me to enjoy 🙂
Want the recipe?!
PB & J Bites
Prep Time: 5 min
Keywords: stovetop appetizer breakfast snack healthy low-sodium vegetarian chia seeds peanut butter strawberry
Ingredients (approx 40 bites)
For the bites
2/3 c peanut butter
1/2 c brown rice syrup
1 tsp vanilla
4 c Erewhon Crispy Brown Rice cereal

For the jam
1 c frozen berries
2 Tbsp chia seeds
Instructions
For the Bites
In a medium saucepan, melt the peanut butter and brown rice syrup.
Add the vanilla and stir until well-combined.
Add the crispy rice and mix well
Press by spoonful into greased mini muffin tins and let set until cooled.
Remove from muffin tins and store in an airtight container.
Just before serving, top with chia jam!
**Note: You could also press the mixture into a large pan and cut into squares later.
For the Jam
Combine the frozen berries and chia seeds in a bowl.
Microwave on high for 2 and a half minutes.
Use a fork to smash the berries and mix well.
Transfer to an airtight container and place in the refrigerator to set for at least 30 min.
**Note: You can store this in the fridge for up to one week.
There you go 🙂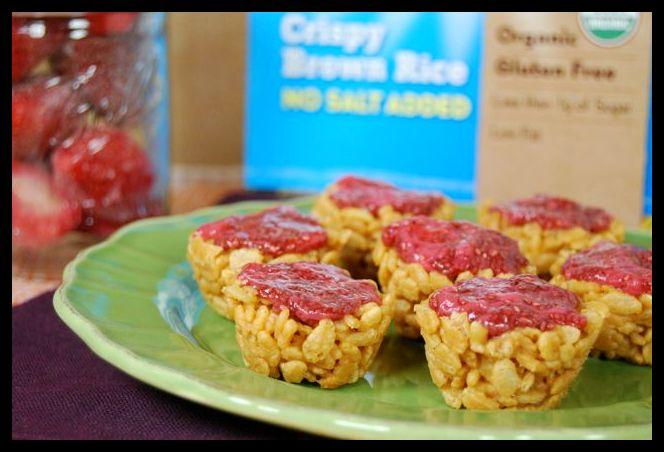 Enjoy!
–Lindsay–
**I received these samples for free from Attune Foods. All thoughts and opinions are my own.
LEARN HOW FOOD AFFECTS YOUR BODY.
Get my free Table Talk email series where I share bite-sized nutrition information about carbs, protein, and fat, plus bonus information about snacks and sugar!