Hi Friends!
Let's take a little kitchen tour today, shall we? There are A LOT of kitchen tools, gadgets and equipment out there. I thought it might be fun to roundup a few of the things in MY kitchen that I use most often and share them with you guys! Plus, I want to hear what YOUR favorites are!
My Top 10 Kitchen Gadgets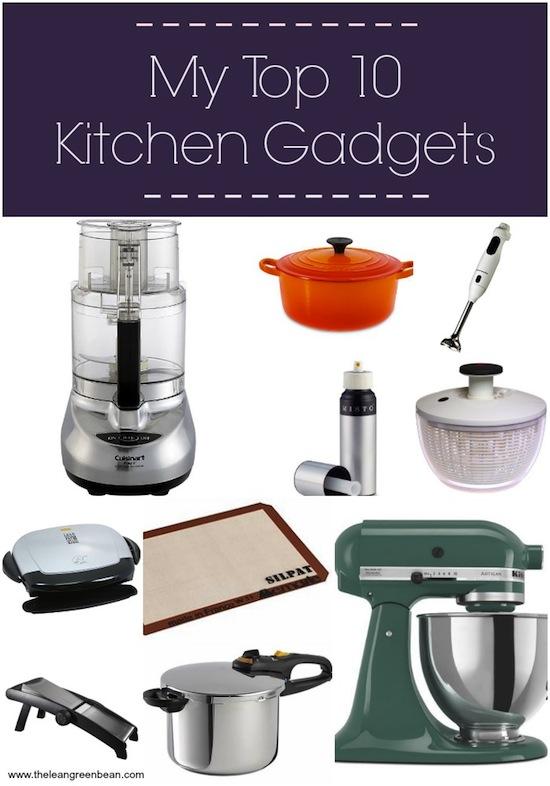 I'll link to the ones that I have, but please know that I'm not getting paid to say any of this. Just sharing some gadgets I love that were either purchased with my own money or given to me as gifts by family and friends!
1. Cuisinart 11 cup food processor . Although I have an 11 cup, I personally think that a 9 cup would do just fine for most home cooks. I use mine to make nut butter and energy balls almost weekly. I use the shredding attachment to shred carrots, zucchini, apples, etc when I'm baking! So much easier than hand grating. I also have this mini-prep 4 cup food processor and I love it! It's the perfect size when I just need to make a small batch of breadcrumbs or oat flour or something like that and don't want to drag out the big one. I also use it to make hummus and banana froyo.
2. Le Creuset 5 1/2 Quart Round French Oven. The one I have is actually hunter green and I'm pretty much obsessed with it. I've only had mine for a year or so but I've been coveting them pretty much since childhood. Le Creuset is expensive…and I no matter how many times I looked at this, I could never bring myself to spend the money. Last Christmas, hubby surprised me with one! I use it all.the.time. It's my go to for soups, stews and other stovetop dishes. I also bake bread in it! My opinion is that it's definitely worth the money and will last forever if you take care of it. Quick tip: Before you buy one full price, check Marshall's, Home Goods & TJ Maxx. They almost always have them on sale!
3. Kitchenaid 3-Speed Immersion Blender. I got this as a wedding present and I'll be the first to admit I thought it was stupid. And even now, I don't think I utilize it to its fullest potential..but I have come to love it. I mostly use this to puree soups and sauces. It's so much easier than having to transfer it to a blender. However, it also comes with some awesome attachments, like a whisk…which you could use to beat egg whites and a chopper which can chop up nuts or graham crackers for a crust. Side note- Mine has a cord…but if you're going to buy one…for the love- get a cordless one!
4. Misto Gourmet Olive Oil Sprayer. One of my absolute favorite kitchen gadgets. I use this to spray my pans before baking and to mist olive oil onto my veggies before roasting. It's great for portion control because, as we know, oils are very calorie dense. This helps you evenly coat whatever you're cooking without going overboard!
5. OXO Salad Spinner. Another simple kitchen tool that I use every week. Mine is big enough to hold a whole head of lettuce, so I chop or tear the lettuce up, rinse it and spin it dry. Sometimes I take out the strainer insert, dump the lettuce back into the container and just store it in there with the top on. Having lettuce chopped, washed and ready to eat makes it way more likely that we'll eat salad during the week. I also use this when I'm making sweet potato chips. I let my sweet potato slices soak in a bowl of water before baking. This helps remove some of the sugar so they don't burn as easily! After they've soaked, I use the salad spinner to spin them dry before baking!
6. George Foreman Grill. When we lived in an apartment after college, I used this all the time to grill our chicken and burgers. Mine is big enough to hold 3-4 chicken breasts. Now that we have a house and an actual grill, I use it less for meat and more for things like quesadillas, paninis, etc.
7. Silpat Non-Stick Baking Mat. If you bake at all, you need one of these. Or two. Seriously. I use them for baking things like cookies in the oven and I also use them on my counter when I'm rolling out dough!
8. OXO Good Grips Mandoline Slicer. I inherited this from my mom and I love it. I use it to make sweet potato chips, apple chips, etc and it's so much easier than doing it by hand because it makes it easy to get all the chips the same thickness. You can also turn the dial and it lets you julienne veggies for garnishes, fries and more!
9. Fagor Duo Pressure Cooker. If I was going to recommend one must-have out of these ten items, this would be it! My parents gave it to me for Christmas a couple of years ago and it is amazing. Mine is a 10 quart but I think an 8 quart would be fine too. I use it every weekend. You may remember that I wrote a whole post about why I love my pressure cooker. I use it to cook dried beans, without soaking, in 20 minutes. I use it to hard boil my eggs in under 10 minutes. I use it to make risotto without having to sit there and stir the whole time. You can use it to cook meat, make stews and so much more!
10. Kitchenaid Stand Mixer. Probably my favorite wedding present. I literally stalked my wedding registry for this item and may have squealed a little when I saw someone bought it! I love my hand mixer if I'm just whipping up a quick batch of cookies, but if I'm going on a baking marathon…I always use the stand mixer! I also use it often when I'm making bread or pizza dough because it does the kneading for me. Plus there are so many fun attachments you can get to make everything from meatballs to shredded veggies.
So there you go! I'm in my kitchen a lot…so I definitely have more favorites…might have to do a part 2 🙂 It would definitely include my crockpot…which I use ALL the time…and my french press coffee maker!!
Let's chat:
What are your favorite kitchen gadgets?!
Enjoy!
–Lindsay–
LEARN HOW FOOD AFFECTS YOUR BODY.
Get my free Table Talk email series where I share bite-sized nutrition information about carbs, protein, and fat, plus bonus information about snacks and sugar!