Hi Friends!
It's my favorite day of the month 🙂 Foodie Penpals reveal day!!
This month I totally lucked out getting matched with Lena from Lena on the Beach! She is one of FPP's biggest fans and has been a constant source of support for me as the program grows bigger and bigger each month. Plus, she's from Boston. I love Boston 🙂 Anyways…she knocked it out of the park with this box. Seriously. It was packed to the brim with delicious goodies. Wanna see?!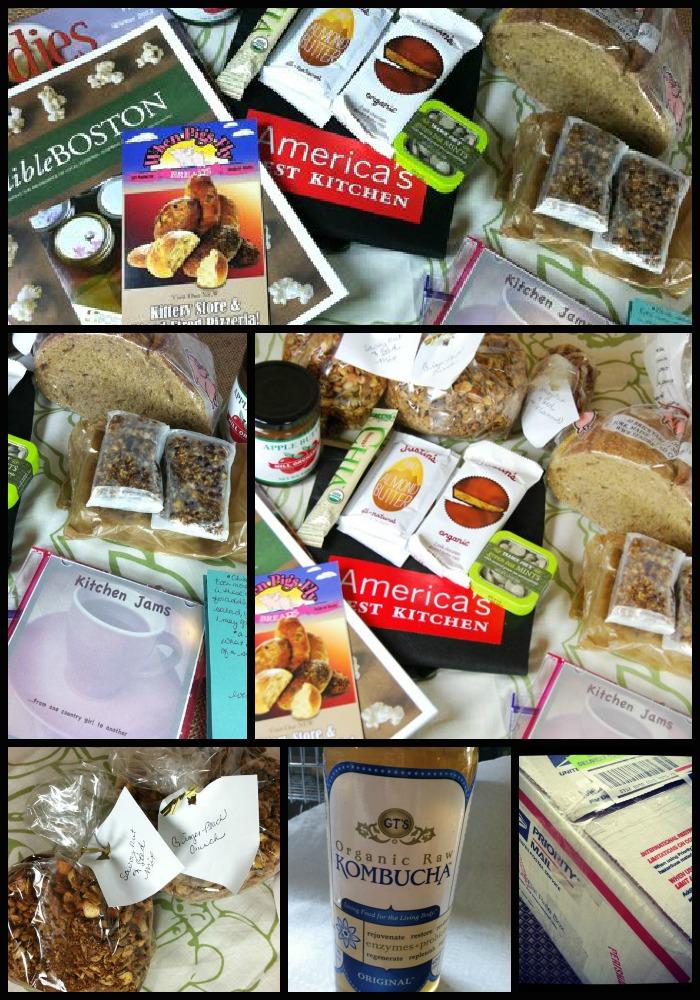 Look at all that stuff!! Let's make a list of what was inside:
Homemade Kombucha- delicious!
Homemade Energy Bars- perfect snack!
Homemade Savory Seed & Nut Mix- for topping soups and salads
Apple Butter- Delicious on toast
Bread- From her favorite bakery…inhaled it!
Single Serving Chia Seed Packets- perfect for my purse
Justin's Nut Butter & PB cups- my fav 🙂
Trader Joe's Green Tea Mints- awesome since I gave up gum!
Fun Foodie Magazines- LOVE foodie mags 🙂
Pretty good, right?! Well I saved my two favorite things to tell you about separately:
1) Ginger Peach Granola. OH.MY.GOSH. I am obsessed. It's my new favorite thing. I LOVE the flavor pairing. SO so good you guys! In fact, I immediately emailed her and asked if she could write a guest post with the recipe so hopefully I can share it with you guys soon. I love ginger and peaches but have never thought of them together! Obsessed, I tell you! In fact, I"m gonna have Lindsay make me Ginger Peach Healthy Bites for my next order 🙂
2) She made me CDs! In her email she asked me what kind of music I like to listen to when I'm in the kitchen. When I told her country, she sent me two CDs…one of country jams on one with some Boston rock and roll 🙂 I thought this was the CUTEST idea! I've had the country one in my car since I got it. She got some of my favs on there but alson introduced me to some new artists. I've been listening to "Beer Money" by Kip Moore and "Georgia Peaches" by Lauren Alaina on repeat for the past 2 weeks. Love them!
Anyways, thanks so much Lena for an amazing package!!! I loved everything so much!
Now, don't you wanna join in the fun?! Here are the Foodie Penpals details:
-On the 5th of every month, you will receive your penpal pairing via email. It will be your responsibility to contact your penpal and get their mailing address and any other information you might need like allergies or dietary restrictions.
-You will have until the 15th of the month to put your box of goodies in the mail. On the last day of the month, you will post about the goodies you received from your penpal!
-The boxes are to be filled with fun foodie things, local food items or even homemade treats! The spending limit is $15. The box must also include something written. This can be anything from a note explaining what's in the box, to a fun recipe…use your imagination!
-You are responsible for figuring out the best way to ship your items depending on their size and how fragile they are. (Don't forget about flat rate boxes!)
-Foodie Penpals is open to blog readers as well as bloggers. If you're a reader and you get paired with a blogger, you are to write a short guest post for your penpal to post on their blog about what you received. If two readers are paired together, neither needs to worry about writing a post for that month.
-Foodie Penplas is open to US & Canadian residents. Please note, Canadian Residents will be paired with other Canadians only. We've determined things might get too slow and backed up if we're trying to send foods through customs across the border from US to Canada and vice versa.
If you're interested in participating for June, please CLICK HERE to fill out the participation form and read the terms and conditions.
You must submit your information by June 4th as pairings will be emailed on June 5th! You will receive a confirmation email from me within 24 hours if you sign up. IF YOU DON'T GET ONE, send me an email!
*If you're from somewhere besides the US, Canada or Europe and want to participate, send me an email and I'll see if we get enough interest this month!
Enjoy!
–Lindsay–
LEARN HOW FOOD AFFECTS YOUR BODY.
Get my free Table Talk email series where I share bite-sized nutrition information about carbs, protein, and fat, plus bonus information about snacks and sugar!