Hi Friends!
Since so many of you enjoyed Mr. Bean's writing in last week's post, we thought we'd bring him back more frequently! Today he's here to share a behind-the-scenes look at what it's like to be married to a blogger.
Take it away Mr. Bean!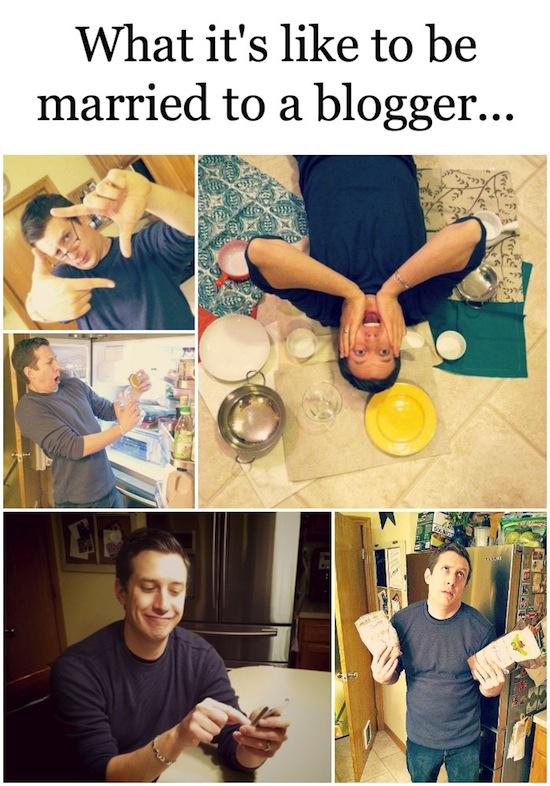 The Bean wasn't always a blogger, or a dietitian, or even someone who knew much about cooking. I remember back when we thought we were a big deal for trying to cook salmon (is it done? It's still pink. Well, it was pink when we started!).
However, as time progressed, so did Bean's interest in the culinary arts and enhancing our diet. I was on board, because I like to eat. I can trace the origins back to a particular summer – 2007- where we would come home from work, open the windows and cook together listening to the new smash hit John Mayer album "Continuum". The cats would lay on the window sill scanning for birds (this was in the time B.D.- Before dogs), we could hear the calm, constant sound of the apartment complex fountain- 'Gravityyyy, is work-ing, against me-e-ee'… Anyways, I digress. Bean was reading a lot of cookbooks, and things were getting more adventurous. We made rice (the amount of water matters we quickly found out). Hell, our sophisticated palates probably even tried a Merlot! She had started making charts of what we were going to eat each week . The food was getting better. Bean would read an article about nutrition labels, then the food got less salty. We should eat this, not that. And then the magic started. Bean would photograph the night's dish, share the photo on Facebook , and the pandemonium began! "What's that?" "Looks delicious" "Recipe, please." …. And after this trend continued for a few years, the murmurs and buzz around Bean reached a fever pitch. Then point of no return… "Babe, you should start a blog." [GASP]
The rest is history. Let's fast forward to present day. I'm "the hubby" in the juggernaut blogger household of The Lean Green Bean (I helped create that name BY THE WAY), but what you don't know is that there's a secret, behind closed doors, darker side to a blog household. I suffer in silence. There are probably other "hubbies" out there that suffer as well, and this post is for you my comrades- my silent band of brothers. We will be silent no more. Today I share the things they didn't want you to know about, the issues that have been swept under the rug. Let me shine my light brightly as we tackle the gritty issues of being a blog hubby!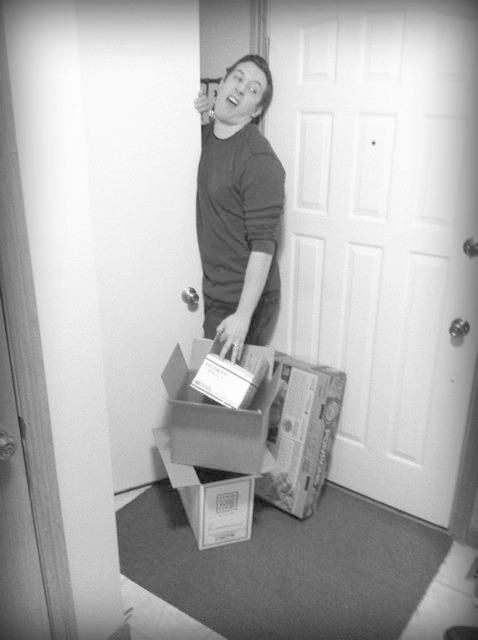 1) Cardboard: A corrugated nightmare
A blog household makes frequent use of UPS, FedEx, and the USPS. Lots of samples, giveaways, etc. make their way to this house, which while appreciated, creates a staggering amount of cardboard and packing materials. You would be blown away by what goes into shipping Chobani. You could probably ship human organs with the same setup. I'm thinking about starting my own spin off business, The Lean Green Recycling Center. I'm pricing bundlers and it may be financially viable. On a particularly high volume day I may have trouble getting in the front door there are so many cardboard boxes lying around. And guess who has two thumbs and breaks them all down (points to self with his thumbs). This Guy.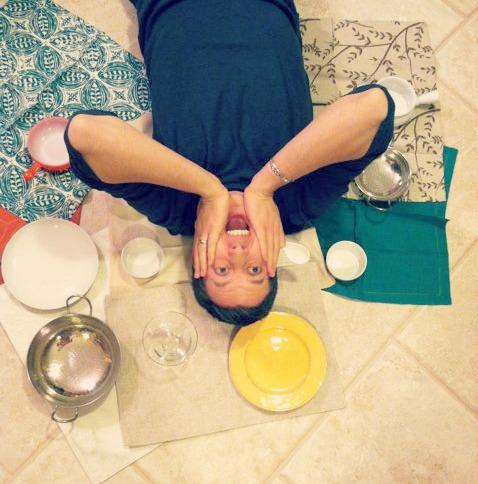 2) Mad Props (and not the kind given for a job well done)
Ramekins, Cloth Napkins, Mason Jars, Pitchers, Glasses- Let me tell you folks, we aren't that fancy. This isn't just normal stuff we eat off of day to day. These so called "props" have spilled out of the cabinets, to stacks on the counter, and now to their own dedicated four shelf baker's rack that I purchased and assembled. You might even trip on some navigating your way through the photo studio that is our house (the light is particularly choice in the living room). Let's just say World Market and Pier One love it when the Bean swings through.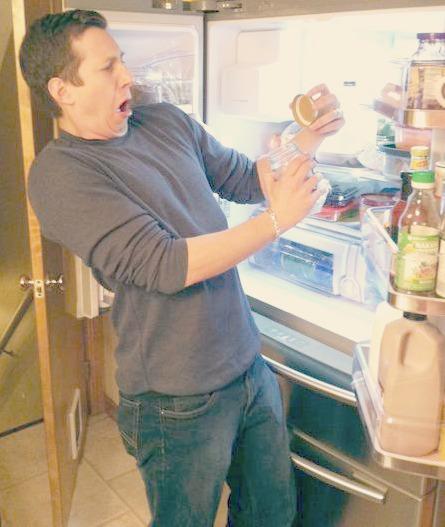 3) Experiments – Welcome to our Lab
"Uh, babe, are you aware there's a mason jar full of little green things that appear to be growing?" Apparently those were sprouting lentils, which were ultimately a success. I don't really question these things anymore, but it's not all perfection in a blog household. Lots of trial and error creates the wonderful items that the Bean will post. I will often find full batches of muffins or other various goods in our trashcan. Every once and a while I'll swoop in too early and go to take a bite of something on the counter and hear , "Don't eat that, those are terrible!" I won't even tell you what was in that jar in the refrigerator…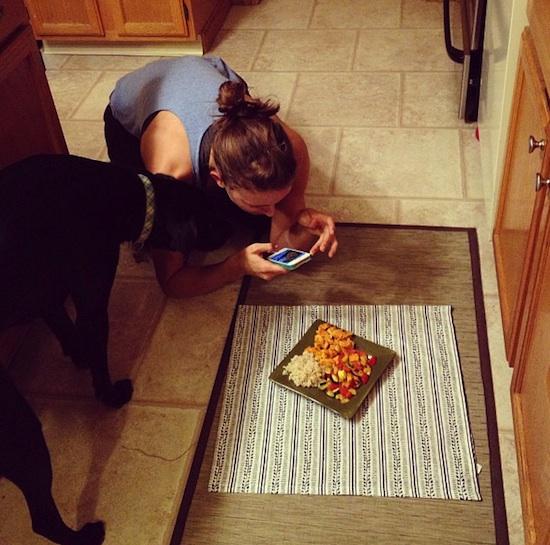 4) COLD FOOD
The pictures are beautiful, aren't they? You can see the steam rising off the freshly prepared meal…. mouthwatering… In my world, I see it after it was on the floor for a quick pre dinner photo shoot, next to the panting faces of the begging dogs, after three or four photo attempts, then put back on the counter for dinner, but it's cold, then we put it in the microwave and I can eat it after picking a dog hair off of it.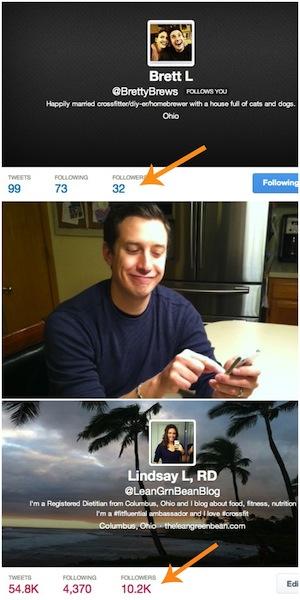 5) Twitter Envy
I didn't really know what Twitter was when Bean signed up. Apparently you need it when you're a blogger juggernaut. She gave me crash course and set me up with an account. I use it to get the news, or fire off the occasional complaint to a company. As far as connecting with people though, I have a bigger outreach when I open up the front door and yell out to our neighborhood. The Bean, however, presides over her thousands of adoring fans and can tweet for a book recommendation and get 20 responses within the hour. That's the reality folks, I'm self-diagnosed Level 10 twitter envious. I Tweet what I think is a hilarious quip about this week's "Biggest Loser" and 7 people probably read it who don't even watch the show.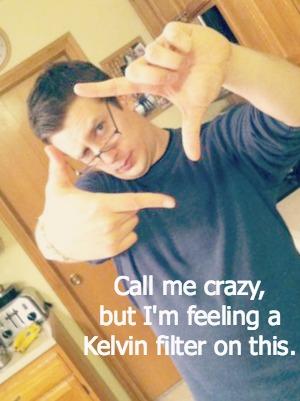 6) Unhealthy Instagram Interest
As a supplement to my social media woes, I have to admit Bean has created an Instagram monster, but not like you might expect. I like Instagram as much as the next guy and have my own account. It's far less pathetic than my Twitter, but again, nowhere near Bean's league. However, one day it dawned on me that I am a co-curator and analyst of Bean's Instagram. I find myself guessing how many likes a photo will get. I suggest things for her to post. I'm a filter consultant. I make comments like "Wow, did you see how many likes that pic of the dogs got?" "I'll bet this dinner will get 200 likes". Who am I? What was life like before Instagram?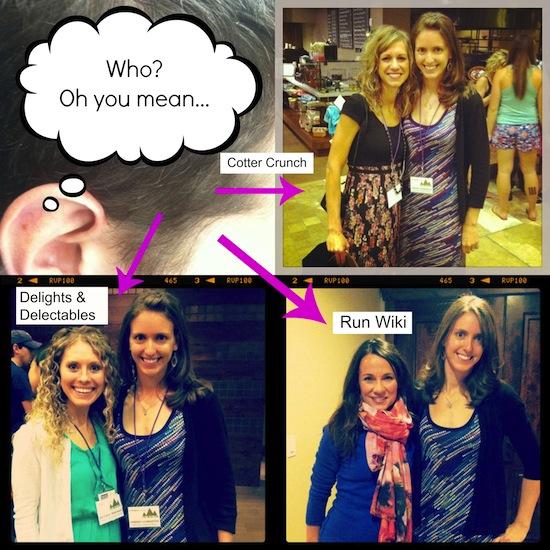 7) Blog Names as People
I've become a part of this blog world/community/culture unknowingly. It completely snuck up on me and took me by surprise. Bean can bring clarity to a conversation about fellow bloggers using their blog name and I will totally know who she is talking about. Shout out to Nutritionella, Cotter Crunch, Peanut Butter Fingers, Run Wiki, Food Fit and Fam, A Healthy Slice of Life, Delights & Delectables and Olive to Run. Don't feel slighted if I didn't mention your blog, my unintended knowledge of food and health blogs runs much deeper. scary.

8) BUZZ! BUZZZZZ!
C'mon Bean , we get it, you're popular. Silence that phone! Tweetbot, Instagram, Email, Facebook, WordPress, ARGH!!! The madness! I wake up in the middle of the night hearing phone buzzes. "Foodlikerperson123 liked your photo!" "Healthyperson1 shared your tweet"
AHHH!!!!!!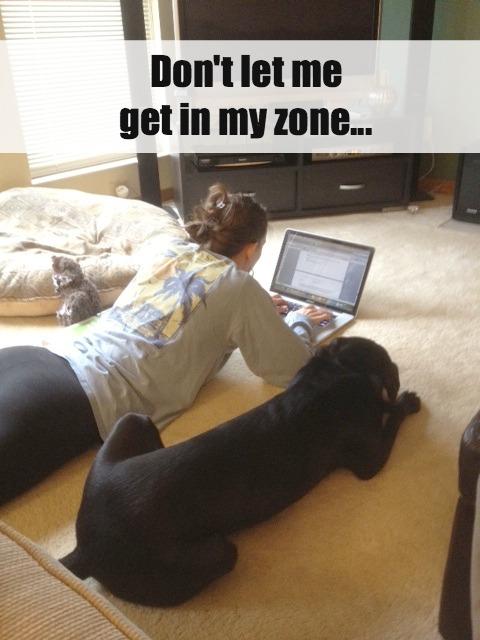 9) Bean in the Zone
Blogging is time consuming. Sometimes Bean is in the zone and needs pried away from her laptop with a crowbar. I talk to her and know she's not listening. "Hey babe, I've taken up with a cult and am on my way out the front door to board the spaceship". "That's nice honey, can you proofread Bean Bytes first?"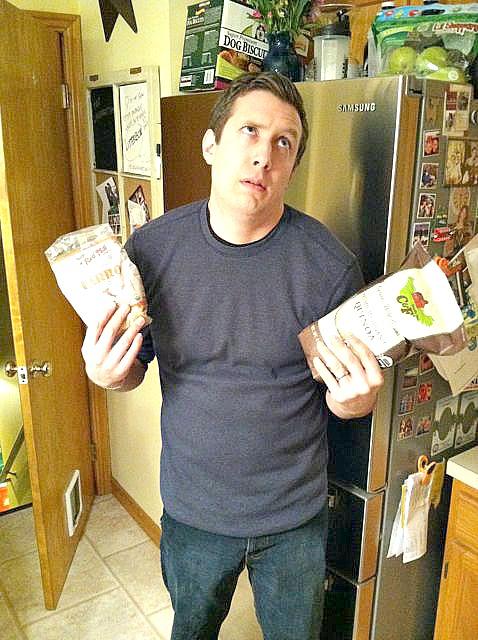 10) Pain in the Grain
Whatever happened to rice? I liked rice. Rice was nice. But now I'm caught in a whirlwind of farro, wheatberries, and Quinoa. Quinoa is a bitch. It's like the glitter from a greeting card or sand from the beach. It. Gets. Everywhere. If you can scoop cooked quinoa out of one container and put it into another without getting it all over the place, I want proof. Send video.
————
Is anyone with me?! AM I ALL ALONE? Set up your comment box and tell hubby to start typing. I'm here to commiserate.
[ok, ok, ok, no hate mail. I hope this came across in the slightly hyperbolic, satirical tone I intended. Bean is the best, I love her, she is my best friend, she's super cool, nicest person you'll ever meet, yada yada yada. BUT I RAISED SOME VALID POINTS- STAY STRONG HUBBIES!!!]
–Mr. Bean
PS. If you have questions for me, Mr. Bean, I'm an open book! Leave them in the comments and give you the skinny in a future post.
LEARN HOW FOOD AFFECTS YOUR BODY.
Get my free Table Talk email series where I share bite-sized nutrition information about carbs, protein, and fat, plus bonus information about snacks and sugar!