So remember yesterday when I posted about all the dough I made for my homemade lean pockets? Well, since that was just a test recipe, I had plenty of dough left over to make my first attempt at grilled thick-crust pizza!
I'm happy to report it went well!
I split the dough in half and used my hands to form it into two rectangles. Since I knew we'd be using indirect heat on the grill, I thought a rectangular shape would fit best after we pushed the coals to both sides. I brushed the top with olive oil and then threw it on the grill oil side down.
Lesson #1: Don't freak out if the dough bunches weirdly or becomes a big mis-shapen when you throw it on the grill. It will still taste good.
Lesson #2: The dough will quickly puff up a bit. Don't leave it on the grill too long because it will get brown very quickly.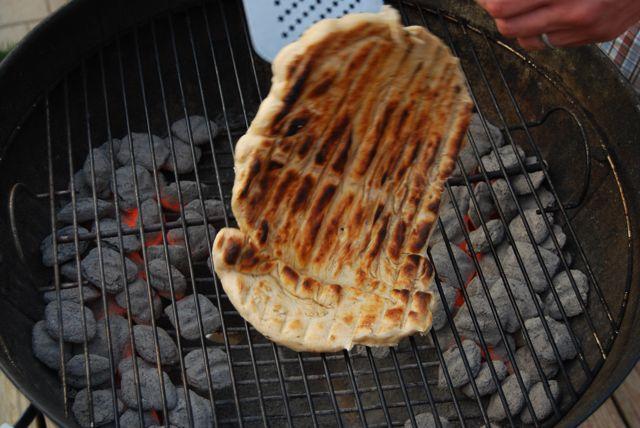 I like my crust this way, but if you prefer it more lightly browned, just check it a minute or two before you think it should be ready to flip over.
Next, remove the crust from the grill to put the toppings on. If you want, you can try to top it while still on the grill…but it gets pretty hot reaching over this coals and the hubby and I found it was easier to just take it off and put it back on.
Add your toppings on the grilled side. Then return to the grill and put the cover on for a few minutes to help melt the cheese.
Remove, slice, enjoy!
Somebody enjoyed it with some ice cold home brew 🙂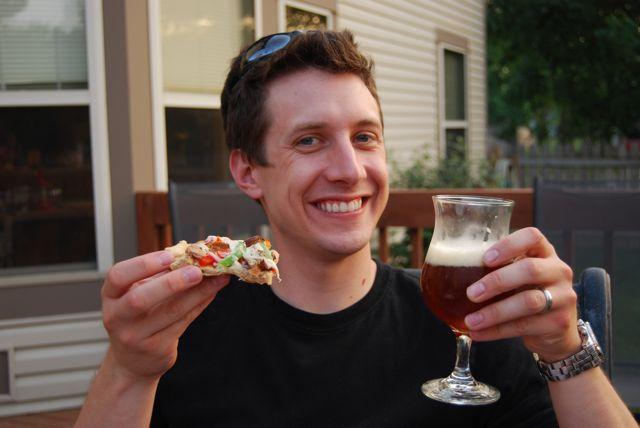 And now for the most important lesson:
Lesson #3: Don't take the dough out of the fridge until the grill is ready to go. If you form your crust before you light the grill, it will warm up and be much harder to transfer to the grill when the time comes!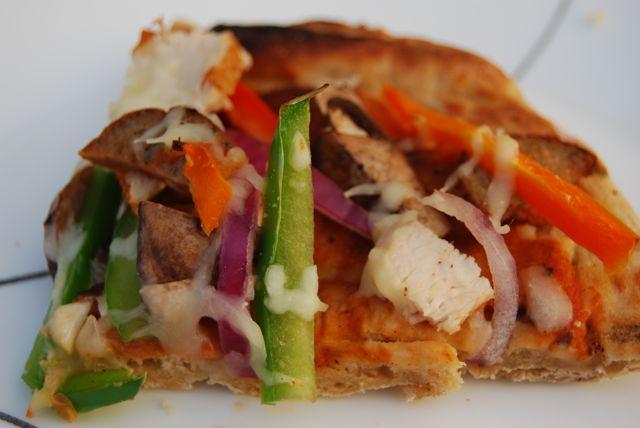 While I do enjoy a good slice of thick crust every once and a while…I must say, thin crust is my favorite and i'll probably be turning to my grilled flatbread pizzas more often this summer.
Enjoy!
–Lindsay–
LEARN HOW FOOD AFFECTS YOUR BODY.
Get my free Table Talk email series where I share bite-sized nutrition information about carbs, protein, and fat, plus bonus information about snacks and sugar!