As promised, here's the recipe I used to make the delicious plum sauce for the chicken that accompanied our grilled mexican veggie boats!
Here's the thing. I never buy plums. Until a few days ago, I wasn't even sure if I liked plums. Turns out I do. I picked up a few at the store just because they smelled SO GOOD that I couldn't resist.
Here's what you do:
Peel the plums. Remove the pit and put the pieces in the food processor. Add some soy sauce, sweet chili sauce and orange juice and give it a whirl.
Turns out black plums are YELLOW on the inside. To counteract my disappointment that my sauce wouldn't have a nice plum color, I added a splash of red wine that just so happened to be in my glass on the counter. After tasting the sauce, I may have added a bit too much soy sauce, so I needed something to counteract the flavor. I settled on fresh ginger. I may or may not have gotten a little excited with my microplaner so I probably ended up adding about 1 tsp fresh ginger. It balanced the sauce perfectly and gave it a spicy kick!
Now comes the tricky part. Pour the sauce into a sauce pan, bring to a boil, then reduce to a simmer for 10 minutes. *Sidenote: this is not tricky unless you go outside and forget about your sauce while it's coming to a boil and then have it boil up all over your stove…then the cleaning part gets tricky 🙂
[print_this]
Ginger Plum Sauce
2 large plums
3 Tbsp orange juice
1 tsp soy sauce
1 Tbsp sweet chili sauce
1 tsp fresh ginger, grated
splash of red wine (optional)
Directions
1. Peel and pit the plums and place in a food processor.
2. Add chili sauce, orange juice and soy sauce and pulse until smooth.
3. Pour into a small saucepan and add grated ginger and wine.
4. Bring to a boil, then reduce heat and simmer for 10 minutes.
[/print_this]
The hubby and I both enjoyed this sauce on our chicken. The hubby's only comment was that it could be a little bit thicker. One of the recipes I looked at for inspiration included applesauce which I think would be a great way to thicken it up without adding any overpowering flavor. However, it was also fine just the way it was 🙂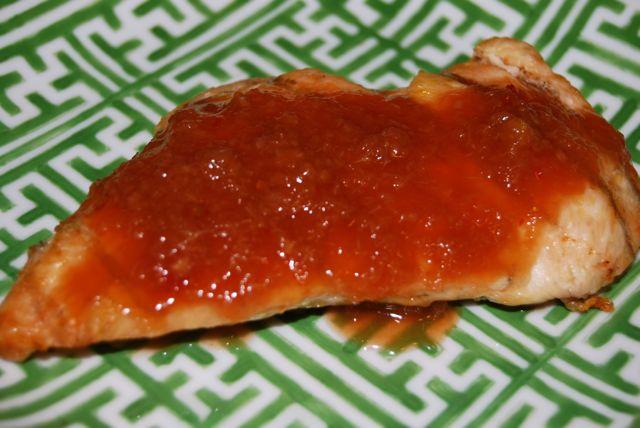 How do you feel about plums?
Enjoy!
–Lindsay–
LEARN HOW FOOD AFFECTS YOUR BODY.
Get my free Table Talk email series where I share bite-sized nutrition information about carbs, protein, and fat, plus bonus information about snacks and sugar!