Want to learn how to meal prep? In this Mastering Food Prep course, developed by a Registered Dietitian and mom of 3, you'll learn the five steps to meal prep, how to find your food prep focus area, tips for flexible food prep and more.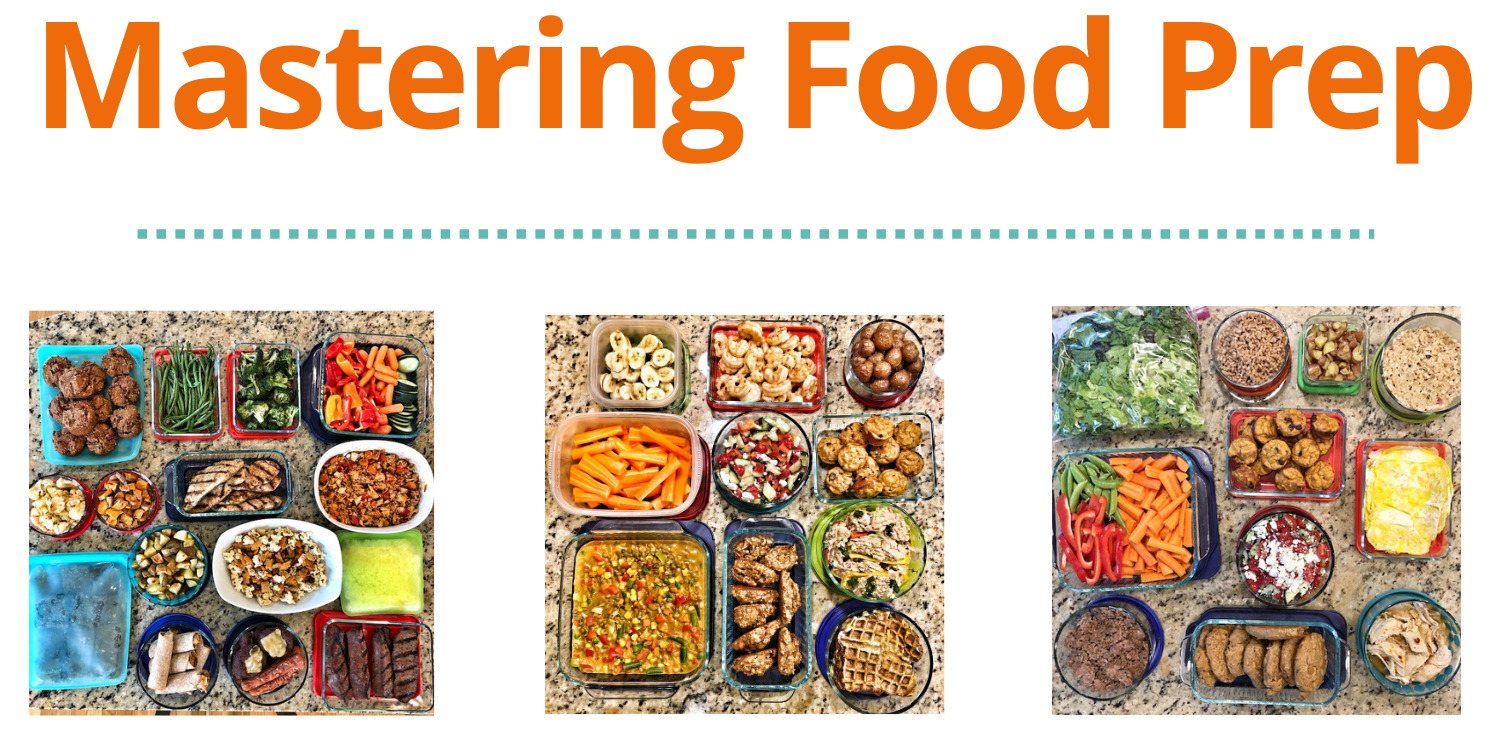 Hi friends!
Today I am launching my brand new e-course called Mastering Food Prep. If you've been around for any length of time you know I'm a huge fan of food prep. I've been doing it myself for the past 10 years. I have written blog posts about it and even an ebook – The Ultimate Guide to Food Prep. But in this course, I take EVERYTHING I've learned over the past 10 years, all my best tips and tricks and put them in a course so I can teach you how to food prep.
---
In case you're not sure whether this course is right for you, let me highlight what we cover in a few of the modules!
First, I want to tell you about one of the most important aspects of food prep – your focus area.
When I hear about food prep sessions that fail, it's usually because people are too ambitious. They see some food prep on Instagram and they try to dive in headfirst and replicate exactly what someone else did….or they feel like they have to prep every single meal they're going to eat in order for it to be worth their time.
NOT TRUE.
In my Mastering Food Prep course, I teach you how to find your food prep focus area and really zone in on what time of the day you struggle most with. Wouldn't it be great to spend your food prep time really focusing on the area that will have the most impact on the week ahead?
---
Breakfast Meal Prep (or Snack Meal Prep)
Food Prep Snacks
Here's an example:
Say you're a stay-at-home mom with 3 young kids. They're not in school yet so you don't have to rush out the door in the mornings and breakfast isn't super challenging. The kids still take a nap so in the afternoon you typically have some time to get dinner put together or started so dinner doesn't really stress you out. But snack time is challenging. You've got 3 kids who play hard all morning and then suddenly need a snack IMMEDIATELY. They also wake up from their nap starving and need to eat ASAP to stave off meltdowns. As a result, you're either trying to prep a snack with 3 kids screaming or maybe you're turning to store-bought snacks more often while wishing you had a better balance of store-bought and homemade.
What if you took an hour on the weekend to prep with a focus on snacks? You could make some pancakes, a batch of muffins and some bags of trail mix, plus some energy bars, PBJ & smoothies for the freezer?
---
If I were doing this exact food prep session, here's how I would do it:
I'd turn the oven on and preheat the griddle. While they were heating up, I would mix up the muffin batter and pancake batter. Stick the muffins in as soon as the oven is hot and then make the pancakes. Once the pancakes are done, pull out the food processor and make a batch of energy bars and stick them in the freezer. Next, make a little assembly line to spread some peanut butter and jelly on several slices of bread and freeze them in a stasher bag. And finally, dump some fruit and milk into the blender to make a big batch of smoothies. Portion into glass jars and freeze. If you still have time, portion some cereal, pumpkin seeds and raisins into baggies for some homemade trail mix.
Healthy Meal Prep Ideas For The Week
Now you have several quick snack options that can be ready in just a minute or two.
Microwave a few pancakes and serve with a yogurt
Grab a muffin and serve with a cheese stick
Give them a bag of trail mix plus some fruit
Stick a smoothie in the microwave for 1 minute and serve with a handful of goldfish or crackers.
Microwave a PBJ for 15 seconds
Grab an energy bar they can eat straight from the freezer.
Can you see how this would make your life easier?
---
In Mastering Food Prep course I give you some tips for finding your food prep focus area and then walk you through 4 more examples just like this one, including an exact breakdown of how I would tackle each food prep session.
---
Another secret to a successful food prep session is proper planning. In Mastering Food Prep, I share my 5 step process for a successful food prep session. One of those steps includes using my prep planning template.
Meal Prep Ideas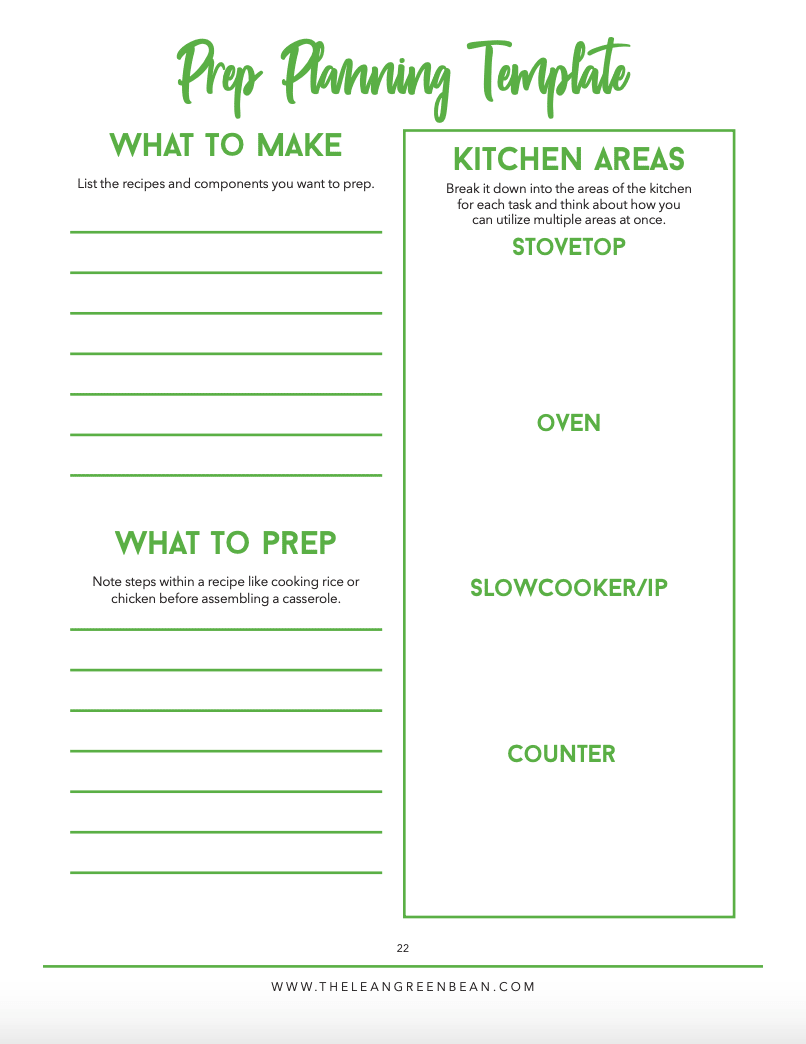 In my food prep course I'll teach you exactly how to use this planning template:
How to use your focus area to plan what you're going to prep (Hint- it doesn't have to be just dinner)
How to break down your list into every single thing you're going to prep
Why breaking your list down into areas of the kitchen is important
What you can do to help your prep go more smoothly if your list has too many items in one single area.
Imagine heading into your weekend food prep session knowing EXACTLY what you're going to prep and what order you're going to do it in. How much more smoothly do you think it would go? Would it be less stressful than just walking into the kitchen and winging it, hoping to get a few things done?
---
And finally, let's talk about lunch. Do you struggle with lunch? Are you eating out more than you'd like because the thought of packing lunch after dinner or in the morning is overwhelming? Are you tired of packing the same thing for lunch every day just because it's quick and easy?
Work Lunch Ideas
What if you had some basic options prepped in the fridge that you could combine quickly in different ways?
Say you prepped grilled chicken, ground turkey, roasted sweet potatoes and quinoa and used those along with some pre-made sauces like bbq sauce and salsa to make 4 different lunches.
Meal Prep Ideas
Quick Lunch Ideas For Work
Add grilled chicken and quinoa to a bag of southwest salad mix and top with bbq sauce.
Mix ground turkey, quinoa and sweet potatoes with salsa. Pack a separate container of shredded cheese and pack some chips. At lunchtime spread the chips on a plate, top with turkey mix and cheese and microwave for nachos.
Toss the chicken in bbq sauce and serve it with a side of roasted sweet potatoes and a bag of steamed broccoli.
Mix ground turkey with a bag of coleslaw and a bag of frozen mixed veggies. Saute 5 min and top with soy sauce and sriracha.
Do you see how having a few prepped components can be helpful for throwing together lunches quickly? You don't have to eat the same lunch every single day!
I give a few more flexible food prep examples in my Mastering Food Prep course and also talk about my 2×2 dinner prep method where you take 2 ingredients and use them in 2 different recipes so dinner doesn't get boring!
---
If this information was helpful, you'll love my Mastering Food Prep Course. For all the details about exactly what's included, click the button below!
Enjoy!
–Lindsay–
LEARN HOW FOOD AFFECTS YOUR BODY.
Get my free Table Talk email series where I share bite-sized nutrition information about carbs, protein, and fat, plus bonus information about snacks and sugar!