Hi Friends!
Time to recap another FNCE session. In case you missed it, you can read my FNCE 2013 recap, as well as check out my first session recap on Beyond Traditional Dietetics. Today I'm recapping one of my favorite sessions!
Ready?
The Power of Visual Food Storytelling to Promote Healthier Eating
Speakers: Regan Jones, RD & Holley Grainger, MS, RD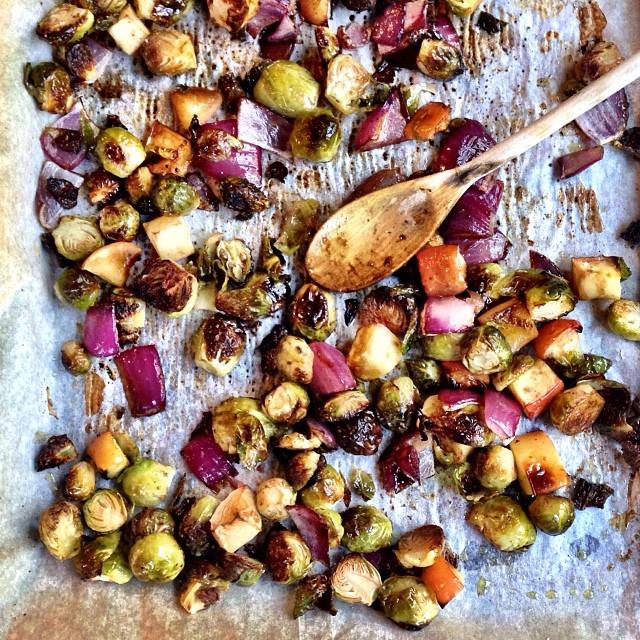 *Photo Credit- Regan Jones*
Photography
If a picture is worth 1,000 words, what are your pictures saying about healthy eating? Over the years we've seen a rise of the visual web. We've gone from long-form blog posts with 1,000+ words, to Facebook statuses with 3 lines of text, to tweets with 140 characters, to Pinterest & Instagram where there are often no words- we're communicating with the image.
A good image has:
Appeal- yum factor (even brussels sprouts can look sexy)

Staying power- blog posts get 94% more total views if they have relevant images

Key message

The potential for the viral effect (ie hundreds of thousands of repins on Pinterest)
Most common photography mistakes:
Out of focus

Low lighting/harsh lighting/artificial lighting

Cropped too tightly

Unnatural angles

Distracting background
You can read more about this mistakes in this Top 5 Reasons Editors Decline An Image post.
Best angles to shoot:
Directly overhead (especially if using an iphone)

45 degree angle (like you're sitting at a table taking a pic of your food)

Eye level
Composition & Styling tips:
Use the rule of thirds. Points where the lines intersect are great visual points that are eyes like.

Layering, texture and abundance are important for healthy foods. It's easy to make dessert look good. You may have to work a little harder to make healthy food look good, but it can be done!

Get a color wheel. Understand how colors work together to make food pop!

Let the food shine through. Don't overstyle. Layer, garnish, show a dipping sauce in the background, etc.

Show food in it's natural form. That's often when it looks its best.
It's not all about traffic. It's about changing the perception of healthy eating. It doesn't have to be elaborate to be healthy. Beautiful food pics will make healthy food look tasty and inspire people to eat better!
Take the time to learn how your camera works. Read the manual. Then read it again. Your camera is not as smart as you. You must learn to tell it what to do. Turn off autofocus!
———————
Video
How do you communicate your nutrition message?
Why video?
It bridges a gap

Provides value

Entertains

Reaches a broader audience

Brings your message to life

Builds a personal brand
Why now?
Every day, 89 million people will watch 1.2 online videos in the US alone.

Online video users are expected to double to 1.5 billion in 2016

Video is the next trend! Get ahead now!
Why you?
An extra way for your audience to get to know you.

It can help you sell something…like your message, a cookbook, etc.

They can see your passion and energy and connect with you on a more personal level.
Don't let perfectionism hold you back! Start small. Use Instagram video and vine. Watch how people engage with you!
What makes an effective online video?
Style– Make it your own! Put your own personal spin on it and let your personality shine through.
Script– Intro, hook, short/concise sound bites. If your video is longer than 1-2 minutes, turn it into a series
Delivery– Bring positive energy to the set, have a one-on-one convo with the person watching your video, think about your body language, voice tone and pace.
Details– Keep the camera close. Control background noise. Look into the eye piece so you can see what the viewer sees.
Optimization– Upload, share, promote! Use key words. Create a video archive. Update regularly.
Let's chat: Are you using your camera to its fullest potential? Do you prefer videos or photos on blogs?
Enjoy!
–Lindsay–
LEARN HOW FOOD AFFECTS YOUR BODY.
Get my free Table Talk email series where I share bite-sized nutrition information about carbs, protein, and fat, plus bonus information about snacks and sugar!