Hi Friends!
As promised, I'm back to recap my trip to the 2013 Food & Nutrition Conference & Expo that was held in Houston, Texas this year! I went to FNCE for the first time last year with most of my fellow interns and I loved it so much I immediately knew I wanted to go again this year. My experience this year was very different from last. For me, it was a great reminder of how far I've come in the world of nutrition & dietetics in just one year.
As I walked around the convention center this year, it seemed like every time I turned around, I saw someone I knew! I've met some amazing RDs over the past year but I don't think I every really stopped to think about just how many of them are now a part of both my personal and professional life. It was wonderful to chat and catch up with people I've gotten to know both online and in person. There are so many dietitians out there doing such incredible things that it's almost impossible not to walk away from this conference feeling excited and inspired!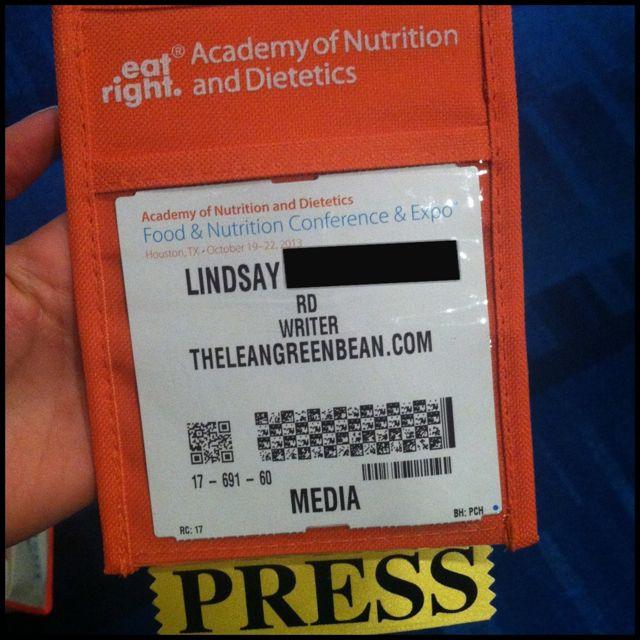 Because of my blog, I was able to apply for a media pass this year and attend for free! Approval for a press pass covers the cost of your registration, which is awesome. It also gets you into the press room where there are all kinds of great books and press kits for you to take home. Added bonus- there's never a line at the coffee pot. This is a big deal as I'm not sure I ever saw less than 25 people in line at the convention center coffee place the entire weekend!
So, let's recap, shall we?
I left Columbus around lunchtime on Saturday. After a flight delay that resulted in me missing my connection in Dallas, I arrived in Houston around 5:30pm and took a cab to my hotel. I met up with my roomies Kristina & Kristen and we headed down to the hotel happy hour. The three of us know each other thanks to the world of blogs and social media but had never met in person. Turns out they're even more wonderful in real life than they are on their blogs and we had a blast together!
Around 7pm we headed to dinner where we met up with Regan, Kelly, Min, Nicole, Laura, Gretchen & Serena.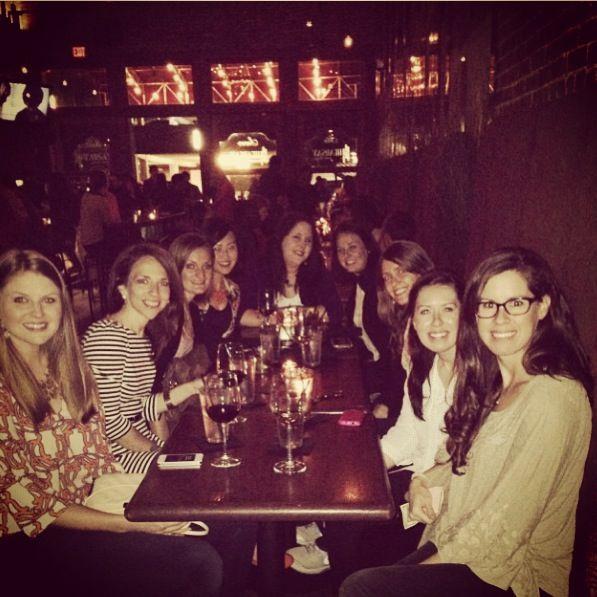 Many of us are involved in helping with Healthy Aperture & participate in Recipe Redux so it was awesome to be able to put names faces with names!
Sunday morning we were up early for Day 1! I headed over early because I hadn't been able to check in the night before, got my press pass and headed to my first session: Beyond Traditional Dietetics: Turning Your RD into Real Dollars. The speakers, Leah McGrath & Dr. Susan Mitchell did a great job.
After a short break, I headed to my second session: The Power of Visual Food Storytelling to Promote Healthier Eating. This session, presented by Regan Jones & Holley Grainer, was also fabulous!
After session #2, I met up with Elle, Kristen, Kristina & Allie for lunch at the local market and then it was time for the Expo!
Turns out we weren't allowed to take photos on the Expo floor. I didn't know that the first day so I snapped a few of some of my favorite products and no one said anything, but after I learned about the rule, I didn't take any the following days.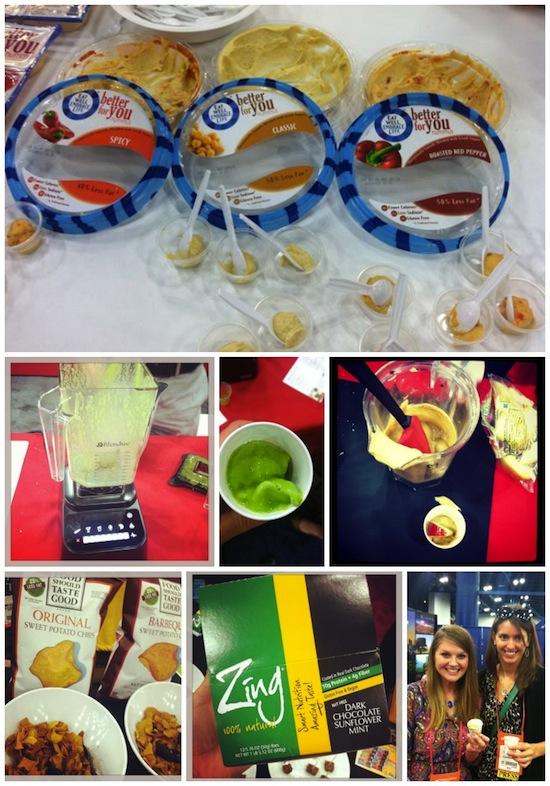 Some of my favorites from the expo:
Blendtec Blender – You guys, this blender is AMAZING. Kristina and I spent a good 30 minutes at this booth. It has dull blades so you don't cut yourself. It can make nut butter in 36 seconds. It can make flour out of things like almonds, rice, etc. And get this…it can make frozen yogurt!!! I am so in love. WANT one!!! One model even has a touch screen display!
Zing Bars– They were created by RDs and this new Dark Chocolate Sunflower Mint bar tastes just like a Thin Mint! Soooo good.
Eat Well, Enjoy Life Hummus – I loved this! They make low fat hummus that uses Greek Yogurt and also have a whole line of "other bean" hummus with some great flavors!
Food Should Taste Good – I already knew about this company and love them…but they have a newer version of their sweet potato chips that are actual slices of sweet potato instead of chips make with sweet potato puree and I loved them!
Manitoba Harvest Hemp – I found them at FNCE last year. Hemp hearts are great on salads, in yogurt, etc and they also have lots of different hemp protein powders, many of which are made from just one ingredient (hemp) which I love!
Alvarado Street Bakery – A fun bread company that makes bread using all kinds of sprouted grains…and uses all GMO-free ingredients!
360 Cookware – Neat pots and pans that cook foods and lower temperatures without added water or fats!
———
There were also tons of great boards and commissions there promoting nutritious, whole foods (which I loved) including
Hass Avocado Board
Almond Board of California
Canadian Lentils
American Pistachio Growers
California Dried Plum Board
California Strawberry Commission
US Dry Pea & Lentil Council
Wild Blueberry Association
—————
Even after several hours at the expo, I still only made it about 1/2 way through…but my bag was full of samples and getting extremely heavy so I headed into another session (On the Shoulders of Giants), charged up my phone and headed to a happy hour even with Food & Nutrition Magazine.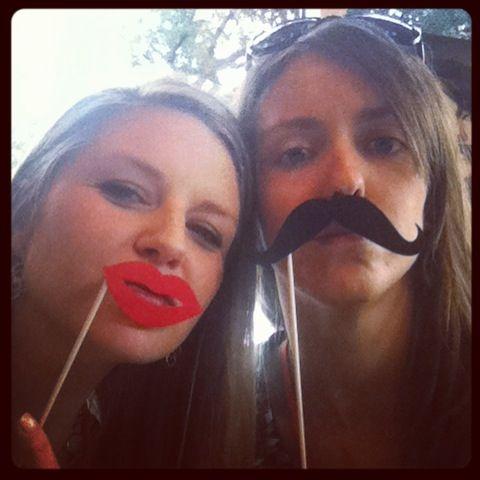 I was invited to this happy hour since I blog for Stone Soup, the magazine's blog! They had drinks, appetizers and lots of fun props for pictures!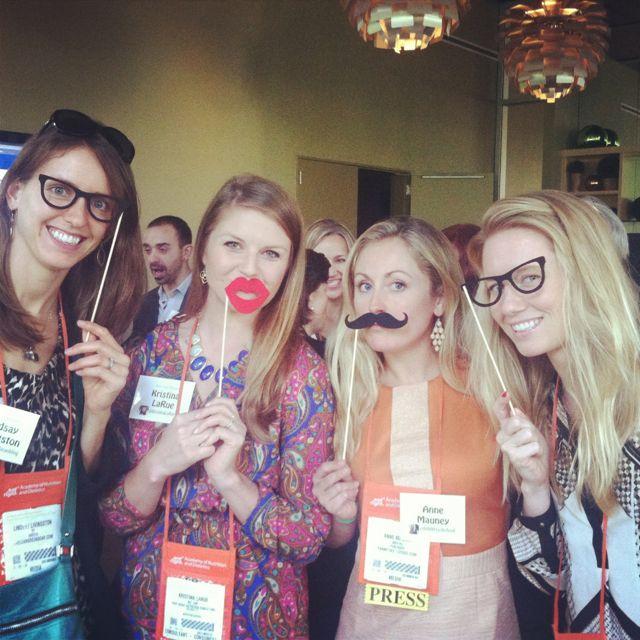 I hung out with these lovely ladies- Kristina, Elle & Anne (who came in Sunday afternoon!). After happy hour, we stayed at the restaurant where we were joined by Kylie for dinner!
Monday morning we headed back to the convention center for day 2! The first session I went to was amazing. It was called How Consumers Decide What to Eat: Strategies for Making Healthy Choices and the speakers were Dr. Jim Painter and Liz Ward. Dr Painter was HILARIOUS and had the whole crowd engaged and laughing, even at 8am. Liz's portion was great as well- very informative.
Next, I met Regan and we went to a media briefing where Rachel Begun was speaking about The Gluten-Free trend: Past, Present & Future. It was really interesting and Rachel was extremely knowledgeable and a great speaker. You have to have a press pass to be able to attend media briefings so it was cool that I got to go!
Afterwards, I headed back to the expo to cover the second half of it. There are so many samples and snacks available that I didn't even have to go to lunch!
Later in the afternoon I attended another session called Moving From Traditional RD to Thriving Entrepreneur. Then I met up with my roomies and we rested for a bit, recharged our phones and then headed to another round of happy hours.
I went to a happy hour for one of the agencies I work with, where I finally got to meet Carissa in person! After popping into the happy hour for another fabulous PR agency, I headed out to dinner! I love FNCE because there are SO many amazing opportunities to network!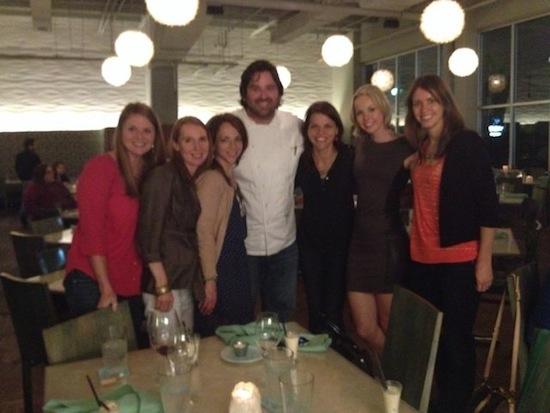 We had a great dinner at Reef. The chef was on The Next Iron Chef and he even came out to chat with us and take a picture!
Tuesday morning we were up and ready for our final day in Houston. FNCE is fabulous…but it's full of long, busy days…lots of walking and not a lot of sleep. By Tuesday, pretty much everyone is exhausted. I attended a couple of sessions, including Ask, Anchor & Close: Negotiating Your True Market Value. Then, I made one final pass around the expo before I had to be at the Hass Avocado booth at 11:15. Why, you ask?
Remember when I asked you guys to vote for my Peanut Butter Avocado Cookies?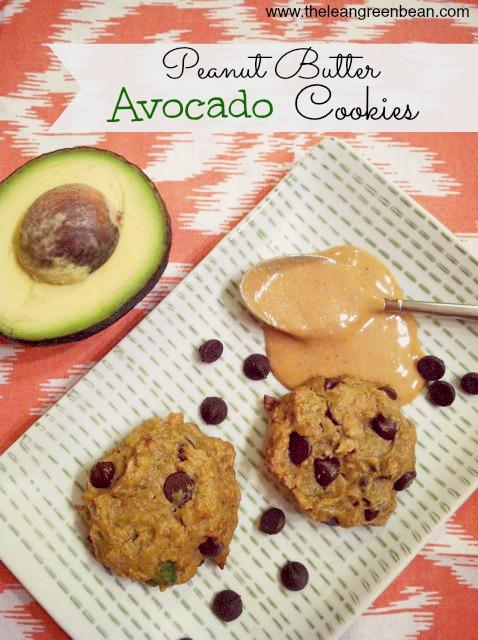 Well guess what?! I made it to the top 3 in the contest out of 66 entries. That means that Hass Avocados paid for my trip to FNCE (as well as the other two finalists). I wasn't allowed to tell anyone that I was even a finalist (or I would have thanked you guys sooner!!)
They told us they would announce the grand prize winner at FNCE on Tuesday! And guess what?! I won!!!!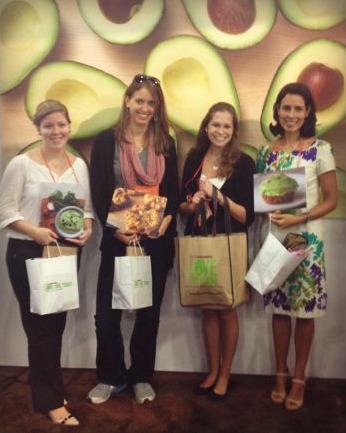 The other two finalists made a dip and a keylime cupcake! Both looked delicious and Molly & Katya were both wonderful. We each got to speak briefly about our recipes and why we love avocados and also heard from two of the founding members of the new Avocado Goodness community, which is coming soon! My grand prize was $1,000 and I just want to say thanks again to every single person who took the time to vote! It means so much to me and I couldn't have done it without you guys!!!!
Hass Avocados was also raffling off a new digital camera and I got to pick the winning ticket!
What a fabulous end to an amazing few days, right? I headed back to the hotel, grabbed my bags and took a cab to the airport. After another delayed flight and another missed connection, I finally made it home around 11pm.
All my swag made it too! Last year I went a little crazy at the expo so this year I tried to stick with stuff I knew I would eat. Lots of nuts, seeds and dried fruit. The boys thoroughly checked it out!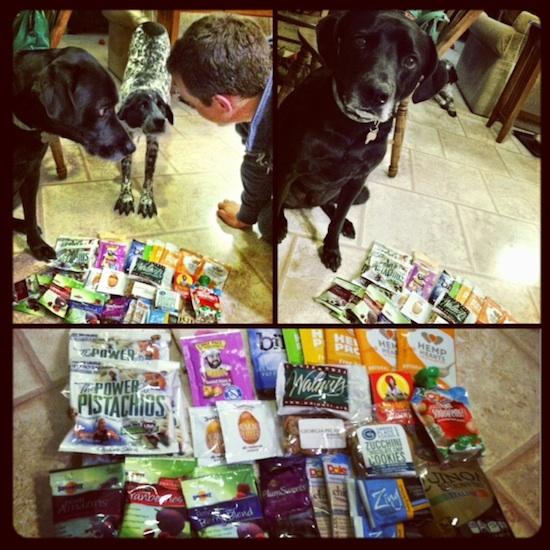 That's all for today, friends! I plan on recapping a few of the sessions I enjoyed most so I can share some of the take-away points with you guys! Stay tuned 🙂
EDITED TO ADD:
Below are the links to my session recaps:
FNCE Session Recap: Beyond Traditional Dietetics
FNCE Session Recap: The Power of Visual Food Storytelling To Promote Healthy Eating
FNCE Session Recap: How Consumers Decide What To Eat- Strategies for Making Healthy Choices
Enjoy!
–Lindsay–
LEARN HOW FOOD AFFECTS YOUR BODY.
Get my free Table Talk email series where I share bite-sized nutrition information about carbs, protein, and fat, plus bonus information about snacks and sugar!