This single serving Cookie Dough Stuffed Chocolate Cupcake is the perfect dessert to satisfy your sweet tooth without leaving lots of extras around to tempt you later.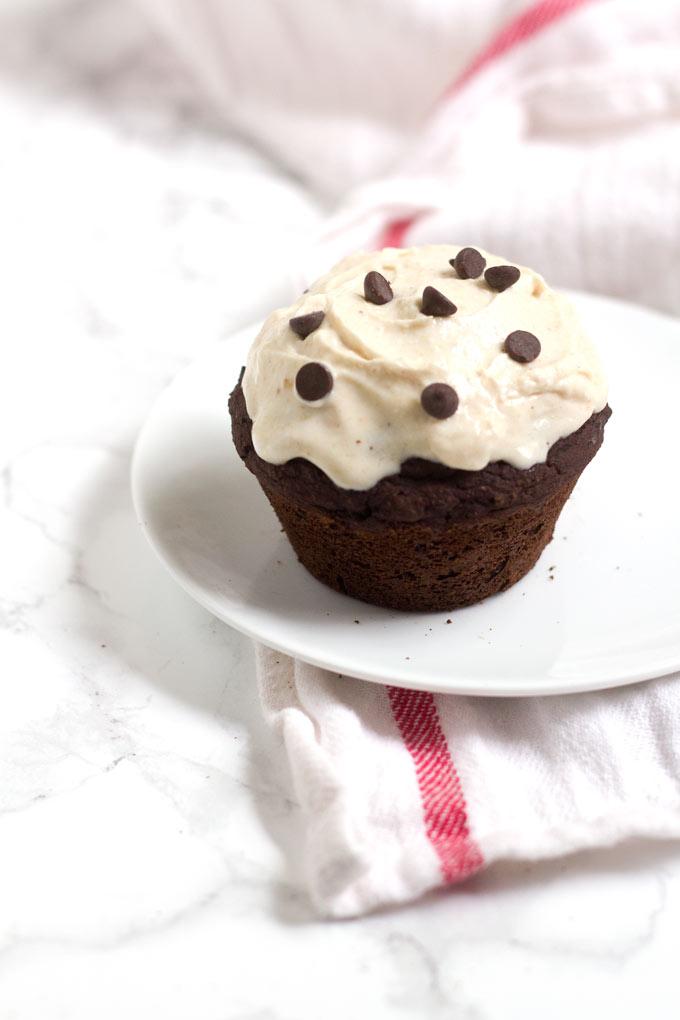 Hi friends!
Here we are halfway through the week! My parents have been here helping us with phase one of the move and they go home today, which is always a sad day for all of us. So, I thought it'd be the perfect day to let my girl Leah share this delicious little treat with you guys. I could one tonight to cheer me up! Leah is the beauty behind Love Me, Feed Me where she shares amazing recipes for plant-based eats and treats! You're definitely gonna want to check out these Peanut Butter Streusel Banana Brownies, this Roasted Nectarine Crisp Smoothie and these Sweet Kabocha Biscuits to start.
Take it away, Leah!
---
Hey Lean Green Beaners! I'm Leah from Love Me, Feed Me where I share healthy vegan recipes for sweets and treats and musings on self-love. I'm so excited to be sharing a recipe with you guys today! The Lean Green Bean was one of the first blogs I started reading way before I even thought about having my own, so connecting with Lindsay was so exciting and I may or may not have fan girled a little bit when she reached out about guest posts.
Single serving and small batch recipes are kind of my thing, so naturally I had to share a single serving recipe with you! Single serving treats are seriously the bomb – they're quick to whip up when you're in need of something sweet and easy to clean up, they're portion controlled (see ya temptations to eat 5 in a row!), and they're just more fun. My current love: this cookie dough stuffed chocolate cupcake. Like really, how could that even get any better?! Maybe if it was a peanut butter cookie dough and had a peanut butter frosting, you say? Well I read your mind because that's exactly what we're making!
Cookie Dough Stuffed Chocolate Cupcake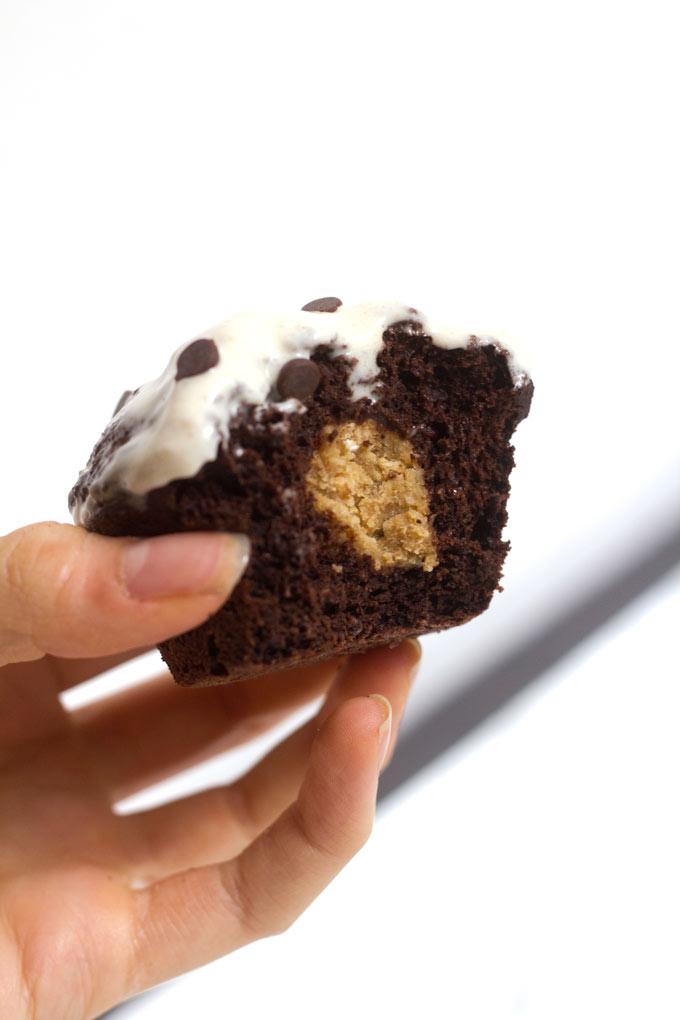 Let me set a scene for when this recipe would be perfect. You're at home getting in some precious Netflix time or cozied up with a book, then your sweet tooth strikes. You're wanting something sweet to finish off the night, but you still want to make a healthier choice and know fruit just won't cut it tonight. Now you're thinking about cake and wishing you had some in your life right that very moment. Single serving cookie dough stuffed chocolate cupcake to the rescue! It will solve all your problems. Okay, that's not true, but it will solve your dilemma of what to have for a healthy dessert that tastes super decadent and requires minimal effort.
There are 3 parts to this glorious treat: 1) the peanut butter cookie dough that's made of peanut flour (heyo plant protein!), oat flour, applesauce, a little maple syrup, and obviously some chocolate chips (I love Enjoy Life's mini chocolate chips!) 2) the chocolate cupcake cake, which is made mainly of spelt flour, cocoa powder, applesauce (secret weapon in vegan baking), a little almond milk, and sweetened with stevia! 3) peanut butter frosting – this one is totally optional, if you don't have coconut milk on hand a nice spoonful of peanut butter will do the trick! Each part is delicious on its own and when you put them together – magic in each mouthful.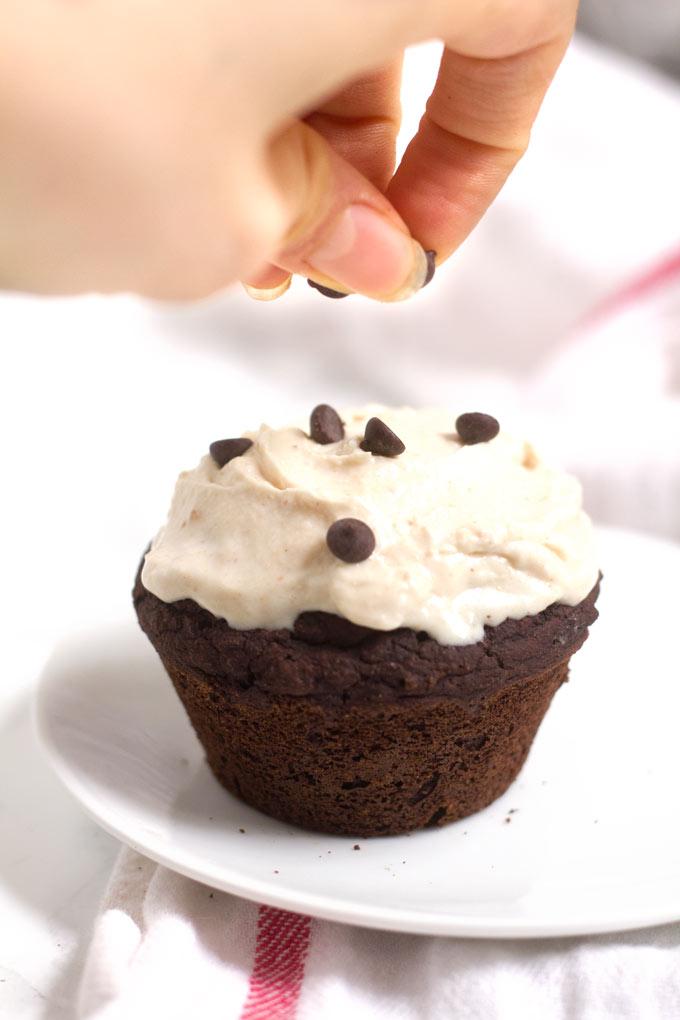 So get into your pajamas, curl up on the couch, and enjoy this tasty single serving treat!
Print
Cookie Dough Stuffed Chocolate Cupcake
This single serving Cookie Dough Stuffed Chocolate Cupcake is the perfect dessert to satisfy your sweet tooth without leaving lots of extras around to tempt you later.
Prep Time:

5 minutes

Cook Time:

10 minutes

Total Time:

15 minutes

Yield:

1

cupcake

1

x
Cookie dough:

2 tbsp

oat flour*

1 tbsp

peanut flour (or any powdered peanut butter)

1 tbsp

applesauce

1 tsp

maple syrup
a few chocolate chips
Chocolate cupcake:

2 tbsp

spelt flour

1

heaped tbsp cocoa powder

1/4 tsp

baking powder

1

packet of stevia (or

1 tbsp

of coconut sugar)
pinch of salt

1 tbsp

applesauce

3 tbsp

almond milk
optional: 1/4 tsp instant coffee (gives a deeper chocolate flavour)
Optional frosting:

2 tbsp

coconut cream

1 tbsp

peanut flour
Instructions
Start by making the cookie dough, stir together all ingredients except the chocolate chips. Once it reaches a cookie dough consistency, fold in the chocolate chips.
Divide into two dough balls (one for the cupcake, one for a snack!) and place in freezer while you prepare the rest.
Preheat oven to 350F. Line or oil one hole in a muffin tin and set aside.
In a small bowl combine the dry ingredients for the cupcake and mix. Stir in the remaining ingredients until it reaches a smooth batter.
Spoon half of the mixture into the prepared muffin tin, place one of the cookie dough balls in the centre, then top with the remaining batter.
Bake for 10-12 minutes or until the top is slightly firm.
Remove from oven and let cool completely.
While it's cooling, prepare the frosting by combining the two ingredients.
Once the cupcake is cooled, top with frosting and a few extra chocolate chips and enjoy!
Are you running to the kitchen already to make this ASAP? I know I am.

For more great recipes, be sure to follow Leah on Facebook, Twitter, Instagram and Pinterest.
[Tweet "Satisfy your sweet tooth with a Cookie Dough Stuffed Chocolate Cupcake! via @Leangrnbeanblog"]
Enjoy!
–Lindsay–
LEARN HOW FOOD AFFECTS YOUR BODY.
Get my free Table Talk email series where I share bite-sized nutrition information about carbs, protein, and fat, plus bonus information about snacks and sugar!