Hi Friends!
Whew! That's a long title isn't it? Sorry, but I couldn't think of any way to shorten it and still describe the awesomeness that is this pizza. It's not your traditional cheese-laden, greasy pizza. Instead, it has a protein & fiber packed crust, a spicy bean dip for the "sauce" and is topped with delicious veggies and goat cheese.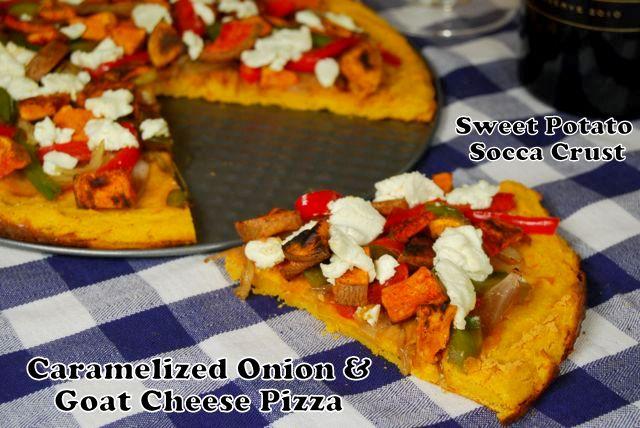 Pin It

I got the idea for this pizza from several places. I'd been thinking about trying socca, thanks to some encouragement from Laura, for a while now. Then Nicole posted this Mexican Socca Tostada and I finally decided I needed to try socca for myself. But I didn't make just plain socca, I added sweet potato! I got the idea from this post but I made mine a little differently by microwaving the sweet potato before adding it and not using cheese in the crust. As for the pizza itself, my mom sent me an email last week saying that she made this pizza with a few changes and it was delicious.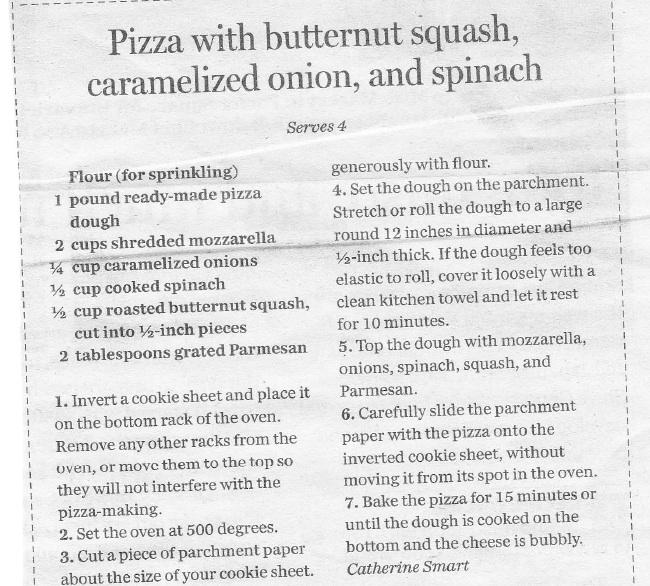 I wrote back saying it sounded good and that I would have used sweet potatoes instead of squash and an idea was born! So this is how it went down. I made the crust first. While it was baking, I chopped up some sweet potatoes and threw them in the oven with the crust to roast. Then I made the white bean dip to use for the sauce. Finally I caramelized the onions and sauteed the peppers.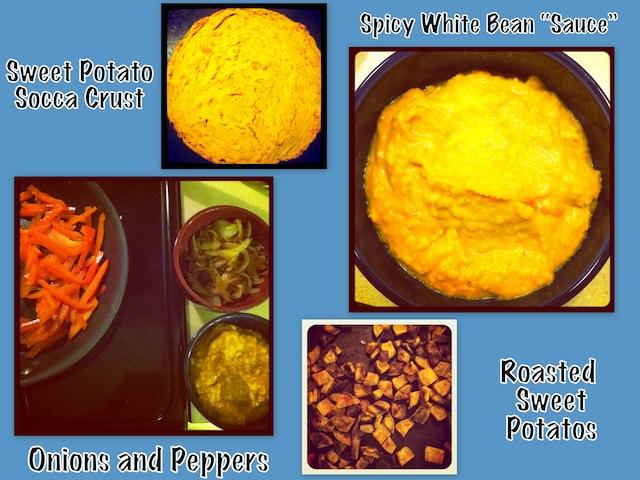 The night I made this I just wasn't in the mood to take pictures. I gave it a half-hearted effort but it just wasn't working out. Want proof? This is the best picture I took of the first pizza.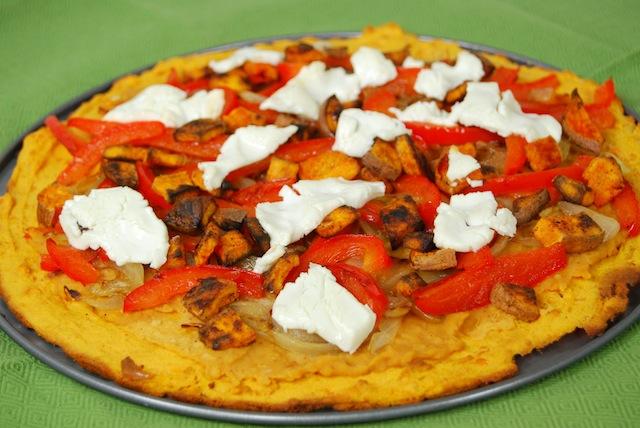 Yeah…not good. But this was the scene at the end of dinner: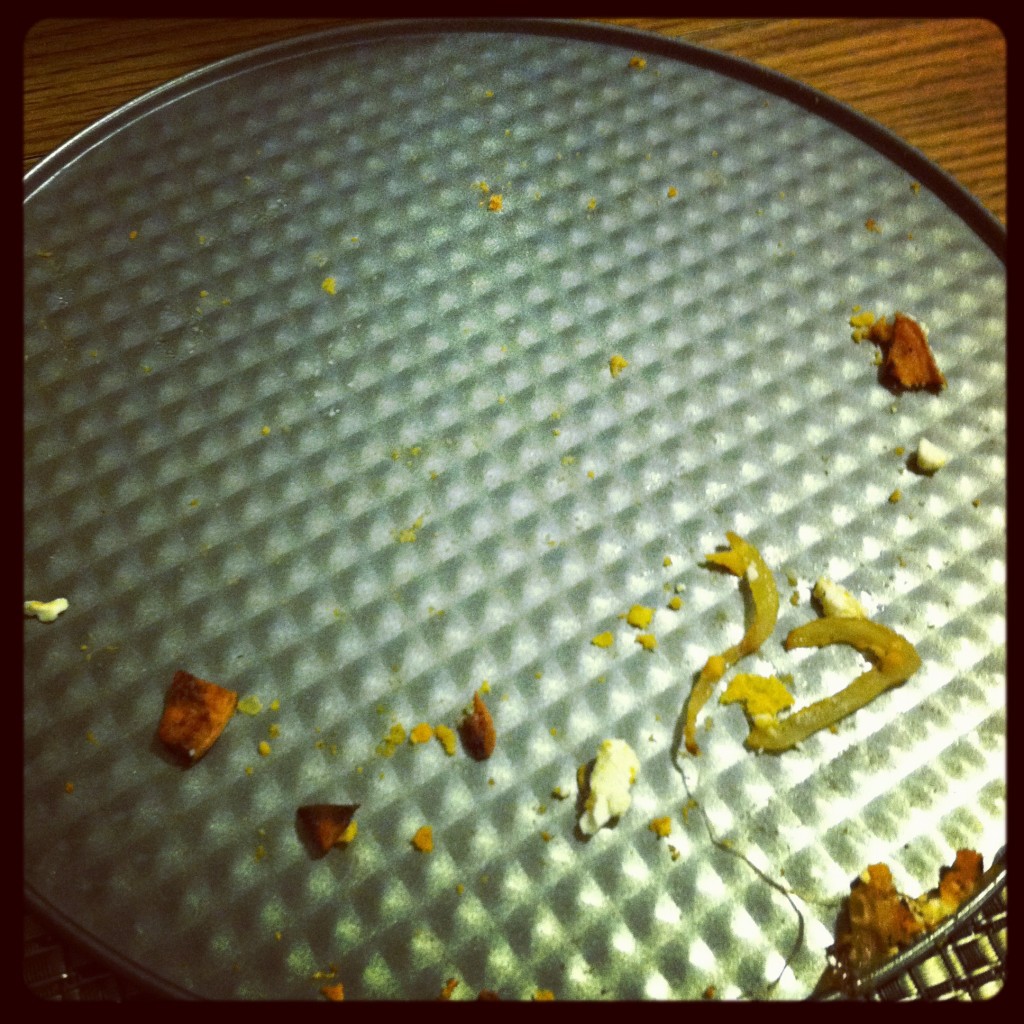 But this was SO good that I knew I had to share it with you guys. So what did I do? I did what any good food blogger does and I re-made the pizza for lunch the next day and took better pictures: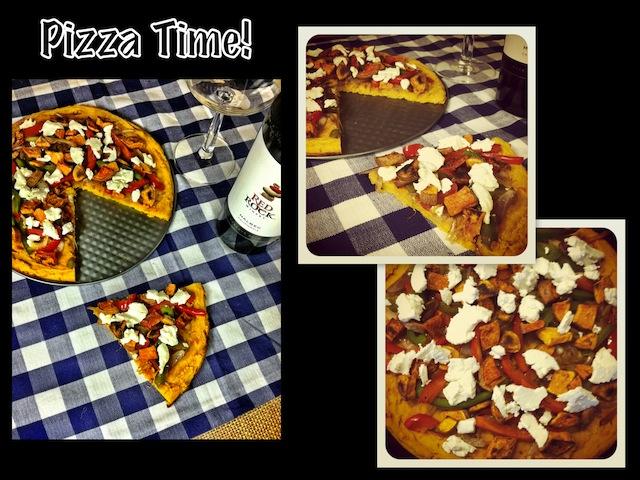 Much better. And just as delicious the second time around. I made the crust a little bit thicker, per the hubby's request and added some balsamic vinegar to the onions while I was caramelizing them.
Print
Caramelized Onion & Goat Cheese Pizza with Sweet Potato Socca Crust
This Caramelized Onion & Goat Cheese Pizza with Sweet Potato Socca Crust has a protein & fiber packed crust, a spicy bean dip for the "sauce" and is topped with delicious veggies and goat cheese.
Author: Lindsay
Prep Time:

30 hours

Cook Time:

30 hours

Total Time:

60 hours

Yield:

4

1

x
2

medium sweet potatoes

1

c chickpea flour

1

c water

1

medium onion

1

medium sweet potato

1

c sliced bell peppers (any color)

2 oz

goat cheese (crumbled or sliced)
balsamic vinegar

1

15oz can of white beans (rinsed)

1 Tablespoons

olive oil

1 tsp

soy sauce

2 Tablespoons

sriracha hot sauce

1

large clove of garlic

1/2 teaspoon

curry powder

1/4 cup

of water

1 Tablespoon

lime juice
Crackers
Instructions
For the crust:
Poke the sweet potatoes all over with a knife or fork and microwave for 6 minutes.
Let cool slightly and scoop the insides into a bowl.Add the chickpea flour and water and stir well.
Pour into a well-greased 9-inch springform pan and spread evenly around the pan.
Bake at 425 degrees for 35 minutes.
For the sauce:
Follow the directions in the linked recipe.
For the toppings:
Dice the sweet potatoes, drizzle with oil and roast in the oven along with the crust.
Saute the onions and a saucepan over medium heat with a little oil until caramelized.
Add a splash of balsamic vinegar if desired.
Saute the peppers after the onions are done.
Assembly:
Remove the crust from the pan (it will probably stick a little bit).
Top with sauce.
Add the onions, peppers and sweet potatoes.
Top with goat cheese.
Return to the oven for 7-8 minutes or until heated through.
Slice and serve drizzled with balsamic vinegar.
Today's workout: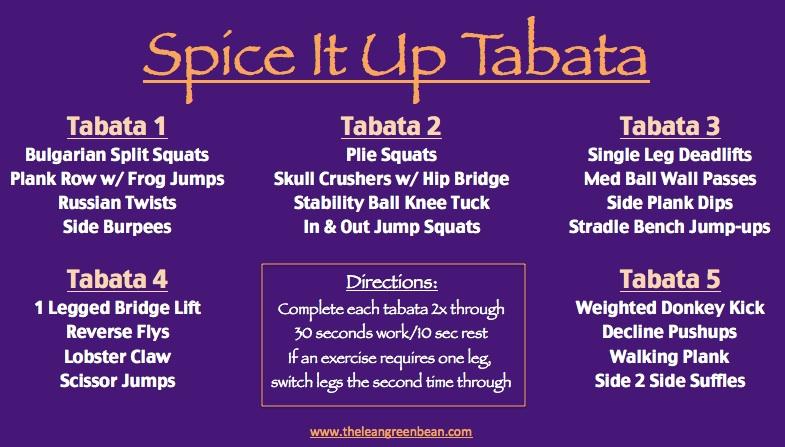 Pin It
Thanks so much for your support. It means the world to me!
–Lindsay–
LEARN HOW FOOD AFFECTS YOUR BODY.
Get my free Table Talk email series where I share bite-sized nutrition information about carbs, protein, and fat, plus bonus information about snacks and sugar!