Hi Friends!
Today I wanted to have a little chat with you about something I feel is super important- volunteering.
When was the last time you volunteered? When was the last time you took some time out of your day to help someone else? To really stop and think about just how lucky you are to have everything that you do?
Thanks to my parents, I started volunteering at a very young age. Every Christmas, my mom would bundle my sister and I up to go ring the bell for The Salvation Army. And every year we would adopt a family to buy Christmas presents for through the red bag program. On the day they were due, we would go help sort them and load them into semi-trucks to be delivered. I'll never forget the first time we showed up to help sort and I saw 6 semi-trucks lined up in the street. I remember thinking that there couldn't possibly be that many people that needed help over the holidays.
As I got older, I continued to volunteer at festivals, events and soup kitchens. In high school, I did all sorts of volunteer work for National Honor Society. I won't say I enjoyed every single minute. Most high schoolers don't enjoy getting up early on Saturday morning to go pick up trash…but am I glad I did it? Absolutely. Am I glad I formed a group of friends who knew the importance of volunteering and did it with me? For sure.
In college I was part of the Big Brothers, Big Sisters program. After we graduated from college, the hubby and I spent several years volunteering weekly at a local animal shelter.
When I went back to school, I started volunteering at places that were more specifically geared towards my interest in food and nutrition. I volunteered at a WIC clinic and I spent time at LifeCare Alliance working with their Senior Farmer's Market and Meals on Wheels programs. I volunteer with Local Matters and will soon begin teaching Cooking Matters classes. I also volunteer weekly at a choice food pantry.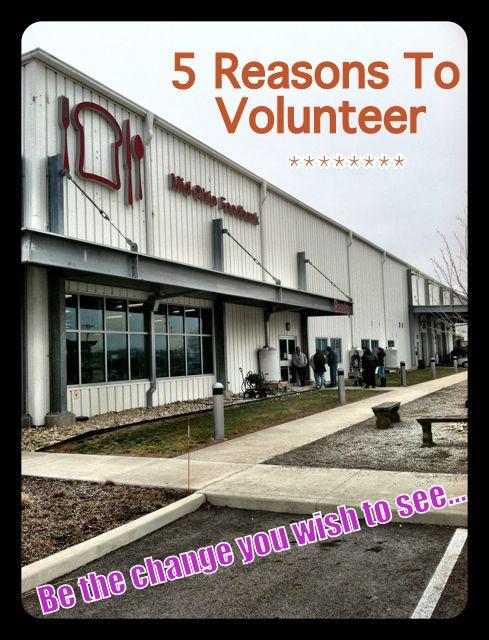 Although it may seem like it so far, this post is not about me touting what an awesome person I am, or searching for compliments. I just wanted to show you that it's an important part of my life, and that it can be done, even if you have a busy schedule like I do.  The purpose of this post is to encourage each and every one of you to spend some time volunteering this year.
And here's why:
Five Reasons to Volunteer
It shows you care about others.
When you're applying for college or for a job, people are going to look to see whether you give back to your community. It shows that you understand there are people out there that need your help, and more importantly than just understanding, it shows that you're willing to get out there and do something about it- to try to make a difference in someone's life.
There's a huge need.
There are SO MANY amazing organizations out there that are working tirelessly to help those in need. But they can't do it without the help of volunteers. The food pantry I volunteer at is open 3 days a week for 8 hours each day. It takes at least 20 volunteers each day in order for them to be able to stay open for the full amount of time, have things run smoothly and even come close to meeting the demand of the community. That's 60 volunteers a week that are needed for just

one

of the many volunteer opportunities in Columbus.
You can do what you love while helping others.
There are

literally thousands

of different ways you can volunteer. If you're not lucky enough to work at a job that embodies your true passions, volunteering is the perfect chance to do what you love for the benefit of others! If you like kids, become a Big Brother/Big Sister or a Court Appointed Service Advocate. If you like the elderly, volunteer to help senior citizens do their grocery shopping or go spend some time at a retirement home. If you like to build things, help build a house with Habitat for Humanity…. If you're not a people person, find an agency that needs help with data entry or stuffing envelopes. And remember that sometimes the tasks that seem the most mundane are the most important. I've spent many hours filing papers or pulling charts, not because I especially love filing, but because I love the organizations and the work that they're doing and I know that sometimes, those areas are the ones where they need the most help, in order for them to keep helping people. Think about where you passions lie, and then find an organization that needs your time and assistance.
Someone will

always

be grateful for your time.
There's no amount of time too small when it comes to volunteering. If you only have 2 hours a month, they'll take it. If you can only commit to one event a year? They'll say "yes please!" 

Never, ever think that just because you can't make a weekly, or even a monthly, commitment that your time isn't valuable or that volunteering won't be worth it

. JUST GO DO IT!
If you let it, it can change your life.
Go into each experience with a positive attitude, an open mind and an open heart. Sometimes you might feel overwhelmed by your busy schedule or question whether you're really making a difference, but when you get a hug from someone at the food pantry and they tell you they wouldn't have had anything to feed their kids that night without your help, or you get smothered in puppy kisses from a dog who is so grateful for a walk because he spends 23 hours a day in a cage at the shelter, or you wake up Christmas morning knowing that somewhere out there, a couple of kids are have present under the tree because of you,  IT'S ALL WORTH IT.

Volunteering will humble you. It will teach you compassion. It will make you so, so grateful for everything you have in your life.

 But beyond that, it's a way to give back. It's a way to help others and pay it forward…because you just never know when you might need a little help of your own.
I wanted to do a little local spotlight here and give you guys a peek at one of my favorite places to volunteer here in Columbus. I've always been drawn to volunteering at food pantries, and they've come a long way since I was little. Now, lots of pantries are Choice Food Pantries, which basically means that the clients get to choose what they want, within certain limits, instead of just being handed a bag of food. 
The Mid-Ohio Food Bank, which does incredible work here in Central Ohio, recently opened their very own Choice Food Pantry and it is AMAZING. It's by far the nicest one I've ever volunteered at and it's paving the way for providing healthy, fresh and even local food to the community.
The first time I volunteered at this pantry I was literally blown away by the number of healthy options this pantry has for its clients. I am so happy to see food pantries evolving to provide people with healthy options instead of just canned peas and corn- the traditional food pantry stereotype.
I went a little picture crazy but I really wanted to show you guys some of the things I was impressed by!
I loved all the healthy cereals I saw. The heart-healthy kinds definitely outnumbered the sugary kinds. There were whole wheat pasta options, canned fruit that was unsweetened or in lite syrup and tons of bread- oatnut bread, whole wheat bread, high fiber bread….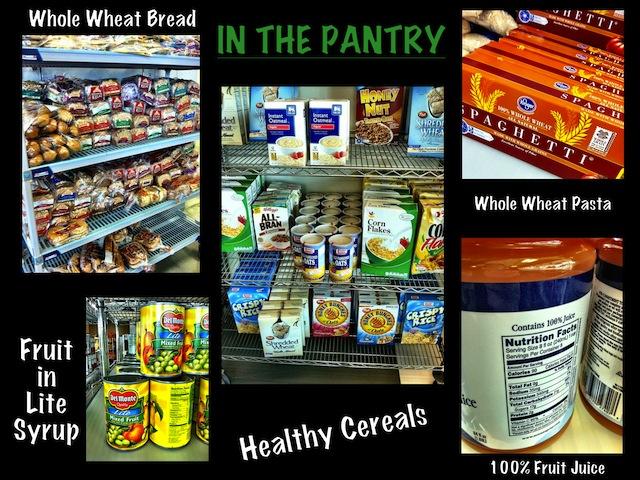 One of my favorite parts about the pantry is that they have a "take what you can use" policy for fresh fruits and vegetables and bread. Clients take basically take as many fresh fruits and veggies as they want, as long as they think they can use them. Also, clients can only make a full trip to the pantry 2x per month, but they can come back as many times as they want for fresh produce and bread! How cool is that?! Each week they have different produce but so far i've seen things like oranges, apples, pears, kiwis, bananas, spinach, lettuce, cabbage, collard greens, sweet potatoes, tomatoes, potatoes, onions…
The refrigerated cases also impressed me! I saw Greek yogurt, which I never would have expected, locally produced milk and even hummus! I love being able to tell clients how awesome greek yogurt and hummus are and then being able to give them some to try for themselves!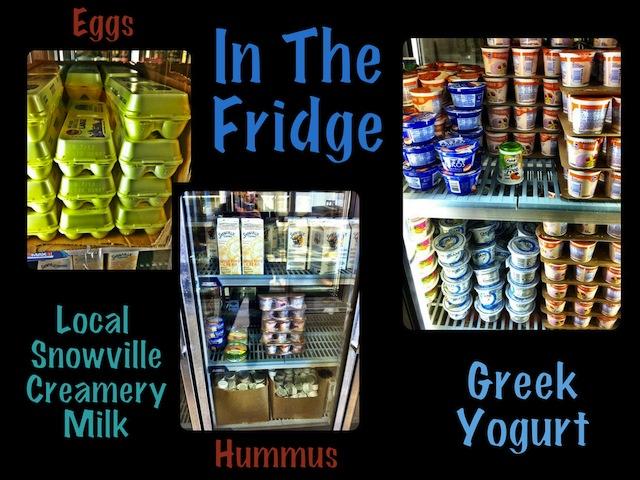 They have a few other cool things too, including recipe suggestions placed around the pantry that clients can take home, My Plate signs to help people learn what food groups they are choosing and they even have reusable shopping bags that were donated!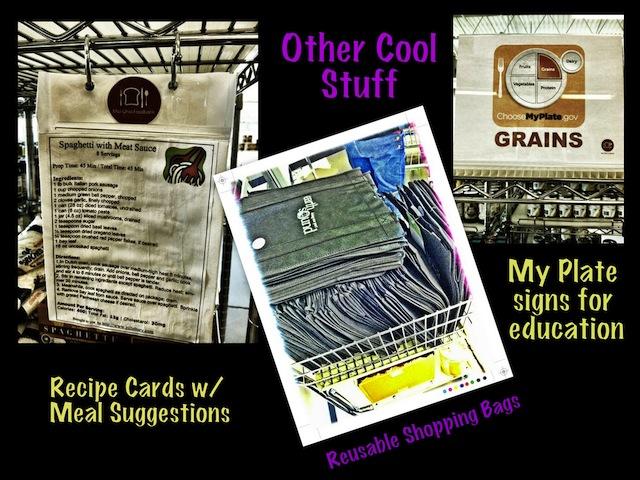 I look forward to going to volunteer at the pantry every week. Seeing how grateful the clients are at the amount of food we're able to provide for them is so awesome!
So my challenge to you is to spend a little time this weekend looking at volunteer opportunities in your community. Grab your family, grab some friends, even some co-workers and head out to do a little good for others! Then come back and tell me all about it!
Tell me…do you volunteer? If so, where's your favorite place to volunteer? If not, have I inspired you??
–Lindsay–
LEARN HOW FOOD AFFECTS YOUR BODY.
Get my free Table Talk email series where I share bite-sized nutrition information about carbs, protein, and fat, plus bonus information about snacks and sugar!