Gluten-free and easy to customize, these Breakfast Nachos are quick, easy way to change up your breakfast routine!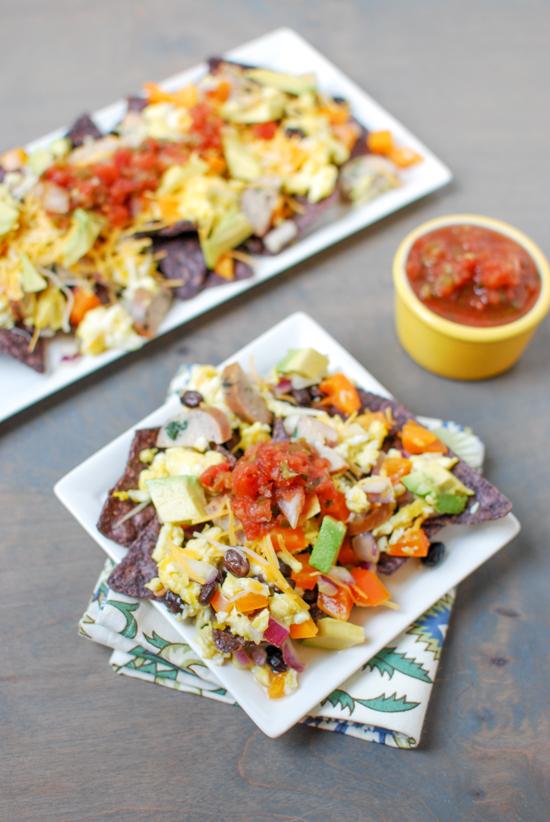 Hi Friends!
Let's talk about these breakfast nachos. If you've been reading the blog for any length of time, you know I love breakfast. Not only do I love it, I NEED it. I pretty much cannot function unless I eat within 30 minutes of waking up. Usually I'm an oatmeal kinda girl but every once and a while it's fun to change things up.

By change it up, I pretty much mean switch from oatmeal to eggs. I love eggs and truth be told, I don't just eat them for breakfast. I've eaten eggs for dinner 3 nights this week, including eating these "breakfast nachos" last night. They're perfect for pretty much every meal…but I'm calling them breakfast because for many people, eggs = breakfast food.
I guess what I'm saying is, don't limit yourself! If you wanna eat these for lunch or dinner, by all means…go for it!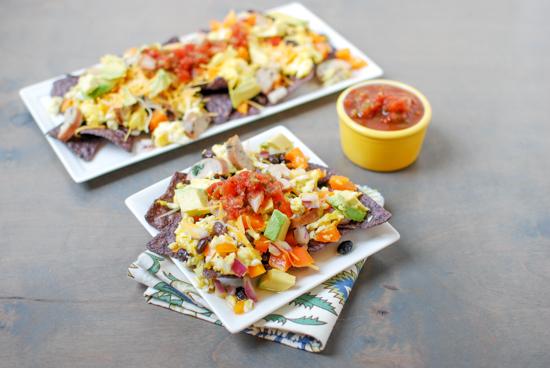 I'm not giving you any ingredient quantities either, because like most nachos, you simply adjust the toppings for the amount of people you want to feed. They're very forgiving and exact quantities aren't needed in order for you to make these successfully!
Here's what you do:
Print
Breakfast Nachos
Gluten-free and easy to customize, these breakfast nachos are a fun way to change up your morning routine!
bell pepper, diced
onion, diced
black beans
chicken sausage
eggs
avocado
salsa
cheese
corn tortilla chips
Instructions
Saute peppers, onions, chicken sausage and beans for 5 minutes. Push the mixture to one side of the pan and add eggs.
Cook until scrambled and mix well.
Spoon mixture over chips and top with cheese, avocado and salsa.
Serve warm.
Notes
Feel free to customize. Use your favorite veggies, leave out the meat or beans, etc to fit your liking.[br][br]If you're making a big batch, feel free to put them on a baking sheet and put them under the broiler for a few minutes once you add the cheese. [br][br]If you're making a smaller batch and want the cheese extra melty, pop your plate in the microwave for 30 seconds.
Pretty easy right?! Like I mentioned in the notes above, these are easy to customize! Leave out the sausage or beans if you want to.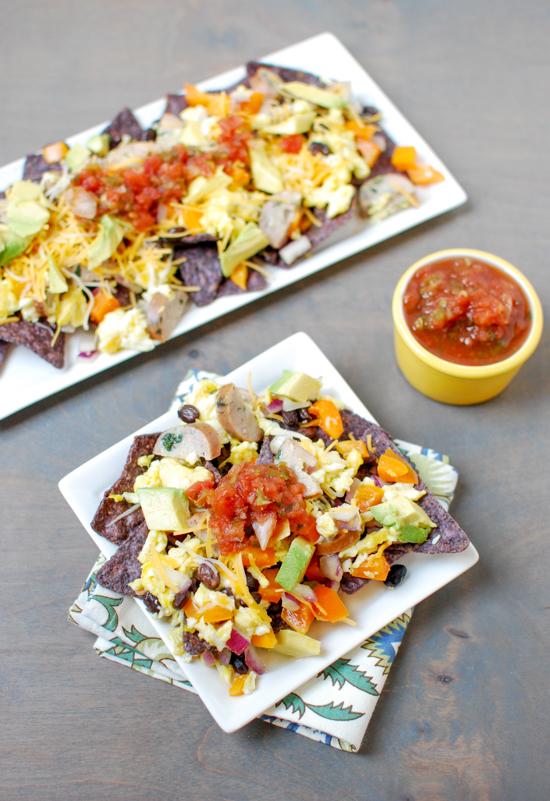 If you're making a big pan and want lots of cheese you can always pop them under the broiler to melt the cheese!
[Tweet "Make these Breakfast Nachos from @leangrnbeanblog to change up your morning routine!"]
Enjoy!
–Lindsay–
LEARN HOW FOOD AFFECTS YOUR BODY.
Get my free Table Talk email series where I share bite-sized nutrition information about carbs, protein, and fat, plus bonus information about snacks and sugar!