Have you ever added fruit to your sandwich? This Balsamic Chicken Strawberry Panini strikes the perfect balance of flavors for a well-balanced lunch! This post was sponsored by California Strawberries. I was compensated for my time. All thoughts and opinions are my own.
Hi Friends!
I have some exciting news to share today! I've been chosen as a 2014 California Strawberries Ambassador and I couldn't be more excited. Strawberries have long been one of my favorite fruits and I'm so excited to spread the strawberry love over the next several months. As part of the program, each ambassador is assigned a month, which has a specific theme. March is my month!
The theme is: Just Add CA Strawberries for Nat'l Nutrition Month… and every day!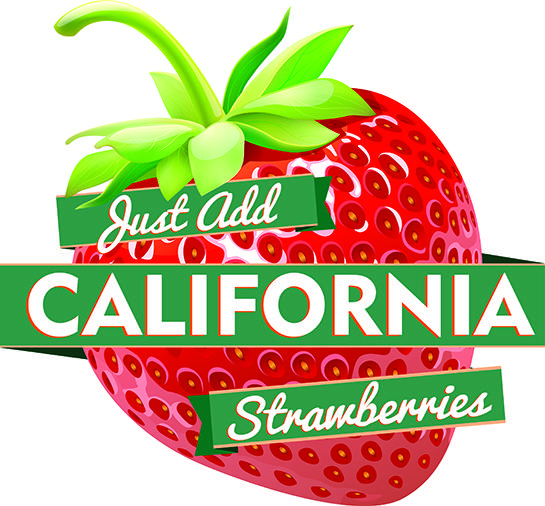 As an ambassador, it's my job to encourage you to #JustAddStrawberries to boost nutrition every day! In case you've never thought about it, you can add strawberries to everything from salads and smoothies, to wraps, pizzas and sandwiches! 
To prove this point, check out this delicious panini I created for you 🙂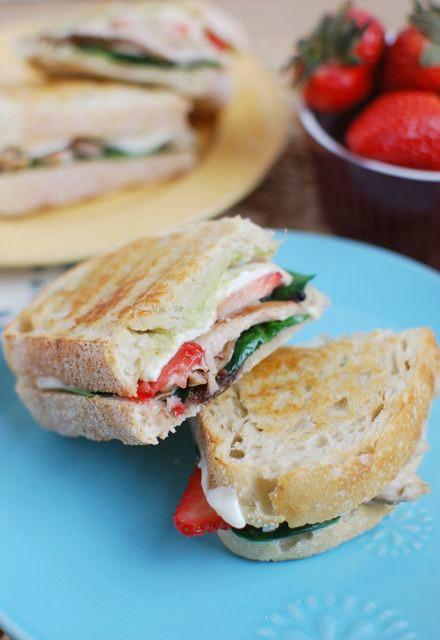 Before we get to that recipe, let's review a few quick facts about strawberries
Research suggests that eating just 1 cup of strawberries a day may improve heart health, lower blood pressure, reduce the risk of some cancers and support brain function!
One cup of strawberries provides 163 percent of your daily dose of vitamin C (more than a whole orange)!
With family farmers growing 88 percent of the nation's strawberries in California, odds are the strawberries you're enjoying came fresh from the Golden State!
Pretty cool, right? Now, let's talk about this panini! It's pretty much the best combination of ingredients I can think of. It has:
Strawberries- duh!
Spinach- strawberry spinach salad is my jam…so I already knew they'd pair well together.
Chicken- which is great on sandwiches- I added some balsamic vinegar for more flavor.
Fresh mozzarella- a panini's gotta have cheese, and fresh mozz is the best. Goat cheese would also be good!
Avocado- i love adding strawberries to my guac, like this Sweet & Spicy Strawberry Peach Guacamole…they're a match made in heaven
Sourdough bread- because it's soft, fluffy and delicious!
Added bonus- The Vitamin C in the strawberries will help you absorb the iron in the spinach!
So here's the official recipe:

Balsamic Chicken & Strawberry Panini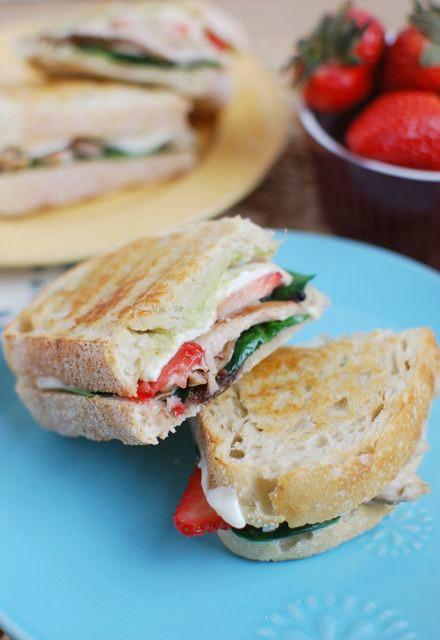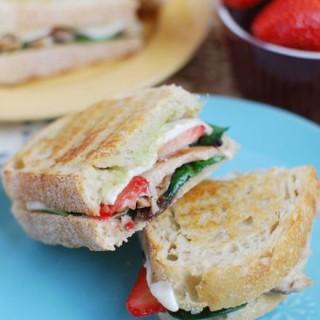 A fresh twist on a classic panini that's packed with flavor and nutrients!
Ingredients
4

slices sourdough bread

2

teaspoons butter

1/2

cup fresh baby spinach leaves

6

ounces cooked, sliced chicken

4

teaspoons balsamic vinegar

1/3

cup sliced California strawberries

4

ounces fresh mozzarella, sliced

1/4

cup mashed avocado
Instructions
Directions:
Spread butter on the outsides of the bread.
Layer spinach onto two slices of bread (non-buttered side)
Top with sliced chicken.
Drizzle with balsamic vinegar.
Add strawberries and mozzarella.
Spread avocado on non-buttered side of remaining slices of bread.
Place on top of sandwiches, avocado side in.
Place on panini press or grill pan and cook until the outsides are golden brown and the cheese is melted.
Writing out all the directions makes it sound more complicated to assemble than it really is.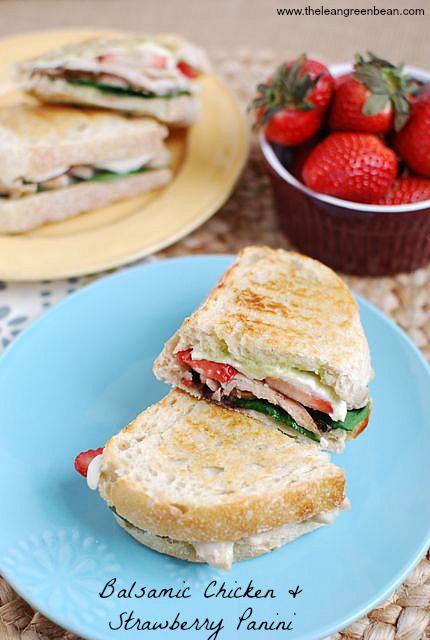 Let's chat: What's your favorite way to enjoy strawberries?
Enjoy!
–Lindsay–