Hi Friends!
Happy Monday! I have a fun little post for you this today that involves a Cuban meal the hubby and I cooked up last week!
Confession: I'd never had a plantain until last fall when we spent a weekend in Miami (click here if you need a little mental break to enjoy some beach pics) and a friend cooked some up for us!
In case you're not familiar, plantains look like bananas, and you can buy green plantains or sweet plantains. They're cooked, instead of eaten raw like bananas…and most often they're fried. That's how we enjoyed them the first time. Last week we were shopping at a different grocery store than we normally do and we found some plaintains! Hubby snatched them up and we brought them home. Then we had to figure out what to do with them.
I didn't necessarily want to eat them fried, so we decided that I would bake some and hubby would fry some so we could compare!
I'm not really sure the proper way to peel a plantain, but I found that if I sliced the top and bottom off, I could pretty much just peel them like a banana. Once peeled, I sliced them into 1/2 inch slices, tossed them in olive oil and placed them on a baking sheet with a silpat. I sprinkled them with some seasonings and stuck them in the oven. After about 10 minutes, I took them out, smashed them flat with the bottom of a glass, flipped them over and put them back in the oven.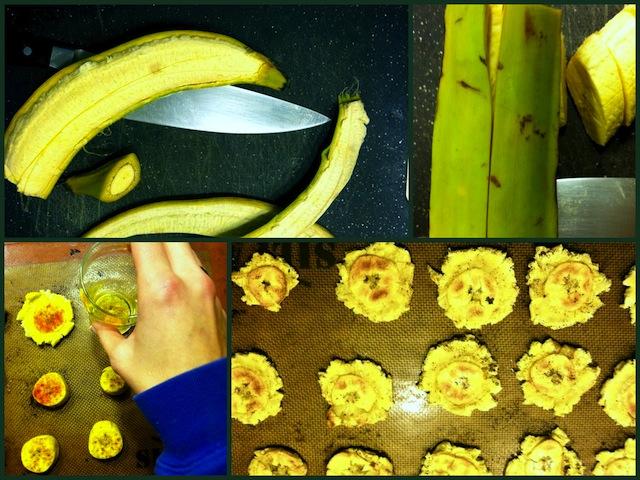 Baked Plantains
Prep Time: 5 min
Cook Time: 20 min
Keywords: bake appetizer snack side healthy vegetarian plantain Cuban
Ingredients (Serves 2)
2 green plantains
1 Tbsp olive oil
1 tsp paprika
1/2 tsp garlic powder
1/2 tsp cayenne pepper
pinch of salt
Instructions
1. Peel the plantains and slice into 1/2 inch pieces.
2. Toss in olive oil and place on a greased baking sheet.
3. Sprinkle with seasonings and bake at 400 degrees for 10 minutes.
4. Remove pan from oven, smash slices down with the bottom of a glass.
5. Flip the slices over and return to the oven to bake for 10-15 more minutes until golden brown.
While mine were baking, hubby took a few of the slices and fried them in some canola oil.  Meanwhile, I set to work making a quick dinner of red beans and rice to accompany our plantains. I just sauteed some garlic, onion and green pepper in a skillet. I added a can of no-salt-added kidney beans, some brown rice and some cayenne pepper and mixed seasoning that's similar to McCormicks.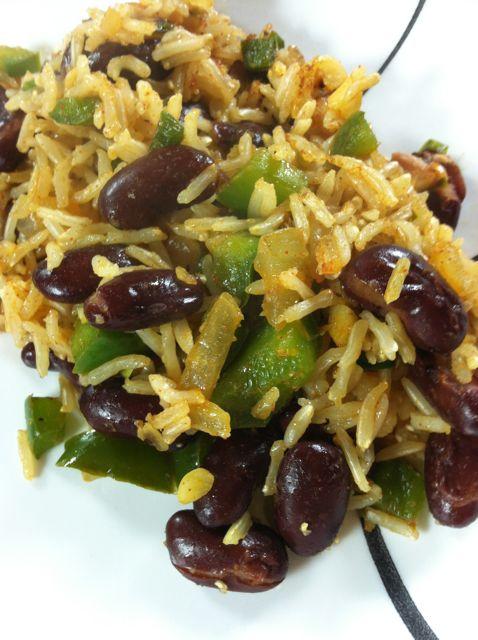 Here are the baked and fried plantains side-by-side: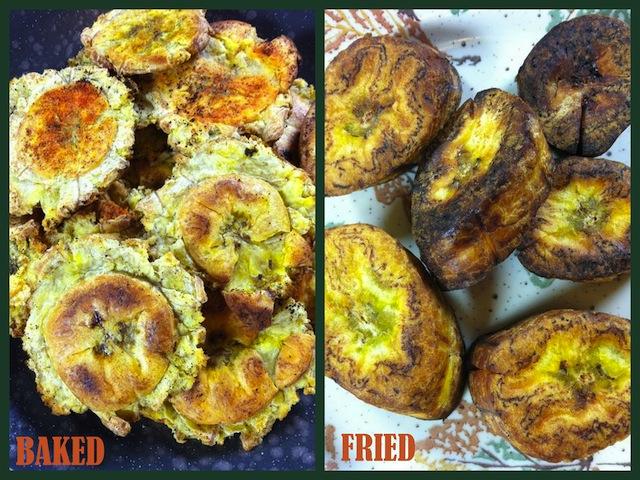 The verdict? I really liked the baked ones. They got really crunchy and kinda tasted like potato chips. We dipped them in ketchup and then when we ran out of ketchup, we tried dipping them in buffalo wing sauce. Hubby liked the fried ones because they were thicker slices, not smashed. He said they were meaty enough that they would make a good substitute for boneless wings!!
SO, we bought some more plantains and we're going to bake them again after tossing them in buffalo sauce and then not smash them down! I'll let you know how it turns out 🙂 Hubby always says that he doesn't miss eating meat, except for wings…so this could be the substitute we're looking for!
Here's the whole meal. It was delicious and a fun departure for the Mexican route we usually go with rice and beans.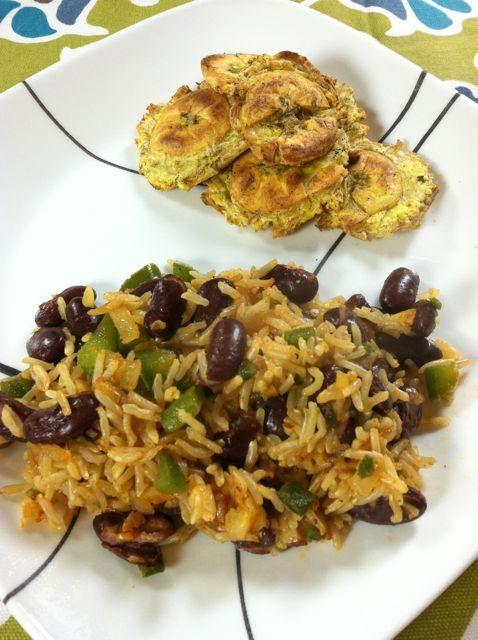 So tell me…have you ever had plantains? What'd ya think?!
Enjoy!
–Lindsay–
Today's Workout:
28 Min Tabata Workout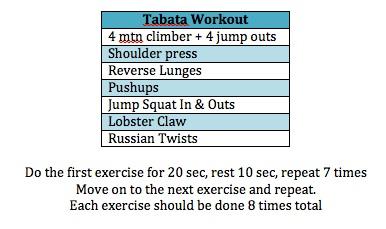 This workout was challenging. Hubby remarked multiple times that he "hates Dr. Tab" 

 Loved it! Another option would be to do all the exercises once and then start over and do the whole cycle 8 times.