A German pancake that's lightly sweetened and puffs up when you bake it – the apple cinnamon flavor makes it a treat you won't want to miss out on!
Hi Friends!
This isn't the post I was planning to share today…but the other night I got this craving for a dutch baby and I couldn't get it out of my head…so I made one for lunch yesterday, snapped a few pics and thought I'd share it with you today. If you've never heard of a dutch baby…it's also known as a German pancake. At a basic level, there's really not much too it…it's just some eggs, milk, a little flour and a little sugar. I remember eating them as a little kid but for some reason I rarely make them now.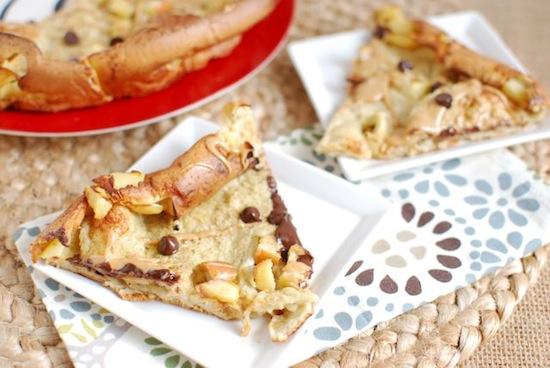 The thing that really makes dutch babies so awesome is the toppings and mix-ins you choose. There's not a ton of flavor in the "pancake" part…but I view it mainly as a vehicle for the toppings. They're great with fresh fruit and yogurt in the summertime (or anytime, really…) – I especially love them with peaches! This time, I decided to go the apple cinnamon route.
Here's what you need:
Print
Apple Cinnamon Dutch Baby
A German pancake that's lightly sweetened and puffs up when you bake it!
3

eggs

1/2 cup

milk

1/2 cup

flour (I use bread flour)

1/2 teaspoon

vanilla

1/2 teaspoon

cinnamon

1 Tablespoon

sugar

2 Tablespoons

butter

1

small apple, diced

2 Tablespoons

peanut butter
handful of chocolate chips
Instructions
Place a cast iron skillet or other oven-safe pan in the oven and preheat to 425 degrees F.
In a small bowl, whisk together the eggs, milk and vanilla until frothy.
Add the flour and cinnamon and whisk for 2-3 minutes until well mixed.
Dice apple and set aside.
Once oven is preheated, carefully remove the hot pan, add butter and swirl around pan until bottom and sides are coated.
Add apples to the bottom of the pan.
Pour batter into pan, tilt until whole pan is covered and return to oven.
Bake for 18-20 minutes, watching carefully at the end so the edges don't burn.
Remove from oven, top with peanut butter and chocolate chips and serve warm.
Here's a look at it just out of the oven. It will be puffy when it comes out and then deflate slightly. I used bread flour because I read somewhere that it makes them the puffiest, but you could also try with AP flour…or even whole wheat flour but it might not puff as much.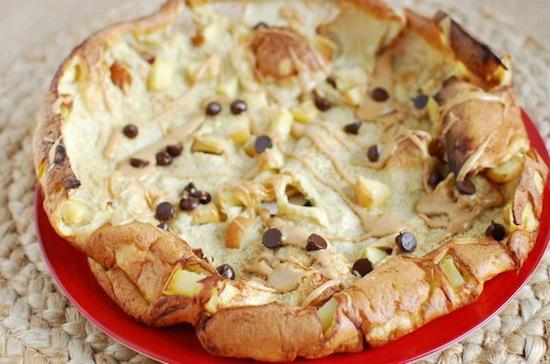 Like I said, it's the toppings that really make this…so get creative! Pretty much any fruit is delicious, add more cinnamon or vanilla if you like it, drizzle with syrup, fruit sauce, etc.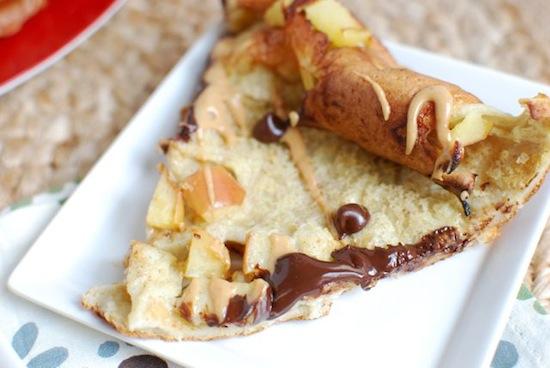 These make the perfect treat for a weekend breakfast. If you want to serve more people, you could try doubling the recipe so it's a bit thicker. (I haven't tried that personally though, so no promises!)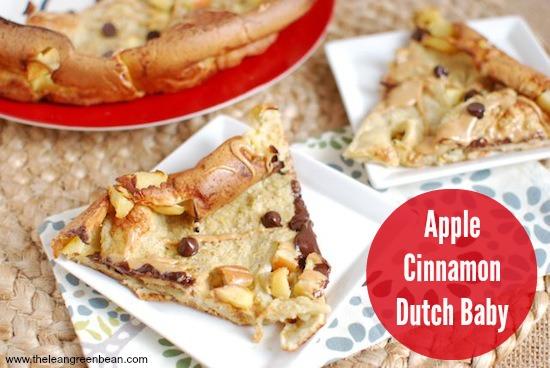 Enjoy!
–Lindsay–
LEARN HOW FOOD AFFECTS YOUR BODY.
Get my free Table Talk email series where I share bite-sized nutrition information about carbs, protein, and fat, plus bonus information about snacks and sugar!