Hi Friends!
In case you didn't know, tomorrow is National Registered Dietitian Day. I'll be back to share my second annual round-up of RDs who blog, but for today, in honor of my first National Registered Dietitian Day, Mr. Bean is here to share some of things he's noticed about being married to an RD. Perhaps some of you can relate?
————–
Since Lindsay became an RD, I've noticed some changes to my lifestyle – some conscious, others not. They have largely been positive and healthy, but I'm occasionally shocked with some of the behavioral changes I catch myself making. I thought I'd take the opportunity to channel my inner "Jeff Foxworthy" and share some of my revelations.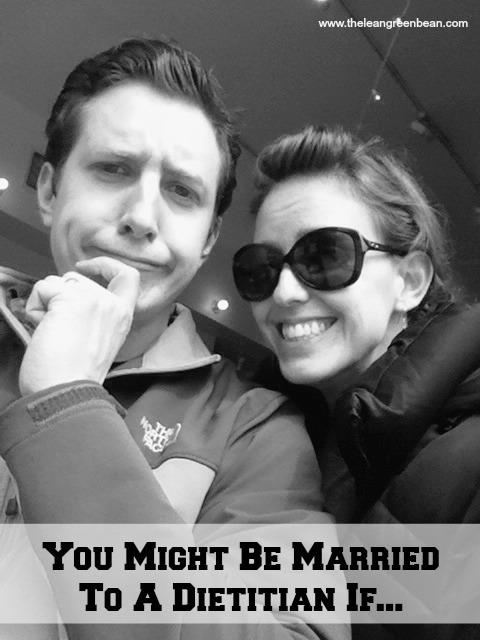 You might be married to an RD if….
You're appalled at the amount of salt in things and most restaurant food tastes like you're a white-tailed deer licking a block of salt. Soup used to be something I could eat in a restaurant, now I have to eat homemade to make sure I don't explode from water retention.
You read nutrition labels, and now do it without a second thought. This kind of goes with along with the salt one; ignorance was bliss. Now I have to get bummed out when something tasty I used to love ends up looking like a health disaster.

You have a favorite dessert that has sweet potatoes or avacados in it.

It's good, can't lie. Suck it up men, try these sweet potato brownies – they rock.
You know it's spelled "dietitian" and not "dietician" and have corrected people. Yeah, for real. It is. Look it up. Shocking, I know.
You tell the doctor you're married to a dietitian to gain potential bonus points during your physical. "How's you're diet?" "Well doc, my wife's a dietitian SO…you know, I do alright."
Occasional lunches out with the guys at work are a safe haven for giant burritos and platters of buffalo wings. I'm human. Buffalo wings and Burritos are from heaven.
You judge other peoples' grocery carts- 'Did you see that dude's cart!? Four cases of mountain dew, three boxes of twinkies, and Dinty Moore Beef Stew!!" You know you do it.
Ingredient lists have become frightening. The fewer the better. The ingredient list for a potato chip or cracker shouldn't look like a team of scientists reached a breakthrough.
Friends ask you very abstract nutrition questions to pass along to your wife. "Can you ask Lindsay what she thinks about this cleanse?- I'm only going to eat tabasco and green tea for a week"  …paleo this….detox that….ugh, just eat good food regularly for crying outloud.
Friends constantly tease "does your wife know you're eating that?" Hardy har har… That may actually apply to all married guys- not sure. Health initiatives seem to be female driven more often than not.
Fast food restaurants have become odd, mysterious places that make you uncomfortable. I feel like I shouldn't be in here…
————–
So what do you think? Even if you're not an RD, but a healthy living blogger, or just someone who loves to eat healthy….do you think there are people in your life that you've influenced like this?! What would they say about life with you?
Enjoy!
–Lindsay
LEARN HOW FOOD AFFECTS YOUR BODY.
Get my free Table Talk email series where I share bite-sized nutrition information about carbs, protein, and fat, plus bonus information about snacks and sugar!